HTRBA Little League: Welcome
Late 12s Game Scheduled for Monday, July 24 - Cancelled
The Late 12s game scheduled for Monday, July 24 between Robbinsville and Nottingham is cancelled due to wet playing conditions. The game will be played on Tuesday, July 25 at 6:00 pm. The "If" game will be played immediately following on Tuesday, if needed.
2017 DISTRICT 12 CHAMPIONS!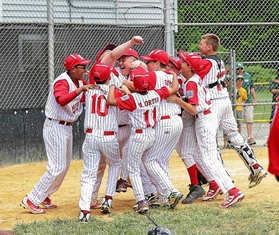 Photo courtesy of John Blaine for the Trentonian
Congratulations to the HTRBA 12s on winning the District 12 Championship with a 7-1 victory over West Windsor!
Congratulations to Our Champions!
Majors Division
Regular Season - Hamilton Fire Co.
Playoffs Champions - Golden Dawn
International Division
Regular and Playoffs Champions - Doctors Express
Minors Division
Playoff Champions - Smoothie King
HTRBA Announces Tyler Dunmeyer as 2017 Jim Davis Sportsmanship Award Recipient
Each season, every league in NJ District 12 selects one 12 year old player to receive the Jim Davis Sportsmanship Award. The HTRBA Executive Board is proud to announce that Tyler Dunmeyer has been selected as the 2017 recipient. The Jim Davis Sportsmanship Award recipient is selected based on the following criteria:
| | |
| --- | --- |
| Helps other players | Is a graceful loser |
| Always tries hard | Doesn't argue with the umpires |
| Displays enthusiasm and team spirit | Is polite and courteous |
| Sets a good example | Always does what the managers asks |
| Plays fair at all times | Is a team player |
Tyler will be honored prior to the District 12 Tournament championship game at Nottingham Little League, along with the recipients from the other District 12 leagues.
Congratulations to Tyler for this well-deserved award!
Little League Pledge

*I trust in God.
* I love my country,
* And I will respect its laws.
* I will play fair,
* And strive to win,
* But win or lose...
* I will always do my best!