HP Knights Baseball : Welcome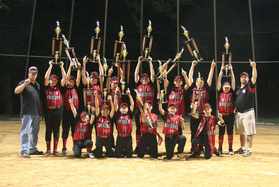 North Brunswick Tourny Champs!
High Point Knight's Baseball
Welcome to High Point Knight's Baseball. We are pround to announce this is our 6th year of Knight's baseball. We are looking forward to a great 2013 Spring season.
Our goal's are to help improve our area baseball. If a player would like to play baseball throughout the spring, summer, and fall this is a great fit. We offer baseball from March through October. Our teams continue to compete in Tournaments and league play throughout New Jersey.
The Knight's are thankful for our home field. Thanks to the Risdon's our players have their own field to practice and play games on. Ed Risdon built the field which will convert from 46/60 to 50/70 dimensions. The field is kept extremely well. One of the best in the County. Located within the beautiful Harmony Ridge Campground.
All games for every division will be added to our calander. If you would like to come out and support our teams check out the calender to see when our home games are!
For information please contact:
Tom Jaust (973) 903-3280 jaustt@gmail.com
Ed Risdon (973) 868-1269 erisdon.hrcg@gmail.com