Westboro: Welcome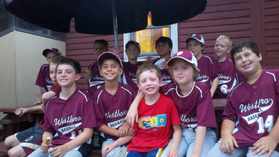 Celebrating Their Win Over Bellingham
Westboro 9 Year-Old All Star Team
Welcome to Westboro's 9 year-old All Star Team!
This site has news about our players, their stats, practices, schedule, game results and more.
We had a great group of boys on the team and they were all very excited, talented, dedicated and prepared to give their best effort to help the team reach the semi-finals.
I want to thank my 3 assistant coaches who have done such a great job in helping to prepare the team for each game and coaching so effectively during each game. Gene McMahon, Fred Riley and Jeff Kaplan have been terrific and their contributions have been priceless!
The final Westboro 9-year-old team news updated July 21.


The team went 7-3 through the 10 game tournament and reached the Semi-Finals on Friday July 20 when it lost 11-19.
Click on Roster to see everyone's nicknames and pictures!
Click on Stats to see everyone's up-to-date statistics through 7-20.