Holliston High School Football 2015
Division 4 State Champions!
Disclaimer:
This Web site is created and maintained by a volunteer who has no affiliation with The Holliston Public School System. Any special, incidental or consequential damages arising out of the use of the information contained in this Holliston High School Football web site shall not be liable by The Holliston Public School System or the volunteer webmaster. Every effort is made to ensure the information on this web site is accurate but occasionally errors may occur. It is provided "as is" with no guarantee of completeness, accuracy or timeliness.

All pictures are copyright of the Holliston Panthers webmaster, All rights reserved.

2014 Holliston Panthers, All Rights Reserved
Tuesday, December 15
Pictures from Super Bowl
Click on the link below to see all the pictures from Gillette and our Division 4 State Champions!
https://hollistondiv4statechamps.shutterfly.com/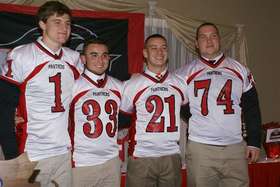 OUR 2015 CAPTAINS
Tuesday, December 15


Football Banquet 2015




Click on the link below to see all the pictures from the 2015 Football Banquet.

https://hollistonfootballbanquet2015.shutterfly.com/



Thursday, November 19


Congratulations to our TVL All Stars!!!




Although we think the whole team is a star the Tri-Valley League has picked the 2015 All Stars:

From Holliston

RB- Matt McIsaac

DB- Grant Buchanan

D-Line Justin Keast and Ian McCarthy

WR/TE- Tucker Ciarcello, and Brady Wells

O-Line- Mark Mulvaney and Zach Schneeloch

Player of the Year Offense- Jack Barrett

Player of the Year Defense- Sam Athy

Jack and Sam Athy also got 1st team at their positions-QB and Linebacker

Coach of the Year- Todd Kiley

Congratulations for some well deserved recognition!



Saturday, November 14


Congratulations Undefeated Freshmen


Big shout out to our Freshmen team on the end of their 9-0 season. WAY TO GO FRESHMEN!


Thursday, October 22


CLICK HERE FOR Channel 5's HIGH 5