Hollis Little League Baseball and Softball: Welcome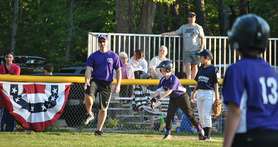 Coach Rick Bissonnette for Practical PC gives the sign on opening weekend.
Baseball/Softball Registration for 2014 is now closed. Stay tuned for team announcements!
………….………….………….………….………….……………….………….……………….…………
Mission Statement
The mission of the Hollis Baseball/Softball program is to offer a program to the youth of Hollis with the ideals of good sportsmanship, honesty, loyalty, courage and respect for all. It shall provide healthful activity and training under sound leadership and in the atmosphere of wholesome community participation.
Stay up to date by becoming a fan on Facebook and make sure to share with your family and friends!
………….………….………….………….………….……………….………….……………….…………
Upcoming…
April 12th Bottle Drive — 8:30am at Hollis Rec
Please join your Teammates and Coaches for our only fundraiser of the year!
May 3rd Opening Day! — 9am at the Hollis Sports Complex
Team Pictures, Games, Parade, Bring your raffle tickets!
May 16th Hollis Little League Night at The Seadogs
Parade around the field before the game, with fireworks to follow!
………….………….………….………….………….……………….………….……………….…………
Umpires Needed
Umpires are vital to the success of a Baseball and Softball Season. We are currently looking for anyone that would be interested in umpiring some games for the season. Please contact the below people if you would be willing to become a certified umpire, and perhaps be compensated for your time behind the plate.
Baseball: Nancy Hogan: dannanbran@yahoo.com
Softball: Deb Tefft:hollisrec@hollismaine.org
Phone: 929-5142
………….………….………….………….………….……………….………….……………….…………
Can you Pitch, in?
The Hollis Baseball and Softball Committee is looking for new members to help our board grow. Please join us at our board meetings on the fourth Tuesday of each month at 6:30p.m. at the Hollis Community Building.
Sponsors:
The Board is in need of both team and pennant sponsors for the upcoming season. If you, or someone that you know is interested in representing your business, and supporting Hollis kids, there are several ways that you can help! Contact Melissa Feeney at aydensmum2002@yahoo.com , or call (207) 590-9843, for more information.
Friday, November 1
Hollis Little League