Clairemont Hilltoppers Little League: Welcome
Celebrating Our 59th Season In 2015!
Upcoming Hilltoppers Calendar Reminders...
>>> Scroll down for event details
March 6 Friday work party 1-6 p.m. ...
... IMPORTANT last chance to get our fields their bright and shiny best for Opening Day Saturday.
March 7 Opening Day Ceremonies 9 a.m. - Games all Day!
March 15 USD Baseball Game 1 p.m. vs. Portland Come see Hilltopper alum Kyle Holder play for the Toreros. Tickets $5 for adults, Kids 14 & under FREE. On sale at Opening Day
April 11 Annual Fun Poker Tournament Night
OPENING DAY SCHEDULE
Saturday, March 7, 2015
9:00-10:00 a.m.…KUSI MORNING NEWS (Tentative)
7:45-8:45 a.m.…T-Ball: Pirates vs. Rockies • North Field
7:45-8:45 a.m.…T-Ball: Cubs vs. Tigers • South Field
7:45-8:45 a.m....Rookie: Candelaria vs. Garcia • South Corner Field
9:00-10:00 a.m.…Opening Ceremonies • Padres Field
11:00-1:30 p.m.…Lunch: Chicken Charlies and Jersey Mike's Subs
10:30 a.m.…Farm: Butler vs. Bandera • North Field
10:30 a.m.....Rookie: McKewan vs. Sciara • South Corner Field
10:30 a.m....Intermediate: Angels vs. Rays • Padres Field
10:30-11:30 a.m....Minors: Conner vs. Delille • South Field
11:30-12:30 p.m…Minors: Conkle vs. Majam • South Field
12 Noon…Rookie: Wall vs. Youseff • South Corner Field
12:30-1:30 p.m....Minors: Cicalo vs. Pallamary • South Field
12:30 p.m....Farm: Da Luz vs. Lyon • North Field
1:30-2:30 p.m.…Minors: Maher vs. Iniguez • South Field
2:00 p.m.…Intermediate: Padres vs. Marlins • Padres Field
2:30 p.m.…Farm: Crabtree vs. Verbrugghen • South Field
3:00 p.m.…Juniors: White Sox vs. Red Sox • North Field
4:30 p.m.…Farm: Kaplan vs. Kelly • Padres Field


--- OPENING DAY !!!! -- Saturday 9 AM ---
IT'S HERE !!! IT'S HERE !!!
--- Mom, Dad where is my uniform???
Opening Day has finally arrived.
This Saturday March 7 - Ceremony starts at 9 AM
Sunshine. Green grass. Manicured fields.
New uniforms. Star Spangled banners.
A fully-stocked snack bar. Music and Fun !
Barbeque Lunch. Lots of baseball games.
Plenty of ceremony and activities !
WHAT IS BETTER THAN THAT !?!?!?!??
REMINDERS ...
Arive early - We suggest no later than 8:30 (or earlier) as you will need to find parking and your team.
Lots of parking available in the auxilary lot off Kamloop (next to North Field)
Bring $5 a person for your Barbeque lunch (includes soda). (We start serving lunch at 11 AM until 1 PM).
Check with your Manager or Team Parent for your opening day game time.

Parents, even those with the younger players ...
... will be asked to leave the field to the players, managers & coaches ONLY by 8:50 AM
Constitution Vote on Opening Day!
During our Opening Day ceremonies, General Membership will be asked to vote on and approve revisions to our league Constitution and By-Laws. Per Little League regulations, the Constitution and By-Laws must be re-approved every two years.
The document in the handout below has been reviewed and modified by a committee of board members, then approved by the Clairemont Hilltoppers Board of Directors.
Please take a few minutes to download and read through this documents. It spells out exactly how your league is organized and operated. If you have any questions about the Constitution, By-Laws or this process, please contact any board member.
Handout:
Constitution
Hilltoppers Plan Trip to USD Game
Come join us for Hilltoppers Day at a Sunday USD baseball game.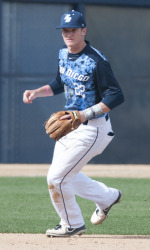 We have tickets for the Sunday, March 15, 1 p.m. game against Portland at the beautiful USD Fowler Park ballpark on the nearby USD campus
University of San Diego always has one of the top college baseball programs on the West Coast, and this year is no different. Plus, Clairemont Hilltopper Kyle Holder is the starting shortstop and recognized as one of the top shortstop prospects in the country. Kyle is currently leading the team with a .342 batting average, and has played errorless defense through 10 games.
Add to this the finest new college ballpark in the country, and this promises to be an afternoon to remember as we watch the game as a group. Grab your kids, your family, or your entire team and head on down for a fun afternoon.
Tickets are just $5 for Adults, kids are free ($10 face value) and can be purchased from Mike Van Cleave. You can either spot Mike at Cadman, or contact him at mvancleave@san.rr.com. Don't miss this fun day on a beautiful campus!
Click on the headline to this article to read Kyle Holder's USD Bio...
Look at All The Padres...
Hilltopper Nick Herschman at last year's Little League Day at Petco
We're excited to announce that teams in our Rookie, Farm and Minors division will once again be wearing beautiful uniforms donated by the San Diego Padres during the 2015 season. These high quality uniforms are as nice as any uniforms worn by Little Leaguers anywhere, and we are once again grateful to the Padres for continuing this generous program. The program also includes matching coaches shirts, game tickets and, new this year, a photo contest for a chance for an entire team to win a suite for a night at Petco Park. It's going to be fun to see all those little Jedd Gyorkos and Andrew Cashners running around again this year.
Stay connected with Hilltoppers on Facebook!
Click on the link below to see our page and become a Fan!
2015 Sponsorship Forms are Here!
If you are one of our esteemed returning sponsors and you need the forms to renew for this year, are a first timer, or it's been a while since you have taken advantage of our sponsorship opportunities, the forms are located here for your convenience. Simply download and print the forms and email or mail them in.

If you have any questions, please contact Troy Keltner, our sponsorship coordinator at 858-273-1949 or tkeltner@pacbell.net.

Thank you for 59 years of support to Clairemont Hilltoppers Little League.
Handout:
2015 Sponsorship Forms
Weather Forecast
Why Play Clairemont Hilltoppers?
Serving The Kids of Clairemont Since 1957!
As part of the oldest and largest youth sports organization in history, Clairemont Hilltoppers Little League is proud to offer the finest experience possible for the youth of Clairemont.
For 75 years, the name "Little League" has been the most respected and recognized brand in all of youth sports. Now entering our 59th year, Clairemont Hilltoppers represents that brand as both the longest-running youth organization in Clairemont, and also its only Little League program. Over 20,000 boys and girls have passed through the Hilltoppers program since 1957, and we take special pride in the number of second- and third-generation players in our league.
Having grown significantly in the last five years, Clairemont Hilltoppers had over 400 kids playing ball in our Spring 2014 season, and we continue to find new ways to bring fun, safety, competition and life lessons to every child who joins our program.
Here are just a few of the reasons for our growth and popularity:
• We offer divisions for kids of every age. Little League has teams for youth from 4- to 18-years-old. Any child who will be 4-years-old by April 30, 2015 is eligible to start in our T-Ball program. And, while many leagues end when players are 12-14-years-old, Clairemont Hilltoppers offers teenage divisions in the 13-14, 15-16 & 17-18 age groups in 2015.
• Reasonable costs. With many families facing challenging economic times, we have long made a commitment to make playing Little League affordable for everyone who wishes to play. Our registration fee for 2015 is just $68, easily the lowest of any youth sports league in town. We also ask participation in our fundraiser, selling 50 candy bars or making a $60 buyout. Plus, if you sell 75 candy bars, your registration fee is just $48! If you sell the candy, the fundraiser has a net cost to you of nothing, and you really can place your child in a full season of 20+ Little League games (plus all the associated fun and activities) for a net cost of just $48!
• Developing neighborhood and community relationships. With so many families living such busy lives, and sending kids to schools and activities in other parts of town, it's sometimes difficult to even get to know your neighbors. At Clairemont Hilltoppers, though, it's all about Clairemont. All of our players live within the community. We only advertise in our community. Most of our sponsors are in the community. We plan fundraisers within our community. The bonds that develop as kids and parents make friends in their neighborhood often last for a lifetime.
• Safety, training and education priorities. Little League has always been the leader in safety, and Clairemont Hilltoppers believes in that model. All of our managers and coaches are taught to make the safety of our children the number one concern. From our leaguewide ASAP Safety Plan, to mandatory background checks for every league volunteer, to continuing training programs for our coaches and umpires, our league will never take shortcuts on keeping our players out of harm's way. Our coaches and umpires are given rules and skills training on a regular basis, and our annual Parent Orientation is designed to make all parents part of the solution, rather than the problem, for our program.
• The Little League World Series. Certainly no event in youth sports is more recognized around the world. Each year, ABC and ESPN televise over 70 games in the various Little League All-Star tournaments. Not only is this an exciting summer tradition, but it gives Little League exposure to kids in every part of the country and in dozens of countries around the world. In addition to the World Series for the 11-12-year-old division in Williamsport, championship games in all of the teenage and softball divisions are also televised. Excitement has been high in Southern California recently, as two recent United States Champions (Park View Little League and Eastlake Little League) have come from our area. Every year, Clairemont Hilltoppers places teams in the All-Star tournaments. You can't get to the Little League World Series unless you sign up for Little League!
• Great fun activities for our parents. We strive very hard to bring fun beyond just the practices and games... and some of it is for the adults. Every year we have a great fundraiser dinner at the Skybox restaurant at Clairemont Square, an adult coed softball tournament, a poker tournament, Little League Day at a Padres game, and more. And, we're always looking for new ways to get together for some fun.
We know that families have lots of choices when it comes to their kids' activities. If you choose to join us at Clairemont Hilltoppers Little League, please know that we will be doing everything we can to make that the best decision possible!
Clairemont Hilltoppers Hall of Fame
One of the highlights of our 50th Anniversary celebration in 2006 was the formation of a Clairemont Hilltoppers Hall of Fame.
Named as Charter Members were 17 individuals whose achievements, contributions and leadership will forever be recognized with this honor. A few others have been added since. A permanent plaque listing the names of all original and subsequent Hall of Famers hangs in our scorebooth building.

Following are the Inductees along with year named:

• Frank Adams (2006)
• Ron Conkle (2006)
• Ken Henderson (2006)
• Tom Franklin (2006)
• John Adams (2006)
• Link Lincavage (2006)
• Harold McCoy (2006)
• Jim Gerstenslager (2006)
• Dave Stephenson (2006)
• Mike Winters (2006)
• Dave Bermudes (2006)
• George Kovacevich (2006)
• Bill Salonius (2006)
• Jeanne Morrow (2006)
• Cesar Carmona (2006)
• Dave Pursel (2006)
• Mike Van Cleave (2006)
• Steve Conner (2008)
• Judy Salonius (2011)
• Ken Cicalo (2011)
These members are recognized for their contributions in one or more of these four categories: Inspirational, Leadership, Volunteer and Special Recognition. Future members will be selected by a committee of current and former Hilltoppers.

Congratulations to all of these Hall of Famers, and many thanks for all you have meant to Clairemont Hilltoppers Little League.

Upcoming Events
Date
Event
Time
Location
Sat 3/7
Opening Day
7:30 AM - 5:00 PM
Cadman Park