Clairemont Hilltoppers Little League: Welcome
2015 CHLL Fall Ball Season - first practice, last chance to sign up !
2015 CHLL Fall Ball
This Saturday
Aug 22 - 9 AM
ALL PLAYER PRACTICE
TEAM ASSIGNMENT
at CHLL (Cadman Rec)

LAST CHANCE TO SIGN UP!!!
- Fall Ball Fees just $45
- Ages 6 to 15
- All Sunday afternoon Games
- Season Sep 13 - Nov 15
SAVE TIME ... download and fill out the forms at HOME !!!
Use this link .... https://www.eteamz.com/hilltoppers/files/CHLL-2015-FallBall-SignUp-forms.pdf
The CHLL Fall Ball season focus is on Instruction and Fun !
Per Inning Run Limits, game time limits
Players encouraged to learn and try ALL positions
Minimal focus on scores, no standings or 'playoffs'
Each team sets their own practice schedule (1 or 2 days a week)
2015 Sponsorship Forms are Here!
If you are one of our esteemed returning sponsors and you need the forms to renew for this year, are a first timer, or it's been a while since you have taken advantage of our sponsorship opportunities, the forms are located here for your convenience. Simply download and print the forms and email or mail them in.

If you have any questions, please contact Troy Keltner, our sponsorship coordinator at 858-273-1949 or tkeltner@pacbell.net.

Thank you for 59 years of support to Clairemont Hilltoppers Little League.
Handout:
2015 Sponsorship Forms
Clairemont Hilltoppers Hall of Fame
One of the highlights of our 50th Anniversary celebration in 2006 was the formation of a Clairemont Hilltoppers Hall of Fame.
Named as Charter Members were 17 individuals whose achievements, contributions and leadership will forever be recognized with this honor. A few others have been added since. A permanent plaque listing the names of all original and subsequent Hall of Famers hangs in our scorebooth building.

Following are the Inductees along with year named:

• Frank Adams (2006)
• Ron Conkle (2006)
• Ken Henderson (2006)
• Tom Franklin (2006)
• John Adams (2006)
• Link Lincavage (2006)
• Harold McCoy (2006)
• Jim Gerstenslager (2006)
• Dave Stephenson (2006)
• Mike Winters (2006)
• Dave Bermudes (2006)
• George Kovacevich (2006)
• Bill Salonius (2006)
• Jeanne Morrow (2006)
• Cesar Carmona (2006)
• Dave Pursel (2006)
• Mike Van Cleave (2006)
• Steve Conner (2008)
• Judy Salonius (2011)
• Ken Cicalo (2011)
• Kyle Holder (2015)
These members are recognized for their contributions in one or more of these four categories: Inspirational, Leadership, Volunteer and Special Recognition. Future members will be selected by a committee of current and former Hilltoppers.

Congratulations to all of these Hall of Famers, and many thanks for all you have meant to Clairemont Hilltoppers Little League.

Poker Tournament Deals Fun Again!
Final Table at the 12th Annual CHLL Poker Tournament
Many thanks to all who came out Saturday, April 11 to support our annual Hilltoppers poker tournament fundraiser.
To all of the coaches, parents, friends and alumni who played: we hope you had a great time. To our dealers and the staff at the Best Western Seven Seas: we appreciate your efforts to make this run smoothly.
Congratulations to our big winner, Coach Justin Pallamary, who took home round trip airfare for two to Las Vegas. Congrats also to our other winners: Kirk Gillard, Denny Speidel, Dave Granfors, Kelly Grant, Chip Bonner, Henry Garnett and Jeff Pallulat. Prizes included Padres tickets, Trevor Hoffman and Andrew Cashner autographed items, dinner gift certificates and more.
Once again, a very fun evening!
Click on the link below to see our page and become a Fan!
Stay connected with Hilltoppers on Facebook!
Weather Forecast
Why Play Clairemont Hilltoppers?
Serving The Kids of Clairemont Since 1957!
As part of the oldest and largest youth sports organization in history, Clairemont Hilltoppers Little League is proud to offer the finest experience possible for the youth of Clairemont.
For 75 years, the name "Little League" has been the most respected and recognized brand in all of youth sports. Now entering our 59th year, Clairemont Hilltoppers represents that brand as both the longest-running youth organization in Clairemont, and also its only Little League program. Over 20,000 boys and girls have passed through the Hilltoppers program since 1957, and we take special pride in the number of second- and third-generation players in our league.
Having grown significantly in the last five years, Clairemont Hilltoppers had over 400 kids playing ball in our Spring 2014 season, and we continue to find new ways to bring fun, safety, competition and life lessons to every child who joins our program.
Here are just a few of the reasons for our growth and popularity:
• We offer divisions for kids of every age. Little League has teams for youth from 4- to 18-years-old. Any child who will be 4-years-old by April 30, 2015 is eligible to start in our T-Ball program. And, while many leagues end when players are 12-14-years-old, Clairemont Hilltoppers offers teenage divisions in the 13-14, 15-16 & 17-18 age groups in 2015.
• Reasonable costs. With many families facing challenging economic times, we have long made a commitment to make playing Little League affordable for everyone who wishes to play. Our registration fee for 2015 is just $68, easily the lowest of any youth sports league in town. We also ask participation in our fundraiser, selling 50 candy bars or making a $60 buyout. Plus, if you sell 75 candy bars, your registration fee is just $48! If you sell the candy, the fundraiser has a net cost to you of nothing, and you really can place your child in a full season of 20+ Little League games (plus all the associated fun and activities) for a net cost of just $48!
• Developing neighborhood and community relationships. With so many families living such busy lives, and sending kids to schools and activities in other parts of town, it's sometimes difficult to even get to know your neighbors. At Clairemont Hilltoppers, though, it's all about Clairemont. All of our players live within the community. We only advertise in our community. Most of our sponsors are in the community. We plan fundraisers within our community. The bonds that develop as kids and parents make friends in their neighborhood often last for a lifetime.
• Safety, training and education priorities. Little League has always been the leader in safety, and Clairemont Hilltoppers believes in that model. All of our managers and coaches are taught to make the safety of our children the number one concern. From our leaguewide ASAP Safety Plan, to mandatory background checks for every league volunteer, to continuing training programs for our coaches and umpires, our league will never take shortcuts on keeping our players out of harm's way. Our coaches and umpires are given rules and skills training on a regular basis, and our annual Parent Orientation is designed to make all parents part of the solution, rather than the problem, for our program.
• The Little League World Series. Certainly no event in youth sports is more recognized around the world. Each year, ABC and ESPN televise over 70 games in the various Little League All-Star tournaments. Not only is this an exciting summer tradition, but it gives Little League exposure to kids in every part of the country and in dozens of countries around the world. In addition to the World Series for the 11-12-year-old division in Williamsport, championship games in all of the teenage and softball divisions are also televised. Excitement has been high in Southern California recently, as two recent United States Champions (Park View Little League and Eastlake Little League) have come from our area. Every year, Clairemont Hilltoppers places teams in the All-Star tournaments. You can't get to the Little League World Series unless you sign up for Little League!
• Great fun activities for our parents. We strive very hard to bring fun beyond just the practices and games... and some of it is for the adults. Every year we have a great fundraiser dinner at the Skybox restaurant at Clairemont Square, an adult coed softball tournament, a poker tournament, Little League Day at a Padres game, and more. And, we're always looking for new ways to get together for some fun.
We know that families have lots of choices when it comes to their kids' activities. If you choose to join us at Clairemont Hilltoppers Little League, please know that we will be doing everything we can to make that the best decision possible!
Hilltoppers All-Star Teams Announced
Congratulations to all of the kids selected for postseason Clairemont Hilltoppers teams. Check back here or on Facebook to follow along as they begin tournament play.
9/10-Year-Old All-Stars
The CHLL 9 & 10 Year old All Stars begin play Saturday, June 20th at 2 p.m. against Rancho Penasquitos American. The tournament is being held at CHLL this year. VOLUNTEERS are still needed to help us host this tournament !!!
Griffin Bonner
Drew Featherston
Elliot Goss
Troy Granfors
Zach Griffin
Jeren Jabaay
Diego Jaimes
Max Kussat
Thomas Maher
Jeremy Navarro
Tony Salorio
Lucas Wurst
Armando Zerpa
Manager: Dave Maher
Coach: Mark Bonner
Coach: Tim Griffin
11-Year-Old District Stars
Our 11-Year-Old team begins tournament play at 10 a.m. on Saturday, June 20. Their tournament is being played at Coronado Little League
Dylan Astorga
Mico Dauphinais
Luke Farmer
Simon Griffin
Jeff Jabaay
Russell Madriaga
Ross Peller
Domenick Ricci
Gavin Scurr
Nathan Simas
Jacob Sirois
Kai Taniguchi
Ty Umel
Manager: Mike Van Cleave
Coach: Murray Peller
Coach: A.J. Sirois
Intermediate All-Stars
Our Intermediate All-Stars begin tournament play on Saturday, June 13 at 10 a.m. against Scripps Ranch at the Rancho Penasquitos Little League field. Their tournament is being played at multiple locations, so check back here or on Facebook for schedule and results.
Aidan Anuskiewicz
Chris Barriga
Gavin Boisvert
Benn Bruff Jr.
Brandon Griffin
Matt Hankee
Moki Majam
Bobby Nelson
Mateo O'Sullivan
Jake Romero
Jacob Taylor
De'Vaun Williams
Eric Young
Manager: Ron Anuskiewicz
Coach: Tony Majam
Coach: Jim Hankee
Juniors All-Stars
Our Juniors All-Stars start tournament play on Monday, June 22 at 5 p.m. Their tournament is being played at University City Little League.
Miles Dauphinais
Casey Granfors
James Hankee
Jose Jacobo
Jason Karber
Mikel Luque
Anthony Nelson
Spencer Ronk
Colin Ruthenberg
Shane Severson
D J Tinsley
Christian Wood
Manager: John Tinsley
Coach: Anthony Valentine
Coach: Jason Karber
Three other tournament teams will also be representing Clairemont Hilltoppers in the next couple of weeks. Good luck to all of these kids as well.
Little Stars
Our 8/9-year-old Little stars will play in a weekend tournament at Rancho Penasquitos Little League June 18-21
TEAM 1
Haley Bernd
Jackson Crabtree
Nathan Heyer
Carson Hildebrant
Josh Kaplan
Parker Lawrence
Dolan Maher
Diego Matsumoto
Graeson Seminoff
Jack Shelby
Jacob Verbrugghen
Manager: Rick Crabtree

TEAM 2
Anthony Alcontar
Daniel Bandera
Chris Bruff
Noah Herrera
Aidan Osuch
Julian Maravilla
John Mitchell
Senai Samuela
Adrian Shapiro
Ronnie Steele Jr.
Rohan Storck
JJ Wood
Manager: Peter Bandera
9-Year-Old Team
Our 9-year-old tournament team will play in a weekend tournament June 19-21 at Scripps Ranch Little League
Caleb Bruff
Gavin Girouard
Benicio Guerra
Nick Herschman
Alex Jennings
Dustin Majam
Leandro Maravilla
Marc Anthony McIver
Zachary Ortiz
Bostyn Pallamary
Anthony Perry
Justin Reichenberg
Zion Samuela
Manager: Ross Majam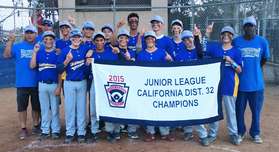 CHLL 2015 Juniors All Stars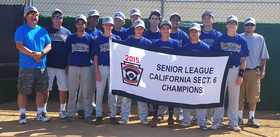 CHLL 2015 Senior All Stars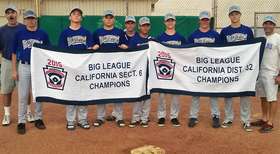 CHLL 2015 Big League All Stars