Rochester Adams Highlanders: Alumni Page
FIU...What a trip! (A. Fontes)
2002 Women's Soccer Preview (from Albion Media Guide)
Tuesday, August 27
Wright State Scoutig Report (R. Strong)
2002 Northwestern University Recruiting Class (A. Renzi)
Alexander Renzi - A midfielder out of Rochester Adams High School in Rochester Hills, Michigan. First Team All-State selection and NSCAA Regional All-American. Captained Rochester Adams to state final with 12 goals and 15 assists. Member of the Region II ODP Regional Team. Lenahan stated "Alexander is one of Michigan's top players. He has a great competitive nature. I expect him to make an immediate impact and be one of the top players in the Big Ten in future years."
Thursday, August 1
Eagles Are Hungry for More (B. Walker)
Friday, August 16
Wright State Preview (R. Strong)
M.'s soccer set to take on Nat'l champion Tarheels in opener
Men's soccer team signs four high profile recruits -Omekanda
ALUMNI UPDATE
Abby Crumpton (click pic)
Adams alumni, University of Michigan soccer star & U21-National Team member
ABBY CRUMPTON
has been drafted to the Atlanta Beat of the Womens United Soccer Association (WUSA) professional soccer league where she will team up with senior national team members Cindy Parlow and Briana Scurry. You will be able to see her games on the PAX cable network beginning 12 April 2003. Click the picture for a link to the team site, roster, schedule, etc.
Congratulations, Abby!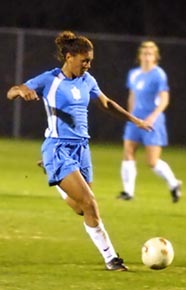 Beat rookie forward Abby Crumpton versus Tennessee.
One Of Our Own: Coach Dave Wandoff (6 May 2003)
Please keep in your thoughts and prayers our very own
SPC David Wandoff, U.S. Army
. Dave is our girls' Swim Coach here at Adams. He was called to active duty in January 2003 right in the middle of his swim season and is currently serving in Iraq with his unit, the 79th MP Co. who's two-fold mission is combat support and humanitarian aid.
In a recent letter, Dave wrote to me:
"Ken... I would like to take a second to write on the humanitarian mission here. No matter what you read or watch on the television, the humanitarian effort here is awesome. I am by a very large city and the efforts to feed not only the villages of the city but the Bedouins (Wandering shepherds) is huge. Personally I have been on several of these missions and I can tell you that it makes you feel very good about being here. When driving down the road you feel like a celebrity. People stop and wave to entire convoys. Even the old, who were originally hesitant to do so, are even getting into it. My only regret is that I did not get here earlier and that I cannot do more."
Dave is a good man and a great friend, guided by duty and serving with honor. Our prayers and good wishes go out to you, buddy. We miss you and we're proud of you. Be safe and know that a warm welcome is waiting for you here back home.
Nate Norman Shows Well Down In Brazil. (13 Apr 2003)
Matkovich said a handful of player performances stood out on the trip, including Notre Dame bound winger Nate Norman ...
Monday, May 26
Adams' Norman named Parade All-American (26 May 2003)
By KEITH DUNLAP , Special to The Oakland Press 05/25/2003
ROCHESTER - When he walked out of his last class this week, Rochester Adams soccer star Nate Norman still couldn't believe he wouldn't be attending another at the school.
"I feel sad and happy at the same time," he said. "It's hard to believe it's over. I feel like I should be prepping for another season and have one more year of high school left. I feel happy I'm done, but sad it's over."
While his high school days are behind him, the accolades keep coming for the Highlanders four-year player.
Norman has been named to the
2003 Parade High School All-America Soccer Team
, one of just two players from Michigan to receive the honor. Steve Hecker of Portage Northern was the other.

Being named to the team is just icing on the cake for Norman, who was twice named to the state's Dream Team and the all-County team and has signed to play at Notre Dame.

While he said the accolades have been nice, he has another goal on his mind.

"I'm just striving to one day be on the national team, so all that other stuff I really don't care about," he said.

Norman currently plays for the Michigan Bucks, a semi-pro team, and has also been a member of the U.S.-under 18 team the past years, which won a tournament in France last year that featured national and club teams from around the world.

The team will participate in tournaments in both France and Ireland this summer.

As far as his Adams career goes, two moments stand out for him that left him with opposite feelings.

When he was a freshman in 1999, the Highlanders captured a state title and Norman was able to share the moment with his brother Matt, who was a senior on the team.

Two years later, Adams was the consensus No. 1 team in the state and was one of the best teams nationally with a squad full of all-state players, three of which made the Dream Team.

Expected to win another state title, Adams suffered a heartbreaking 2-1 loss to unranked U-D Jesuit in the state final.

"We probably had one of the most powerful teams in the state and we thought we could stroll through and not give 100 percent," Norman recalled. "I don't think I'll ever get over that game."

The next phase of Norman's career will start on Aug. 8 when he starts practicing with his Notre Dame teammates.

Eventually, he hopes to try out for the 2008 Olympic team in Beijing, China.

Adams head coach Juan Delgado said Norman's work ethic, happy-go-lucky personality, competitiveness and positive attitude will carry him far in his post-high school career.

"Every year he's worked to get better," he said. "No matter how good he becomes, he always is going to want to get better. He just has that in him. He wants to be a pro."

©The Oakland Press 2003

Nate is in extremely good company here. Players of note who have been named to Parade All-American Teams in the past include World Cup & Olympic veterans Jeff Agoos, Kasey Keller, Claudio Reyna, Tiffany Roberts and Lorrie Fair, as well as local standouts Kate Sobrero (Detroit Counrty Day), & Brian Maisonneuve (Warren DeLaSalle H.S.),

Two other players from Rochester Adams have been named to the Parade All-American Soccer Team in the past; Kristen Fisher in 1999, and Kara Nance in 1993.

Congreatulations and continued success, Nate. We're your biggest fans and we're all very proud of you.

Monday, September 2
Goals by Chavez, Crumpton Rally U-M Past Cougars
ANN ARBOR, Mich. -- The University of Michigan women's soccer team scored twice in the second half to rally from ...
__________________________________________________________________________
ALUMNI UPDATE - CLASS of 2002:
We are proud to inform you that several of our 2002 seniors have earned scholarships to some of the finest Universities in the nation and will be playing for their respective new schools in the autumn of 2002. Graduates, congratulations to you all. We are very proud of you.
ALEXANDER RENZI
is off to
Northwestern
.
BOBBIE DOBBIE
is off to
Brown University
.
PAUL OMEKANDA
is off to
Penn State
.
DAN PICMANN
is off to
Oakland University
.
EMILY TYLER
has earned a spot as a walk-on at
Hope College
, Holland MI
ALUMNI UPDATE:
A number of our high school standouts are now playing and thriving at the college level. Congratulations, players, and continued success to you!
Abby Crumpton
-
Michigan
/
U.S. Under-21 Women's National Team
Kristin Fisher
-
Florida
Ashlee Fontes
-
Florida State
Erika Williams
-
Albion College
Jason Daniels- Air Force Academy
Ben Walker
-
Ashland, Ohio
Ricky Strong
-
Wright State
, Dayton, Ohio
Craig Penn- Western Michigan
Matt Ponce
-
Sienna Heights
Michelle Perun
-
Michigan State
Tina Males- Northwood, Michigan
Monday, July 8
Crumpton to Help U.S. Defend U-21 Nordic Cup Title
ANN ARBOR, Mich. -- Abby Crumpton (Rochester Hills, Mich./Rochester Adams HS), a senior-to-be on the University ...
Crumpton Receives Return Invite to USA U-21 Camp
Monday, January 21
Crumpton Invited to Under-21 USA National Team Camp
Sunday, August 25
Crumpton, Boyles Tally Goals in U-M Exhibition Victory
Thursday, August 29
Spartans reach for next level in soccer (M. Perun)
Penn State seeks Big Ten Title (P. Omekanda)
Monday, May 13
Norman to travel with U.S. U-18 MNT to play in French tourny (13 May 2002)
U.S. U-18 MNT TO PLAY IN FRENCH TOURNAMENT THIS WEEK: The U.S. Under-18 Men's National Team, under the guidance ...
Monday, January 28
U.S. UNDER-18 MEN PREPARE TO KICK OFF - Nathan Norman named (28 Jan 2002)
U.S. UNDER-18 MEN PREPARE TO KICK OFF 2002: U.S. Under-18 Men's National Team Head Coach George ...
Monday, May 6
Nate Norman tallys assist for National Team vs. SD Sockers (6 May 2002)
U.S. UNDER-18s FINISHES CAMP WITH 1-1-1 RECORD AGAINST OLDER SIDES: The U.S. Under-18 Men's National Team wrapped ...
Friday, June 4
Crumpton Dives Right In, Leads Team To Big Start
By Jason McGill, Staff Writer
Asheville Citizen Times
June 12, 2004 11:44 p.m.
ASHEVILLE - Asheville Splash forward Abby Crumpton knows what to do with the ball: Put it in the back of the net.
Crumpton this week was named to the W-League's Team of the Week for doing exactly that.
"It's always an honor to be named to the Team of the Week," Crumpton said. "Now that I'm at a different stage in my career, I'm playing more for myself. It's nice that I can still play at a high level and be recognized."
Crumpton has scored three goals and recorded three assists in four games to help the Splash start the season with a 2-1- 1 record. Her nine points tie her for the final spot among the W-League's top 10 scorers.
When asked if she will be able to keep her offensive pace Crumpton replied, "I'm not worried about it. It's not about points, it's about winning and doing well. A lot of people (on the Splash) can score goals."
Crumpton is a former University of Michigan captain who holds the school record for points scored in a career with 116 on 43 goals and 30 assists.
"If she gets the opportunity, she doesn't miss many," Splash coach Joe Bartlinski said of Crumpton's scoring prowess. "She usually buries them in goal. Some players on the college level get opportunities but don't finish that many."
She was named the Big Ten Conference Women's Soccer Athlete of the Year in 2002.
That same year she was a finalist for college soccer's Hermann Trophy, which Bartlinski said is the equivalent of college football's Heisman Trophy.
"Her resume speaks for itself," said Bartlinski, whose team will play host to the Carolina Dynamo (2-2-0) at 6 p.m. today in the first match at Memorial Stadium since new Astroturf was installed on the field.
"She has a great pedigree. She's been on the radar with the national team. She's playing with a lot of fun and passion right now."
Crumpton joined the Splash after she played one season with the Women's United Soccer Association's Atlanta Beat, who defeated the Splash 2-0 in a May 8 exhibition game. She scored a goal in the 71st minute of that match.
Bartlinski and Splash general manager Steve Woody began looking for college and professional athletes to round out the squad after signing 12 players to their initial roster. WUSA players became available after WUSA officials decided to suspend league games and play only exhibition matches.
Bartlinski and Woody signed Crumpton, thanks in part to Splash midfielder Lydia Vandenbergh.
"We knew the players that we had identified, and we went after them," Bartlinski said. "(Crumpton's) boyfriend coaches track at Clemson University, so she was in the area. We followed up, (and) she came out and kicked around. Lydia, who I've known as a youngster, let us know that she was at Clemson."
That grass-roots approach to building the team has paid off early in the season.
Although they have played the fewest number of games, the Splash rank second in goals in the seven-team Atlantic Division. Asheville's 10 goals in three games are second only to the Charlotte Lady Eagle's 14 goals in four games.
Behind Crumpton are current Clemson standout Lindsay Browne and former Brevard College star Joy Nsubuga, both of whom have two goals for the Splash.
"She's been a leader by action," Bartlinski said of Crumpton.
"She's not one to come out and talk about leadership. The way she trains every day and approaches her matches, she's very disciplined. She's a reaffirmation of the team's discipline."
Asheville lost, 1-0, at Charlotte Saturday, breaking the teams' tie for second place in the W-League Atlantic Division.
The Splash and the Lady Eagles played to a 1-1 tie May 22 in their first meeting this season. Crumpton scored Asheville's only goal in the 66th minute.
Contact McGill at 232-5863 or JMcGill@ashevill.gannett.com.
Crumpton Named Head Coach - U. of Pittsburgh at Bradfod
On the heels of her a brilliant playing career Adams alumni,
ABBY CRUMPTON
has now been hired to head up the women's soccer program at
The University of Pittsburgh at Bradford
.
Abby earned a B.A. in sports management and communications from the University of Michigan in 2003. She was a four-year starter for the Lady Wolverines and is the all-time point scorer with 43 goals and 30 assists. She was named Big Ten Women's Soccer Athlete of the Year in 2002 and was First Team All-Big Ten in 1999, 2001 and 2002. While playing at Michigan, Crumpton was an assistant coach at Brighton (MI) High School for two years. Abby also been on the Women's National team radar throughout her career, playing on the U-21 Natioal team in 2000-2002. She has played professionally for the Atlanta Beat (WUSA) and the Asheville Splash (W-League).
Now as a head coach, Abby's task will bring all that passion and know-how to the table and pass it along to her new team - the Lady Panthers of Pitt-Bradford.
Congratulations, Abby! We wish you and your team all the best!
Tuesday, February 13
Adams graduates Nate Norman & Simon Omekanda get drafted by the MLS- Chicago Fire
19 Nate Norman BACK TO TOP
Class:
Senior Height / Weight:
6-1 / 170
Hometown:
Rochester, MI Position:
Forward/Midfield
High School:
Rochester Adams Birthdate:
03/02/1985
Notre Dame University
- NEWS
2007 MLS DRAFT: (second round, 21st overall). After coming off the bench during his first three seasons at Notre Dame, Norman would prove to be a key midfield cog in 2006, starting all 23 of Notre Dame's contests and scoring two goals and a team-high seven assists in helping the Fighting Irish reach the College Cup Quarterfinals last November. Norman tallied seven goals and 13 assists in his 82 career games (33 starts) during his career in South Bend.
________________________________________
18 Simon Omekanda BACK TO TOP
Class:
Senior Height / Weight:
5-8 / 178
Hometown:
Rochester Hills, MI Position:
Forward
High School:
Rochester Adams Birthdate:
Penn State University
- NEWS
2007 MLS DRAFT: (fourth round, 47th overall). The Fire would close its draft day by selecting Omekanda in the fourth round. The Penn State striker was a four-year starter in Happy Valley, notching 20 goals and 26 assists in 83 games for the Nittany Lions, including 73 starts. The former Gatorade High School Player of the Year and NSCAA High School All-American continued to rack up accolades at Penn State, where he was a First Team All-Big Ten selection in both 2005 and 2006.
Monday, January 31
2011 banner 3rd drafthttp://photos-images.active.com/file/1/978263/optimized/fe036956-24fa-46b1-8e73-cec63480c985.gif
go to
ROCHESTER UNITED SOCCER CAMPS
go to
NorthOaklandSports.com
2011 banner study-1st drafthttp://photos-images.active.com/file/1/978263/optimized/fe036956-24fa-46b1-8e73-cec63480c985.gif
go to ROCHESTER UNITED SOCCER CAMPS go to NorthOaklandSports.com
2011 banner study-2nd draft
go to ROCHESTER UNITED SOCCER CAMPS go to NorthOaklandSports.com
2010 banner

go to ROCHESTER UNITED SOCCER CAMPS go to NorthOaklandSports.com
Friday, November 4
Do You Like Me? Visit the RUsoccer facebook page.