Rochester Adams Highlanders: ... 2001
Tuesday, August 7
_________________________________________________________________________
_________________________________________________________________________
BOYS SEASON - Autumn 2001
REGIONAL CHAMPIONS
STATE RUNNER-UP
Thursday, September 13
3 Of A Kind -Omekanda Brothers Team Up To Lead Adams Kickers
By Daniel Stickradt
Rochester Eccentric
dstickradt@oe.homecomm.net
A year ago, Jean Omekanda had a view of the Rochester Adams varsity boys soccer games through a camera. That's because the then-eighth grader video taped most of the Highlanders' games.
But Jean has quite a different view this year. The aforementioned freshman is on the field, along with his two older brothers, Paul and Simon, making up a special group that's featured at highly touted Adams.
"I've been looking forward to it," Jean says about playing alongside his brothers. "This is the first time that we've played on the same (organized) team. We've practiced in the backyard with each other, but not on the same team."
Although two brothers on the same team is quite common, having three brothers on the same squad and in the starting lineup is extremely rare.
"In all of my years of soccer, both as a player or coach, I've never seen anything like it," Adams varsity head coach Juan Delgado said. "I've been around the game most of my life, in Florida and Michigan, and never seen anything like it. Three brothers not only on the same team, but in the starting lineup. I would say that this is something special."
All of this means that shouting last names on the field may get confusing at Adams, so first names have to be remembered. The playing styles of the three brothers is different, however.
"As players, we're all different," Simon said. "We all bring something different to the table."
All three players boast exceptional speed, but play different roles at Adams.
Paul, a senior and four-year starter (his freshman year was at rival Rochester), is a 6-foot, 185-pound defensive-minded player who rotates his time between sweeper, stopper and defensive center midfield this year - he played marking back the last two years - and has matured into more of a composed player. Paul has received notice from more than 20 Division I college programs.
Simon is one of Michigan's top juniors, and with his 5-8, 160-pound frame, is a marked man up top because of his goal-scoring abilities. He has been among the team's leading scorers the past two years.
The youngest, 5-10, 165-pound Jean, will play marking back this season, often drawing the assignment of shadowing one of the opposition's top players.
"They're all a little different, but in some ways the same," Delgado said. "They're all fast and very athletic, but their roles are different. They will all be key parts of this team."
Perhaps, Paul will have the biggest role, not only helping his fellow seniors lead the Highlanders, but having to look for his two younger brothers as well.
"I have to set an example for them, both on and off the field. Especially, Jean. I have to make sure he does all right as a freshman, teach him the ropes and be there for him,'' said Paul, who has matured by leaps and bounds since last season, according to Delgado.
The Omekanda brothers were introduced to soccer at a young age, but not on American soil. Paul and Simon were born in Morocco in the early 1980s, while Jean was born in Belgium a few years later. The Omekandas came to the United States almost six years ago, and it didn't take long for them to get involved in soccer.
The Omekandas initially lived in North Carolina before relocating to Rochester nearly six years ago. All three brothers are currently involved in the Vardar club system - the state's most successful club program - and all three have ties to the Olympic Developmental Program. Paul and Simon are in the Midwest pool in their age groups; Jean is a state pool player for 14-year-olds.
"We've all got a very good soccer background," Simon said. "And we're always doing something in the game. It gets pretty competitive between us, but we're all pretty close."
Two years ago, Paul and Simon were members of Adams' 1999 Division 1 state championship team. Last year, although the Highlanders were ranked in the top 10 much of the time, they fell short of defending their title, losing to Warren De La Salle in the regional semifinals.
This season, the three Omekanda brothers, along with their teammates, have but one goal.
"We want to go out and win the state championship again," Paul said. "I know we have the talent to do it. We just need for us seniors to step up and lead this team. I think anything less than a state championship would be disappointing, very disappointing. I think everybody around here feels we can do it."
Wednesday, September 19
Adams primed for another title
By David Goricki / The Detroit News
ROCHESTER -- In his first season as coach at Rochester Adams in 1999, Juan Delgado directed his team to the Division 1 state championship.
He's thinking title again.
"We're at a level where we can compete for the state championship," Delgado said. "We have very talented kids. We have 10 seniors this year, and five of those kids started for us two years ago. Our starting 11 is just as good as that team.
"We lost 18 (seniors) kids from that state title team. Our chemistry wasn't as good last year, and we didn't play as a team. We corrected all of those problems and have great chemistry right now. Our kids are more mature. Anything short of a state title would be disappointing."
Adams was 10-7-5 last season and lost to Warren DeLaSalle in a Division 1 regional semifinal.
The Highlanders (4-1-0), ranked third in their division, were ranked No. 5 in the nation by Student Sports Magazine before Saturday's 1-0 loss to Livonia Stevenson.
They are led by junior midfielder Nathan Norman, senior midfielders Alexander Renzi and Bobby Dobbie, senior defender Paul Omekanda and junior forward Simon Omekanda, Paul's younger brother. Senior forward Dan Picmann, junior defender Matt Stoebick and sophomore goalkeeper Stefano Crescintini are other top players.
"Stefano didn't get a lot of minutes last season," Delgado said. "He has very good range. We expect big things from him.
"It's neat to be ranked fifth in the nation, but our goal is to improve on a daily basis. You have to be humble and keep things in perspective. You're only as good as how you played your last game."
Wednesday, September 26
Big Week
By David Goricki / The Detroit News
Simon Omekanda had a big week in leading for Rochester Adams (6-1-0, 3-0-0 OAA Division 1) to victories over No. 8 Rochester and No. 6 Grand Blanc.
Omekanda had two goals Sept. 20 in a 3-1 victory over Rochester and a goal and an assist Monday in a 2-1 victory over Grand Blanc.
You can reach David Goricki at dgoricki@detnews.com.
Boys soccer
Rochester Adams 5, Lake Orion 3 - At Lake Orion, Alexander Renzi had two goals and Dan Tisman, Paul Omekanda, Simon Omekanda each added single goals for Adams (7-1, 4-0 OAA Division I).
Tuesday, October 9
Soccer Report: Adams win battle of Rochester
Soccer Report: Adams win battle of Rochester
By Sheldon Shealer
Date: Oct 9, 2001
Rochester Adams, the top-ranked team in Michigan, defeats rival Rochester in boys soccer.
Simon Omekanda netted his 18th goal of the season secured Student Sports Fab 10 No. 10 Rochester (Mich.) Adams' 2-0 victory over rival Rochester (Mich.) on Monday.
Matt Austin netted the first goal for Adams, which regained the No. 1 ranking in Michigan following Livonia Stevenson's loss last week.
In other Fab 50 boys action Monday, No. 11 Livonia Stevenson (Mich.) defeated Walled Lake Central (Mich.), 9-0 behind a pair of hat tricks by J.T. Katikos and Ben White; No. 12 Plymouth Canton (Mich.) payed to a 1-1 draw with Farmington (Mich.); No. 25 St. Ignatius (Ohio) edged Normandy (Ohio), 1-0; and No. 33 Rockhurst (Mo.) defeated Blue Springs South (Mo.), 3-1.
Roundup: Adams defeats Rochester, 2-0
By The Detroit News
ROCHESTER -- Rochester Adams, ranked No. 1 in Division 1 boys soccer, defeated seventh-ranked Rochester, 2-0, Monday night.
Junior forward Matt Austin scored midway through the first half, assisted by junior midfielder Nathan Norman, and junior forward Simon Omekanda had an unassisted goal five minutes later. Goaltender Stefano Crescentini made 10 saves for Adams (11-1-1, 8-0-1 Oakland Activities Association Division 1).
"I don't think we played very well, it was a very sloppy game, but it's nice to know we can play an average game and still win 2-0 over a good Rochester team," Coach Juan Delgado said after the match. "Rochester's defense did a good job of limiting our offensive opportunities.
"Our goalkeeper kept us in that game, making several very good saves to give us the shutout and help us win that game."
Norman is a U.S. national team player and Omekanda is a U.S. regional team player.
Rochester is 9-3-3, 5-2-3.
Thursday, October 18
No. 1 Adams rallies to topple Clarkston
No. 1 Adams rallies to topple Clarkston
BY DANIEL STICKRADT
STAFF WRITER
dstickradt@oe.homecomm.net
Even as the No. 1-ranked team in the state's Division 1 polls, Rochester Adams' boys soccer team has had to dig up a little luck to maintain its high-powered engine. Lady luck rubbed them the right way again Monday evening. The Highlanders, minus two key starters, dodged several early bullets and rallied back from an early 1-0 deficit to topple host Clarkston 5-1 in an Oakland Activities Association
crossover match.
"It was nice to see that we stayed composed and didn't stumble being down early, because we could have been down 3-0 midway through the first half," said Adams third-year coach Juan Delgado. "We came on strong late in the first half and played well in the second."
Clarkston (10-6-1) scored first on a 35-yard blast by senior midfielder Patrick Roche, where Roche took a quick one-touch pass from freshman midfielder Mike Klemm down the right side and caught Adams sophomore goalkeeper Stefano Cresentini off his line just 6:15 into the contest.
The Wolves nearly expanded that lead on a pair of breakaways, but junior forward Sean Gardner's blast sailed over the crossbar while a shot by junior forward Mike Hall moments later was stopped cold by Cresentini. Adams, which was missing junior midfielder Nathan Norman out with an injury and senior midfielder Bobbie Dobbie, who was on a official visit to Brown University, seemed out of sync until it got the equalizer.
Junior Chris McGreevy knotted the score at 1-1 with 5:35 left in the opening half when he scored off a rebound following a shot by junior forward Simon Omekanda.
Then the flood gates opened. Senior midfielder John Sanburn gave Adams (14-1-1) a 2-1 advantage when he scored off an assist from senior midfielder Alexander Renzi with 4:39 left, and then Renzi scored off a free kick just outside the penalty box that deflected off of Clarkston junior goalkeeper Tim Moyer's hands 2:49 before intermission for a 3-1 halftime lead. "You look at the score and you think we got killed, but that wasn't the case," said Clarkston veteran coach Dan Fitzgerald. "We could have been up 3-0 on them and we carried play as much as they did in the first half. Except for the last 5-6 minutes of the first half, we didn't give them much." The three-goal outburst eventually took its toll on Clarkston, as the Highlanders eventually wore down the Wolves in the second half.
Senior midfielder Ryan Osberger upped the lead to 4-1 with 35:35 to play when he volleyed in a long cross from Simon Omekanda past Clarkston junior backup keeper Erik Kammeyer. Pushed up top, senior sweeper Paul Omekanda wrapped up the scoring with 10 seconds left in the contest when he converted a breakaway feed from freshman brother Jean Omekanda.
"We got a chance to play a of guys, but it was nice to see us get a good result against a solid team without two of our guys," added Delgado. "Our goal is on the state tournament right now. These last couple of games gives us a chance to work on some things and experiment a little bit."
For Fitzgerald, he thinks his squad can learn from a team like Adams.
"We might of lost by a few goals, but except for that short stretch, we played right with them," said Fitzgerald. "I know they had a couple guys out, but I think we gained a little bit of confidence. We need to take that into the district next week and hopefully we'll get (sixth-ranked) Grand Blanc again. They only beat us 1-0 the last time we played them."
Thursday, October 25
A New Season
By Daniel Stickradt
Staff Writer
dstickradt@oe.homecomm.net
Rochester Adams 6, Lake Orion 1 — Upsets in high school state tournaments most often occur in the first round. Rochester Adams made sure it wasn't one of those victims when the boys soccer tourney kicked off Monday.
The Highlanders, ranked second in the state in Division 1 and in the top 25 nationally since the beginning of the season, scored three goals in each half to ousts Lake Orion 6-1 Monday in a district opener played at Rochester High.
Senior midfielder Alexander Renzi scored two goals and added an assist, and junior forward Simon Omekanda also notched two goals in a game that delayed one hour due to a severe thunder storm.
Adams coach Juan Delgado said he feared the situation because a slick field can often play to the advantage of the underdog. "It's scary to play in a game like that with the field all wet because it takes you out [of the type of game] that you're used to playing," he said. "And when you're playing a blue collar team like Lake Orion, a team that always plays you regardless of how much talent they have, it can even things up."
Adams (16-1-1), which is on a 13-game unbeaten streak and was scheduled to face host Waterford Mott in the district semifinals Wednesday night, scored first when Simon Omekanda took a breakaway feed from junior midfielder Nathan Norman and beat Orion junior goalkeeper Jason Collinsworth to his left with 32:41 remaining in the first half.
Orion (3-10-5) held tough for much of the first half, playing tight defense and keeping the Highlanders from possessing the ball, but Adams eventually wore down the Dragons.
Omekanda finally made it 2-0 11:49 before intermission on an assist from senior midfielder Paul Omekanda, and senior midfielder Alexander Renzi upped the advantage three minutes later to 3-0 when his direct free kick from 30 yards out snuck into the corner of the net. The Dragons, who were missing starting sweeper Brandon Shubitowski due to disciplinary reasons, got its only tally on a penalty kick by sophomore midfielder Billy Weaver with 6:55 left in the first half.
"We made a bunch of changes in our lineup, really," said Lake Orion coach Randy McCoy. "We moved a bunch a guys around and had to move (senior) Courtland Keteyian back to defense to mark Simon Omekanda, and that didn't work. And taking Courtland out of the midfield hurt us offensively.
"Then with the hour delay I think that hurt us even more. We were really pumped up and ready to play at 7 p.m., but sitting around for an hour on the bus really hurt us."
In the second half, Adams blew the game open when Renzi curved in a cornerkick that caught the upper-90 by the far post with 28:46 to play, and then Paul Omekanda took a feed from Renzi before threading the needle by the near post with a blast from 15 yards out. Sophomore forward CJ Szafir capped the scoring with 3:02 to play on a breakaway pass from junior forward Matt Austin.
"The first 20-30 minutes of the game were very scary and I never really felt comfortable until early in the second half when we were up three goals," said Delgado. "When we went up 5-1, then I knew the game was pretty much over. After that, I started to substitute in my bench."
Lake Orion, which finished the game with 11 of its 13 seniors on the field, had one last chance to score again with 1:16 left in the game, but Keteyain's penalty kick skipped harmlessly off the goalpost and out of bounce. "You look at our record and you think we're not that good, but we play in (one of) the toughest leagues in the state," said McCoy. "In the past two years, we've only lost to 2-3 teams outside of our league. As for Adams, we played them three times and lost all three games, they are simply a better team than we are."
For the game, Adams outshot Orion 17-6, including 11-2 with shots directly on goal.
Tuesday, October 30
Boys Soccer: Regionals - Rice, DeLaSalle ousted in upsets
Matt Stoebick (gold) will not be denied.
Boys Soccer: Regionals
Rice, DeLaSalle ousted in upsets
By John K. Schroder / Special to The Detroit News
ROYAL OAK -- Kimball was not the place to be playing if you were the defending Division 1 state champs.
Defending co-champions Warren DeLaSalle and Birmingham Brother Rice each lost in a regional semifinal doubleheader here on Tuesday.
In the opener, New Baltimore Anchor Bay (19-1-2) knocked off Brother Rice, 2-1 in two overtimes. DeLaSalle lost to Rochester Adams in the nightcap, 3-1.
The regional championship is here Friday night at 7 p.m.
"It's the biggest win in Anchor Bay soccer history, we've never been this far before," Coach Don Dziuk said after the match. "Rice probably controlled more play, but we stayed with our strategy, to delay, to try to win the ball in the defensive third (of the field) and to counter."
Junior center/half Greg Janicki scored twice for Anchor Bay. His first went in 10 minutes into the first half.
Anchor Bay held its lead until midway through the second half, when Devin Duerr tied it for Rice.
Janicki scored the winner off a corner kick by junior defender Jason Trombly with three minutes left in the second overtime.
Rice finished 19-2-3.
Rochester Adams (19-1-1) eliminated DeLaSalle (10-5-5) in a match played during a light and steady rain.
"We've lost to DeLaSalle the last five times we've played them," Adams Coach Juan Delgado said. "I don't know if we've ever beat them. They knocked us out last year, so it is some level of revenge for us.
"We were very organized defensively and didn't give them any good opportunities, and offensively we created some real good chances against a very good team."
Adams dominated the first half, but managed a 1-0 lead at halftime. Junior Simon Omekanda broke loose from his defensive shadow -- DeLaSalle defender Troy Caruso -- and one-timed a beautiful 40-yard free kick served into the box by Bobbie Dobbie at 16:30. Omekanda set up both second-half goals for Adams.
Omekanda returned the favor to Dobbie 10:09 into the second half. Omekanda dribbled the ball into the left side of the box and sent a crisp pass along the 6-yard line where Dobbie ripped the ball into the open side of the net.
Behind 2-0, DeLaSalle finally got untracked and created some pressure. The Pilots' goal was scored on a penalty kick by Jeff Jaber with 26:02 to play.
The Pilots have struggled to score goals all year and that inconsistency led to their downfall. DeLaSalle continued to press and Omekanda picked up a long clearing pass near midfield and then turned and sent Alexander Renzi loose on a 40-yard breakaway. Renzi deked goalie Brent Miller at the top of the box and went left before depositing the final goal with 6:21 to play.
Adams out chanced DeLaSalle, 18-6. Adams keeper Stefano Crescentini made only one save in the match. Miller recorded two stops.
Tuesday, October 30
Adams, Lahser win; Rice falls in OT, 2-1
Adams, Lahser win; Rice falls in OT, 2-1
By Marty Budner
Staff Writer
Warren De La Salle eliminated Rochester Adams from the state soccer tournament last year in a regional semifinal game. The Highlanders returned the favor Tuesday evening.
Adams used its superior speed and tremendous talent to register a convincing 3-1 victory over the Pilots in a regional semifinal game played at Royal Oak Kimball High School.
Adams (19-1-1) now plays in the Division 1 regional championship game set for 7 p.m. Friday at Kimball against New Baltimore Anchor Bay (18-1-3). Anchor Bay eliminated Brother Rice in the other regional semifinal on Tuesday, 2-1, in overtime.
"I don't know if we've ever beaten De La Salle. I know they've beaten us the last five times we've played them," said Adams coach Juan Delgado. "They knocked us out last year and it was on our minds. This was kind of a revenge thing.
"I told the kids to remember how it felt when they lost last year. I told them that they have to fight hard to win this game," he said. "And they came out and performed well."
Adams, whose only loss this season was to top-ranked Livonia Stevenson, controlled most of the game. The Highlanders outshot the Pilots 22-6 and had many scoring chances that just missed.
Adams tallied the game's opening goal off a restart midway through the opening half. Junior Simon Omekanda lifted the ball past De La Salle goalie Brent Milner off a nice feed from Bobby Dobbie.
The Highlanders made it 2-0 at 29:51 of the second half when Dobbie netted an excellent crossing pass from Simon Omekanda.
De La Salle's Jeffrey Jaber scored three minutes later on a penalty kick to make it a one-goal game. Adams regained its two-goal cushion when senior Alexander Renzi scored a breakaway goal on another nice pass from Simon Omekanda.
"It was a good game. I thought we had a lot of the possession and today we were very strong defensively," said Delgado. "We were very organized and shut them down. Offensively, we didn't make many mistakes and won a lot of balls. We put a lot of pressure on them."
Wednesday, October 31
Rochester Adams tops De La Salle 3-1 in Division 1 regional
Nate Norman (7) denies the turn
There will be no defending Division 1 soccer champ in this year's final.
After Brother Rice fell to Anchor Bay 2-1 in double overtime Tuesday night, De La Salle dropped its match to Rochester Adams in the other half of the regional semifinal at Royal Oak Kimball High School, 3-1.
The Pilots, who knocked off Adams in a regional semifinal last year, and Warriors were crowned co-champs in Division 1 after a 2-2 tie in the final last year.
Junior forward Simon Omekanda scored 1 goal and assited on the other 2 to lead the Highlander attack. Bobby Dobbie and Nate Norman added the other tallies.
DLS got its lone goal from Jeff Jaber off a penalty kick midway through the first half.
The Highlanders, who had lost 5 straight to DLS, will face Anchor Bay in the regional final at 7 p.m. at Kimball.
Sunday, November 4
Adams kickers charge into semifinals
Simon battles for possession
By Chris Mayer Staff Writer
Can the Rochester Adams boys soccer team be stopped?
The Highlanders, ranked No. 2 in Division 1, charged into the state semifinals on the strength of Friday's impressive 3-0 regional final victory over Anchor Bay at Royal Oak Kimball High School.
Chris McGreevy, Alexander Renzi and Nate Norman registered first-half goals as the Highlanders improved to 20-1-1. Up next for Adams is a meeting Wednesday at 7 p.m. at Grand Blanc against either Oakland Activities Association Division II member Clarkston or Sterling Heights Stevenson.
Clarkston and Stevenson played yesterday afternoon in the Saginaw Heritage regional final, but results were unavailable at press time.
Adams frustrated Anchor Bay from start to finish, controlling the play with precision ball movement and smothering defense.
"The first half we were ready to play,'' Adams head coach Juan Delgado said. "The kids were playing unselfish, and when we play unselfish we have a lot of success.''
The Highlanders stormed the Anchor Bay goal almost immediately, finally breaking through with 26:06 left in the first half when McGreevy corralled a loose ball after an Adams throw-in and sent a shot past Tars freshman goalkeeper Jeremy Balko.
Adams struck again less than three minutes later when Renzi converted a pretty cross from Simon Omekanda. Norman's perfectly placed shot into the top left corner with 6:08 remaining before halftime capped the flurry.
"We wanted to dictate the first 10 or 15 minutes of the game and perhaps get a goal or two,'' Delgado said, "and that's what we did.''
Thursday, November 8
Adams advances to Division 1 final
Bobby Dobbie serves the ball up
GRAND BLANC - Rochester Adams quest to reach the state soccer finals culminated Wednesday night as they defeated Sterling Heights Stevenson 4-1 in the Division I state semifinals.
The Highlanders, who reach the state finals for the first time since they won the state championship in 1999, scored two unanswered goals before Stevenson could blink. Simon Omenkenda scored a pair of goals and an assist to lead the Highlanders. Nate Norman contributed a goal and chipped in pair of assists, and Dan Pickman also scored for the Highlanders.
"It was a good game," Adams coach Juan Delgado said. "A lot of credit goes to Sterling Heights Stevenson. They never gave up. They played hard for 80 minutes, and they had a great season."
Adams, which held a 2-1 halftime lead, controlled the tempo for most of the game. The Highlander defense was able to shut down Stevenson the rest of the game as Adams punched in two more goals to secure the victory.
"I'm proud of my boys for getting this far and we're very happy for winning this game and going into the finals," Delgado said.
Rochester Adams, which improved its record to 21-1-1, plays University of Detroit Jesuit (17-6-2) at 1:30 p.m. Saturday at Bloomfield Hills Lahser for the state championship. Stevenson ended the season 17-4-2.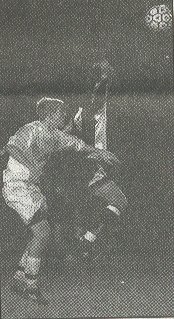 John Sanburn strong in the air
Thursday, November 8
Adams defeats Stevenson, 4-1
Simon & Chris celebrate a goal
By John K. Schroder / Special to The Detroit News
GRAND BLANC, Mich. -- For the second time in three years, Rochester Adams is headed to the Division 1 soccer championship.
The Highlanders dominated play in a 4-1 victory over Sterling Heights Stevenson in a state semifinal match.
Adams (21-1-1) will face U-D Jesuit, which defeated Brighton 1-0 Wednesday, at 1:30 p.m. Saturday at Bloomfield Hills Andover. Stevenson, making its first final four appearance, finished its season 17-4-2.
Juniors Simon Omekanda and Nathan Norman provided the offensive punch. Omekanda scored in each half and Norman had a goal in the first half and two assists in the second half.
Adams missed some great scoring chances throughout the match, and when Stevenson's Justin Wolocko banged in a 22-yard free kick, the Titans only trailed 2-1 with 8:45 to play in the opening half.
"Hey, we scored a goal. We've got nothing to be ashamed of," Titans Coach Bob Mondoux said. "They're an excellent team. We had a Cinderella season and I wish we could have moved on."
Omekanda opened the scoring by completing a beautiful give-and-go with Bobbie Dobbie at 16:18. Norman pushed the score to 2-0 when he intercepted a clearing pass and blasted a high shot with 10:04 remaining before intermission.
Omekanda added his second goal by finishing a through ball from Norman early in the second half and then Norman set up Dan Picmann who was racing down the middle with 12:07 left.
"We played well for about a half an hour out of 80 minutes. They had an opportunity to come back on us at 2-1," Adams Coach Juan Delgado said. "We finally slowed it down and played the ball on the ground in the second half. We're going to need to play 80 minutes on Saturday."
Adams outshot Stevenson, 21-6. Stefano Crescentini made two first-half saves for Adams and Mike Stechly made seven stops for the Titans.
Friday, November 9
Soccer: State finals preview
By John K. Schroder / Special to The Detroit News
At Bloomfield Hills Andover, two of the top three Mr. Soccer candidates, Rochester Adams' Simon Omekanda and U-D Jesuit's Ryan Alexander, will compete in Division 1 at 1:30 p.m.
Omekanda, a junior, leads Adams (21-1-1) with 28 goals. His two brothers -- Paul and John -- join him in the starting lineup. Nate Norman has been strong along with Alexander Renzi and Bobbie Dobbie. Dan Picmann anchors the defense.
Adams, the 1999 state champ, suffered its only loss to Livonia Stevenson, the team U-D eliminated in a regional final.
Alexander, a senior, has been the key for U-D (17-6-2). He is dangerous shooting or serving the ball. He returned to the lineup after missing several games because of an ankle injury and set up both goals against Stevenson.
Dan DePaulis is dangerous and Jacob Zammit has scored two winners in a row. Good speed on the Cubs' defense will help counter the speed of Adams.
In Division 3 at 11 a.m., defense-minded teams square off. Parchment (19-0-3), the only unbeaten team in the finals, takes on Ludington (23-1-2). Neither team allowed more than two goals against in any game this year.
John Schroder is a free-lance writer.