Rochester Adams Highlanders: ... 2003
_________________________________________________________________________
_________________________________________________________________________
GIRLS SEASON - Spring 2003
REGIONAL CHAMPIONS
STATE SEMI-FINALISTS

All-Teams Kickoff Dinner; 26 March
Annual kick off dinner will be 26 March at 7:00 at the Adams High School cafeteria.
This fun event is for the Parents, siblings (if they wish to come) and all team members from the varsity, JV, and freshmen teams.
Aside from the primary purpose of meeting and getting acquainted with the other players and parents of the Adams soccer family, who you will be spending time and sharing the fortunes and struggles your daughters' teams with, there are several other important matters to cover this evening.
1. Coach Juan will introduce himself and the coaching staff to everybody and present the agenda, direction and focus for the upcoming season. This is a perfect opportunity to ask any questions you may have because if you have a question, chances are that others spread out among 3 teams have similar questions. This is a good place for everybody to start from the same page, as it were.
2. Volunteers will be asked for and recruited for that many auxiliary functions required to allow the season to progress smoothly and maximize the benefit of the entire team experience for your daughter. Some of the volunteer items would include things like concession stand shifts, game announcements, clock, programs for games, website updates, fund-raising help, hosting team dinners, among other things. The parents and families of the Adams soccer program have always been very active and gracious with their time and efforts in the past, allowing the program to prosper and grow into one of the elite programs in the state. We thank all of you for your past contributions and thank you all the more for your upcoming contributions to the 2003 season. We could never get it done without you.
3. Monies which need to be collected will be collected on this evening. So bring your checkbooks.
4. Spirit wear and gear will be displayed and orders for any items you wish to purchase will be taken. T-shirts, sweat shirts, fanny cushions and other items are generally available. Get down with Brown & get your Gold on!
It is a fun and informative evening and everybody is asked to come and participate. All families are asked to bring items to share for the dinner.
Varsity Team members: Hot dish/Main dish
JV Team members: deserts/salads
Freshman Team members: soda/juice/beverage
We are looking forward to a very exciting and successful season. And The Kick-Off Dinner is a perfect way to start it. Further details will be sent home with the players.
See you there!
Lady Highlanders ready to kick off............
The 2003 Freshman class is the best in many years. Adams has two returning four year starters in Caitlin Gill and Erin Ashenfelter who will lead the highlanders throughout the season. The supporting cast is very solid with returning starters Holly Adams, Katie Boyd, Mary Whitt, Erica Dubois, Kristy Maynard, and Goalkeeper Krista Hadel.
Tryout dates= March 10-14 3:30-5:00 at Shelby Soccer City
Pre-season Fitness= Feb. 24-28 3-5:00 at Adams High School and March 3-7 3-5:00 at Adams.
2003 GIRLS VARSITY TEAM
click here for full roster and player profiles.
2003 GIRLS JV TEAM
click here for full roster and player profiles.
2003 GIRLS FRESHMAN TEAM
click here for full roster and player profiles.
Friday, May 2
Crosstown Matchup; Adams Edges Out Over Rochester Falcons (2 May 2003)
Senior Mary Whitt collects the ball
Adams 1 - Rochester 0
At Rochester. A wet and drizzly evening was the setting for the second meeting of the season between these cross-town rivals who played to a 0-0 tie earlier in the season. A scoreless first half did nothing more to settle the matter. Finally in the 16th minute of the second half, Adams' Kristie Maynard found Emily Walainis attacking up the center with half a step on her mark. Walainis collected the ball neatly out of the air and then took another touch to get in behind Rochester goalkeeper Erin Murphy who came out to challenge the ball to finish into the open net.
Rochester pressured hard the remainder of the match putting 8 shots on goal and another off the crossbar. With 8 minutes left Rochester's Laura Pfeffer unleashed a spectacular shot from 25 yards out, forcing Adams' keeper Krista Hadel to come up with the save of the night to preserved the 3rd shutout of the season. Backpedaling with the shot she got under the ball and deflected it up just enough to keep it out of the goal and bounce off the crossbar. The defense alertly cleared the rebound and avoided the equalizer.
Rochester (5-3-2 overall and 4-1-1) travel to Clarkston Tuesday, 6 May. Adams (2-1-3; 2-1-3) next match will be Saturday at 1:00 at Grand Blanc High School.
Sunday, May 4
Highlanders Head North to Bobcat Country - Blank Grand Blanc (4 May 2003)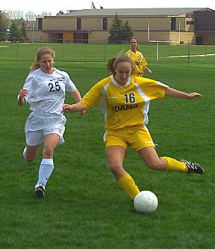 Adams' Emily Walainis passes upfield while GB's Michaela Bosshard pressures her.
Adams 2 - Grand Blanc 0
On a perfect sunny soccer Saturday both teams battled to a scoreless tie in the first half. The second half saw Adams turn the pressure up and put two goals in the net. Susan Szafir and Kristi Maynard each added a tally to give Adams' their third victory of the year.
Coach [Juan Delgado] said "By far this was our best game of the year. We've been coming here the last four years and Grand Blanc always gives us a good game." Adams goals today were assisted by Mary Whitt and Caitlin Gill. Rochester Adams' #23, Mary Whitt, was a dominating player that Grand Blanc had to contend with all match long. Keeper Krista Hadel recorded her [fouth] shutout.
CLICK HERE FOR MORE GAME PHOTOS
Adams' overall record is now 3-1-3, 2-1-3 in league play. Grand Blanc drops to 6-2-1. Next up: Tuesday, 6 May at 7:00, Adams play host to longtime rival Troy Athens as coach Tim Storch and his Red Hawks enter the match currently ranked #1 atop the OAA I table.
Wednesday, May 7
Tough Loss to Athens Red Hawks (7 May 2003)
In a very tight and highly entertaining match, the difference came down to the highly reputed set-pieces of Troy Athens. Jackie Stomper, just called up from the JV squad, made her presence felt as she registered the game winner and her first varsity goal from a throw-in deep in Adams' third of the field in the 30th minute.
Excellent chances were had by both sides including a heart-stopping slow-roller off the foot of captain Catlin Gill. After gaining half a step on her mark and catching the Athens goalkeeper out of position, Gillie cut the ball back at a severe angle toward a wide open net. Unfortunately, she was unable to get a full foot on it and the ball rolled agonizingly slowly toward the goal, even
onto
– but never
over
the goal line before an Athens defender was finally able to reach the ball for the desperation clear.
Other chances were had and opportunities created all through the match right up to the very last when the Athens keeper was forced to make a heads-up save with just 2 seconds remaining on the clock right on her own goal line from a sharp corner kick play of our own. But Athens held on and took the victory.
Adams record is now 3-2-3overall; 2-2-3 OAA I. We will host Birmingham Seaholm Thursday, 8 May
Friday, May 9
Determined Maples Shut Down Highlanders (9 May 2003)
Team co-captain Holly Adams (#9)
from Michigan Soccer Net:
At Rochester Hills, Seaholm scored midway through the 1st half off a restart by Kate Muirhead. Mallory Tomaro headed the volly to Sarah Marx, who headed it into the back of the net. Seaholm's second goal came with 10 minutes remaining when, in a goalmouth scramble, Molly Schulz hit the post and Lauren Stevenson rammed the rebound home. Seaholm played a fine defensive battle, led by Amber Delvecchio, Akli Delvecchio, Muirhead and Ellen Bankert. Christina Barkel recorded her second shutout, shutting down several attempts by Adams in the second half.
CLICK HERE FOR MORE GAME PHOTOS
Adams (now 3-3-3; 2-3-3 OAA1) travel next to Madison Hts. Bishop Foley Saturday, 10 May. Game starts at 1:00pm (11:00am for the JV match).
Monday, May 12
Adams Highlanders Awesome At Ventures' (12 May 2003)
Senior Lindee Andrews (#15) clears the ball
Adams 4 - Bishop Foley 0
Coming off a tough week at home, Adams hit the road, traveled to Madison Heights Bishop Foley, and put it all together on this beautiful Saturday afternoon against the Bishop Foley Ventures. The result was one of the best performances of the season thus far. Two goals each for Emily Walainis and team co-captain Caitlin Gill were the result of sustained and well balanced pressure from the entire team and a rock solid showing from the defense.
The fist goal came quickly as Mary Whitt made a determined run down the left flank starting from near midfield. One by one, the right midfielder, right back and sweeper were beaten and then Mary served from deep and wide to the front of the goal where Emily made no mistake in burying the ball into the back of the net.
Midway into the half a very similar style play resulted in the Highlanders' second goal, only this time it was Susan Szafir from the right side, taking on and beating her defender to find room for a strong low driven serve and Gillie with the volley to beat her good friend, Foley keeper Nikki Galas, for the goal.
The second half picked up where the first left off, with Adams controlling the flow of play and Emily and Gillie notching up another goal each. Center-mids Lauren Sinicola and co-captain Erin Ashenfelter was great all day long controlling the middle of the park and allowing Adams to dictate play. Goalkeeper Krista Hadel records her 5th shutout with 6 saves on the day.
Adams' next match is Tuesday, 13 May as the Highlanders travel to
Birmingham Grove H.S. (click here for map & driving directions)
, for a non-league match-up.
Wednesday, May 14
Highlanders Clip Falcons' Wings (14 May 2003)
Adams 6 - Groves 0
At Birmingham Groves. In a dominant performance over the Groves Falcons, Adams utilized a strong possession game and combination play to dictate the pace and play of the match. Senior Mary Whitt played a very inspired half and notched 3 first-half goals before the 20th minute, assisted by Gillie, Smurf and Ash. Mary's play did not go unnoticed, as she created her own fan section out of a dozen or so guys who were playing some pick-up basketball on the adjacent court. Each goal triggered a loud and rowdy (and well deserved) cheer and applause. Not a bad reaction from an away location.
The halftime talk centered on remaining focused and not dropping our guard, our level of play or our level or intensity. The team responded and continued to control the match until the very end. Emily Walainis tallied her goal just 3 minutes into the half followed shortly by another from Erin Ashenfelter.
Scoring was capped late in the half by the highlight of the game when Gillie laid a ball back to Lyndee Andrews stepping up out of the back. From 25 yards out, Lyndee struck a solid, perfect ball in full stride. With power and speed the ball bent beautifully into the upper-90 to the right helpless Falcons' keeper. It was one of the most gorgeous shots all season long, prompting Juan on the sideline to turn to me and declare, "Holy smokes! (well, ok… he didn't really say 'smokes'), I can't even hit a ball
that
good."
On the day, the scoring ended with 3 goals for Mary Whitt, 1 goal each for Emily, Ash & Lyndee. Assists came from Smurf (2), Gillie (2), Ash & Emily. Activity for goalkeeper Krista Hadel was quiet for much of match, but she did have to come up big a couple times to preserve the teams 6th shutout.
Excellent job everybody. Next match (Thursday 15 May, 7:00) will be our
LAST HOME GAME
for the regular season against Lake Orion. We will celebrate senoir night and pay special thanks to our 5 senior players for the excellent play, hard work they have put into the team over the years to help make and keep the Adams soccer program among the best in the state, and to make THIS year's team, in particular, such a pleasure and a joy to be a part of. So a special thank you and congratulations to our graduating seniors,
HOLLY ADAMS, LYNDEE ANDREWS, ERIN ASHENFELTER, CAITLIN GILL,
and
MARY WHITT
. We love you and we are all very proud of you.
Friday takes us right back to Birmingham – this time to
Seaholm (click here for map and driving directions)
where we will be looking to even up the season series after the Maples convincing victory last week.

Friday, May 16
Highlanders Pay A High Price For Failure To Finish (16 May 2003)
____________________________________________
from Michigan Soccer Net:
Lake Orion defeated Adams 2-0 Thursday to record their first league win. Adams, playing without key starters out because of injuries, called up several JV players to fill the gaps, and dominated the game, but could not put the ball in the net. Orion forward, Jessica Boyle, broke away from the Adams defense and went on-on-one with Adams goalie Krista Hadel. Hadel made the save, but Orion forward Shelly Marick put the deflection into the net. Adams had 22 shots in the first half. Lake Orion scored late in the first half to start the scoring.
____________________________________________
Next up, we trvel tonight (Friday, 16 May) to
Seaholm (click here for map and driving directions)
where we will be looking to even up the season series after the Maples convincing victory last week. JV plays at 5:30, varsity at 7:00.

Saturday, May 17
Maples Stand Strong In One-Goal Win (17 May 2003)
Adams 0 - Seaholm 1
Wednesday, May 21
Knights & Highlanders Knotted Up On The Season (21 May 2003)
Adams 2 - Lahser 2
For the secon time this season, Adams and Lahser played to a hard fought draw.
from Michigan Soccer Net:
Bloomfield Lahser and Rochester Adams played to a 2-2 tie in an evenly matched defensive game at Lahser HS. With one non-league game remaining prior to Districts, Lahsers' O/A record is 10W-4L-3T and completes its OAA League Div. I season in 2nd place with 5W-4L-3T. Rochester Adams O/A record goes to 5W-5L-4T and completes its OAA Div. I league season in 6th place with 3W-5L-4T.
Friday, May 23
Highlanders Reign In Colts (23 May 2003)
Rochester Adams 1 - Troy 0
At Troy. Adams in a very tight well contested match, were made to dig deep and call on every bit of skill, strength, discipline and determination they could muster against a red hot Troy Colts team that hadn't lost a match since the middle of April over 5 weeks ago. The effort paid off with a huge 1-0 win as Adams defeated Troy at Troy for the 1st time in since Juan Delgado took over as head coach over 5 years ago and any of the current Highlanders seniors first put on an Adams uniform.
from Michigan Soccer Net:
The Adams Highlanders, playing with everyone healthy, defeated the Troy Colts at Troy 1-0 with a great team effort, led by seniors Holly Adams, Erin Ashenfelter, Caitlin Gill, Mary Whitt and junior goalie Krista Hadel. The game was very competitive and featured two highly skilled teams, boasting several players bound for college teams.
The Highlanders survived several close calls in the first twenty minutes and then jelled to push Troy for the remainder of the game. The Troy defense, anchored by seniors Erin Geldolf and goalie Annie Decker, was its usual solid self, but not enough to thwart a determine Adams effort. Adams scored a little more than ten minutes into the second half on a corner kick from Caitlin Gill, taken by freshman Lauren Sinacola who passed it to freshman Jessica Meek who put it in the back of the net. Adams threatened again and then played solid defense as Troy pulled out all the stops, including taking advantage of goalie Decker's field skills, in an effort to grab a win in a frenzied final five minutes. But the Adams' defense, behind the solid play of Holly Adams, Emily Walainis and Katie Boyd, stopped repeated good offensive efforts to shutout the Colts.
Adams, playing its final league game in 2003, improved its OAA league record to 3-5-4 and overall record to 6-5-4. [end excerpt]
We travel Friday, 23 May to
Livonia Churchill (click here for map & driving directions)
to face the Chargers for our last regular season match.
Highlanders Finish Regular Season Strong Over Churchill (26 May 2003)
Rochester Adams 3 - Livonia Churchill 0
The Rochester Adams Highlanders defeated Livonia Churchill Chargers 3-0 Friday night in a non-league game on a cool evening in Livonia. It was the final regular season game for both teams. Both teams threatened in the first half but did not score. The Highlander's Holly Adams started the scoring, putting a corner kick from Caitlin Gill into the net early in the second half. The two combined again on an indirect, with Gill slipping the ball to freshman Susan Szafir who scored. Adams' third goal came on a free kick from senior Mary Whitt, after she was pulled down in the box. Adams played solid defense and controlled the middle to shutdown the Churchill offense. Junior goalie Krista Hadel recorded her seventh shut-out. Adams finishes the regular season 3-5-4 in the OAA and 7-5-4 overall.
District playoffs begin Tuesday as the Higlanders face Waterford Mott at
PIERCE MIDDLE SCHOOL 5154 Hatchery, Waterford, MI 48329-3434 , Waterford, MI 48386
. The winner of that match will play Waterford Kettering, who drew the bye, Thursday 29 May, 7:00pm at Adams H.S. District Fianls will take place 12:00 Saturday, 31 May at Adams H.S.
playoffs - round 1: Highlanders Start The Tough Climb (28 May 2003)
Rochester Adams 5 - Waterford Mott 0
Adams had little trouble in defeating Waterford Mott last night to open the 2003 playoffs. The Highlanders thoroughly controlled the match throughout and the outcome was never in any real doubt. Captain Caitlin Gill scored 2 goals on the night and Emily Walainis, Lauren Sinacola and Susan Szafir added a goal each. Krista Hadel and Kelly Robbins combined for the shutout.
Next match will be the district semi-final at Adams High School against Waterford Kettering. The Kettering Captains are coached by an old friend and familiar face. Coach Tony Williams was the head coach of the Highlanders when he led Adams to their 1st ever state title in 1992.
Playoffs Begin Tuesday
Opponent: Waterford Mott Corsairs (Light Blue & Dark Blue)
Location:
PIERCE MIDDLE SCHOOL 5154 Hatchery, Waterford, MI 48329-3434 , Waterford, MI 48386
DIRECTIONS:
. STARTING FROM ADAMS H.S.
. Take ADAMS RD south 1 mi.
. Turn Right on WALTON BLVD; travel 7 mi.
. Turn Left on SILVER LAKE RD; travel 0.3 mi.
. Turn Right on SILVER CIR 0.3 mi.
. Turn Right on US-24 1.7 mi.
. Turn Left on HATCHERY RD 1.1 mi.
playoffs - round 2: Captians Hooked By Highlanders (30 May 2003)
Rochester Adams 7 - Waterford Kettering 1
Saturday, May 31
District Championship: Highlander Keep the Wolves At Bay (31 May 2003)
Adams 5 - Clarkston 2
For the 1st time since the state championship year of 1999, Adams has brought home the district championship today on a blustery overcast day against a very determined Clarkston Wolves team.
Highlights: Clarkston scored the only goal of the 1st half. The Wolves then ducked, dodged, as much as possible to withstand a constant high pressure attack for the 1st 12 minutes of the second half as Adams, now playing with the wind to their back created opportunity after opportunity. The Highlanders finally capitalized as Gillie collected a ball played by Ash out to the left of goal and outside the PA. Gill took her touch then struck a brilliant bending shot over the keeper and into the back post side of goal.
That opened the floodgates as Adams went on to score 3 more goals (Gill from Maynard, Ashenfelter from Maynard, & Ashenfelter again from Gillie) in the next 5 minutes to pretty well put the match away. Clarkston kept fighting and did score one more with about 15 minutes left to draw back within 2, but then Mary Whitt (from Kristy Maynard's 3rd assist of the day) put an exclamation point on the affair two minutes later and that about did it. Adams did well to control play and possess the ball for the remainder of the match and 10 minutes later we were the 2003 District Champions. A special mention here also for Susan Szafir. Juan said to me after that match, "I'll tell you what else, Szafir did one hulluba job marking that one kid who was fast as (something)".
Great job Susan. Great job ALL OF YOU! Well won and well deserved.
Next up: we travel to
Central Middle School in Midland (click here for map & driving directions
to face Midland H.S for the regional semi-final. Game time is 4:30, Tuesday 3 June. Winner of that match will advance to the regional finals Saturday, 7 June, same location.
Wednesday, June 4
Regionals: Adams Have The Formula Against Midland Chemics (4 June 2003)
Adams 2 - Midland 0
Our Lady Highlanders have advanced to the Regional Final by beating Midland High, a very good team. The regional final will be at 4:00 on Saturday at the same location.
Great job girls and good luck Saturday! Wish I could be there, but I had rearranged my youth-team commitments to work around the original 12:00 start time and it's impossible for me to be in Midland at 4:00 now. It kills me that I have to miss. But I know you'll be great and I know we'll have another match next week.
from the Oakland Press, 4 June 2003:
Maynard is versatile in Adams' 2-0 win
By David Birkett of the Oakland Press
MIDLAND – Rochester Adams coach Juan Delgado calls Kristy Maynard his utility player.
"We play her all over the field" Delgado said. "We play her outside, we play her up top, we play her in the back. She always tells me 'I'm so confused, I don't know what I'm playing.' I said "you're a utility player for us. You do that because you're very good.'"
Maynard's multitude of talents came in handy Tuesday as the junior scored a goal, set up another and helped hold Midland standout Chantal Robinson as check as Adams beat the Chemics 2-0 in Division I girls soccer regional semi-final action.
The Highlanders (11-5-4) advance to regional final play against Traverse City Central at 4 p.m. Saturday at
Central Middle School
in Midland.
"It's good to be back," Delgado said of Adams' first regional final appearance since 1999. "We were there on the boys' side for so many years and it's good to be back with the girls. The girls have worked hard for a long time and I'm really proud of the seniors. We've been through four hard years and we finally won a district and we're on hopefully to win a regional."
Maynard opened the game saddled with the task of shadowing Robinson, the Western Michigan-bound senior and Midland's No. 1 scoring threat. But with the Highlanders' offense scuffling, Delgado changed strategies midway through the first half and implored Maynard to attack.
The move paid dividends early in the second half when Maynard stole the ball and raced downfield, splitting two defenders and beating Midland goalkeeper Lena Spadecene to the far post.
Sixty eight seconds later, Maynard deked two more Midland defenders to set up Susan Szafir's insurance goal. Szafir's kick shorthopped through Spadecene's legs to give Adams a 2-0 lead.
"Most goals are scored right after a goal has been scored," Midland coach Bill Ripke said. "It's eother you or them. That's a statistical fact… it's too bad we couldn't answer.
After the second goal, Maynard returned to flanking Robinson's every move. Robinson finished with just one shot on goal, and the Chemics (15-2-2) were outshot 9-5 for the game.
Midland's best scoring chances came on indirect kicks by Robinson in the second half, one of which sailed just over Adams goalkeeper Krista Hadel's head and another that hit the crossbar with two minutes remaining.
from The Detriot News, 4 June 2003:
Adams soccer advances
MIDLAND -- Kristy Maynard had a goal and an assist to lead Rochester Adams to a 2-0 regional semifinal victory over Midland in Division 1 soccer Tuesday night.
After a scoreless tie, Maynard scored with 20 minutes left and assisted on Susan Szafir's goal five minutes later to put Adams (11-5-4) into Saturday's 4 p.m. final against Traverse City Central at Midland Central Intermediate. Traverse City Central (15-5-2) defeated Flint Carman Ainsworth, 1-0, on Kristin Lumley's goal.
"It was a very well played game," Adams Coach Juan Delgado said. "We had Kristy (Maynard) concentrating on defense in the first half, but we weren't getting much offense.
"Kristy's a real fast kid so we put her up top in the second half and she created some good chances with her speed. In the last 10 minutes we played with just one forward and defended real well."
Krista Hadel made eight saves to earn her 10th shutout of the season.
Sunday, June 8
Regional Championship: Adams shuts out TC Central (8 June 2003)
Rochester Adams 1 (2OT) - Traverse City Central 0
MIDLAND - Holly Adams scored the game-winning goal off a corner kick by Caitlin Gill with 2:30 left in the second overtime as Rochester Adams beat Traverse City Central 1-0 in a Division 1 girls soccer regional final Saturday.
Krista Hadel had six saves to record her 11th shutout of the year Adams (12-5-4).
©The Oakland Press 2003
The Highlanders play Troy at 7 p.m. Wednesday at Goodrich in a Division 1 semifinal. The Oakland Activities Association rivals split the regular season series.
Tuesday, June 10
HADEL & DECKER: Playing For Keeps (10 Jun 2003)
Hadel has a lot to smile about-11shutouts & a state championship semifinal birth
Troy's Decker faces player she once taught
By DAVID BIRKETT , Of The Oakland Press
June 10, 2003
When Troy goalkeeper Annie Decker approached Rochester Adams coach Juan Delgado about training with some of his players last winter, Delgado was quick to give his blessing.
With one provision.
"Juan said you could train with me as long as you trained my goalie," Decker said.
Decker, who was entering her first year as Troy's starter, cheerfully complied, and six months after her last informal session with Adams goalie Krista Hadel, the two meet again Wednesday with a trip to the Division 1 girls soccer championship game on the line.
Adams and Troy play at 7 p.m. at Grand Blanc in one semifinal, with the winner facing the Brighton-Ann Arbor Pioneer survivor at 1:30 p.m. Saturday at Novi's Meadows Stadium for the title.
"It is (ironic)," Hadel said. "We never thought we'd play against each other in the semifinals.
"If I would've known she would have turned out to be as good as she has, I wouldn't have trained her so hard," added Decker, laughing.
The pair worked out together a handful of times during the winter after meeting through Hadel's Highlander teammate, Erin Ashenfelter, at Shelby Soccer City. They practiced collapse drills, worked on the proper way to catch balls and talked about what to do on breakaways.
For Hadel, a junior in only her second year in goal, Decker's instruction has proven to be a godsend. After struggling with her decision-making and confidence last year, Hadel has 11 shutouts and a goals-against average under one this season, not to mention a new-found love for her position.
"A lot of kids would have quit, they wouldn't want to do it after the experience she had last year and she hung in there and she's become one of the best goalies around," Delgado said. "Technically, she just didn't have the game experience to make some decisions (last year). Technically she struggled. She's probably the most improved player I've ever had since I've been at Adams."
Delgado recruited Hadel, a converted midfielder, to play keeper from the JV team because of her athletic prowess. Hadel also plays basketball and, until this year, played volleyball.
"He said, 'You play basketball, you play volleyball, you're good with your hands,'" Hadel said. "I was like, 'OK, I'll try it.'
"Last year I really hated goalie. I was nervous all the time. This year it's been really fun. I love it now."
Decker, on the other hand, has always been a goalie, albeit one who was forced to play the field last year because her path to stardom was blocked by an all-state teammate.
"I think Annie Decker would have started probably on 90, 95 percent of any other high school team as a freshman or a sophomore," Troy coach Henry Steinwascher said. "Just Katie Perz was in front of her, that's the problem."
Decker was used in the field on corner kicks and other set-ball situations last year because of her knowledge of the game and nose for the ball. She scored a handful of goals, but longed to return to net.
With Perz graduated this year, Decker finally got her chance. The Central Michigan-bound senior posted nine shutouts, a 0.68 goals-against average and has allowed just one goal in the playoffs.
"She has been a key part to our success," Steinwascher said. "She's a great leader in the back, she's making great decisions on crosses and serves, things like that. She's not getting caught out of position."
The Colts are 12-1-2 since spring break with their only loss coming at the hands of Hadel and Adams, 1-0. Decker also led Troy to a 2-0 decision over the Highlanders in their first meeting of the season, and everyone expects another knucklemuncher Wednesday.
"The last couple games have been able to go either way so I think Wednesday's game's going to be a battle," Steinwascher said. "I don't think one team's more favorite than the other."
(Keith Dunlap contributed to this report.)
©The Oakland Press 2003
Thursday, June 12
State Semi-Final: A Magnificent Run Come To An End (12 June 2003)
ADAMS 0 - TROY 2
371 soccer teams in the state tournament; 97 teams in Division I; 3 weeks of round by round elimination.
And in the end you girls are among the last 4 left standing. THAT is a lot to be proud of.
Last night a magnificent season ended as the Highlanders came up against a very tough Troy team. After splitting the season series with one win each, both sides came out very determined as Troy played the aggressor for the better part of the match while Adams, playing without the benefits of 2 regular starters adopted defensive posture, and a counter-attack style match. Troy pressured well. Adams doggedly repelled everything Troy could throw at them and did create several opportunities on the counter-attack and for the 1st hour of play, the matter still wasn't settled.
Finally in the 65th minute, it happened. This from the Oakland Press: "All of Troy's efforts were fruitless until (Eilleen) Larkin got some space and fired a high shot from just outside the penalty box under the crossbar to give the Colts a 1-0 lead with 16:05 left in the game. " With that, we decided there was little choice but to add a player up top in an effort to draw back even. It's a high risk/high reward sort of situation, of course, as it necessarily reduces the defensive numbers by one player, but with only 15 minutes left to equalize it was the way to go. Unfortunately, on this night, it was the high risk side of that equation which ultimately manifested itself as Troy were able to capitalize once more with the insurance goal.
And so ends a truly magnificent season, one that I have thoroughly enjoyed being a part of and that I will never forget. And if we can (as we will) hate the result of last night's match, there is no way in the world we can have the least disappointment for the effort, the heart or the resolve that was put into this match, this playoff run, or this entire season. I have loved being a part of this team this year, and state championship or no state championship, I will never have anything but fond thoughts when I reflect back on this 2003 team. And that has nothing to do with the results we posted, but everything to do with the kind of people you are individually, the way you care about, work with and interact amongst each other, the work and determination you put into your season and the manner in which you carry yourselves AS a team.
You are a credit to your school and to the Adams soccer program. That applies to every single one of you picked to be on this squad and particularly to you 5 amazing seniors, because YOU are the ones who have set this tone for the rest of your mates.
HOLLY ADAMS – I love your guts, your grit and your sheer force of will. For the 2 years I've watched you, it seems that I've watched you play hurt and play through the hurt. But the most amazing thing about it is that when you are on the field, the hurt never seems to show. Because when you're out there, seems like you are the one who will win the ball, who will hold the ball, and who will get the pass off despite the best efforts of the player nipping and chopping at your heels. But the enduring image I will keep of you will be that of getting on the end of restarts to score or at least get the ball on net. Few people do that better and it has been an invaluable part of the success of this team.
LYNDEE ANDREWS – In my eyes, you are the very picture of the perfect teammate. I have never heard one word from you that wasn't praise, congratulations or support for your teammates. And nobody on this squad communicates during the run of play better than you – always positive, always instructional, always supportive. One of the highlights for me this year will always be the goal against Ford II in the Troy pre-season round-robin when we strung together 16 passing movements to put that goal together – and 4 of them were your touches and passes. You are always looking at the field and talking to your players. Everything about you is a positive vibe and optimistic view. I wish I could take what you have inside of you and put it in a bottle and give it to every kid I ever coached.
ERIN ASHENFELTER - Seems like every time the fortunes of the team run high, the one constant is that all roads lead through Ash. Erin, you are killer solid in the middle of the park. I love how tough you are, how strong you tackle, how well you win & hold the ball, and how well you find your options and get the ball there. I love how you work and how you lead. You are the one out on the fields in the fall training with the boys team. You're always the one getting the team up & running every time I turn around. Seems like it's always you feeling what the team needs before anybody else, and then bringing that to the field. If it's that the team needs to settle down, there you are winning balls and calmly getting the job done. If we need to pick up the intensity, you're the 1st one tackling strong, bumping, jostling and turning opponents back and setting the example for the rest. Your dedication and work ethic have been a positive influence on your entire team.
CAITLIN GILL – Gillie, you are the engine of this team. I love watching you on the ball. Your individual ball skills are a joy to watch. But, to me, even more impressive than the technical skill you possess is the work ethic, the boundless energy and the sheer determination you bring to a game. I don't care if it's the 1st minute or the 80th minute of a match, YOU are always the one working, working, working on the ball and off to make something happen. You did it again last night, making that incredible backside run and truly flying through the air giving every ounce of effort, strength and energy to try to get on the end of that ball. And that determination rubs off on your team and I've seen it time and time again inspire a fatigued side to dig down deep and find that next gear & that extra reserve of strength or energy they didn't even realize they had in them. That is why you are the person I asked to assist me with our youth team this year. And that quality is exactly what I was hoping those kids would emulate in watching you – and they have. So in this amazing season, you have not only been a key leader to one team's success – but to two teams' success. And I thank you from the bottom of my heart.
MARY WHITT – I love watching you play because you are the silent but deadly sort. Whatever the assignment, whatever the role, you have done a fantastic job with them all. You're strong. You're fast. And you can react like a cat to a situation. Last night you were just awesome. Seemed like every time we turned around, you were the one keeping us out of trouble, keeping your team in the match – including that goal-line clearance early-on. But my favorite thing to watch you do is go off on a run down the line, either muscle or simply outpace the poor kid trying to defend you and turn the corner. I can't count how many times I seen it and just taken in the sheer enjoyment factor and beauty of the sequence and appreciated the thing as much as a fan, as that of a coach.
Seniors, you are the best. Underclassmen, you've been fantastic as well - each and every one of you. You are a very special group. You can look to any & all of these senior teammates of yours and feel proud to step into the shoes of these 5 and continue tradition and example they have set for you this year. Yes, the loss will sting for a while. But that's not what you will remember about this year as time passes and you look back at this season. What you will look back on is the fantastic year this ultimately was, the truly gratifying team experience you girls made for yourselves by way of your hard work and the care you all had for each other, and the people you shared this experience with. Be proud of yourselves for this amazing season – you deserve nothing less.
Juan is. And I am.
"In the end, it's extra effort that separates a winner from second place. But winning takes a lot more that that, too. It starts with complete command of the fundamentals. Then it takes desire, determination, discipline, and self-sacrifice. And finally, it takes a great deal of love, fairness and respect for your fellow man. Put all these together, and even if you don't win, how can you lose?"
-Jesse Owens