HHS Ice Hockey: Welcome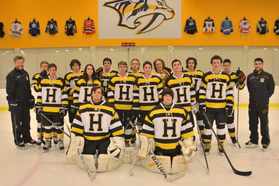 2015-2016 HHS Ice Hockey
Saturday, February 6
Commandos earn a shootout victory
over Mt. Juliet; Win 6-5
*******************************
Next Games
HHS vs. Mt. Juliet: Mon, Feb 1st at 8:10pm (A-Game) W 6-5 (Shootout)
HHS vs. Ravenwood: Mon, Feb 8th, at 8:00pm (Ford Ice)
Senior Game: Rescheduled, Time/Date TBD
All-Star Game: Rescheduled, Time/Date TBD
GNASH Playoffs begin Mon, Feb 8th
*******************************
High School Hockey Nights in Smashville
The Nashville Predators have partnered with GNASH to create a discounted ticketing program designed to help high school hockey with additional ice time and fundraising opportunities.
$10 from each ticket sold will benefit Hendersonville High School Hockey. For every 40 tickets the team sells through February 1st, the team will receive one hour of free ice time at Bridgestone Arena.
Upper Level Tickets, $30 - Lower Level Tickets, $64
*Fri/Sat/Sun tickets are $40/$94. Ticketmaster fees will apply.
To order tickets, please go to
www.nashvillepredators.com/gnashnights
or call (615)770-2112
Remaining Games Available include:
Saturday, Feb 6th vs. Sharks, 7pm
Tuesday, Mar 1st vs. Stars, 7pm
Monday, Mar 21 vs. Kings, 7pm
Monday, Mar 28 vs. Avalanche, 7pm
Tickets must be purchased prior to February 1st, 2015 to be included towards the team goal.
*******************************
Contact Information:
Head Coach, Tim Rathert: trathert@hotmail.com
Team Manager, Mike Longe: hhsice@gmail.com
******************************
Check out the Commando Store for all of your gear and apparel needs!