HeritageBasketball: Welcome
Tuesday, May 14
Heritage Hoops Eyes Summer Return
Welcome to Heritage Hoops. Heritage Hoops has been in existance for over 10 years. We run basketball leagues throughout the year. We also play in other leagues and tournaments. We operate out of Lawnside, New Jersey. Lawnside is a mostly African American town in the suburbs of South Jersey. It is a very historical town which was once a stop on the Underground Railroad. It was originally called Snow Hill and Free Haven. Thats why we have two divisions, the Snow and the Haven division.

Tip Off for the Summer League starts on Monday, June 24th @ the Lawnside Middle School. The 1st game will tip off @ 7PM. The Lawnside Middle School is located @ 426 E Charleston Avenue, Lawnside,NJ, 08045.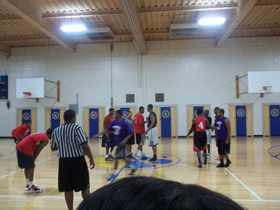 Game Time !!!!!
I Aint No Joke by Eric B & Rakim
Tuesday, May 14
1 Month Until Tip Off
It's May and Summer League Basketball is around the corner. The Lawnside Board of Education has given us the green light for us to start the Summer League on June 24th. This will mark the 1st time in about 20 years that the Summer League will be inside at the Middle School. So let's give a shout out to Dr. Johnson and the rest of the board members for making this possible. We had the Fall League there in October and November and that turned out to be a nice warmup for this summer.
Now let's get on to the impending Summer League. We are looking for 8 to 10 teams. Each team will play 8 to 10 games,depending on how many teams we get. Registration is $450 per team. You will be responsible for your ref fees which is $35 per game. You will be given ten jerseys per team. There will be 3 games a night on every Monday, Wednesday, and Thursday. Tip Off will be @ 6:30,7:30, and 8:30. The championship team will be given a team trophy. The league website is updated daily with scores, pictures, game summaries, and stats. Your team schedule will also will be available online.
The Lawnside Middle school is a regulation 94 Feet basketball court with glass backboards and breakaway rims. The floor was redone last summer and is in immaculate condition. To be honest, I coach the 5th grade class and this is one of the best middle school gyms in the area.
If your interested in putting a team in the league, please contact me, Carleton Perry @ 856-655-7605, Jessica Kirkland @ 856-831-9987, or Rhonda Hurley @ 856-577-5751.
Tuesday, May 14
2 Major Teams to be Added?
There is potentially breaking news for the Summer League. The word on the street is that 2 former South Jersey NBA players are placing teams in the league this summer. I can't confirm this yet because I have yet to talk to either of them. Stay tune for more info about this.
Sunday, March 24
5 Teams Already Confirmed
We haven't hit April yet but we have 5 teams already confirmed for the Summer League. The two teams from the Fall League Championship game, 94 Feet and Run & Gun have both confirmed. Last summer league champion Diva Shoes will be making a return. As well as Team Gravitation who made their debut in the Fall. Came To Ball has also confirmed that they are returning. Seeing as though we are only taking 8 to 10 teams, it is imperative that anyone wanting to put a team in, get in touch with us as soon as possible because there are about 4 other teams that are going play but i just havent talked to them yet. Which means there will probably only 1 or 2 new teams this summer. So dont hesitate to make the call.
Tuesday, November 27
94 Feet Caps Unbeaten Season With Chip !!!!
94 Feet went 8-0 during the regular season and capped off a 10-0 season by winning the championship 63-53 over Run & Gun. The game started off with 94 Feet getting out to a 19-16 lead after 1 quarter. Travis Washington scored 8 for 94 Feet while Jordan Blackman scored 6 for R&G. The score was 37-31 @ the half with 94 Feet leading. 94 Feet held Run & Gun to 9 3rd quarter points and led 50-40 going into the final period. The final period was pretty much the same as Run & Gun got no closer than 5 points @ 57-52 but an offense foul by TJ Burns ended that run. Travis Washington scored 14 and Sam Toney and Kai Massaquoi scored 13 each for 94 Feet. Jordan Blackman and Antraye Miles each scored 15 for Run & Gun while Cedric Smith added 12 for R&G.
Jordan Blackman @ the Line
Friday, November 16
Final Scoring Leaders
Gordon Rose, 25.6, Berlin, Terrance Thorne, 23.5, Atlanta, Lamiere Talley, 22.6, Hoodstars, Tim Mcdaniel, 22.4, Ced Smith,21.7, Run & Gun, Rob Scott, 19.1, Leaguebound, Torrey Brooks, 18.7,Leaguebound, Kai Massaquoi, 18.2, 94 Feet, TJ Burns, 17.5, Run & Gun, Sam Toney, 17.2, 94 Feet