HawksFieldHockey: Welcome
Monday, May 29
Welcome to Big 3 Field Hockey
Home of the Hawks
WHY BIG 3?
Skilled experienced coaches who are committed to ensuring each player reaches her potential. Each player will be challenged and grouped with similarly skilled players or occasionally a little better players to challenge your athlete. Our commitment is to help your player live up to their individual ability while creating a supportive climate conducive to learning. Sportsmanship is a fundamental philosophy we as coaches embrace.
PRE-SEASON TUNE UP
July 17-19, 2017
9:30am - 11:30am
6 hours of skills, drills and scrimmage time on the turf.
REGISTRATION IS NOW CLOSED. If you are interested in the PRE-SEASON TUNE UP please contact Coach Yost at big3fh@gmail.com
COST is $150.00 per participant.
Questions? Please click on the contact us tab to send an email.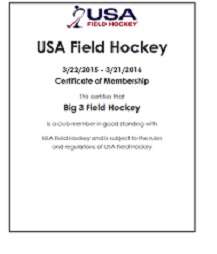 USAFH # 235161