Hawaii Youth Fastpitch League: Welcome
ALOHA AND WELCOME
The Hawaii Youth Fastpitch League was formed to give young girls an opportunity to play fastpitch softball regardless of their level of skill. This league is based on participation and having fun. If you are looking for a league for your daughter to be introduced to and learn how to play fastpitch softball, then this league is for you.
Our games will be played at various community softball fields throughout Hawaii. We will have 3 divisions of play, 8 and Under, 10 and Under, and 12 and Under. We will be playing under the current ASA rules, with modifications to allow mandatory participation for every player. Your daughter, regardless of her skill, will be given an opportunity to participate in every game scheduled. Clinics will be held throughout the year which will allow your child to learn new skills and improve on her current skills. Periodically, we will have current and past collegiate players participate in our softball clinics. We will also have clinics for coaches and parents wishing to learn and understand the game of fastpitch softball.
Now there is a place for you and your daughter(s) to learn about fastpitch softball without the pressures of being competive, but in a totally relaxed and fun atmosphere.
PLEASE VISIT OUR NEW WEB SITE AT:
WWW.HIYOUTHFASTPITCHLEAGUE.COM
ADDITIONAL CONTACT INFO.
hyflws@yahoo.com hyflpt@yahoo.com
Follow us on Twitter @hiyflws
See our facebook page: Hawaii Youth Fastpitch League
---
Handout:
HYFL 2013 Registration Form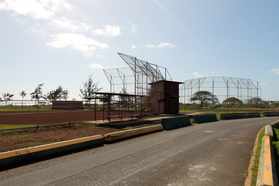 Sand Island Softball Field
Saturday, February 2
Sand Island Softball Field
We will be playing some of our 2013 games at Sand Island Softball field. This field is located at the end of Sand Island Access Road, past the US Coast Guard Station and into Sand Island State Park. Drive to the back of the park and you will see ball fields to your left.
Other games will be played at various community fields in your area.
Handout:
HYFL 2013 Registration Form