Hastings Basketball: Hastings News
Gordy Dagget Scholarship
Congratulations to
Greta Utecht
and
Craig Nielsen
as the 2014-2015 Gordy Dagget Scholarship Award winners. The Gordy Dagget Scholarship is awarded to one female and one male varsity senior Hastings basketball player each season by the Hastings Basketball Boosters.
2014-2015 Hastings Raiders Boys Basketball Players

Photo by Beck Photography
2014-2015 Hastings Raiders Girls Basketball Players

Photo by Beck Photography
Scully and Zak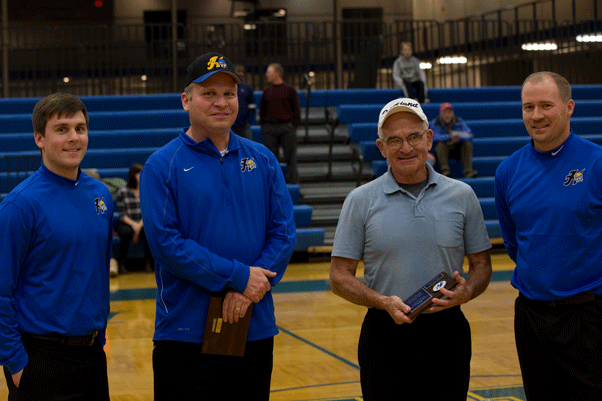 Pictured: Coach Olson, Pete Zak, Tom Scully and Coach Feikema
Raiders Honor Scully and Zak Photo by Beck Photography
The Hastings Boys Basketball team feels very fortunate to have great support from their fans and basketball boosters.
Hastings Boy's Basketball Raider Fan Award
Tom Scully is a true fan. He has been in attendance at almost every home game and many away games. We know that he's been watching us since our ninth grade season. When you speak to him, he can tell you about many past players as well as present. Whether we are winning or struggling, on our home court or away, he has been a constant presence in our cheering section. We would like to acknowledge his dedication and loyalty as a fan, his consistent presence at our games and his positive support of the Raider basketball program for many seasons by awarding him the "Hastings Boy's Basketball Raider Fan Award".
Better Every Day Award
Pete Zak is the boys traveling director. His enthusiasm and leadership have helped our basketball boosters take Hastings basketball to another level. We appreciate all the boosters, but tonight would like to honor Mr. Zak. In addition to the countless hours he puts in coaching traveling teams and camps, attending booster meetings, etc. his legacy will include the implementation of: The 10,000 shot club -the basketball players in Hastings made over 1,000,000 shots this summer; Better Every Day Summer Camp; Blue Gold Night which kicks off our season with events for all teams from grades 4 – 12; and many other initiatives that promote and celebrate Hastings basketball. He has made us better basketball players and stresses the importance of being leaders, hard working team-mates and student athletes. For this we would like to thank Pete with an award based on his motto: "Better Every Day".
10,000 Shot Club - Congratulations to the 2014 members -
The Hastings Basketball Boosters recently completed the 5th Annual 10,000 Shot Club for the summer of 2014. In the inaugeral year 2010, 18 players successfully made 10,000 shots. This past summer the boys and girls in the Hastings basketball program made over 1 million shots. The final total was 1,009,882 made shots and 75 players made over 10,000 shots.

The 10,000 Shot Club is for Hastings Basketball Players (boys and girls) entering Grades 4-12. Players have the months of June, July and August to successfully make 10,000 shots. Those who meet this daunting task are then made official members of our shot club.

2014 Members include:

Shot club members include: Izzy Arnold, Jackson Ashenbrenner, Nolan Ashenbrenner, Luke Blattner, Justin Boe, Jake Brake, Mallory Brake, Tori Brake, Noah Brenny, Danny Brown, Jacob Brown, Drew Davis, Joe Dittrich, Jack Dunn, Tyler Engel, Ashley Fritz, Marissa Fritz, Brady Gullicks, Linnea Hanson, Brandon Haraldson, Devon Haraldson, Grant Hollar, Brendan Holm, Tara Johnson, Tori Johnson, Tyler Johnson, Will Johnson, Lucas Knoll, Evan Koenigs, Noah Kullmann, Colin Kummer, Audrey Langworthy, Olivia Langworthy, Sawyer Levos, Shea Levos, Sully Levos, Owen Matzek, William Matzek, Evan McGinnis, Noah Meshak, Logan Nelson, Zach Nelson, Brian Nielsen, Craig Nielsen, Carter Olson, Dylan Peterson, Sam Pfaff, Lauren Rohr, Tommy Rowan, Jacob Sandquist, Charlie Scharr, James Scharr, Maggie Schlottman, Matt Schlottman, Dominic Scudera, Maleec Sellner, Sam Sheperd, Jacob Shimota, Sam Skoyen, Connor Smith, Jay Sorg, Josh Speak, Jack Stordahl, Jeff Stordahl, Ben Streeter, Jacob Streeter, Joseph Swanson, Justin Swanson, Trey Swanson, Megan Tietjen, Billy Utecht, Carson Whyle, Colby Zak, Joe Zak and Levi Zak.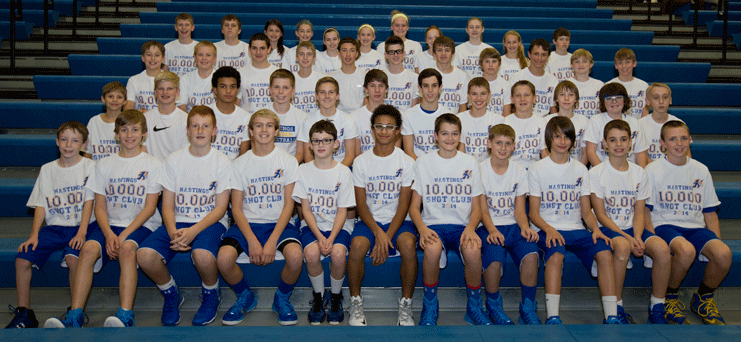 Photo by Denny Beck Photography
Saturday, January 23
Hastings Basketball Boosters