Hastings Basketball: Welcome
In-House registration is now open for the 2014-15 season.
Registration deadline is October 27th, 2014.
Click here for registration information
Welcome to the Hastings Basketball Boosters Web Site.
Our site is designed to offer parents, participants and the community exciting news and information regarding our basketball programs.
Our programs are designed to provide Hastings Area youth an opportunity to play organized basketball in a positive and motivational environment. We do this by providing learning and development opportunities at a competitive pace. Participants will develop basketball skills, leadership abilities, self confidence and they will learn how to successfully interact with others to achieve a common objective. We hope all participants develop a pure joy of the game, and learn the value of basketball as a lifetime fitness activity.
New information is added to this site weekly so feel free to check back frequently.
Photo taken by Beck Photography - click photo for additional Beck Photo images
McGinnis Wraps up 25 Years of In-House
The 2013-2014 In-House season mark the end of a 25 year run for Pete McGinnis running the Hastings Basketball In-House League. Thank You Pete for all you have done for Hastings Basketball!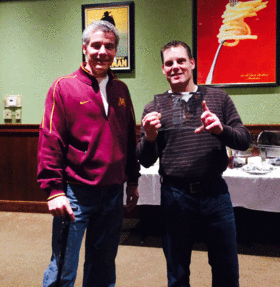 John Hermanson presents Pete McGinnis with a plaque for his 25 years
10,000 Shot Club
10,000 Shot Club - Congratulations to the 2013 members -
The Hastings Basketball Boosters recently completed the 4th Annual 10,000 Shot Club for the summer of 2013. In the inaugeral year 2010, 18 players successfully made 10,000 shots. In 2011, 28 players made 10,000 shots over the summer months. The summer of 2012 saw this number increase to 56 players successfully making 10,000 shots! This past summer, 64 players made 10,000 shots!! Our biggest year yet! A total of 885,000 shots were made by those participating in the 10,000 shot club.

The 10,000 Shot Club is for Hastings Basketball Players (boys and girls) entering Grades 4-12. Players have the months of June, July and August to successfully make 10,000 shots. Those who meet this daunting task are then made official members of our shot club.

2013 Members include:

Jackson Ashenbrenner, Nolan Ashenbrenner, Luke Blattner, Jake Brake, Mallory Brake, Noah Brenny, Danny Brown, Jacob Brown, Josh Brown, Trevor Caflisch, Drew Davis, Joe Dittrich, Jack Dunn, Marissa Fritze, Brandon Haraldson, Devon Haraldson, Grant Hollar, Brendan Holm, Cory Irons, Hana Kazmierczak, Hayley Kazmierczak, Hunter Kazmierczak, Noah Kullmann, Colin Kummer, Audrey Langworthy, Olivia Langworthy, Sawyer Levos, Shea Levos, Sully Levos, Evan McGinnis, Grace McGinnis, Megan Myers, Zach Nelson, Brian Nielsen, Craig Nielsen, Carter Olson, Drew Pottinger, Matthew Qualy, Lauren Rohr, Tommy Rowan, Jacob Sandquist, Charlie Scharr, James Scharr, Matt Schlottman, Hannah Schultz, Morgan Schultz, Dominic Scudera, Maleec Sellner, Jacob Shimota, Alex Shofner, Sam Skoyen, Jay Sorg, Josh Speak, Jack Stordahl, Jeff Stordahl, Ben Streeter, Joseph Swanson, Justin Swanson, Megan Tietjen, Carson Whyle, Colby Zak, Joe Zak, Levi Zak and Alex Zuzek. Pictured are the players in the youth program who made the shot club.