Harmony Boys Soccer: Welcome
HARMONY LONGHORN BOYS SOCCER
2008, 2013 DISTRICT CHAMPIONS
2009, 2013, 2014 OBC CHAMPIONS
*** see Coach Marlega
2015/2016 Final Rosters
Varsity:
Aragon
Cabral
Campochao
Grace
Grieve
Jimenez
Locke
Martinez, K
Nguyen***
Ortiz
Salgado, B
Salgado, D
Santos***
Sawyer***
White
Yma
JV:
Baez***
Bathalow
Brumfield
Crouch
Font
Giantsios***
Gomez
House***
Locke, C
Martinez, S
Osorio
Ramirez
Ruger
Simmonds
Vanegas, A
Vanegas, M
Saturday, June 20
SUMMER CONDITIONING SCHEDULE
Summer Conditioning will be held from 6-8pm on the following dates listed below. Please begin every session by meeting in the locker room. Bring cleats, shin guards, running shoes and water to every session. If there is inclement weather, we will still train in the gym. Please refer back to the website for any changes to the schedule.
Wednesdays ; June 24, July 1, 8, 15, 22, and 29th.
We will also hold a "Mini Camp" the first 2 weeks in August. All Sessions are from 6-8pm. The dates are as follows:
August 11, 12, 13, 18, 19, 20
If you have any questions, please contact Coach Marlega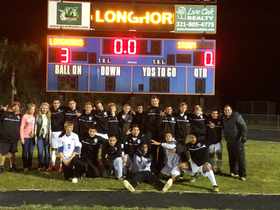 2014 OBC CHAMPS
Friday, January 17
2014 OBC CHAMPIONS!
The Longhorns beat Celebration High School 3-0 to caim their 3rd OBC Championship! GO HORNS. Next up is the District tournament which begins Monday. The Lonhorns will host Liberty High School at 6pm.
Saturday, January 26
BULLHORN CHAMPS!
HARMONY BEAT ST. CLOUD TO BRING HOME THE BULLHORN TROPHY! GO HORNS!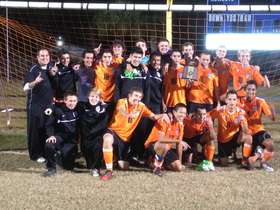 2013 DISTRICT CHAMPS!
Saturday, January 26
2013 4A-6 DISTRICT CHAMPIONS!
The Longhorns won the 4A-6 District Championship with a win over Celebration! Harmony enters the playoffs with a game against Seabreeze on Wednesday, Jan 30th at 7pm at Longhorn Field. GO HORNS!!!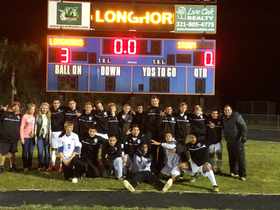 2013 OBC CHAMPS
Friday, December 21
OBC CHAMPS
The team captured at least a share of the OBC Championship last night with a 2-0 win over Poinciana! This is their first title in 4 years! Congrats and GO HORNS!