Harmony Boys Soccer: Welcome
HARMONY LONGHORN BOYS SOCCER
2008, 2013 DISTRICT CHAMPIONS
2009, 2013 OBC CHAMPIONS
Monday, February 25
SOCCER AWARDS
SOCCER AWARD WILL BE HELD IN THE AUDITORIUM ON WEDNESDAY MARCH 6th at 6:30 pm.
Monday, February 25
SOCCER MEETING
Please meet in Room 6-118 on Thursday February 28 to vote and turn in uniforms.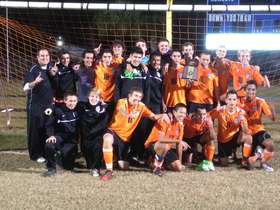 2013 DISTRICT CHAMPS!
Saturday, January 26
2013 4A-6 DISTRICT CHAMPIONS!
The Longhorns won the 4A-6 District Championship with a win over Celebration! Harmony enters the playoffs with a game against Seabreeze on Wednesday, Jan 30th at 7pm at Longhorn Field. GO HORNS!!!
Saturday, January 26
BULLHORN CHAMPS!
HARMONY BEAT ST. CLOUD TO BRING HOME THE BULLHORN TROPHY! GO HORNS!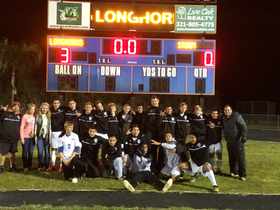 2013 OBC CHAMPS
Friday, December 21
OBC CHAMPS
The team captured at least a share of the OBC Championship last night with a 2-0 win over Poinciana! This is their first title in 4 years! Congrats and GO HORNS!
GOAL-A-THON
Goal-a-thon has been moved to Wednesday, January 9. It will be held during practice. Please start now to collect money for the event. If you need a form see Coach Marlega.
TEAM PICTURES
Team pictures will be taken Friday December 14th at Practice
Monday, October 22
PARENT MEETING
Parent Meeting will 5:30pm tomorrow in the Media Center.
No JV Practice Friday and Monday. Next JV Practice is Tuesday at 3-5pm. Meet by the tunnel
Thursday, October 18
2012 Harmony Boys Soccer Team
Varsity- Grieve, Harrison, Bosler, Vo, Lopez, Huff, J Salgado, D. Salgado, B. Salgado, Gomez, Vazquez, Craig, Cevallos, S Arguetta, Legassie, Z. Smith, Rolleri, Torpey, Gross
JV - Aragon, Yma, Gonzalez, Green, Canyon Huff, Locke, R Smith, D Arguetta, Echemendia, Martinez, J. Andrews, Faustini, Marvanek, Garcia
No Practice Tomorrow. Varsity Practice 9AM Monday, 10/22/12, at Harmony Game Field.
OPEN FIELD / TRY-OUT DATES
Dates have been announced for Open Field and Try-Outs. Please click on the Tab for dates and times.
Tuesday, September 11
INFORMATIONAL MEETING
There will be an informational meeting on Thursday September, 13th right after school in room 6-118. If you plan on playing soccer this season please plan to attend! If you are unable to attend please see Coach Marlega in the gym.
Thursday, August 9
SUMMER CONDITIONING CANCELED
Soccer conditioning will be canceled starting tonight, 8/9, and not resume for the rest of summer. Listen to announcements for information about Fall conditioning.
Sunday, June 3
2012 SUMMER CONDITIONING
Summer Conditioning will be held on the following dates from 6-8pm. Meet at the Locker Room Area. Bring running shoes, shin guards, and WATER! You must have a current physical, signed summer conditioning form, and signed Heat Illness / Concusion form in order to participate.
DATES: July 10, 11, 12, 16, 17, 18, 19 and August 6, 7, 8 9, 13, 14, 15, 16.
Sunday, June 3
SOCCER MEETING
If you missed the Soccer meeting held on Thursday, May 31, please see Coach Marlega or Coach Neenan to pick up information.