Harmony Boys Soccer: Welcome
HARMONY LONGHORN BOYS SOCCER
2008, 2013 DISTRICT CHAMPIONS
2009, 2013, 2014 OBC CHAMPIONS
FInal JV Roster
Crouch, Dodge, Giantsios, Grace, Grieve, Hickey, Hoffman, Justesen, Martinez, Sawyer, White, Ore, Pasarell, Rudon
Wednesday, October 15
2014/2015 Team Rosters
Varsity:
**Aragon, Argueta, Campachao, Diaz, Echemendia, Garcia, Gonzalez, **Green, Gross, Jimenez, Locke, Morris, Ortiz, Salgado, Salgado, Smith, **Venegas, Yma
Junior Varsity:
**Barnes, Crouch, Dodge, **Giantskis, Grace, Grieve, Hickey, Hoffman, Justesen, **Locke, Martinez, Sawyer, White, **Ore, Pasarell, **Rudon
**See Coach Marlega
Varsity Practice: 245 @ tunnel
JV Practice: 245 in Coach Neenans room, 6-118. Be dressed for practice, Bring running shoes.
SOCCER TRYOUTS
TRYOUTS for Boys Soccer will be October 13--17th. You must have a physical on file with the school in order to tryout. See Coach Marlega for Details or email him at marlegas@osceola.k12.fl.us.
FALL CONDITIONING SCHEDULE
In order to participate in Fall Soccer Conditioning, you must have a current physical on file with the school and fill out an Open Facilities Waiver form. Please see Coach Marlega in the gym if you have any questions.
SCHEDULE:
09/05, 09/08, 09/12, 09/15, 09/19, 09/22, 09/26, 09/29, 10/03 - 2:30 to 3:30
09/10, 09/17, 09/24, 10/01 - 1:30 to 3:30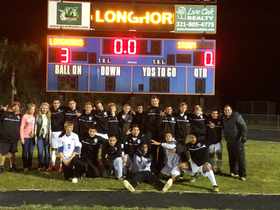 2014 OBC CHAMPS
Friday, January 17
2014 OBC CHAMPIONS!
The Longhorns beat Celebration High School 3-0 to caim their 3rd OBC Championship! GO HORNS. Next up is the District tournament which begins Monday. The Lonhorns will host Liberty High School at 6pm.
2013-2014 Longhorn Soccer Team
Varsity: Steven Argueta, Juan Cevallos, Marcel Echemendia, Sergio Garcia, Diego Gonzalez, Chase Gross, Carlos Loch, Kevin Ortiz, Ben Torpey, Brandon Salgado, Diego Salgado, Martin Schnupp, Nick Yma.
Extended Varsity Tryouts: Luis Jimenez, Tanner Locke, Sanitago Martinez, Michael Yma.
Junior Varsity: Oscar Aragon. Danny Argueta, Sam Grace, Josh Grieve, Cameron Hickey, Conner Locke, Jason Mesa, Spencer Ross, Isaac, Sawyer, Edwin Sustache, Jonathan Venegas, Andres Villasmil
Saturday, January 26
BULLHORN CHAMPS!
HARMONY BEAT ST. CLOUD TO BRING HOME THE BULLHORN TROPHY! GO HORNS!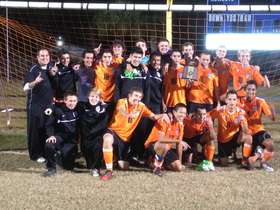 2013 DISTRICT CHAMPS!
Saturday, January 26
2013 4A-6 DISTRICT CHAMPIONS!
The Longhorns won the 4A-6 District Championship with a win over Celebration! Harmony enters the playoffs with a game against Seabreeze on Wednesday, Jan 30th at 7pm at Longhorn Field. GO HORNS!!!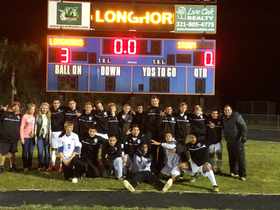 2013 OBC CHAMPS
Friday, December 21
OBC CHAMPS
The team captured at least a share of the OBC Championship last night with a 2-0 win over Poinciana! This is their first title in 4 years! Congrats and GO HORNS!