: Welcome
HWB 14u 1st place at Hardcore Hoops tournament
HWB 8/9u 1st place at Hardcore Hoops tournament
ADD Hard Work-Basketball to your Facebook friends
March 1, 2013 At Apollo HS 5pm to 7pm Hard Work Basketball will start the High School AAU and travel teams back up . Everyone is welcome to come and tryout for the teams. It doesn't matter what high school you play for. See you soon!

Personal Training is available for all ages and skill level!
*Speed, Agility ,Foot work, Ball handling, Shooting and Defensive Training
My Sites
Congratulations to the HWB 14u team for taking 1st place in the Hardcore Hoops tournament at Roybal in LA. HWB 8/9u Took 1st place in the Hardcore Hoops Tournament at Roybal in LA also. HWB 11u Took 1st place in the Back 2 School Jam at the Next Level Complex in Anaheim. Great job everyone!
Be A Part Of Something Special! I'M SO PROUD OF ALL THE TEAMS, PARENTS AND HARD WORK BASKETBALL STAFF! Check Calendar for times and Location.
Hard Work coupled with talent can beat raw talent, any day!
Check the Message Board and Calendar for up coming Events.
The mission is all in the name: Hard Work Basketball Training. The game
is comprised of skill and talent but is nothing without Hard Work. Not one
individual can lead a team without this particular element and stand a chance
at success. Our success is based on the completion of a youth's ability
to realize their strengths, self confidence, development of skills and increased knowledge
of the game compounded with Hard Work.
* Personal training also available

The core objective of Hard Work Basketball Training is to educate youths through a rigorous program and focuses
* Nourish positive energy
* Have fun playing the game properly
* Leadership skills
* Direct selfishness into selflessness
* Develop

social skill

s on and off the court through great sportsmanship
* Incorporate individual skill to form a strong unit
Physical aspect:
* Strength & Conditioning
* Improve overall technique
We welcome ages 8-11u to train with us

every Monday

and Wednesday 5 to 7pm!
We welcome ages 12-14u to train with us every Tuesday and Thursday 5pm to 7pm!

Tryouts For All AAU Travel and Club Teams are AVAILABLE Monday-Friday!

Skills Trainer Mike Farmer:(805) 300-0446

Address: 1820 Blackstock Avenue
City/Zip: Simi Valley, Ca 93065
If you want to be the best, work harder than the rest!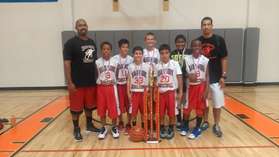 HWB 11u 1st place in the Back 2 School Jam
Wednesday, December 5
Reno AAU Tournament
Wednesday, December 5
2012
Thursday, December 6
HWB Teams