HAMILTON HAMMERS SOCCER TEAM: Welcome
Upcoming Fall Tournaments:
1. Event Name: New Jersey State Cup (Round 2)
Venue: Hamilton, NJ
Date: September 27th
2. Event Name: Hamilton Columbus Day Tour
Venue: Hamilton Township, NJ
Date: October 11th & 12th
3. Event Name: Howell United Cup
Venue: Howell, NJ
Date: November 22nd & 23rd
"There Is Only One Way To Fail, And That Is To Quit; We Play Hard Everyday". Go Hammers"
HOME OF THE HAMILTON TWP U-14 BOYS TRAVEL SOCCER FOR 2014/ 2015
Read Coach James' interview with "The Hamiltonian"
here
.
COMING TO MERCER COUNTY NJ IN 2014!
U8-U11 8v8 Teams are guaranteed 4 games
U11-U17 11v11 Teams are guaranteed 3 games with a chance of Semi-final and final for a total for 5 games max. Click HERE or on the image below to register your team.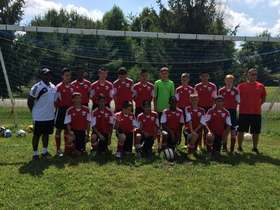 WANNA BEAT THE HAMMERS? PLAY THE HAMMERS !!!
tonight tonight