HAMILTON HAMMERS SOCCER TEAM: Welcome
WELCOME TO HAMILTON HAMMERS U14 BOYS 2014-2015
SAVE, SAVE, SAVE
CLICK "HANDOUTS" ON THE MENU BAR TO DOWNLOAD DISCOUNT COUPONS FOR YOUR SPORTS ITEM PURCHASES FROM MODELL'S. SAVE AND HELP YOUR FAMILY AND FRIENDS SAVE. PROMOTION IS VALID FROM 8/15 - 9/14.
Upcoming Summer Tournaments:
1. Event Name: Lacey Summer Classic
Venue: Lacey, NJ
Date: August 31st
"There Is Only One Way To Fail, And That Is To Quit; We Play Hard Everyday". Go Hammers"
HOME OF THE HAMILTON TWP U-14 BOYS TRAVEL SOCCER FOR 2014/ 2015
Read Coach James' interview with "The Hamiltonian"
here
.
COMING TO MERCER COUNTY NJ IN 2014!
U8-U11 8v8 Teams are guaranteed 4 games
U11-U17 11v11 Teams are guaranteed 3 games with a chance of Semi-final and final for a total for 5 games max. Click HERE or on the image below to register your team.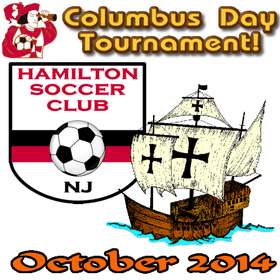 HAMILTON SOCCER CLUB COLUMBUS DAY TOURNAMENT
tonight tonight