GZIFL: GZIFL News
Monday, June 15
Latin Grillhouse 2014/15 Champions
Congratulations Latin Grillhouse - 2014/15 Division A Champions!
Tuesday, March 31
Sultan Div B Champions
Congratulations to Sultan, Division B champions 2014/2015
Sunday, October 20
GZIFL WEEK 4: Ultra Skin Tight Kits and Cerveza
Just as the GZIFL was building momentum like a tropical storm, Golden Week disrupted proceedings – so much for continuity. In recent weeks our home away from home has seen it all: typhoons; the national holiday; Evergrande being crowned Chinese Super League champions and reaching the final of the Asian Champions League and a three week sojourn for our amateur football players. Rejuvenated after the rest the GZIFL breezed back in to life – as thrilling as ever – on Sunday night.
In this league goals are never in short supply and last weekend was no exception as a total of 67 were netted. The 'A' Division saw a new look Bosphorus Elephants power their way to a 4-1 win over the Samurai Boys. Turkish striker and league veteran Hakan opened proceedings with a diving header early in the game. The Japanese warriors fought back to have levelled the score by half time, but in the second half Bosphorus's new contingent were simply too strong.
This season sees the Elephant's sporting an all-new, ultra skin tight, yellow kit, which makes some of their players look like not-so jolly giants. A jubilant Elephant's manager Burak Barin shared the following remarks with our man at pitch side: "It was a fantastic game beating the Samurai Boys tonight. My guys played with real confidence. I thought the long break would impact on our football. But a great hat-trick from Hakan and a debut goal from our new pal Brahim secured us the three points. I'd like to say Chinelson our keeper was outstanding to save a penalty."
After a momentous win last time around Hooley's A suffered a second defeat of the season at the hands of an inspired St. Tropez team. The team, named after the glamorous French seaside town, didn't take their foot off the pedal for the entire 80 minutes. Despite Hooley's taking an early lead through a well-worked goal, they were soon pegged back by what Michael O'Ciardubhain described as a "goal of the season" contender. Once again Russian marksman Karim aligned his crosshairs and unleashed a 25-yard bullet in to the stanchions to level the score (Did I not mention in a previous write up that this guy is lethal from range and needs to be closed down?). The worrying thing is this effort was unleashed off his weaker foot!
According to St. Tropez's Laurent Scholes' his attacking player Mostapha was "unstoppable" as he scored a memorable hat-trick. Also getting in on the action and scoring his first two goals for the club was new striker Arthur who Scholes describes as "a very good forward: tall, fast and technical" (you've been warned). Contender for game of the night has to go to the ding-dong slugfest between the Arabic Team and Club Istanbul with the Arabic Team just coming out on top: 5-4.
On paper Hooley's B verses the Rebel Rebel seemed a lopsided affair; Rebel Rebel have looked unstoppable so far. However, a spirited display from the green machine resulted in them twice fighting back to level against the run of play: 2-2. The Rebel had stellar players in their line up including last season's MVP Mike Booker who'd singlehandedly destroyed The Wolves last time out. Although Hooley's looked like they had a plan to counter Booker, he continued his fine run of form adding two more goals to his collection. One of which was a genuine team goal where every Rebel player on the field touched the ball before Booker audaciously nutmegged* the keeper (the guy's a talent!). In a game described by Rebel Rebel manager Alasdair Carr as "very physical and very fast" he bravely blooded youngsters Philip Sumner and Mahmoud Al Haq who made telling debuts.
GZIFL aficionados were keen to see how NanBrew Rovers would react after their humiliation last time out and a Friday night launch party in the Zhujiang The Brew. This week's opponents were the wackily named The Beer Giraffe, who turned out to be a collection of Spaniards and "kings of drinking beer" as their number seven told this reporter.
Sadly for The Beer Giraffe it looked as if they'd had one cerveza too many on Saturday night and like real giraffe's they appeared to be resting while stood up as the yellow emperors walloped them 6-0 (True: giraffes rest while standing up). Pleasingly for the team in yellow the goals came from five different goal scorers. According to one fan, even the NanBrew skipper tried to get in on the goal action rushing forward and attempting a memorable (failed) over head kick. In his post match interview NanBrew skipper Craig Watson aptly remarked, "It's very unusual for a British team to pass a team of Spaniards to death. It's also very unusual for me to pass the half–way line in a game – a much needed three points."
The Wolves poor run continued as Tomatoes tamed the young whippersnappers and triumphed 7-2. At kick-off two teams yet to register any points in the league were The Tavern and Covent Garden. Sadly the Fuligans miserable start to the season continues as The Tavern notched up a 3-0 score line and three points.
And in the Monday night game another two teams from the 'B' Division on zero points faced each other. Unfortunately for the weakened Bangkok Bar team Sailing Mars were literally out of this world and trounced them 12-1, with eight goals coming in the first half.
As we count down the days to next weekend's fixtures another narrative unwinds: how does one get a ticket for the second leg of the Asian Champions League Final? Can anyone topple the 'A' Division's top three? Out of all the teams yet to rack up any points who will suffer the longest? As ever, spectators are welcome from 6pm – come and see the goal glut – see you there.
* Nutmegged – when a football player deliberately kicks the ball through an opponent's legs. To some people being nutmegged constitutes the biggest humiliation on a football field. Apparently in Spain they call a nutmeg "túnel" and in Argentina they say "caño".
Wednesday, September 14
GZIFL masters
Squad Sean May (Keeper) Claus, Thomas, James, Paul, Joules, Daniel, Dave, (plus guests from Shanghai Goldie and Wally)
The inaugural GZIFL veteran's team entered the Shanghai Masters for the time this season. The annual event is for 35 year and older players and was held at the magnificent Shanghai Rugby Club grounds. The guys performed admirably seeing it was the first time we had played together. We stormed through the first days play winning 3 games and drawing 1 and were the only unbeaten team on the day. On the Sunday we entered the final group 2 men down as commitments pulled Dave and Wally away. The 8 guys left performed heroically particularly after key men Daniel and Joules both got injured. In the end we needed to win our last game of the day to reach the final but with only 6 fit men we lost 3-2. It was a great weekend and if we hadn't had any injuries I'm sure we would have won the title. Congratulations though to Daniel who was joint leading goal-scorer with 9 goals.
Thanks to our sponsors for the tournament the Institute for Western Surgery and The Brew Bar and Burger Joint
Results
Day 1 GZIFL 3 – 0 Shanghai Anzacs; GZIFL 1 – 1 Pistoleros; GZIFL 3 -0 Malaysia Team; GZIFL 3-2 Beijing Team Day 2 GZIFL 2-2 Pistoleros GZIFL 3-1 Vietnam Emeralds GZIFL 0- 0 Shanghai Vikings GZIFL 2-3 Hong Kong Krauts
Tuesday, April 19
GZIFL Notice
Report of Division B game Nanhu Rovers and Club Istanbul B, April 12
During the Div B match between Nanhu Rovers and Club Istanbul B last Tuesday night a fight broke out between 2 players, which quickly developed into a brawl between the two teams. Some supporters also came onto the field and started to fight.
The following punishments have been handed out after the game last week
Both teams forfeit the game with a 0 -3 loss recorded against their team
Nanhu Rovers player Chino Red Card and banned for 3 games
Club Istanbul player Ali Red Card and banned for 3 games 2
Club Istanbul supporters (names unknown) lifetime ban from attending GZIFL games
Nanhu Rovers: 1 point deduction, suspended for 12 months*, for failure to control your players during the game.
Club Istanbul: 1 points deduction, suspended for 12 months*, for failure to control your players and supports during the game.
Club Istanbul: 3 points deduction, suspended for 12 months*, for failure to control your supporters during the game.
*if any more incidents occur in the next 12 months the points will be deducted. If after 12 months no incidents are reported the suspension will be lifted
---
Saturday, April 9
GZIFL win first game in Chinago Champions league
GZIFL 1 -0 Bosch Advertising
Squad:Marcelo (GK), John Smith, Eduardo, Gary Hancock, Liam, Jerome, Daniel, Nordine, Mauro, Kenny Obama, Claus
Goals: Jerome
GZIFL select team played the first game againist a Chinese team Bo Shi Advertising yesterday. The match report is on the official website and it's in Chinese. http://ccl2011-gz.match.chinago.cn/discuss_one.php?tid=37913

GZIFL take opener from Bo Shi Advertising by narrow margin GZIFL from Group C, regarded as an UN Army, are among the favourites to win the tournament. Their presence was warmly welcomed by the spectators. However, Bo Shi Advertising's excellent performance created hurdles to their rivals' ambition of sailing through. Both sides' strong efforts on defense quickly brought the game to a deadlock. GZIFL physically intimidated their rivals, but Bo Shi Advertising's strategy proved to be successful as well. The first half ended in a goalless draw. The competition was equally even in the second half. No. 11 (Jerome) Thomas from GZIFL was a persistent threat, but his attempts were constantly denied by Bo Shi Advertising's goalkeeper and defenders. When everyone was about to expect a 0-0 tie, (Jerome) Thomas netted a late goal on the 47 minute. His long-rang powerful shot secured his team a hard-fought victory. The final whistle awarded a 1-0 victory to GZIFL.
(thanks to Daisy for the translation)
Next game is Sunday April 17th at 1pm Vs FC Boat
---
Wednesday, April 6
Guangzhou Mayors Coca Cola 3aside Cup
The 12th Guangzhou Mayors Coca Cola 3aside Cup will take place at the end of April / early May. There is a special "foreigners" cup as part of the competition. Any team wishing to enter can contact Daisy (deadline Thursday April 14th) and she will enrol you in the cup; there is no entrance fee. Each team can register a maximum of 5 players for the cup.
---
Monday, March 28
GZIFL enters China Champions League
The GZIFL has been invited to take part in the 2011 ChinaGo Champions League. This is a nationwide tournament with the finals taking place at the Bird's Nest Stadium in Beijing, the finals will also be shown on CCTV 5. The first round of the competition will take place in April and May in Guangzhou, the winners of this tournament will play in a South China regional tournament in August before the finals in Beijing in September.
Claus Borregaard (Benriach Elephants) will be the coach this tournament. Claus will be contacting all of the captains about players, so please give him the full names, passport numbers and e-mail/telephone numbers of the players he chooses. Also if you think you deserve to play in the team please e-mail Claus via your team captain.
---
Monday, March 28
GZIFL Notice: Points deduction
The Grace Team and Indomitable Lions have been deducted 1 point for late payments of the league fees. The point will be deducted from this week's league table (week 16) after all of the results from last night's game have been recorded.
---
Monday, February 14
GZIFL Cup draw at Hooleys
---
Sunday, January 23
New Division B Season 2011
The Guangzhou International Football League Division B Spring 2011 season will begin after the Spring Festival. The season will run until the summer time and cost about 4000rmb per team. We are looking for 2 to 3 new teams to join the Division B, so any teams interested in competing should please contact the league at gifl.info@gmail.com
---
Sunday, January 30
Division B round-up
Congratulations to Nanhu Rovers who were crowned the inaugural Division B Champions on Sunday January 30 2011. They finished the season 7 points clear of their closest rivals Sailing, with 10 wins from 12 games played. Congratulations also to the Div B season's Golden Boot Ian Ruck of Nanhu Rovers (21 goals) and M.V.P. Stuart Geraghty (Nanhu Rovers)
---
Saturday, August 21
The Guangzhou International Football League (G.I.F.L.) will takes its summer break in July and August. The new season will begin on September 4th. New players and teams interested in playing in the 2010/2011 league can send an e-mail to gifl.info@gmail.com
---
Wednesday, December 7
Happy Monk win Division B Title
Happy Monk were crowned the 2011 Division B Autumn champions on Sunday night. Congratulations to the team who improved all the way from last place in the previous season to winners this time!
Friday, October 25
As Marcello Lippi's Guangzhou Evergrande took on Qingdao Jonoon at Tianhe Stadium on Sunday night, the amateurs – both expats and locals – went next door to the synthetic turf to play out the fourth round of fixtures in the GZIFL. While thousands raucously cheered on a meagre three goals from superstars Muriqui and Dario Conca, across the park goals rained down: a total of 77, marking a stupendous 10-goal increase on last week.
For reasons unknown, only two fixtures were played in the 'A' Division on Sunday. The first of which saw Paddy Field battling it out with The Bosphorous Elephants. The Irish bar got off to a fortunate start as Vince Malgorn scored directly from a corner (What do they say about the luck of the Irish?). The Elephants quickly equalised as Emre nipped in front of Ben Suro to level proceedings. Chances were galore as both teams created plenty. After the break Damien Di Sante put the green and white hoops 2-1 up before Marsena Charles relieved pressure with a breakaway goal to make it 3-1. Before the end there was still time for The Elephants to pull one back, making for a nervy finish for Jon Smith's men who held on for a much needed first win of the season, 3-2.
In the other 'A' Division match Ciabatta Latinos continued their unbeaten run, however they had to settle for a draw against the battling Samurai Boys: 3-3.
The goal fests all came in the 'B' Division. Table toppers The Latin Grill House maintained their perfect record with an impressive 10-1 victory over The Beer Giraffe. Even though they won last week The Grill House were disappointed with their performance. This week their tactics were clear: stop The Giraffe's three most influential players – it worked. Striker Fernando registered a fabulous five-goal haul while Mateus bagged a handy hat-trick, including what Grill House manager Nike Jacoby described as "a beautiful bicycle kick".
The Sultan Restaurant continued to show their 'B' Division title credentials obliterating Covent Garden 19-1 (yes, the score is correct). The Sultan were simply too strong with midfield engines Fira and Timur covering every blade of artificial grass. Sultan striker Yogi continues to shine as one of the 'B' Division's stand out players. When Yogi wasn't creating goals he was scoring them netting five on Sunday night. New striker Saeed also made a spectacular debut adding a further five goals. After the game Sultan manager Gabi Shammas proudly spoke of his team to our man at pitch side: "Even though the game was way out of reach, our defence never stopped doing their job, they were covering space and preventing mistakes from happening." And on the subject of his new striker, Saeed "he's a smart player, smooth touch, good movement, good passer, creates chances. Yeah, I'm glad to have this young fella on board."
It was expected that the Rebel Rebel would make short work of The Tavern who have endured an indifferent start to the season. Yet, football as we all know isn't quite so clear-cut and this contest turned out to be – as described by the Rebel's gaffer – " a very close match". Twenty minutes in to the game and the Rebel were off to a flyer and 4-0 up, which included a 30-yard volley from a certain James O'Dowd (never heard of him – have you?). Some might think a four goal margin is an unassailable lead, but The Tavern had other ideas, digging in deep, clawing two goals back and missing a handful of chances before half-time. Starting the second-half brightly the Huajiu Lu outfit managed to get the score back to 4-3 and it was squeaky bum time* for the Rebel.
Limited to few chances in a very physical game The Rebel were given a thorough examination of their title credentials. However their quality shone through as they scored a crucial fifth goal. Credit must go to The Tavern for scoring a fourth goal, but time was against them and the match ended 5-4. Post-match The Rebel's Alasdair Carr made the following comments: "The lad's showed great character tonight. It was very physical indeed – particularly for Mike Booker who got kicked a lot, but he scored again. And poor old Andrew Pelletier received the biggest shot to the nuts with a football I've ever seen, when you hear a man that size scream you know it must've hurt" (ooph!).
The Bangkok Bar's frustrating start to the season continued with a 13-3 trouncing off McCawley's with Chris Thomas slotting home a quartet of goals for the Zhujiang New Town watering hole. Tomatoes continue to impress showing that they aren't just a nutritional powerhouse but a real football force making a 5-0 chutney out of Hooley's B.
Leading by two goals after twenty minutes Nanbrew Rovers looked comfortably in control against the Arabic Youth Team. However, latecomer Wasem Alganga hadn't yet stepped on the field. When Mr Alganga finally came on it was evident from his first couple of touches that the big man could play: phenomenal control; looked to shoot with either foot launching accurate and ferocious strikes; added to that he knew how to use his big frame to his advantage. Just ask Nanbrew's Douglas Allen who himself is a big-unit and he couldn't get the ball off Wasem. It wasn't long before Nanbrew conceded the sort of goal that makes managers hold their hands out wide and look up at the gods. For the Arabic Team they sensed it was game on. By half-time The Youth Team had leveled the score and from there they never looked back – although the Yellow Emperors had chances. At 5-2 down Charles Kimamo pulled one back for the sunny-shirted men, placing a delicate free kick in to the top right corner and the Nanbrew sideline burst into voice. But not for long, as moments later at the centre to resume play Wasem spotted the Nanbrew skipper – and make shift goalkeeper – Craig Watson criminally off his line and rifled in a sixth goal from the half-way line. Needless to say the Nanbrew faithful had been silenced and it ended 6-3.
In the Monday night fixture the 'A' Division's St. Tropez continued their unbeaten run hammering Club Istanbul 10-2 and moving to top of the table. As if to plan Karim scored the opener – like he has in the previous three league matches – with a powerful shot from distance (Hey! Does no one from the 'A' Division read this column? This guy is a talent who can't be allowed space to shoot). Returning to the St. Tropez side was influential striker Alex who scored four fine goals supplied by the likes of Boua, Karim and Mostapha.
Each week in the GZIFL has been bigger and better than the last. Surely the next round of matches can't top the 89 goals scored this week. Interestingly St. Tropez are not scheduled to play this coming weekend giving Ciabatta Latinos an opportunity to steal the top spot in the 'A' Division. The big stories and block buster matches this weekend come in the 'B' Division as The Sultan Restaurant take on Rebel Rebel in what some have described as a title decider. Rumour has it The Sultan have special tactics to overcome their opponents – what a game it promises to be. If you want to experience goals up-close, Sunday evening from 6pm.
* squeaky bum time – The tense, final stages of a competition.
Friday, November 15
Week 7 News
Whilst our noisy neighbours rapturously enjoyed being crowned champions of China on Sunday evening, the players of the Guangzhou International Football League (GZIFL) were ridding themselves of Halloween hangovers and packing away their costumes for another year. As Tianhe Stadium rocked to the sound of 'We Are the Champions' the northeast corner of the sports complex came alive with the cries of amateur footballers, paying to play the game they love and averaging four goals per game.
With St. Tropez not playing until Monday night, the Ciabatta Latinos had the opportunity to open up a three-point gap at the top of the 'A' Division. Their opponents the Bosphorous Elephants had been unlucky to lose their previous two games and needed a result from this fixture. However an early injury to their star striker Emre was a bitter pill to swallow and significantly reduced the Elephants threat on goal and the Latinos claimed a table-topping 5-3 victory. Elephants' manager Burak made the following remarks after the game: "I've got eight new players this season. I believe that individually we have the best players in the league. Our problem right now is playing as a team, which will take a few weeks more to settle. Hopefully we'll learn from this and next week we'll get a positive result."
Hooley's and the GZ All Stars was always going to be a tough contest, as both teams look strong this season. The All Stars took the lead after a Hooley's defender handled in the area and Tom calmly converted from the spot. The game restarted ferociously with both teams committed to every challenge. Hooley's soon made the score level after pressuring the All Stars goalkeeper into a hurried clearance and Aziz wrestled the ball into the net: 1-1. The definition of an all star is an outstanding performer and after a red card put them down to seven men the self-named GZ All Stars turned on the magic. A quick one-two between Fred and Guilaume resulted in Fred finishing with aplomb and according to the All Stars' Frankie "sending the fans wild" and gained his team a hard fought three points: 2-1.
Paddy Field's disappointing run continued with a 3-1 loss against the Arabic Team. The Field's were guilty of wasting goal scoring opportunities and found themselves punished for it. Paddy's class act Damien Di Sante made the game all square with a controversial long-range shot that the referee deemed to have crossed the line. Sadly for the green and white hoops the sky blues retook the lead not long after. In a game full of drama the referee missed a crucial handball in the Arabic Youth team's penalty area. Adding to Jon Smith's men's misery the team in blue proceeded to go straight down the other end and score – painful. After the game Smith spoke to our man on the touchline: "I like to think that the referee is the same for both teams, but today the referee was too inconsistent and didn't have control over the game." And on his team's performance: "We didn't get hold of the ball enough and dictate the play. We missed too many chances – it's as simple as that."
Monday evening's fixture saw the clash of two big guns from the 'A' Division: Samurai Boys verses St. Tropez. As ever Karim maintained his impressive form opening the scoring for the French cocktail bar. Soon Karim became provider bursting into the Japanese penalty area and laying on Miletch to put his team 2-0 in front. The Samurai Boys, who look a very difficult team to beat, pulled a goal back just before half-time. The second half was dominated by the Japanese team and with five minutes to go were 3-2 in the lead. However, St. Tropez's not so secret weapon – Karim – unleashed (surprise, surprise) one of his specials from range and restored parity, 3-3.
Back to Sunday, in the 'B' Division the Latin Grill House put The Wolves on to their griddle and feasted on their youthful carcasses: 8-1. The first half proved a close contest as the Latin boys couldn't quite sink their teeth in to the young Wolves. Wolves' striker Hiroki continues to look a player of real promise and scored a memorable goal ghosting past three Grill House defenders before finishing. When the half-time whistle sounded The Grill House were just ahead 2-1. Nike Jacoby's half-time team talk was obvious: take care of number 7 and the second half will be easy. Midfield marvel Vini did as his manager requested and the Latin boys turned up the heat on The Wolves. Before long the Brazilian's barbecue was sizzling to the sound of chargrilled Wolves and six goals were scored in the process including one from The Grill House gaffer himself. Striker Fernando was again pick of the bunch claiming another hat-trick. Winger Marsimoto also got on the score sheet with what his manager described as "two wonderful, beautiful, awesome goals."
The Beer Giraffe were happy to get back to winning ways and compound the Bangkok Bar's misery with a well-earned 4-1 victory. An interesting fixture this week promised to be the encounter between Tomatoes and The Sultan Restaurant. What ensued was a high quality and tactical contest with Tomatoes narrowly coming out on top 1-0 thanks to a goal from Moe. Since their defeat on the opening day of the season the Tomatoes have gone on a five game unbeaten run which looks to continue. In a battle between Guangzhou's premier drinking holes, Rebel Rebel took on Nanbrew Rovers. The Rebel were fortunate to take the lead after a long throw in caught out a Nanbrew defender – who will name anonymous (eh-hm eh-hm) – and the nimble footed Fox did the rest. The Rebel's second goal was all down to Mike Booker. When playing the lively no.14 you have to beware of two things: one his rapid pace and two his lethal finishing. To be fair to Nanbrew's Chrissy Wright he pretty much kept up with Booker who had ran on to a long ball and tried to force him wide. But, Booker is a class act and he lashed in a superb shot from a tight angle. Going two nil down woke up the men in yellow and a scramble in the Rebel's goal mouth ended in James O'Dowd handling the ball on the line and preventing a goal: red card. Confident Kenyan Charles Kimamo stepped up to the spot and converted the penalty 2-1 – game on. Tasting blood Nanbrew continued to pressure their opponents and Douglas Allen – for the second week running – blasted a low daisy cutter* of a finish home to make the game all square. Half-time couldn't come quick enough for the Rebel as a rampant Nanbrew were in the ascendancy. Half-time was just the tonic for Rebel Rebel as reinforcements had arrived and a chance to regroup; for Nanbrew the break was detrimental and robbed them of momentum. A sprinkling of fresh faces gave the Rebel a renewed sense of belief and they started the second period with real purpose. However Nanbrew stuck to their task and matched their opponents in what was becoming a spicy contest. The Rebel's third goal came from guess who? Booker pressured the Nanbrew keeper and forced him into a misplaced pass, which he intercepted and scored. Nanbrew created plenty more chances to equalise but the Rebel keeper had an inspired game and allowed his team to remain unbeaten this season: 3-2.
In a strictly Gaelic contest rival Irish bars Hooley's B and McCawley's came face to face. This term the Zhujiang New Town hoops have looked an impressive attacking team and on Sunday the luck of the Irish was very much with them, bashing the Xingsheng Lu boys 9-3. Juan Jose stood out for McCawley's scoring a hat-trick. Continuing their unbeaten run and reinforcing their title credentials, the Arab's Voice Magazine ran out 4-1 victors over a much improved Covent Garden side. Looking ahead the Ciabatta Latinos are not scheduled to play next weekend, leaving St. Tropez with it all to play for in their quest for the title. Unfortunately for Laurent Scholes' boys they are pitted against Paddy Field in a Taojin derby. In the 'B' Division we'll see whether the Arab's Voice Magazine are genuine title contenders and a match for the dogged Rebel Rebel.
Games kick off from 6pm on Sunday night – be there or be… *daisy cutter – a low shot which runs along the ground chopping the heads off the daisies growing in the grass.
Friday, November 15
Week 8 News
Less than twenty-four hours before Sunday's kick-off in the GZIFL (Guangzhou International Football League) Marcello Lippi, his three amigos and the rest of the Hengda squad finally got their hands on the biggest prize in Asian Football. The city went wild and people poured on to the streets in celebration. It was a monumental occasion for the beautiful game in China let alone our home away from home. When the referees blasted their whistles to commence play on Sunday night – only yards away from our noisy neighbour's scene of glory – the sky went dark early and it was lashing it down. And while the temperature may have been cool the football was red-hot and of its usual standard: a deluge of goals.
In the Taojin derby St. Tropez defeated Paddy Field 3-1 and moved back to top spot via goal difference in the 'A' Division. Both teams started well looking to play quick one-two football. Paddy's even looked to be keeping Karim – remember him? the big no.11 who scores 30 yard thunderbolts every week – under control. St. Tropez welcomed Bram back in to their defence and he and Laurent Scholes looked a formidable partnership. The deadlock was broken just before half-time as Paddy's midfielder Obi was dispossessed and the ball fed out to the right wing. A low cross was played in to the Field's penalty area and Boua did the rest for the men in pink and black. After a scything team talk from their manager Jon Smith, Paddy's rallied in the second half. Stephane Lam found space on the right wing and delivered a pinpoint cross that Damien Di Sante met with a firm header to level matters, 1-1. It is worth noting Di Sante – a talented footballer we'd like to add – celebrated with a horrendous attempt at krumping*. Paddy's had plenty of opportunities to take the lead, but they just couldn't put the ball in the back of the net. Five minutes from the end St. Tropez punished their opposition's toothlessness; Alex powered in a header at the back post to nudge his team in front. And things went from bad to worse for the men in green and white as Karim popped up to score a poacher's goal, which he naturally smashed in from close range. As he does every week, Paddy Field's Jon Smith spoke with our reporter at pitch side: "I thought we deserved a point today; we showed real fight in the second half, and I was pleased with the guys. But the fact remains, we have to start converting chances into goals."
Club Istanbul's miserable losing streak continued as they received a 10-2 whipping off the GZ All Stars. The All Stars now sit third in the league table having played one game more than everyone else. The Samurai Boys are another inform and very capable team in the 'A' Division having notched up 3-3 draws against the top two in recent times. This week they faced a strong examination from a very competitive Hooley's side and came out on top 4-2. Some GZIFL enthusiasts are suggesting the Samurai Boys are dark horses for the title – the coming weeks will certainly tell us more.
In the 'B' Division the pick of this week's fixtures saw two unbeaten sides go head to head: Rebel Rebel verses the Arab Voice Magazine. The Rebel took a short lead courtesy of Mike Booker from the penalty spot before the Magazine equalised. By half-time the Rebel were back in front, however the second half was a different proposition altogether as the Arab team found their voice (poor pun) and levelled proceedings. At 2-2 the Voice Magazine were awarded a free-kick some 30 yards out. Step up Wasem Alganga, a man with a reputation for scoring from range, and boom the no.87 found the back of the net. His teammates and their sideline erupted as if the men in white had won the league. And for a while it looked as if the Rebel would suffer their first defeat of the season, however just before fulltime they pulled back and earned a valuable 3-3 draw.
The Latin Grill House continued their run at the top of the 'B' Division making it seven wins out of seven with a comfortable 5-2 result over Hooley's B. Nike Jacoby's men deserve special praise for being the only team left in either division with a perfect record – well done fellas. Team Tomatoes Tomatoes extended their run of consecutive wins to six after overcoming Nanbrew Rovers (pictured at top) who continued their run of successive defeats to four. Far from being overwhelmed by the opposition Nanbrew took the lead after combative midfielder Will 'The Quoites' Vickers broke up play and fed veteran Iain Ruck. The wily grey haired striker rolled back the clock and scored a Karim style shot from distance. Disappointingly for the men in yellow it wasn't long before the score was all-square. Impressive midfielder Kikko peppered the Nanbrew goal with stinging-shots and soon he'd scored two: one a viciously struck low drive. Against the run of play Nanbrew's Douglas Allen proved for the third week running that he scores great goals – this time a sublime back heeled volley (I kid you not). Poor Nanbrew marking gifted the Tomatoes a fourth, silenced their opposition and ended the game, 4-2. Gustavo Ponetsk, who plays on the right for Tomatoes, commented: "The game wasn't as chilled as the weather. Tomatoes now move in to second position after tonight's results. Next week we have a very important match against the Arab Voice Magazine who are just one point behind."
A 5-2 victory over Covent Garden Fuligans steers the Beer Giraffe away from the bottom of the table. This is the first time the Giraffe have won two games in a row and surely deserves a tower of cerveza reward from their sponsor. Sunday's surprise result in the 'B' Division was The Tavern hammering – neighbours and rival Zhujiang sports bar – McCawley's 7-0. This was a great win for The Tavern who have endured a mixed season so far, whereas McCawley's have looked impressive at times notching up some big scores. Rumour has it the Huajiu Lu team could've racked up a cricket score if only their finishing had been better. Tanzanian striker Insa was the pick of The Tavern's players scoring what manager Mustafa Karagyoz described as "a magical goal after dancing around two defenders to create a shooting opportunity. He shoots, the ball goes in the net and it was very beautiful." It's worth noting Salim also scored a hat-trick and Karagyoz himself got in on the action, hammering the final nail into McCawley's coffin: a brave diving header.
At the bottom of the 'B' Division life doesn't get any better for the Bangkok Bar who continue to find the going tough in the GZIFL. This week it was The Wolves who bared their fangs and callously savaged them 7-0. Playing on Monday evening the Sultan Restaurant got back to winning ways demolishing Sailing Mars 10-2. With the GZ All Stars not scheduled to play next week a win for the Samurai Boys over bottom team Club Istanbul will see them move in to third place in the top division. In the 'B' Division all eyes are on the Arab Voice Magazine verses Tomatoes – what a game that promises to be.
If you're a Hengda fan or even – dare I say it – a Fuli fan and you're craving a fill of football come along and see what you make of Guangzhou's finest amateurs. Everyone else is also welcome from 6pm. *Krumping – is a style of street dance that originated in the African-American community of South Central Los Angeles, California. The freestyle dance is characterised by exaggerated and highly energetic movements of the body. Address: Nike Football Park
Monday, December 2
Week 10 hghlights
According to ancient proverbs patience is said to be a virtue and good things are supposed to come to those who wait. In football this wait can be very frustrating as well as painful as our teams don't succeed and we try and try again. Well, this week these proverbs finally came true for some of the teams in the GZIFL who have been enduring depressing results week in week out.
In Sunday night's battle of two of the finest amateur teams in Guangzhou, Ciabatta Latinos defeated St. Tropez 3-0 to move into top spot. St. Tropez's followers will feel hard done to as both teams had plenty of chances to score – quite simply the football god's weren't siding with their men. This was evident when master marksman Karim's lethal shots didn't go in and defensive rock Laurent Scholes narrowly missed a header from a corner. The Latino's first goal was a beautiful effort from range and their second and third sucker punches on the counter attack. After the game St. Tropez's captain Laurent Scholes's spoke to our roving reporter: "We had chances but didn't take them. They played well, their defence was well organised as ever and just before half-time their keeper pulled off the save of the year. It was a good game for both teams but we lost. We will have our revenge."
An unexpected result was the GZ All-Stars thumping The Samurai Boys 6-0 with Fred and Richard netting hat-tricks. The game started brightly with both teams playing high energy attacking football, but once the All-Stars took the lead they never looked back. In the end this turned out to be a comfortable game for the All Stars as they limited The Samurai to few chances. With Fred and Richard proving more than a handful up top the Japanese team found themselves losing their second game of the season.
The Bosphorous Elephants are one of the many teams in the league who have been on a disappointing run even though they've been playing good football and dominating games. This week things looked grim as their squad was ravaged: Hakan, Jimmy and Ahmet were injured and David had the flu. The Elephants' superstar Emre has been also been injured and isn't fully recovered, however captain Burak had no other option but to play their talisman. Things started badly for the Elephants – a critical mistake gave Hooley's the lead, 1-0. However Burak rallied his team and led by example drilling in the equaliser from range. Captain fantastic added to his total not long after putting the Elephants 2-1 up by half-time. The second half was an Elephants stampede and Hooley's resilience had been trampled thanks to goals from players with great names: Emre, Okay, De King (x2) and Ezel. The Elephants captain shared the following comments post-match: "Beating Hooley's 7-1 will bring us confidence for the upcoming games."
In the contest between the 'A' Division's bottom two, Paddy Field earned themselves a much-needed three points with a 3-2 win over Club Istanbul who have now lost eight games out of eight. On an equally miserable-miserable run is the 'B' Divisions Bangkok Bar who were well and truly thrashed 12-0 by The Tavern. Once again Tanzanian striker Insa was the pick of The Tavern's players scoring a season's record ten goals in a game and beating the nine scored by Mike Booker last week for Rebel Rebel. Last season's MVP – Mike 'Lightning' Booker – racked up an other hat-trick for Rebel Rebel in a 4-1 win over The Beer Giraffe. This was a decent result for the Rebel as they had the bare eight players and maintain their unbeaten record. The Rebel sit comfortably in third spot.
Not wanting to be outdone by The Tavern, Tomatoes continued their impressive form as they made puree out of Covent Garden Fuligans 14-1. Jose and Bahia both scored hat-tricks for Tomatoes. Sailing Mars were unable to build on last week's win suffering a 5-1 loss from the Arab's Voice Magazine. The Wolves continue their resurgence with a solid 4-2 result against Hooley's B. Last week's three points obviously restored the youngsters confidence with striker Chris K netting himself a trio of goals. Many would argue that the Monday evening games this week were 'the' games to have watched and played in. First up was Nanbrew Rovers – with a full compliment of players – verses McCawley's who also had a large squad for a Monday night. As they do most weeks even with six players Nanbrew took the lead through a well constructed Douglas Allen goal. The big Scotsman who started out in life as an egg chaser is really finding his feet in this league and is one to watch. And like most weeks this game followed suit for Nanbrew as by half-time they found themselves 2-1 down due to two sloppy counter attacking goals. The second-half started equally badly for the Nanbrewistas as big Davey Finn was charged with handling the ball in the box: penalty. Even with the superb Sean Maj in goals McCawley's went further into the lead and this looked like Nanbrew's seventh loss in a row at 3-1 down. However in midfielder Charles Kimamo the men in yellow have someone who never gives up and he scored his team's second, 3-2. The equaliser came after Sunil '69' Jogi pumped an agricultural freekick into the McCawley's box. Iain Ruck did his job on the keeper and Stoke – on – Trent's Will 'The Quoites' Vickers scrambled home his first goal for Nanbrew. From this point on the yellow emperors were in charge and with Vickers' energy and Kimamo's craft they dominated the green and white hoops. Nanbrew took the lead after Kimamo linked up well with veteran striker Iain Ruck who calmly finished. Further good interplay between Ruck and Kimamo ended up with the Kenyan midfielder breaking through the McCawley's defence and bagging his team's fifth. Just before full-time McCawley's pulled a goal back but it was too late and the game ended 5-4. This was a huge win for Nanbrew Rovers as they hadn't won since the start of October.
The second blockbuster fixture of what will be remembered as mega-Monday was 'B' Division league leaders The Latin Grill House verses title hot shots the Sultan Restaurant. For these two teams this game was not just about football but why the league was formed – friendship. Before kick-off the players of both teams met in a huddle around the centre circle to talk, share a joke and ensure there were no ugly scenes to tar the match. Like the weather the Grill House appeared cold and off form and soon they were 2-0 down. At last it looked like Nike Jacoby's men would lose their first game of the season – but they didn't. In the second-half skilful forward Mateus clawed one back for the samba boys and to the pleasure of their supporters. Following this, The Sultans were denied a controversial headed goal that would have finished off the Brazilians. Once more midfield maestro Mateus jinxed his way through The Sultan team and scored an exquisite goal to equalise and the Grill House were buzzing. If anything, The Sultans looked to have taken their foot off the gas and let their opponents back in to the game. Realising this the men in red went down to the opposite end and bundled home a third goal to retake the lead. But, dramatically in the final couple of minutes the Grill House were awarded a penalty for a handball in the area. Step up Mateus who smashed the ball to the keepers left, claimed himself a hat-trick and rescued his team a point. Their raucous side-line burst in to song "Olodum ta hippy, olodum ta poppy." Talking after the game to our man on the touchline Grill House gaffer Nike Jacoby was very relieved: "On behalf of the Latin Grill House I want to say thanks to Loai and Gabi from The Sultans for a good match, the closest match we have had. Both teams played with heart and played fairly. This night my team showed to everybody another side to our special football. We were brave and strong and played as a team." With so many hat-tricks scored in the GZIFL it begs the questions: how hard is it to score three goals in this league? Do people score so many goals because of the 8-aside format? Or quite simply do teams not defend well in the GZIFL?
If you want to come and witness the phenomena that is the GZIFL games begin from 6pm on a Sunday and 9pm on a Monday. You know you want to… DETAILS: Nike Football Park Tian He East Stadium Ti Yu Dong Lu near Tianhe Bei Lu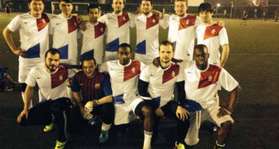 Sultan F.C. Feb 2014
Thursday, February 27
GZIFL week 13 Football Recharged
Read all about the latest round of games here!
Thursday, March 13
GZIFL Week 14 -3 is the lucky number!
Thursday, March 13
Foreign Fans Cheering for Chinese Football
Friday, April 17
Latin GrillHouse V Newway Allstars March 22nd, 2015
Click on the link to watch the video in full!