Grand Valley & District Minor Hockey Association: OMHA Playdowns
OMHA All Time Championship Database
FOLLOW THE ACTION
Click here to link to the OMHA Playdown Charts.
For Novice choose Novice D-E East/Central
For Atom choose Atom D
For PeeWee choose PeeWee D
For Bantam choose Bantam D
For Midget choose Midget D

Playdown game schedules will be posted as series opponents are determined and contracts are signed.

For a complete calendar overview of all upcoming games, click here
OMHA Playdowns History In Grand Valley
Previous to the 2005-06 season, did you know that the last time Grand Valley won an OMHA championship was in 1998. Our Novice Additional Entry team defeated Frankford to win the series in the first year playdowns were held for this grouping. Previous to that our 1989-90 & 1982-83 PeeWee teams were finalists. In the 2004-05 season our Bantams and Novices were finalists. Finally after a 26 year drought our Bantams were once again crowned OMHA Champions defeating Belmont in the finals, 3 games straight in 2005-06. Now we are on roll, with two Championship teams in 2006-07...PeeWees defeating Deseronto, and Bantams defeating Norwich. The 2007-08 season saw our Bantams rematch against Sunderland for the second time in championship history and again Grand Valley hung on in a tough 5 game series to take the Bantam D title for the third season in a row! 0708 was an extra special season as for the first time in 26 years our Midgets participated in an OMHA Championship and defeated Thamesford 3 games straight to take the title. 2008-09 saw three Twister teams competing for championships again, but only the PeeWees were successful in their quest for gold, defeating Sunderland. In 2009-10 the midgets returned for another face off against Norwich, but settled for finalists once again. In 2010-11 the Grand Valley arena was the place to be once again as both the bantams and midgets returned to the show. The bantams had to work hard beating Flesherton and Blyth in tough five game series before defeating Otonabee in three straight games to win another OMHA champsionship for Grand Valley. The midgets faced a determined squad from Sturgeon Lake and were defeated.
An extremely special and unusual statistic is the fact that the Grand Valley Bantam teams have participated in the finals for 5 straight seasons, 2004-05 through 2008-09 and returning in 2010-11. The midgets have made it to the show four consecutive seasons from 07-08 through 10-11. Unusual because each season these team were made up of different players and coaching staffs. Given the fact that not many centres make the finals two years in a row, this truly show the strength of the hockey program in Grand Valley during this period. Winning an OMHA championship 3 seasons in a row is also a feat not too many centres can boast about at any age level.
OMHA Playdown History
1976-77 GV PeeWees defeated Sundridge
1977-78 GV PeeWees defeated Bobcaygeon
1978-79 GV Bantams defeated Sunderland
1979-80 GV Bantams defeated Bobcaygeon
1980-81 GV Midgets defeated Orono
1981-82 GV Midgets defeated Mactier
1982-83 GV PeeWees Finalists (vs Warkworth)
1989-90 GV PeeWees Finalists (vs Havelock)
1997-98 GV Novice AE5 defeated Frankford
2004-05 GV Novices Finalists (vs Newcastle)
2004-05 GV Bantams Finalists (vs Norwich)
2005-06 GV Bantams defeated Belmont
2006-07 GV PeeWees defeated Deseronto
2006-07 GV Bantams defeated Norwich
2007-08 GV Bantams defeated Sunderland
2007-08 GV Midgets defeated Thamesford
2008-09 GV PeeWees defeated Sunderland
2008-09 GV Bantams Finalists (vs Otonabee)
2008-09 GV Midgets Finalists (vs Norwich)
2009-10 GV Midgets Finalists (vs Norwich)
2010-11 GV Bantams defeated Otonabee
2010-11 GV Midgets Finalists (vs Sturgeon Lake)
2011-2012 GV Midget Finalists (vs Otonabee)
Congratulations to all those involved in these winning teams!!

2007-08 Midget D Champs
2008-09 PW Champs & Finalists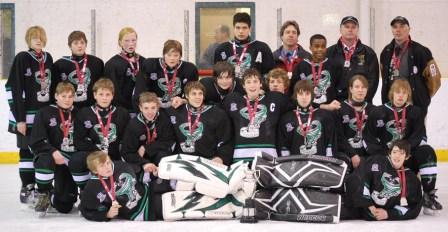 2008-09 Bantam D Finalists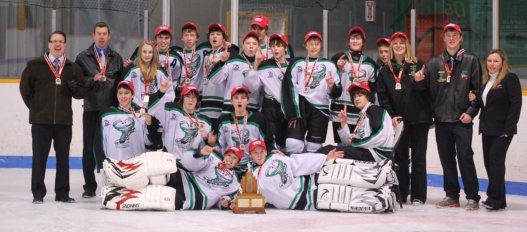 2011 OMHA Bantam D Champs