Guntersville Aquacats: Welcome
Welcome 2017 Guntersville Aquacats Swim Team
2017 Guntersville Aquacats
We need you!
It's that time of year again! Time to register for the 2017 Guntersville Aquacats Swim Team!
Registration is open NOW!
Open House at the Guntersville Rec Center
on May 6, 2017 from 11:00 to 1:00.

Stop by the Mulit-Purpose Room and sign up for the Guntersville Aquacats Swim team!
Don't forget, we will need a copy of the swimmer's birth certificate.
First Place Athletics will be onsite for all your swimming needs.
The Aquacats' Parent Volunteers will be selling T-shirts, monogramed towels, monogrammed caps, etc.
Who can join?
ALL swimmers age 5 through 18 as of June 1st are welcome and encouraged! The swimmer need only be able to swim the length of pool to qualify for our team.
Why should I join?
The Guntersville Swim Team has been providing a quality summer experience
for Guntersville's youth since 1977.
The unique nature of competitive swimming and training enables our children to learn teamwork, self-discipline and camaraderie in a healthy and fun environment. Joining our swim team is also a great way for children and teens to stay active during the summer months! Our coaches can improve your swimming technique, endurance and speed in a fun and supportive environment.
It is through the efforts of the Guntersville Recreation Department, dedicated coaches, involved parents, and community minded sponsors that our children continue to benefit and grow.
The benefits of joining the Guntersville Aquacats go beyond the swimmer.
By joining, you are supporting our team, our community and our children.
~~~~~~~~~~~~~~~~~~~~~~~~~~~~~~~~~~~~~~~~~~~~~~~~~
2017 Guntersville Aquacats
May Swim Practice
TBA
Summer Swim Practice
TBA
~~~~~~~~~~~~~~~~~~~~~~~~~~~~~~~~~~~~~~~~~~~~~~~~~
Want to stay up to date?
Join the Guntersville Swim Team Remind text. Simply text @865ea to 81010 to join.
You can opt out any anytime by replying unsubscribe to @865ea.
~~~~~~~~~~~~~~~~~~~~~~~~~~~~~~~~~~~~~~~~~~~~~~~~~
2017 Guntersville Aquacats
Aquacats Swim Meets
Please click the calendar tab to see all Guntersville Swim meets.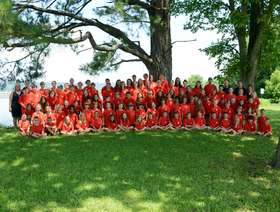 Stay tuned for more team pictures!
Handout:
Swim Team Registration Form