On Friday August 26th the GTHA family lost a great coach and man when John Vespe passed away. PLEASE come out and help us celebrate John and his dedication to GTHA at the John Vespe Benefit Tournament on Saturday September 24th. We've had many peoiple sign up in the past week but we want as many kids as we can to take part in this benefit for a man who gave so much to this league. We will be taking registrations at our next in-person sign up on Wednesday September 7th at Lakeland from 6pm till 8pm, but if you would like to sign up sooner please email me at rkeefe12@comcast.net and I will send you the forms and we can arrange payment.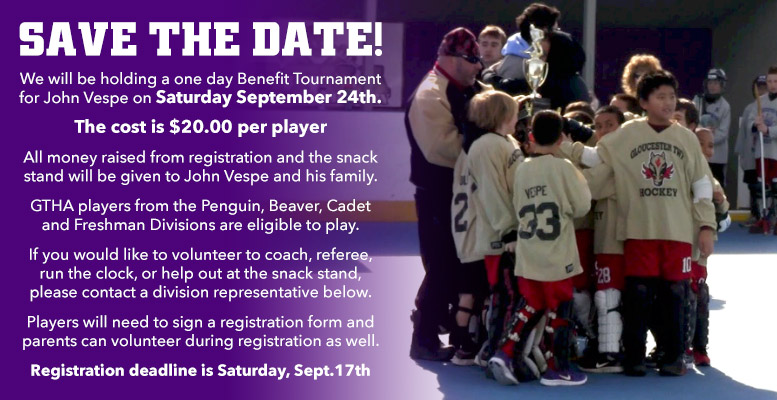 REGISTRATION IS OPEN FOR OUR FALL SEASON!
Our in-person registration will be at the Lakeland Complex on the following days:
Wednesday September 7th 6pm-8pm
Saturday September 10th 10am-1pm
Thursday September 15th 6pm-8pm
Saturday September 17th 10am-1pm
Monday September 19th 6pm-8pm
Registration Fees (Ages 5-19)
1 Child: $95.00 - 2 Children: $160.00 - 3 Children: $190.00
Instructional Division (Ages 3-4): $60.00
Are you interested in joining the GTHA Booster Club? If so, please plan to attend the BOOSTER CLUB MEET AND GREET on Thursday October 6th at 7pm at Skeeter's Pub which is located on 7 Coles Road Blackwood. Appetizers and light refreshments will be served. The Booster Club Ladies not only run the snack stand, but they also help organize the Annual GTHA Social. They are a very important part of GTHA and without them this league wouldn't be what it is today. The Booster Club Ladies ROCK so come out and join them at the meet and greet.
Congratulations to our 2015-2016 GTHA Champions:
Penguin Division Avalanche Beaver Division Blackhawks
Cadet Divison Oilers Freshman Division Kings


The Gloucester Township Hockey Alliance is a street hockey
organization dedicated to the children of the community.
We provide boys and girls, ages 3-19, a safe and fun environment

to learn and enjoy the game of hockey in its purest form.
If you have any questions, please don't hesitate to contact one of
our Division reps who will answer any questions you may have:
Chipmunk & Instructional:
htmorrow6703@comcast.net
Penguin:
tugmcerlain@hotmail.com
Beaver: brian@gaffneyappraisals.com
Cadet:
bartellandrew@gmail.com
Freshman: ahigareda25@gmail.com
President: mmalloy21@comcast.net