ALL GAMES CANCELED TONIGHT (Monday, July 25th)
DUE TO THE EXCESSIVE HEAT WARNING!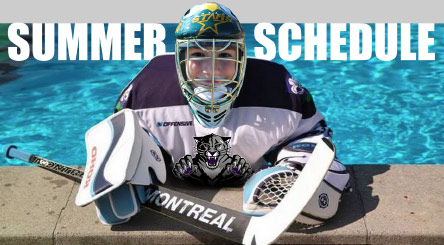 REGISTER EARLY FOR OUR 2016 FALL/WINTER
SEASON FOR A CHANCE TO WIN PRIZES:
1st Prize: Autographed Wayne Simmons Jersey
2nd Prize: Two tickets to the Flyers game on November 15th
Early registration will be available at the Lakeland complex on:
Monday, August 15th and Wednesday, August 17th from 6-8pm
Online registration will begin on Monday, August 1st!
Anyone who registers online or in person between August 1st
and August 17th will be entered into the prize drawing.
Registration Fees (Ages 5-19)
1 Child: $95.00 - 2 Children: $160.00 - 3 Children: $190.00
Instructional Division (Ages 3-4): $60.00
Congratulations to our 2015-2016 GTHA Champions:
Penguin Division Avalanche Beaver Division Blackhawks
Cadet Divison Oilers Freshman Division Kings


The Gloucester Township Hockey Alliance is a street hockey
organization dedicated to the children of the community.
We provide boys and girls, ages 3-19, a safe and fun environment

to learn and enjoy the game of hockey in its purest form.
If you have any questions, please don't hesitate to contact one of
our Division reps who will answer any questions you may have: