Green Bridge Hurling Club: Welcome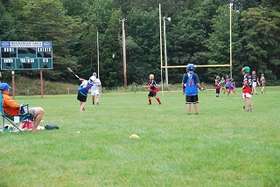 Takin' the free
Monday, August 28
Welcome to the home of the Green Bridge Hurling Club "Gnarly Geckos" (Brunswick-Topsham Maine USA)
********************NEWS****************************************
*Summer 2017 pickup is done for the year, thanks for coming out! To get notified about a viewing party for Hurling In Fenway on November 19, follow the facebook page or get on the email list if you are not already (contact greenbridgehurling at gmail dot com )
******************************************************************
What's 3000 years old, involves a crazy combination of lacrosse, baseball, hockey and soccer skills, and is incredibly fun? The Irish sport of Hurling! (traditional Irish field hockey).
Here is a cool highlight reel video to show you what is possible: hurling highlight reel
Here is a more in-depth "how to play" video: "Hurling 101"
At GBHC we value playing safe, competing hard but remembering it's just a game, and trying to get the hang of one of the most challenging sports in the world.
Want to give it a shot? Come join us for one of our weekly pickup games in the summer (times up in the "upcoming events" section at the top of the page). No experience required. We've got some loaner sticks for you to try it out, you just need to bring a caged helmet (eg lax or hockey).
Want your own stick? The all wood sticks are lighter, less expensive and frankly cooler; the composite sticks have a bigger sweet spot and are more durable. In either case, Stephen at American Hurling Co will treat you right!
RESOURCES ....
More good info from our friends in the Portland league: Hurling Basics
Rules on a tab to the left.
Skills videos on a tab to the left.
History of hurling on a tab to the left
SWAG-O-RAMA : did you miss the T-shirt or reversible order? Contact Randy at Adept screen printing in Lisbon Falls. He can still make you one, and the prices are very reasonable (even for one-offs)(consider front-only printing for lowest possible price). 353-6094 or adept at gwi dot net
CONTACT INFO: greenbridgehurling at gmail dot com; like/follow/check the facebook page for scheduling updates.
hurling Maine Brunswick Topsham lacrosse hockey field
Monday, September 9
Slideshow