Green Bridge Hurling Club: Welcome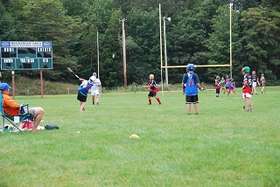 Takin' the free
Sunday, June 22
Welcome to the Green Bridge Hurling Club (Brunswick/Topsham Maine) - Home of the Gnarly Geckos!
********************NEWS****************************************
*First Pickup Tuesday June 24, Foreside Fields Topsham, ages 12 and up, 6:30->
*See the slideshow at the bottom of the page for some great hurling action captured by David Israel and Andrea Hess (thanks!) Also we now have a non-space-limited photo repository so you can see ALL the pics: https://picasaweb.google.com/100174626184457153220
What's 3000 years old, involves a crazy combination of lacrosse, baseball, hockey and soccer skills, and is incredibly fun? The Irish sport of Hurling!
Here is a great video showing the basics: intro video While it takes a little while for North Americans to get used to the full swings and high sticks, when played correctly it is a rough game, but not a dangerous one. In fact GBHC has had zero injuries in its (admittedly short) existence. A couple of things that are not readily apparent in the video: helmets are now mandatory; the only legal body contact is shoulder to shoulder (and then only when vying for the ball); the only time you can intentionally contact your opponents stick is when performing the "hook" from behind ... at all other times you must attempt to play the ball, and in a controlled, non-swinging manner.
Want to give it a shot? Come join us for one of our weekly pickup games (times up in the "upcoming events" section at the top of the page). Ages 12 and up, co-ed, no experience required. We've got some loaner sticks for you to try it out. You just need a caged helmet (eg lax or hockey) to play in the pickup game.
Once you try it, you will undoubtedly want your own "hurley" (stick) so you can get in on the fun without waiting (and be able to knock it around at home with friends and family - but mind the windows!). Check with Greg, we usually carry an inventory of bulk order sticks and balls. Or buy a first quality stick from one of our suppliers - see the Buying and caring for a "hurley" (stick) tab at left.
RESOURCES ....
More good info from our friends in the Portland league: Hurling Basics
Rules on a tab to the left.
Skills videos on a tab to the left.
Purchasing and Caring for your Hurley on a tab to the left.
History of hurling on a tab to the left
Awesome blog about hurling in America
More photos (all albums) https://picasaweb.google.com/100174626184457153220
SWAG-O-RAMA : did you miss the T-shirt or reversible order? Contact Randy at Adept screen printing in Lisbon Falls. He can still make you one, and the prices are very reasonable (even for one-offs)(consider front-only printing for lowest possible price). 353-6094 or adept at gwi dot net
CONTACT INFO: greenbridgehurling at gmail dot com
Monday, September 9
Slideshow