Grafton Little League (GLL) - Grafton, WI: Welcome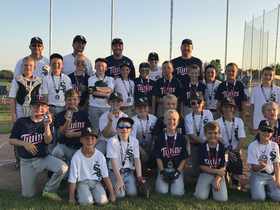 2018 GLL Minors Baseball Tournament Participants
---
---
Join GLL in the Grafton Christmas Parade
Please join Grafton Little League in the 39th Annual Grafton Christmas Parade. All GLL players and parents are invited to march in the parade which starts at 11am, Sat, Nov 24. Click HERE to sign up so we know how many are coming; further instructions will be provided after signing up.
---
Board of Director Positions - 2019
We still need to fill the following Board of Director positions for the 2019 season.
Concessions Co-Manager (paid position)

T-Ball VP
Fundraising Coordinator

Please consider volunteering for GLL, it is a very rewarding experience and a great way to give back to the Grafton community. Please contact any current Board member if you would like more information.
---
Sponsors
We are very fortunate to have a core group of loyal sponsors that have been with us for several years; we also have new sponsors join us each year. It is through the generosity of these sponsors that we are able to continue to offer our little league program. Please review our current list of sponsors and consider using them for your needs and services when possible. If you are interested in sponsoring a team you can find details in the SPONSORSHIP section of the "Downloads" page of this website; or contact Jo Maehl by clicking HERE.
---
New Little League Fields Complex
We continue to make slow, but steady progress on developing our new Little League fields complex at the corner of River Bend and Lakefield Roads. We continue to search for sponsors and contributions that can help us continue our build out progress; please contact Jerry Faust if you can help us out.
Please consider volunteering to help with this project; your efforts will be a legacy for our community for decades to come. Click HERE for current information.
---
Board of Directors Meetings
The Grafton Little League Board of Directors meet the first Tuesday of each month at the Grafton Senior Center. Aug-Apr meetings start at 7pm, May-Jul meetings start at 8pm. All are welcome to come and share ideas and\or concerns.
---