Grafton Little League (GLL) - Grafton, WI: Welcome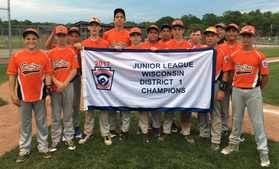 CONGRATULATIONS 2017 Junior League District 1 Champs!
---
POSTPONED

- Field Clean Up Day 2018
This event is being postponed due to weather. We will post new details as soon as we can find a date that works.
Field Clean Up Day is Sat, Apr 21 from 9am until done (likely 2-3 hours). This year we need to prepare fields at three locations (9th Ave, St. Joes, New GLL Complex); please be aware of which field you are signing up for when completing the online signup.
Only parents who paid a volunteer fee during registration should be using this signup. In addition, GLL Managers, Coaches and Board members should not use this signup, just show up.
Please sign up HERE and follow the posted instructions.
---
Registration is Closed for 2018
Online registration for all divisions of Grafton Little League has closed for 2018. If you missed online registration, there are still a few roster positions available in most divisions. Please contact Mike Wagner if you would still like to register.
---
2018 GLL Concessions Co-Manager
We are still looking to fill the Concessions Co-Manager board position for the 2018 season. This is a paid position and is vitally important to the successful operation of the GLL concession operations.
Please consider helping us out by volunteering for this position. Volunteer Responsibilities for all positions can be viewed HERE. Please contact Jerry Faust with your questions\interest.
---
Lakeshore Chinooks Little League Night
The annual Lakeshore Chinooks Little League Night is Fri, Jun 8 at Kapco Field. $28 value Grandtsand ticket and Chinook hat packages are on sale for only $18. Please click HERE for more details; this is a fundraiser for GLL.
---
Bigler Summer Camp
Ages 7-11. Jun 11-15, 9a-12p, John Long Middle School (GLL) fields. This camp will be led by K.J. Bigler with assistance from some current collegiate and former Bigler BT players. It is geared towards the beginner player but the older group will be challenged more. Click HERE for additional info and registration.
---
Milwaukee Brewers Little League Night
The annual Milwaukee Brewer Little League Night is Tues, Jun 26 at Miller Park. Unifomred players will be allowed to walk around the field prior to the game. Please click HERE for more details; this is a fundraiser for GLL. Orders must be received by Apr 27.
---
New Bat Rules Starting for 2018
Little League International has adopted the new USABaseball Bat Standard (USABat) effective Jan 1, 2018. This new bat standard covers all divisions of Little League except Softball and Seniors Baseball. These changes are being mandated by Little League International, not by GLL.
All bats used in the Baseball Rookies, Minors, Majors and Juniors divisions will need to be inspected and stickered by GLL prior to use in 2018; umpires and Managers will be checking bats for these stickers prior to games. If you missed getting your bat checked and stickered at the Dick's Discount Day event, we will be inspecting and stickering bats at the Family Meetings and during the Opening Day ceremonies at the concessions stand.
In summary, all non-wood bats used in the Baseball Rookies, Minors, Majors and Juniors divisions prior to the 2018 season are illegal starting Jan 1, 2018. Update: Little League International amended their rules Feb 15 for the Baseball Juniors division, they are now allowing BBCOR certified bats.
Additional details can be found HERE. If you still have bat questions, please contact Mike Wagner.
---
Sponsors
We are very fortunate to have a core group of loyal sponsors that have been with us for several years; we also have new sponsors join us each year. It is through the generosity of these sponsors that we are able to continue to offer our little league program. Please review our current list of sponsors and consider using them for your needs and services when possible. If you are interested in sponsoring a team you can find details in the SPONSORSHIP section of the "Downloads" page of this website; or contact Jo Maehl by clicking HERE.
---
New Little League Fields Complex
We continue to make slow, but steady progress on developing our new Little League fields complex at the corner of River Bend and Lakefield Roads. Every Baseball (excluding Juniors) and Softball team will be scheduled for at least one game on these new fields in 2018. We continue to search for sponsors and contributions that can help us continue our progress, please contact Jerry Faust if you can help us out.
Please consider volunteering to help with this project; your efforts will be a legacy for our community for decades to come. Click HERE for current information.
---
Board of Directors Meetings
The Grafton Little League Board of Directors meet the first Tuesday of each month at the Grafton Senior Center. Aug-Apr meetings start at 7pm, May-Jul meetings start at 8pm. All are welcome to come and share ideas and\or concerns.
---
Tuesday, December 19
Grafton Little League Grafton, WI