Golden Bears Girls Volleyball: Welcome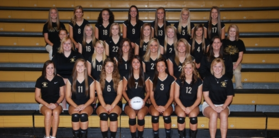 Golden Bears Girls Volleyball 2012
GOLDEN BEARS GIRLS VOLLEYBALL ROSTER
| | | | | | |
| --- | --- | --- | --- | --- | --- |
| NUMBER | NAME | POSITION | HEIGHT | WEIGHT | GRADE |
| 1 | Jacqueline Lux | S | | | Junior |
| 2 | Leigh Durphey | DS | | | Junior |
| 3 | Phebe Drake | OH | | | Senior |
| 5 | Mikayla Diemer | OH/RS | | | Junior |
| 6 | Lyndi Martin | DS | | | Senior |
| 7 | Chelsey Skipton | OH | | | Senior |
| 10 | Hailey Knecht | DS/L | | | Sophomore |
| 11 | Mary Beth McNeely | MB/RS | | | Senior |
| 12 | Olivia Moore | RS | | | Senior |
| 16 | Lindsey Nolley | RS | | | Junior |
| 17 | Hayden DePrez | OH | | | Junior |
| 19 | Sydney Smith | S | | | Junior |
| 20 | AJ Lux | MB | | | Sophomore |
| 23 | Taylor Pierce | MB | | | Junior |
| | Amanda Morgason | MGR. | | | Junior |
| | Hailey Allen | MGR. | | | Senior |
| | Allyson Conner | MGR. | | | Junior |
| | Justine Wagner | MGR. | | | Freshman |
Tuesday, October 9
Shelbyville volleyball draws Bloomington South
TC in 2A sectional at Ritter; Morristown, Southwestern, Waldron at Lutheran
Staff report
The biggest question surrounding Class 4A, Sectional 14 was when will the state-ranked programs from Shelbyville and Columbus East square off?
The answer is the sectional championship game, providing both teams don't get tripped up in the earlier rounds.
On Monday, the Indiana High School Athletic Association announced the pairings for the 41st Annual Volleyball State Tournament. A total of 402 teams are entered, the first time since 1984 the field has topped 400.
Sectional play begins on Oct. 16 with sectional champions matches on Oct. 20 at 64 sites across four classifications. One-match regionals are on Oct. 23. The semistate round follows on Oct. 27.
Four state champions will be crowned at Ball State University's Worthen Arena on Nov. 3.
Sixth-ranked Shelbyville (24-2) opens the Sectional 14 tournament against the host school, Bloomington South (15-4), at 6 p.m. on Oct. 18. The second quarterfinal pairing has Columbus North (9-19) taking on East Central (24-7). The winners from those two matches return at 11 a.m. on Oct. 20 for a semifinal meeting. Bloomington North (13-6) battles Columbus East (26-2) in the second semifinal.
The championship is scheduled for 7 p.m.
In Class 2A, Sectional 43 at Ritter, Triton Central (5-14) opens against Indianapolis Washington at 6 p.m. on Oct. 18. Tenth-ranked Ritter (20-9) meets Scecina (10-14) in the second quarterfinal. The winners advance to an 11 a.m. semifinal match on Oct. 20.
The other semifinal pairing pits Crispus Attucks and Metropolitan. The championship match is set for 7 p.m. Eight teams are slotted into a Class A bracket for Sectional 59 to be played at Lutheran. Edinburgh (24-7) and Waldron (15-9) open the tournament at 6 p.m. on Oct. 16 in a battle of Mid-Hoosier Conference opponents. Southwestern (5-16) follows against No. 2-ranked Lutheran (19-7).
On Oct. 18, Morristown (4-16) and Baptist Academy take to the floor. Irvington Prep and Greenwood Christian (7-13) follow in the final quarterfinal match.
The semifinals begin at 11 a.m. on Oct. 20. The championship is at 7 p.m
Tuesday, October 16
Shelbyville volleyball heads to Bloomington to defend title
Shelbyville defenders MaryBeth McNeely and Taylor Pierce (23) try to block the tip attempt by Franklin's Jessica Admire during their pool play match at the Columbus East Invitational on Oct. 6. Shelbyville setter Jacqueline Lux (1) and Phebe Drake follow the action. (Steve Bush photo)
Waldron, Southwestern open sectional at Lutheran
By Jeff Brown
Sports editor
The road through the six-team volleyball sectional tournament at Bloomington South is a familiar one for Shelbyville: Win a match Thursday. Win a match Saturday morning. Eat. Rest. Hydrate. And play for a sectional title Saturday night.
The formula resulted in a sectional championship in 2011.
The Golden Bears (25-4) open Class 4A, Sectional 14 against the host Panthers (16-6) at 6 p.m. Thursday. In the second semifinal, East Central (24-7) takes on Columbus North (9-24).
The winners return for an 11 a.m. semifinal match Saturday. Columbus East (28-4), ranked third, follows against Bloomington North (13-7).
The sectional championship is at 7 p.m. Saturday.
The Golden Bears, who started 22-0, finished the season losing four of their last seven matches. Injuries and tough competition slowed Shelbyville's roll over the final two weeks of the season.
"The last two matches we've played at a high level. It just hasn't panned out into wins," said Shelbyville coach Lyndsey Hensler, referring to five-game losses to Class 4A, No. 14 Martinsville and 3A No. 1 Yorktown.
Prevailing thought has eighth-ranked Shelbyville and the Olympians of Columbus East meeting in the championship. The Golden Bears have plenty of work to do before that can occur.
"We're going to go hard in practice this week to find that fire and drive," Hensler said.
A win Thursday sets up a 2011 sectional semifinal rematch with East Central or a second meeting this season with Columbus North. Shelbyville swept the Trojans at the Columbus North Sectional last season and did the same to the Bull Dogs this season.
Hensler hopes the final part of Shelbyville's schedule has it prepared for another extended postseason run.
"Looking back at it, the schedule was not to our advantage," Hensler said. "There is nothing we could do about it. The teams that have been good in the past we're not good this year. There were a lot of games where we just walked in and were just playing around. We didn't have to work for it. So I'm glad here at the end, we've had to work for (wins). It will make us better."
Ritter Sectional
Class 2A, Sectional 43 features No. 11-ranked Ritter.
Triton Central (7-17), which was swept by the Raiders on Oct. 9, may get a rematch in Saturday's semifinals. First up for the Tigers are the Washington Continentals at 6 p.m. Thursday. Triton Central dropped a total of 11 points in its 2011 sectional quarterfinal match with the Indianapolis school.
"They are a program in rebuilding mode based on what we saw last year and their results this year," said Triton Central coach Ray Basile. "They're having their struggles. We can relate to that."
Triton Central went 4-25 last season including its win over the Continentals. Basile took over the program and challenged a large group of seniors to strive to be better. Now the Tigers can double their 2011 win total on Thursday and have possession of the Shelby County Tournament championship trophy as a reward for their hard work.
Basile hopes to have middle hitter Jordan Ingle back in the lineup this week. The senior, who was named the county tournament's Most Valuable Player, missed the Union County Invitational on Saturday due to illness. While the Tigers finished 2-2 without Ingle, Basile knows the Tigers will need her if they get to Saturday's semifinal match.
"She is one of our dominant leaders on the floor," Basile said. "We need to get her back on the floor."
Ritter (22-9) hosts Scecina (11-15) in the second quarterfinal Thursday.
The second semifinal Saturday features Crispus Attucks and Metropolitan.
Lutheran Sectional
The host school is the favorite in Class A, Sectional 59.
Lutheran (20-9), ranked second, opens the eight-team sectional in the second quarterfinal match tonight against Southwestern (6-17).
In the opener at 6 p.m., Waldron (15-11) battles Mid-Hoosier Conference rival Edinburgh (26-7). The two played a long five-game match with Edinburgh prevailing on Sept. 24.
"Edinburgh has two really tough hitters, so we will work on our blocking a lot this week," said Waldron coach Lissa Talbert.
The Mohawks will count on its frontline size to counter the hitting ability of Edinburgh's Abby Bryant and Jennifer Stinson.
Waldron finished the regular season losing four of its last five matches, but it's not a concern for Talbert, who believes the team has made the adjustment of playing without senior middle hitter Brooke Settles, who is lost for the season with an ankle injury.
"These girls really want to beat Edinburgh," Talbert said. "They know how close they came to beating them the last time. Now, they want to win."
The winners Tuesday return to Lutheran at 11 a.m. Saturday.
In quarterfinal matches Thursday, Morristown (4-21) takes on Baptist Academy at 6 p.m. Irvington Prep tangles with Greenwood Christian in the second match. The winners meet in the second semifinal Saturday.