Shelbyville Golden Bears: Welcome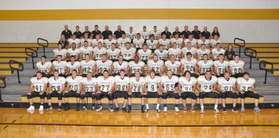 Shelbyville Golden Bears Football 2013
Who Let the Dogs Out by Baha Men
Thursday, September 5
Muncie South makes first trip to McKeand Stadium
By Jeff Brown Sports editor Published: Thursday, September 5, 2013 7:06 AM US/eastern Wenstone Nash knows little of the Shelbyville Golden Bears, but he is quite familiar with the Hoosier Heritage Conference. So when he first watched game tape on the Golden Bears, there was little surprise in what he saw. "They're a hard-nosed football team," said Nash, the 23-year-old coach of the Muncie South Rebels. "There are a lot of teams like that in the HHC. We've seen Yorktown, Delta, Mount Vernon and Pendleton Heights. It's the exact same level of intensity and physical play. They just have different offenses." Muncie South replaces Rushville on Shelbyville's schedule this season. New Castle, who is officially joining the HHC in 2014, fills the slot on Shelbyville's schedule next season. Nash is correct about being familiar with the HHC. The Rebels are 2-10 over the last five seasons against HHC opponents and face five of the seven teams this season. The Rebels and senior quarterback Josh Strauch (six-foot tall, 180 pounds) are 0-2, but the Rebels can move the ball up and down the field with their spread offense. Strauch has thrown for nearly 400 yards and rushed for nearly 300 in losses to Yorktown and Muncie Central. "He's a very good quarterback. He's very elusive," said Shelbyville head coach Pat Parks. "He's strong. You've got to get to him and bring him down. Nobody has really stopped him." The Rebels lost a shootout to crosstown rival Muncie Central, 45-32, last Friday. In two losses, a defense that has just three seniors and starts three freshmen has allowed 94 points. "Turnovers and missed tackles... if we can eliminate them then it will be a game," said Nash, a 2008 Muncie South graduate. Nash is a unique story in Indiana coaching. He is one of 10 children with strong ties to a school dealing with financial difficulties. Discussions are under way concerning consolidating Muncie Central and Muncie South. "I'm a (Muncie) Southside alumni and I don't have any control over that," he said. "The team doesn't have any control over that." Nash has two younger brothers on the team in junior running back Sam Nash and freshman defensive back Nehemiah Nash. A third brother will join the team as a freshman in 2014. So far, the transition to head coach has been easy for one of the youngest, if not the youngest head coach in the state. "The kids know me. A lot of them used to come and watch me play when I was younger," said Nash. "They looked up to me. So that has made it a smooth transition. I got respect from them right off the bat because I know what they go through everyday." After a scintillating offensive performance in a week one win at Greensburg, the Golden Bears never found the end zone in a 14-0 loss to Franklin last week. The ground game failed to reach 100 yards and the air attack was too inconsistent to sustain drives. "Some things broke down in the running game. We didn't get it done up front," said Parks. "And I think we dropped 4 or 5 balls... first down balls. If we catch those, we move the chains. The dropped balls really hurt us." The offense will be without senior wideout Gunner Speece, who was injured in a car accident. Starting safety and backup quarterback Conner Hasecuster will miss another week with a knee injury. That should allow freshman John Lux to get another start on defense which is a good thing according to Parks even if it eliminates his time as the junior varsity's quarterback. "We need him to play with us," said Parks. "Unfortunately, that's on the defense. "He is getting a lot more (repetitions) in practice. He is our second-string quarterback, so he is getting reps with the first team. I would just love to get him more reps at the JV level." Muncie South at Shelbyville Site: J.M. McKeand Stadium. Kickoff: 7 p.m. Broadcast: Pre-game show at 6 p.m. on WSVX (96.5 FM). 2013 records: Muncie South 0-2; Shelbyville 1-1. Coaches: Wenstone Nash, 0-2 in first season at Muncie South; Pat Parks, 93-101 in 19th year at Shelbyville. Series history: None. This is the first meeting between the two football programs. Muncie South averages: 16 ppg offense; 47 ppg defense. Shelbyville averages: 19 ppg offense; 21 ppg defense. Sagarin odds: Shelbyville is favored by 6 points. Other HHC games Friday: The Hoosier Heritage Conference season opens with Class 3A No. 3 Delta at Greenfield-Central. In a battle of unbeatens, 4A No. 12 Pendleton Heights is at New Palestine. And Yorktown puts its perfect start to the season on the line at 4A No. 5 Mount Vernon.
Tuesday, October 15
Shelbyville opens postseason at home
Golden Bears draw Franklin County in football sectional opener By Jeff Brown Sports editor Published: Tuesday, October 15, 2013 7:06 AM US/eastern Shelbyville is guaranteed one postseason football game at McKeand Stadium. To get a second would take winning the program's first sectional championship. The Indiana High School Athletic Association announced the sectional pairings Sunday night from Lucas Oil Stadium in Indianapolis for the 41st Annual Football State Tournament. A new format spreads a record 322 teams across six classes with the state champions to be crowned at the home of the NFL's Indianapolis Colts on Thanksgiving weekend. * Class 6A, which contains the 32 largest schools in the state, starts with sectional semifinal games on Oct. 25. Regional and semistate champions will be determined on Nov. 8 and Nov. 15. The two teams competing for the state championship then get one week off before playing for the title. In Class 5A, which has 34 teams, first round games must be played in sectionals 9 and 13 with the rest of the teams getting one week off. Sectional semifinals will be played on Nov. 1 followed by championship games on Nov. 8. In Class 4A, Shelbyville (4-4) opens against a familiar sectional foe in Franklin County (3-5). It will be the fifth postseason meeting between the programs in the last eight seasons – and all have been played at McKeand Stadium. If the Golden Bears defeat the Wildcats, they would travel to face either East Central (3-5) or Connersville (2-6). The Spartans host East Central in their sectional opener, which is a rematch from an Oct. 4 meeting won by the Trojans, 48-23. There is only one state-ranked team in Sectional 23, but it's top-ranked Columbus East. The Olympians (8-0) return to Madison (3-5) for a quarterfinal sectional game on Oct. 25. The Cubs lost to Columbus East, 41-7 on Oct. 4. The other half of the four-team lower bracket has South Dearborn (0-8) at Greenwood (4-4). "I'll take the draw," said Shelbyville coach Pat Parks. "We're away from Columbus East and we have the opportunity to win a couple of ball games." Franklin County won the 2006 sectional opener at Shelbyville, 30-22. Two years later, the Golden Bears routed the Wildcats, 49-7 in another sectional-opening matchup. The result was the same in 2009. The last meeting came in 2010 when Franklin County won a sectional semifinal game at Shelbyville in overtime, 22-14. Because Shelbyville is listed in the top pairing of the eight-team bracket, it is unlikely it would host a second sectional game after the opener. "That will be alright. It will be nice to have that first home game," said Parks. Shelbyville has lost three straight games to three state-ranked Hoosier Heritage Conference opponents and host Class 3A, No. 10 Delta on Friday. "That just shows how good our conference is this year," said Parks. "I don't know if I ever remember the conference having four ranked teams."
Monday, November 4
Golden Bears finally trump Trojans
Shelbyville earns sectional title tilt with top-ranked Columbus East
By Jeff Brown
Sports editor
ST. LEON — Shelbyville tried to bury East Central early one night after Halloween.
In the end, the Golden Bears were almost the ones with their football season left in the graveyard.
The Golden Bears utilized a pair of late first-down runs by Kyle Uhls and Jake Laker to end a 24-year nightmare that has been their series with East Central. Shelbyville defeated the Trojans for the first time in eight tries, 25-22 on Friday at Trojan Field in St. Leon.
Laker rushed for 176 yards and DeShaun French finished with 71 to put the Golden Bears (6-5) back above .500 and in the Class 4A, Sectional 23 championship game this Friday at No. 1 ranked Columbus East (11-0).
"Let's bring it on. We're living for another week," said Shelbyville coach Pat Parks. "We got that sixth win which assures us that we will be at least .500 this year. Now it's a measuring stick. We're going to find out just where we are and where we need to go."
Shelbyville's defense came up big after giving up back-to-back second-half touchdown drives to an East Central offense that relied almost exclusively on the passing game with a backup quarterback.
East Central (4-7) trailed by three points and had two timeouts left but was pinned on its own 3-yard line.
Sophomore quarterback Luke Patton carried for two yards on a busted play with 5:02 left in the game.
On second down, Patton threw incomplete toward his own sideline. Patton again tried to run on third down and was stopped for a 1-yard gain.
That forced a punt that Gunner Speece settled under at the East Central 39 with 3:25 to go. All the Golden Bears had to do was kill the clock.
A five-yard penalty on first down was an inauspicious start. French carried for three yards and Laker added five more on second down setting up third-and-seven from the 36. East Central used its second timeout.
Uhls then provided the biggest run of the season. The senior found a seam to his right and battled down to the 29. The game officials took a long look at the spot then signaled first down.
"Kyle is a senior and he knows what needs to be done at that point," said Parks of the choice to put the ball in his hands.
Uhls carried twice more for five and three yards and the Trojans finally burned their last timeout.
On third-and-2, Laker struggled but gained three yards and the celebration began for the Golden Bears, who earned their first sectional championship game appearance since 2009.
"The defense did its job getting a three-and-out and turning the ball back over to our offense," said Parks. "And we were able to get a first down with Kyle Uhls running the ball. That just makes it a good satisfying team win."
Shelbyville built an 18-0 lead on a pair of first-half touchdown runs by Laker and a field goal by Ty Johnson.
East Central's first four drives ended with three punts and a fumble caused by a Mitchell Mathies big hit and recovery. But in near desperation mode, the Trojans made something happen.
Patton heaved a third-and-13 pass down the sideline that was hauled in by Brad Bonomini. Then Andrew Keilholz broke loose for 33 yards which set up East Central with first-and-10 at the Shelbyville 10.
"That was a nice catch on the sideline," said Parks. "Gage (Seaborn) was really in a nice position. If (Bonomini) doesn't catch that ball, we force a punt and we're (driving) again. That kind of turned the momentum."
Patton connected with Kammer for the first of two touchdown passes on the night and the Trojans sprung to life.
Shelbyville's opening drive of the second half ended with Gunner Speece scoring on a 1-yard run to push the lead to 25-7.
"We came out in the second half and got exactly what we wanted. We got a (defensive) stop and we got a score," said Parks.
Patton kept the Trojans alive with a 20-yard touchdown pass to Kammer on a fourth-down play.
Patton, who became East Central's starting quarterback in week 8 after Brandon Koch went down with a knee injury, finished off the Trojans' next drive with a 1-yard run, again on fourth down.
Shelbyville took over on its own 20 with 7:42 to go leading 25-22.
Thirteen- and 20-yard runs by Laker got the Golden Bears near midfield but another first down did not follow. Laker's punt though rolled to the East Central 3 and Shelbyville's defense made sure the Trojans stayed there.
"In the end the kids shined though. That shows the kind of character they have," said Parks.