Titan Cheer is actively involved on campus and in the community. Visit our website for events we will be attending. If you would like us to attend your community event, please contact Coach Phillips at least 4 weeks prior to event.
VARSITY CHEER PHOTO: Back - Brittany, Brittney, Monique, Angie, Kaylinn, Olivia, Davina; Front - Coach Phillips, Choreography Captain Brianna, Reighlynn, Performance Capts. Shelby & Taylor. Not pictured: Sabrina
JV CHEER PHOTO: Back - Coach Dykstra, Rikki, Kim, Chandler, Rebecca, Mishell; Front - Kassidy, Sofia, Nikki, Captain Bailey, Co-Captain Samantha, Kaitlyn, Haley
Freshmen Cheer: Kenya, Stephanie, Brooke, Vianna, Kali, Michelle, Layah (not pictured Coach Ward)
Our managers and coaching staff: Rianne, Alyssia, Sloan, Ashley, Esmeralda, Coach Phillips, Coach Dykstra, Coach McKenzie (not pictured Coach Ward)
SPRING INTO SPIRIT at TCHS!
...
Temescal Canyon High Cheerleaders - HOME OF THE TITANS!!
All year long, Titan Cheer is actively involved on campus and in the community. We support ALL athletic teams on our campus, promote Titan Pride and 'give back to the community' at events such as Relay for Life, Unity Parade, Senior Citizens Holiday Luncheon and more. We host Showcase of Champions for all high school cheer teams in our valley, host the Spirit Cup competition in the spring as well as a Spirit Camp for the youth in our area.
Of course, we always need help in keeping our program running so if you are a business or family member or Titan Fan interested in making a contribution to our program in the upcoming year, please click on Community Sponsors in the menu bar.
We're looking foward to another great year of Titan athletics, traditions and special events. We hope to see you at one of our many events!! GO BIG BLUE!
Scroll down below for an overview of Titan Cheer over the years...
Varsity Cheer brings it home!
The team spent 4-days at San Diego State University for training camp. Classes included proper stunt progressions, safety, pyramids, cheer, dance, sideline and a performance at the conclusion of Day #4. Varsity Cheer was given SUPERIOR ratings for all evaluations (the highest rank you can get) and for the second year in a row brought home the TEAM SUPERIOR trophy. Other accomplishments were:
Katlin Nordland & Brianna Martin: selected for UCA All-Star and eligible to perform in London's New Year's Eve Parade. They also both received 'Spot of the Day' for the great saves catching the flier in a basket toss.
Spirit Stick Winners three days.
Home dance routine - EXCELLENT rating

VARSITY CHEER
2008-09 TCHS TITAN CHEER TEAMS
Varsity Cheer is lead by our three captains Krista, Shelby, Katlin and Coach Phillips.
Back Row: Ayesha, Amy, Reighlynn, Shelby, Mandy, Lani
Middle Row: Brianna, Sabrina, Audrey, Taylor, Adrianne, Monique
Front Row: Brittany, Katlin, Krista, Mila, Olivia, Davina
Coach Christina Dykstra oversees the JV team.
Back Row: Angie, Tiffani, Rikki, Ashley S.
Middle Row: Genny, Niki, Bethany, Jen, Ashley G.
Front Row: Chandler, Sarah, Brittney
Coach Tracy Ward oversees our FROSH team.
Back Row: Kelsey, Haley, Amanda
Front Row: Kaitlyn, Kim (not pictured: Samantha)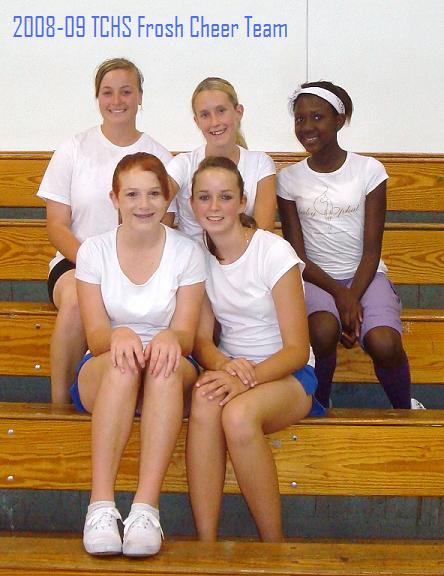 FROSH TEAM
Cheer Members Honored at 2007-08 Awards Banquet
Titan Cheer had their banquet May 15 and all members were honored with a dinner for their hard work and commitment to Titan Cheer for the full school year. Each member received a certificate, cheer pin and membership plaque. The following girls also received special recognition:
Varsity Katlin Nordland / JV Taylor Durden: MVP (Most Valuable Performer)
Varsity Leah Lacher / JV Reighlynn Parsley: Most Improved Overall
Varsity Krista Cromley / JV Bethany Sailor: Coaches Award
Varsity Mila Coker: Most Inspirational
These girls earned the ACADEMIC MEDALLION for maintaining a 3.5 or above GPA for the school year: Mila Coker, Taylor Durden, Leah Lacher, Shelby Lawson, Lani Nguyen, Katlin Nordland, Natalie Zapata and the ACADEMIC PIN was awarded to: Khrystal Bragdon, Krista Cromley, Monique Jackson, Brianna Martin.
STUDENT OF THE SEMESTER: Lani Nguyen (fall) and Khrystal Bragdon (spring).
Additional honors for our Titan Cheerleaders this year included:
HONORED TITAN: Krista Cromley, Lani Nguyen, Taylor Durden, Reighlynn Parsley, Katlin Nordland, Brianna Martin
PERFECT ATTENDANCE: Megan Gutierrez
STUDENT OF THE SEMESTER (English Dept.): Katlin Nordland
Homecoming Senior Class Princess: Megan Gutierrez
Sadie Hawkins Freshmen Class Princess: Bethany Sailor
Fall Term:
Principal's Circle of Honor (4.1+ GPA) Lani Nguyen
Principals' Honor Roll (3.5-4.0 GPA) Khrystal Bragdon, Mila Coker, Taylor Durden, Monique Jackson, Leah Lacher, Shelby Lawson, Brianna Martin, Katlin Nordland, Natalie Zapata
Great Job Titan Cheer ~ As always...Setting the Standard for Excellence!!
2007-08 VARSITY CHEER
Back Row: Shelby (Capt.), Monique, Kristen, Leah, Coach Phillips, Megan, Natalie, Audrey, Lani
Front Row: Brianna, Mandy, Adrianne, Katlin (Capt.), Khrystal, Krista, Mila
2007-08 JV Cheer
Back Row: Chandler, Taylor, Coach Phillips, Bethany (capt), Reighlynn
Front Row: Rachel, Caroline, Nikki, Kaitlin
not pictured: Coach Dykstra and Coach Carter
VARSITY CHEER earns SUPERIOR TROPHY
Titan Cheer spent four days at UCLA for an intensive training camp. The team was ranked SUPERIOR in all seven categories (cheer, dance, stunt, sideline, traditions, safety and sportsmanship) and brought home the SUPERIOR TEAM trophy. Three members (Katlin, Krista, Brianna) were selected to the UCA All-Star Team and are now eligible to perform in London for the New Year's Eve Parade. Congratulations Titans!
Monday, June 18
Awards Night for Titan Cheer 2007
The Varsity Cheer Team had their awards banquet June 4. The following members received special recognition:
Most Valuable Performer Cheer: Jorlyn Pallera
Most Valuable Performer Competition: Caroline Mathiesen
Most Inspirational Cheerleader: Melissa McColley
Most Inspirational Competitor: Brittni Melahn
Coach's Award Cheer: Valerie Gervasi
Coach's Award Competition: Shelby Lawson
Overall Most Improved: Andrea Pathiakis
Excellence in Academics Medallion: Melissa McColley, Brittni Melahn, Jorlyn Pallera, Natalie Zapata (all girls earned a 4.0)
Jorlyn Pallera was also the recipent of two scholarships totally $2300.00

Thank you TITAN CHEER for your support of TCHS all year long!!!
Congratulations Titan Cheer!
Titan Cheer placed 3rd at the West  Coast Cheerleading Championships hosted by Knott's Berry Farm this past weekend!!  Also...cheerleader, Jorlyn Pallera entered the "Best Jumps" category and brought home a 3rd place trophy. Great Job Titans!

VARSITY CHEER 2006-07
Back Row: Manager Bryce, Shelby, Dawn, Megan, Kristen, Andrea, Vanessa, Coach Philly
Middle Row: Manager John, Chelsay, Natalie, Caroline, Valerie, Mandy, Brittni, Tayla, Manager Mychal
Front Row: Katlin, Khrystal, Stephanie, Lindsay, Melissa, Jorlyn
American School Spirit Award Winners!
For the third consecutive year, Titan Cheer has been chosen as a TOP 10 program in the United States by Universal Cheerleaders Association, Varsity Brands and AACCA based on academic achievement, campus involvement, community service and school traditions. According to the contest sponsors:

"These teams recognize their value as an athletic activity whose primary purpose is to support other athletic teams. But it sure doesn't stop there. They have all managed to cheer for their school's athletic teams, while maintaining impressive squad GPAs and doing everything they can to better their community."
To read about the TOP 10, and other schools receiving recognition, click on the link above. Titan Cheer...you do a great job on our campus and in our community...Keep up the great work!

The TOP 10 cheer programs in the United States are:
Relay For Life
During the month of October, Varsity Cheer participated in RELAY FOR LIFE which brings awareness to the MANY types of cancers that people have survived, lived through or passed on because a cure is not available.  At RELAY FOR LIFE, one member needed to walk laps around the track every hour on the hour because 'cancer never sleeps'.  This was a community event and over $56,000 was raised by the 30 teams participating.  Titan Cheer sold pink ribbons that glow in the dark to raise money for cancer research.

At TCHS, the team also promoted "wear pink on Wednesday" for the month of October to promote breast cancer awareness through the "Passionately Pink" campaign.  The team passed out stickers or candies to those students and staff wearing pink.
Cheering on our Titans to a Victory!
Congratulations Varsity Cheer!
The varsity team spent 4 days at USD in August for training in stunts, safety progressions, pyramid building, conditioning and learning new material for the upcoming school year. The team came home with SUPERIOR ratings for their extreme routine in dance, cheer, stunts and also continued tradition by winning the Spirit Stick all four days. Five members tried out for the UCA All-Star Team. Melissa McColley & Katlin Nordland made the team.

Back: Dawn, Kristen, Khrystal, Valerie, Megan, Shelby, Brittni, Vanessa, Chelsay
Middle: Coach Phillips, Krista, Lindsay, Natalie, Caroline, Katlin, Andrea
Front: Tayla, Mandy, Melissa, Stephanie. Not pictured: Jorlyn

The team came home and 6 days later performed at the pre-game for the Lake Elsinore Storm with our band, colorguard, dance team and introduction of our football players. The girls also attended the Welcome Back Staff Breakfast and assisted the football boosters with serving breakfast.

In case you missed the info in the press last week...
TCHS Cheer & Dance Teams Performing September 19!
Paloma Valley HS

is hosting

SUMMER SHOWCASE

at their school Tuesday, September 19 at 6p.m. in their gym. Cheer & Dance Teams will be showcasing various routines they learned this past summer and it's a fundraiser for OUR TEAMS if you purchase a $5.00 ticket from any Cheer, Dance Member or Coaches by 2:00 Tuesday. Children under age 5 are FREE! You can purchase tickets at the event but the proceeds then benefit PVHS.
There will be a snack bar and a Silent Auction (gift baskets) as well. Cheer Teams will peform the beginning of the evening (TCHS scheduled to perform at 6:45) and Dance Teams are scheduled to perform after 7:30.
Schools participating are:

TCHS,

EHS,

LHS

,

Paloma Valley,

Perris,

Vista Murrieta,

Hemet,

Temecula Valley,

Great

Oak,

Canyon Springs,

Murrieta Valley,

Moreno Valley
Come on out, CHEER for these awesome TC Teams and WEAR BLUE!

Click on "AWAY" Locations in the menu bar for directions to PVHS.

VARSITY 2006-07
Scroll down for more photos!
Team Pictures coming soon!
Varsity Team Members are:
SENIORS
Kristen Baxter
Valerie Gervasi
Melissa McColley (captain)
Dawn Morris
Jorlyn Pallera
Andrea Pathiakis
JUNIORS
Khrystal Bragdon
Vanessa Gorseth
Megan Gutierrez
Chelsay Henry
Brittni Melahn (captain)
SOPHOMORES
Tayla Buell
Krista Cromley
Lindsay Howanec
Mandy Larkins
Caroline Mathieson
Katlin Nordland
Stephanie Scalf
Natalie Zapata
FRESHMEN
Shelby Lawson
Chicago Bulls Theme

Class of '07
Varsity - Class Photos
Senior Photo Above:
Back Row: Valerie, Melissa, Andrea
Front Row: John (manager), Dawn, Kristen, Jorlyn
Photo to the left: VARSITY JUNIORS - Class of '08
Back Row: Megan, Khrystal
Front Row: Vanessa, Brittni, Chelsay
Photo Below: VARSITY Sophomores & Freshmen - Class of '09 & '10
Back Row: Katlin, Stephanie, Caroline, Shelby
Front Row: Lindsay, Mandy, Natalie, Krista, Tayla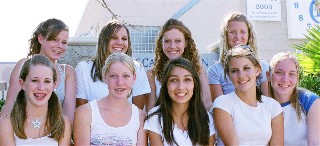 Class of '09 & '10
Click here for DONATION Information
Spirit Camps offered by TCHS Cheerleaders
Titan Cheer & Community Involvement
Titan Cheer Members are involved in a variety of community service events each year. If you are a business or non-profit organization, contact Coach Phillips at least 4 weeks prior to your event with all the details of your event. We will do our best to help in any way possible if we do not have another event planned.
VARSITY 2005-06
Community Service Events schedule for Titan Cheer 2005-06
TCHS Senior Night 2005
Showcase of Champions - March 2006
SMHS Reunion
September 2 @ Storm game
Cheer performs at Lake Elsinore Diamond 2005
Sept. 2 (more photos)
VARSITY 2005 Camp Photo
Titans Attend Cheer Camp 2005
Varsity brings home ALL SUPERIORS!
more 2005 camp photos
2005 camp photos
2005 camp photos
2004-05 Varsity Cheer Program
VARSITY ATTENDS ELITE CAMP at UCSD '04
More 2004 camp photos!
Summer Tumbling & Conditioning
More gym photos
Spring 2004 - SPIRIT CAMP A GREAT SUCCESS!
TITAN CHEER Members - summer camp 2004
SUMMER SPIRIT CAMP 2004
-click here for more SPIRIT DAY 2004 photos
SPIRIT DAY for area high school cheer squads
2nd annual SPIRIT DAY at TVHS
-click here for more SPIRIT DAY 2004 photos
Community Events attended by Titan Cheer 2004-05:
PUT THE FREEZE ON OUR CIF OPPONENT!
First Annual SPIRIT DAY at TVHS
-click here for more Spirit Day 2004 photos
-
KIDS DAY AMERICA International
Cheer Pals from Louisiana
Titan Cheer and Community Service Pictures