G.O.A.L.S. Athletic League/Lady Rangers: Training Center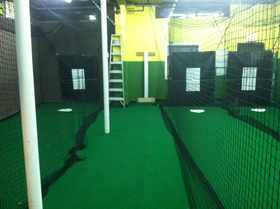 Training Center Tunnels
CLICK HERE FOR TRAINING CENTER WEBSITE MEMBER LOG IN
G.O.A.L.S. TRAINING CENTER & HOME OFFICE

65-55 Fresh Meadow Lane
Fresh Meadows, 11365
(Entrance is in the back of the building on 175ht St. between 65th & 67th Ave's)
347-732-9821
TRAINING CENTER MEMBERSHIP
Now Included with Spring Season Registration

MEMBER BENEFITS:
Training Center Members Scheduling Portal
Members can Rent Cage time for pitching, throwing, hitting and workouts for $10.00/half hour.
Personal Instructors for all areas of Fast-Pitch Skills, ie: pitching, catching, hitting at a low cost.

Members Free or Low Cost Camps and Classes year round.
Homework Tutoring available for members at the Center.
Member Mentor Nights Coming Soon. 3 Women Mentors from Business, Sport, Academics or Gov't will do a question and answer session for members on a quaterly basis.
College Recruiting Classes available.
Coach Training Classes available.
Conditioning and Fitness Classes available also.