Gilbert National LL: Welcome

++ Weather Update / Field Closure Update++
The Town of Gilbert has closed Fields 5, 7, 8 for tonight's (5/4/15) Games.
Please check back regularly for updated information
GNLL - DBacks Night May 9, 2015
Ticketes for GNLL Players are included in the 2015 Spring Season Registration
The Deadline is May 1, 2015
For more information and the Order form click here
For Game Schedules, Scores and Standing, please follow the link below
Familiarize yourself with the rules. Follow the link below
Please check the
calendar
for important dates.
There are some changes to how Little League determines League Age for the 2015 Season Please follow the link below
Little League International has placed a moratorium on composite bats
For a list of approved bats click
here
---
Promote your business!
Become a scoreboard advertiser or hang a banner at the field!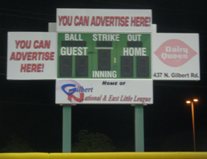 For more information, contact Greg Feeder, Sponsorship Director @ gfeeder@cox.net
---
Buffalo Wild Wings donates 10% of your bill to GNLL if you mention that you are involved with Gilbert National Little League!
---
Check out our Facebook page for additional updates and details
Questions, please contact GNLL @ gnll-Dennis@cox.net