Gilbert National LL: Welcome
Fall Ball is about to Start!!
Teams are being formed and coaches should have rosters by Sunday August 31st.
Practices will likely start the week of September 2nd.
The Fall Ball Season is starting September 13th and will run through early to mid-November.
If you are interested in managing a team, please complete a volunteer form and submit directly to Dennis Larson via email @ gnll-Dennis@cox.net. All other volunteer applications can be submitted at a later date as we approach the season.
For any questions concering registration, please contact our Registration Director, Jeff Guymon, via email at jdguymon@q.com
---
Congratulations to the new 2014/2015 Executive Board
President: John Navas
Executive Vice President: Dennis Larson
Vice President: Michael Gorgia
Treasurer: Greg Feeder
Secretary: Devra Navas
---
---
A special thank you to former Arizona Diamondbacks catcher, Kelly Stinnett, for helping our All Star teams prepare for the tournaments! Kelly Stinnett Baseball donated weeks of time in their state of the art indoor facility to allow our teams to practice. To learn more about Kelly Stinnett and Grinders Baseball, visit
http://www.kellystinnettbaseball.com
---
Little League International has placed a moratorium on composite bats
For Licensed Bat List, click on Handouts
---
Become a scoreboard advertiser or hang a banner at the field!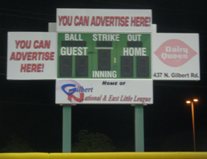 For more information, contact Greg Feeder, Sponsorship Director @ gfeeder@cox.net
---
Buffalo Wild Wings donates 10% of your bill to GNLL if you mention that you are involved with Gilbert National Little League!
---
Check out our facebook page for additional updates and details
Questions, please contact GNLL @ gnll-Dennis@cox.net
Wednesday, August 27
Board Meeting Wednesday August 27, 2014 - Open Positions
The following positions ARE OPEN on the Gilbert National Little League Board:
Facilities Director
Majors Director (15U for Fall and Majors for Spring)
Juniors/Seniors Director
Sponsorship Director
If you or someone you know might be interested in one of these positions please stop by the Board meeting Wednesday August 27, 2014 at 6:30pm - 8:00pm.
The meeting will be located:
McQueen Activity Center
510 N Horne St. Gilbert, AZ 85233