Gilbert National LL: Welcome
Register here for GNLL, Spring 2014, Little League Baseball!
For boundary questions, please refer to the Handouts/Forms tab and view the Boundary Map
The league is looking for new Managers, Coaches and Assistant Coaches for the upcoming season. If you or a friend is interested in coaching, please contact our Vice President,
Dennis Larson @ gnll-Dennis@cox.net
---
Welcome to Gilbert National Little League!
We invite you to check our website regularly for league updates and information.
Thank you to all of our Board Members that are working hard and preparing for a fantastic spring season that lies ahead! If you would like to get involved, please join us at our next general board meeting:
Wednesday, December 4th, 6-7pm @ Sal's Pizza / Gilbert Rd.
---
Save the dates!
On site registration will be held at Dick's Sporting Goods & Sal's Pizza
Saturday, January 11th, 9am-2pm @ Dick's @ San Tan Village
Wednesday, January 15th, 6-9pm @ Sal's on Gilbert Rd
Saturday, January 18th, 9am-2pm @ Dick's @ San Tan Village
---
Tentative Tryout date, Saturday, Feb 8th, 8am-4pm
All players must go through tryouts this year! This includes assistant coach's kids!
Tentative Draft dates, Feb 18, 19 & 20
---
Promote your business! Become a scoreboard advertiser or league sponsor!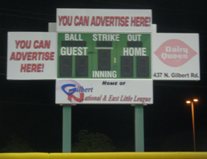 For more information, click on Handouts/Forms, 2013 Sponsorship Form or contact us if you'd like to purchase a banner to be hung at the fields.
---
Buffalo Wild Wings donates 10% of your bill to GNLL if you mention that you are involved with Gilbert National Little League!
---
Questions, please contact GNLL @ gnll-Dennis@cox.net
---