Gilbert National LL: Welcome
Welcome to Gilbert National Little League!
Congratulations to this year's All Star Managers!
9/10, Michael Gorgia
10/11, Scott Steil
11/12, John Hardin
---
Tournament of Champions estimated dates:
Coach Pitch: May 16 & 17
Minors & Majors: June 5
These dates are approximate and subject to change
All Star dates have not been released. If you have an interest in your child playing on an All Star team this summer, please reserve June & July for this experience.
---
Come join the fun! Kids night out!
Arizona Diamondbacks vs. Los Angeles Dodgers
Saturday, May 17th, 5:10pm
Now is the time to sign up and submit your order for tickets!
(Click on Handouts/Forms for more information)
---
To view this season's game schedule and stats, click on the link below https://active.leagueone.com/Olr/Pages/ScheduleDisplay.aspx?ClubId=14080
---
SENIOR Registration continues to remain open
Seniors tryouts will be held the first week of May. Stay tuned...
For boundary questions, please refer to the Handouts/Forms tab and view the Boundary Map
**If you are not within GNLL boundaries, please refer to the home page for Little League International at www.littleleague.org. There is a League Finder tool on the home page. GNLL will only inform you as to whether you are in or out of our boundary area. **
Registrations fees are as follows: Big League $150
---
---
Little League International has placed a moratorium on composite bats

For Licensed Bat List, click on Handouts
---
Promote your business!
Become a scoreboard advertiser or hang a banner at the field!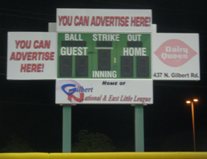 For more information, contact Greg Feeder, Sponsorship Director @ gfeeder@cox.net
---
Buffalo Wild Wings donates 10% of your bill to GNLL if you mention that you are involved with Gilbert National Little League!
---
Check out our facebook page for additional updates and details
Questions, please contact GNLL @ gnll-Dennis@cox.net