Gilbert National LL: Welcome
Welcome to Gilbert National Little League!
Juniors Opening Day, April 12th @ McQueen Park!
We will inter-league with Southeast Diamondbacks, Skyline and Superstition Little League
---
Don't miss out!
The Diamondbacks Suite is still up for Silent Auction! Will remain open until April 5th! This is a great option for a teambuilding event! The suite holds 18 people and is valued at $2000. We will accept bids via private email, Facebook, or feel free to place your bid with any Board member you see at the fields!
---
To view this season's game schedule, click on the link below https://active.leagueone.com/Olr/Pages/ScheduleDisplay.aspx?ClubId=14080
---
Gilbert National Little League kids night out at the
Arizona Diamondbacks vs. Los Angeles Dodgers
Saturday, May 17th, 5:10pm
(Click on Handouts/Forms for more information)
---
SENIOR Registration continues to remain open
Seniors tryouts will be held the first week of May. Stay tuned...
For boundary questions, please refer to the Handouts/Forms tab and view the Boundary Map
**If you are not within GNLL boundaries, please refer to the home page for Little League International at www.littleleague.org. There is a League Finder tool on the home page. GNLL will only inform you as to whether you are in or out of our boundary area. **
Registrations fees are as follows: T-Ball $60, Machine/Coach Pitch $85, All others $135 Big League $150 Family Maximum $280
---
---
Little League International has placed a moratorium on composite bats

For Licensed Bat List, click on Handouts
---
Promote your business!
Become a scoreboard advertiser or hang a banner at the field!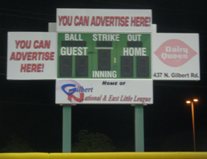 For more information, contact Greg Feeder, Sponsorship Director @ gfeeder@cox.net
---
Buffalo Wild Wings donates 10% of your bill to GNLL if you mention that you are involved with Gilbert National Little League!
---
Check out our facebook page for additional updates and details
Questions, please contact GNLL @ gnll-Dennis@cox.net