Gilbert National LL: Welcome

++ Spring 2015 TOC Brackets ++
As of: 5/20/15 @1:40p
**2015 All-Stars Update -
Try Outs Schedules are being Posted Keep Checking the Site **
Congratulations to this year's selected All Star Managers!!
8U-Garry Talley
9/10-Jim Stringham
10/11-Michael Gorgia - Try outs Sat May 30th 9a-12p @ New McQueen
11/12-Scott Steil
Info on times and locations for Try-outs will be posted soon!!
---
In need of any new Baseball Gear?
Dick's Sporting Goods is having a Memorial Day Sale
Click Here for a 20% off Coupon
---
For Game Schedules, Scores and Standing, please follow the link below
Familiarize yourself with the rules. Follow the link below
Please check the
calendar
for important dates.
There are some changes to how Little League determines League Age for the 2015 Season Please follow the link below
Little League International has placed a moratorium on composite bats
For a list of approved bats click
here
---
Promote your business!
Become a scoreboard advertiser or hang a banner at the field!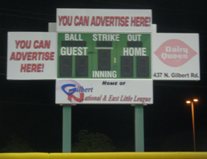 For more information, contact Greg Feeder, Sponsorship Director @ gfeeder@cox.net
---
Buffalo Wild Wings donates 10% of your bill to GNLL if you mention that you are involved with Gilbert National Little League!
---
Check out our Facebook page for additional updates and details
Questions, please contact GNLL @ gnll-Dennis@cox.net