Gilbert National LL: Welcome
++ Field and Start of Season Update ++
As of: 4:00pm on 9/11/14
All McQueen Fields remain closed by the City of Gilbert. As a result, the expected 9/13/14 season start date has been postponed to 9/20/14. We apoligize for an inconvenience this may have caused. That was one whopper of a storm.
The Game Scheule has been posted. Please follow the link below
---
Congratulations to the new 2014/2015 Executive Board
President: John Navas
Executive Vice President: Dennis Larson
Vice President: Michael Gorgia
Treasurer: Greg Feeder
Secretary: Devra Navas
---
---
---
Little League International has placed a moratorium on composite bats
For Licensed Bat List, click on Handouts
---
Become a scoreboard advertiser or hang a banner at the field!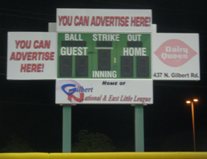 For more information, contact Greg Feeder, Sponsorship Director @ gfeeder@cox.net
---
Buffalo Wild Wings donates 10% of your bill to GNLL if you mention that you are involved with Gilbert National Little League!
---
Check out our facebook page for additional updates and details
Questions, please contact GNLL @ gnll-Dennis@cox.net
Saturday, September 13
Game Schedules Posted