Gilbert National LL: Welcome
Fall Ball Registration is OPEN, Now through September!
Teams will be formed by late August, with practices to follow The season is expected to start mid-September through November
Cost: $135 for levels 10U, 12U, 15U / $85 for Coach Pitch / $60 for T-Ball
If you are interested in Managing a team, please complete a volunteer form and submit directly to Dennis Larson via email @ gnll-Dennis@cox.net. All other volunteer applications can be submitted at a later date as we approach the season.
REGISTER FOR FALL BALL NOW!
---
Congratulations to the Gilbert Softball Little League!
The 11/12 girls took the STATE CHAMPIONSHIP! And are off to the Regional playoffs in San Bernadino, California!
GSLL is looking for sponsors to help continue the tradition of Little League All-Star Softball. Your tax-deductible donation will help pay for expenses related to the All-Star tournament.

Included are uniforms, travel expenses such as lodging, team building events and meals. If you are interested in supporting the Gilbert Girls Softball Little League on their exciting journey, please complete the form listed under handouts and follow directions for submission or

Donations made be made online at

www.AZGSLL.org
---
Congratulations to the new 2014/2015 Executive Board
President: John Navas
Executive Vice President: Dennis Larson
Vice President: Michael Gorgia
Treasurer: Greg Feeder
Secretary: Devra Navas
---
GNLL will hold our next board meeting the last week of July. Final date to be announced. This will be an open meeting and elections of all general positions will be filled at this time. We encourage parents and extended family members to join our board. Let your voice be heard and come make a difference in the life of a child.
---
CONGRATULATIONS GILBERT NATIONAL 9/10 ALL STARS!
DISTRICT 14 CHAMPIONS!!
GOOD LUCK AT STATE! Games begin Thursday, July 17th!
Jake Calleja, Josh Campbell, John Cook, Walker Cook, Jackson DeChristina, Zach Feeder, Logan Girard, MJ Gorgia, Matthew Kanner, Golden Thibaudeau, Zach Zwaschka
---
DICK'S SPORTING GOODS
All Star Shopping 20% off (print the coupon below)
http://app.dcsg.com/couponsheeet/?s=807524
---
A special thank you to the former Arizona Diamondbacks catcher, Kelly Stinnett, for helping our All Star teams prepare for the tournaments! Kelly Stinnett Baseball donated weeks of time in their state of the art indoor facility to allow our teams to practice. To learn more about Kelly Stinnett and Grinders Baseball, visit
http://www.kellystinnettbaseball.com
---
Seniors Registration-Please follow the link below
Little League International has placed a moratorium on composite bats
For Licensed Bat List, click on Handouts
---
Become a scoreboard advertiser or hang a banner at the field!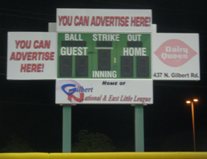 For more information, contact Greg Feeder, Sponsorship Director @ gfeeder@cox.net
THANK YOU CHAPMAN BMW FOR YOUR GENEROUS DONATION!
---
Buffalo Wild Wings donates 10% of your bill to GNLL if you mention that you are involved with Gilbert National Little League!
---
Check out our facebook page for additional updates and details
Questions, please contact GNLL @ gnll-Dennis@cox.net