Gilbert National LL: Welcome
Spring 2015 Registration is Open!!
Registration Fees Will Increase $15 for all Divisions Starting January 12, 2015 so Hurry and Register Today!!
There are some changes to how Little League determines League Age for the 2015 Season Please follow the link below
For Game Schedules and Results. Please follow the link below
Little League International has placed a moratorium on composite bats
For Licensed Bat List, click on Handouts
---
Promote your business!
Become a scoreboard advertiser or hang a banner at the field!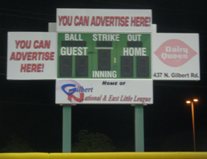 For more information, contact Greg Feeder, Sponsorship Director @ gfeeder@cox.net
---
Buffalo Wild Wings donates 10% of your bill to GNLL if you mention that you are involved with Gilbert National Little League!
---
Check out our Facebook page for additional updates and details
Questions, please contact GNLL @ gnll-Dennis@cox.net
Saturday, September 13
Game Schedules Posted
Tuesday, September 16
Dicks Sporting Goods - GNLL 20% Off Shop Day 9/20/14 - 9/21/14