Gilbert National LL: Welcome

*Weather Update*
as of 3/3/2015
The City of Gilbert has re-opened the Old and New McQueen Park Fields for use.
**Coaches**
They have asked that we limit the use of Outfields which may still be very soggy. Update your practice plans accordingly.
You can also Save 20% on Sporting Goods from Dick's Saturday
March 7th and 8th
Click
here
for the coupon

Registration is still open for T-Ball ($60) and Juniors ($150)
To Register Online, just click the link below
Minor, and Majors teams have been formed and practices will start the week of 2/16 and Coach Pitch will start the week of 2/23. You should be hearing from your coach soon.
Interested in coaching? We're always looking for T-Ball Managers.
Please check the
calendar
for important dates.
There are some changes to how Little League determines League Age for the 2015 Season Please follow the link below
OPENING DAY, SATURDAY, MARCH 21!
For Game Schedules and Results. Please follow the link below
Little League International has placed a moratorium on composite bats
---
Promote your business!
Become a scoreboard advertiser or hang a banner at the field!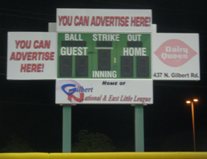 For more information, contact Greg Feeder, Sponsorship Director @ gfeeder@cox.net
---
Buffalo Wild Wings donates 10% of your bill to GNLL if you mention that you are involved with Gilbert National Little League!
---
Check out our Facebook page for additional updates and details
Questions, please contact GNLL @ gnll-Dennis@cox.net