Gilroy Soccer Youth Club: Welcome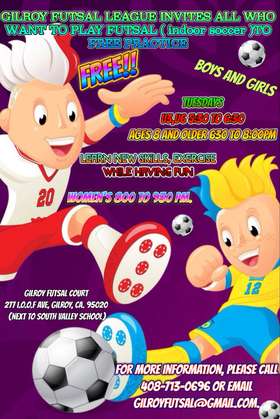 WELCOME TO GILROY FUTSAL LEAGUE®
Home of the Eagles
Thank you for visiting our website
RECREATIONAL & COMPETITIVE DIVISIONS
Boys and Girls 3-14yrs
Futsal is the latest indoor training option popularized by the Brazilians.
This is also a great opportunity for outdoor teams to incorporate their practices with Futsal training.
Futsal demands skill, ball control and quickness and the ability to make the correct decisions quickly and exercise while having fun. Futsal has been proven to enhance a player's ability outdoor
REGISTRATION: Mondays after 7 pm and Tuesdays after 5:30 PM
Individual Registration: $95 per player which is due at time of registration*
Gilroy Futsal-GYM
277 I.O.O.F Ave, Gilroy, Ca. 95020 (Next to South Valley School)
For more information please call (408)713-0696 (831)245-7775
And leave us a message or email us at gilroysocceracademy@gmail.com

Gilroy Futsal League is on Facebook! "Like us" on Facebook to get league updates, specials, and news.
*Soccerships available to those who qualify*
Women's & Men's Competitive Premier Divisions
(Returning to Gilroy Futsal League)
REGISTRATION BEGINS NOW
All game times and dates are subject to change.