RIDERS BASEBALL 2008 State Champs-07,09,10,11 Runner Up: Fall Ball
Monday, August 13
Riders Fall Baseball Program
RIDERS FALL BASEBALL PROGRAM:
RIDERS FALL BASEBALL PROGRAM TO BEGIN AUGUST 21st
*PLAYERS NOTICE- WE PLAY WITH WOOD BATS IN THE FALL, SO YOU MIGHT WANT TO PURCHASE ONE.
The Riders Baseball program will begin its 2012 Fall Baseball program on Tuesday, August 21 at 5:00. There will be a parent/player information meeting to start off with at 5:00 pm at Roughrider Stadium. Practice will then follow. The program is open to all players with birth-years between 1994-1999. Contact Coach Perleberg to sign up.
The fall program is primarily for our players that do not play other sports. The program starts usually at the end of August and extends through the middle of October. Practices vary between 2-4 nights a week. The team also has live inter-squad scrimmages throughout the fall. This is not a rec-type league. The purpose is to get better and to further develop our existing players, while giving new players an idea of what our program is about. We are very disciplined in what we do and players must understand this before signing up.
This phase of our season focuses a lot on developing fundamental skills, becoming familiar with our system, and improving each individual player in the areas that they need to focus on the most. We also incorporate a lot of scrimmages during the week, highlighted by the Riders Fall World Series. It's a great way for players of all calibers to continue developing as individuals.
The fall season also includes a 10-12 game weekend schedule against quality opponents such as Cheyenne, Billings, Miles Community College, Dawson Community College. This will be for the upper-tier players in the program. Cost to play in the Fall Ball Program is $75.00. To sign up please call or text Coach Perleberg at 307-689-4542.
RIDERS FALL PRACTICE SCHEDULE
MONDAY- 6:00-8:00 (PREP/JR RIDERS)
TUESDAY- 6:00-8:00 (RIDERS/RUSTLERS)
WEDNESDAY- 6:00-8:00 (PREP/JR RIDERS)
THURSDAY- 6:00-8:00 (RIDERS/RUSTLERS)
**EXTRA WORK DAILY FROM 4:30-6:00 (All groups are welcome)**
FALL GAME SCHEDULE
September 8-9At Cheyenne Fall Tournament
September 15 At Dawson Community College 2:00/4:00
September 16 At Miles Community College 12:00/200
September 22-23- Riders Fall Classic in Gillette WY (Gillette, Billings Hitters Club, Miles City MT)
September 29- at Miles City Outlaws 1:00/3:00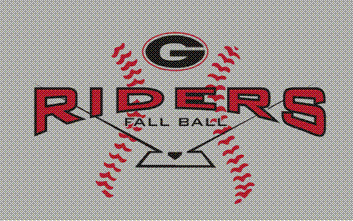 Artwork courtesy of Universal Athletic