GFSC Flames: Welcome
'96-'97 Greater Flemington Soccer Club "Flames" are based in Hunterdon County New Jersey.
We are a nationally ranked girls premier soccer team currently playing in the US Youth Soccer Region One Colonial league and at many of the top rated tournaments across the country.
To see latest player news and press, look to player press section of our site on the left.
---
U-16 Tournament Achievements
15-6-3
(updated 5.18.13)
2013 NJYSA National Cup Semi-Finalists
2013 Challenger Invitational CHAMPION
2013 Jefferson Cup CHAMPION
2012 Bethesda Thanksgiving Tournament: CHAMPION
2012 PA Classic College Showcase: Semi Finalist
Spring 2013 Schedule
SAC Columbia Memorial Tournament
May 25,26,17
Schedule
http://events.gotsport.com/events/schedule.aspx?EventID=25758&Gender=Girls&Age=16
JAGS Tournament
June 15-16
Sunday, May 12
Elite Tournaments Challenger Invitational
WIN 2-1 .vs HMMS Eagles FC '96
(DeLuca:goal, McDonald:assist)
(DeLuca:goal, unassisted)
WIN 2-1 .vs FC Europa Storm FC '96-'97
(Tack:goal, McDonald assist)
(Johnstonbaugh: goal, DeLuca: assist)
WIN 3-0 .vs United German Hungarians Fevernova
(Tack:goal, Berardo assist)
(Tack:goal, Coopersmith: assist)
(Deluca: goal unassisted)
WIN 1-0 .vs PA Classics Academy '96
(Coopersmith:goal, Tack assist)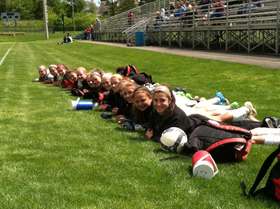 pregame spring 2013
Sunday, May 5
Flames advance in NJYSA National Cup to Semi-Finals
The Flames fought back after being down 1-0 in the first half to finish and win 2-1 vs PDA Shock. Allison DeLuca drilled the ball from the midfield with a feed from Riley Coopersmith past the PDA keeper to even the game. In less than 3 minutes DeLuca scored again with a flick from teammate Christine Tack sinking the ball in the back of the net making the score 2-1 to win the game. The Flames advance to the State Cup semi-finals on the 18th.
Monday, March 18
Flames Prevail to Win Jefferson Cup
The Greater Flemington Soccer Club U-16 Flames ended up on top Sunday in Virginia winning the Elite bracket of the prestigious Jefferson Cup Tournament. Despite difficult weather Sunday the team finished the weekend in a draw with NYW academy team Empire Revolution. Big win against ECNL Bethesda SC Saturday sealed the deal for the Flames finishing with enough points to stay on top. Here are some of the statistics form the weekend:
Game one: Friday March 15 2-2 tie .vs Hungarians
(goal Tack, McDonald assist)
(goal Tack, Campbell assist)
Game two: Saturday March 16 5-1 win .vs ECNL Bethesda
Goal 1(DeLuca PK)
Goal 2 (Solomon goal, Campbell assist)
Goal 3 (DeLuca goal, Campbell assist)
Goal 4 ( Tack unassisted)
Goal 5 (Arata header off corner by DeLuca with the assist)
Game three: Sunday 1-1 Tie .vs Empire Revolution Academy NYW
(Goal: Coopersmith buries it after shot by DeLuca rebounds off Empire Revolution keeper)
2013 NJYSA National Championship Series
New Jersey State Cup
Semi Finals
.vs Toms River
Loss 2-1 (Campbell to DeLuca, 1)
.vs PDA Shock
Quarter Finals WIN 2-1 (DeLuca 2)
.vs Randolph SC Explosion WIN 8-0
2013 Region 1 Colonial League
5-1-2
third place
(thru 5.3.13)
Game 1: .vs New Jersey Rush Nike 1-1 TIE (Taylor 1)
Game 2: .vs WCUSC Preditors '96 3-0 WIN (DeLuca 2, Tack 1)
Game 3: .vs Century V '96 5-0 WIN (Coopersmith 2, Calverley 1, DeLuca 2)
Game 4: .vs FC Blackhawks Revolution 3-2 WIN (DeLuca 1, McDonald 1, Tack 1)
Game 5: .vs MatchFit Wildcats 2-0 WIN (McDonald 1, Berardo 1)
Game 6: .vs FC Frederick 2-2 TIE (Berardo 1, Tack 1)
Game 7: .vs North United Chaos 1-2 LOSS (Arata 1)
Game 8: .vs Stars United '96 2-0 WIN (DeLuca 2)
U-15 Tournament Achievements
2012 PA Classics MId-Atlantic Cup: SEMI FINALIST
2012 Central Jersey Invitational : CHAMPION
2012 MAPS Cup Spring : CHAMPION
2012 37th Annual Columbia Invitational : SEMI FINALIST
2012 NJYS State Cup National Championship Series: SEMI FINALIST
2012 YMS Epic (Championship Level): FINALIST
2012 Region 1 Colonial League: 5-1-1, SECOND PLACE (13 GF vs 2 GA)
2012 Jefferson Cup Girls Showcase (Championship Level)
2011 MSSL Winter College Showcase: FINALIST
2011 Bethesda Thanksgiving Tournament: CHAMPIONS
Defeated State Cup Semi-Finalists in Maryland and Pennsylvania to win.
---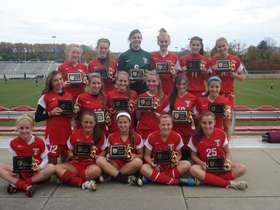 Bethesda Thanksgiving Tournament Champions 2012
Saturday, October 1
U-14 Tournament Achievements
2011 31st Annual JAGS Tournament: CHAMPIONS (Undefeated)
2011 MAPS League: CHAMPIONS (Undefeated)
2011 US Club New Jersey State Cup: CHAMPIONS
2011 YMS Epic: Semi-Finalist
Defeated New Jersey state cup semi-finalist to place
2010 Turkey Hill Frederick Cup: CHAMPIONS (Undefeated)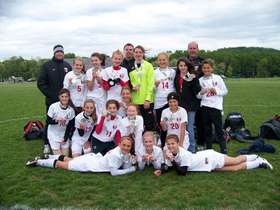 Epic Tournament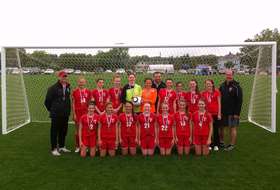 New Jersey Cup Champions