Georgia Stars Elite 16U DW: Welcome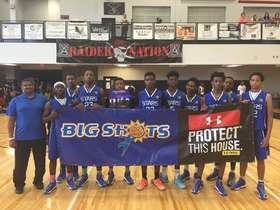 2015 Big Shots Memorial Atlanta Champions
2015-2016 Georgia Stars Elite DW Practice/Tryouts
February 23, 25 7:00 - 8:30p
Calvary Assembly Church of God Snellville, GA
2720 Centerville Hwy
Snellville, GA 30078
Contact Coach Williams 678-618-1182 email: donaldwilliams39@bellsouth.net
2015-2016 Season Starting Soon!!!!!
With the Start of the new AAU Season around the corner. We will be in a gym near you looking for the best players in GA for our team. The team will be playing in the top elite level tournaments in GA and around the country in front of College Coaches to give our players the most exposure possible and to gain the oppurtunity to play at the next level. If you are interested in our team and would like for us to come out to see you play please contact Coach Williams 678-618-1182 or email at donaldwilliams39@bellsouth.net.
Just some of our past seasons tournaments: Nike EYBL Hampton, VA, Nike Memorial Day Classic, Onthehoops Radar Session II "Live Period", Bob Gibbons Tournament of Champions, Knoxvegas Heat, TN, Peach State Exposure Augusta, GA "Live Period", Norman Parker Elite Showcase; King of Court Jacksonville, AL, Nolo Super 60 New Orleans, LA Knoxvegas Heat Knoxville, TN, Peach State Summer Showcase"Live Period" Augusta, GA .
Next Tournament
April 24-26 "Live Period" NCAA Certified Event OntheHoopsRadar Sweet 16 Session II in Powder Spring, GA @ McEachern High School.
Our players will have a great oppurtunity to play in front of Div. 1,2,3 Coaches in hopes of gaining an oppurtunity to play at the next level. At the Sweet 16 Session I players were given the chance to play in front of schools from across the country.
March 20-22 PQ Sports AAU Super Regional Atlanta Hardwood Classic @ McEachen HS Powder Springs, GA
We are looking forward to kicking off the season in this tournament with the addition of our new players for the season 5'10 G William Gates (15' Future150 Huntsville Underclassmen Camp Allstar), 5'11 SG Trevor Seals and others too our returning players from last season 6'5 PF, C Kyman Radcliff Block Shot Specialist(15' Future150 Atlanta Underclassmen Camp Allstar) , 6'5 PF, C Edwards Francois Paint Monster (15' Future150 Atlanta Underclassmen Camp Allstar), 6'2 PG, SG Turhan Thompson Mr. Energy, 5'10 PG D.J. Williams Floor General (14' CP3 Rising Star National Camp, 14' Future150 Elite 24 Invitee, 15' Future150 Atlanta Underclassmen Camp Allstar) and Mississippi native 5'10 G Thailand Adams.
2015 Season
2015 Future150 Atlanta Underclassmen Camp Top 24
In the camp on March 7-8 three of our players participated and received the top 24 honors in the camp 6'5" SF Edwards Francois South Gwinnett HS(7th from right standing), 5'10 PG D.J. Williams South Gwinnett HS(2nd from right kneeling) and 6'5" PF Kyman Radcliff Shiloh HS (6th from right standing). We have seen these players over the years develop into great basketball players with the skills and the knowledge of the game to play at the next level. We are looking forward to seeing how well they do this AAU season. With the help of these players and others on the team we have already won our first championship and finished as runner ups in the championship game on March 8th vs Best Academy Varsity team 44-46. Read Article
2015 Future150 Huntsville, AL Underclassmen Camp Top 25
Teams Guard William Gates(bottom 3rd from right) East Coweta HS makes Top 25 in Future150 Underclassmen Camp Huntsville, AL. He has made considerable contributions already this season in our first Championship of the season in the All Net Classic and our Runner Up finish in the Championship on March 8th Battle of Atlanta. Read Article
2014 Season
2014 CP3 Rising Stars Atlanta Camp.
Proud of our players who attended the camp Feb. 22-23 at All Tournament Players Park in Atlanta, GA. 4 of our players made the Top 20 for 2018 #8 Chris Parks, #19 Torey Zanders, #16 D.J. Williams and #18 Marcus Whitaker, while 2 more made the Top 40 True Ransom and #32 Justin Lee. Congratulations to Chris Parks for making the Top 10 with an invitation to the CP3 National Camp for his 2nd year and D.J. Williams selection as one of the top PG's to attend the camp in Winston Salem, NC August 8-10. Top Performers List click here
2014 14U AAU Div. I Nationals ESPN Wide World of Sports Cpl Kissimmee, Florida

The work has been done and the battles have been waivered, we are heading to Div. I AAU Nationals July 10-16 to compete for a National Championship. For the team, we have battled with chemistry this season to simply playing basketball, but we finally got it together to have this oppurtunity at accomplishing our ultimate goal for the season and go out and compete at Youth Basketballs highest level. We are proud of our players for working hard and developing as players and as a team to get to the Nationals. GO STARS!!!!
This year we are looking forward to being able to close out more games in the second half at nationals with the addition of our new players 5'10 G Mississippi, Al native Thailand Adams, 6'4 C Kyman Radcliff and 6'4 SG David Guilluame, along with our returning players 6'3 PF pounder inside and wing man Torey Zanders(#19 2014 CP3 top 20 Atlanta Camp), 6'5 C Edward Francois who has matured into a beast on the court around the basket and our 5'10 Power G, silent assassin Christian Pasley from Chattanooga, TN. Also, we re-welcome the growth and tenassity from 5'10 G Turhan Thompson who will be our energy in our pressure defense and offense, with the strength of our floor general 5'9 PG DJ Williams(#16 2014 CP3 top 20 Atlanta Camp and CP3 National Camp Invitee in Winston Salem, NC August 8-10). Let's eat fella's!!!!!!
2014 Future150 Tourn. Powder Springs, GA Top Exposure Tourn. April 4-6
All of our players will be looking to get their names on the radar at the Future150 Main Event in Atlanta, GA this weekend against some the top teams in GA, AL, TN, SC and Philadelphia. Our 2013 Future150 camp participants are playing in the hopes of gaining star performances against these teams Christopher Parks PF, D.J. Williams PG and Torey Zanders PF. First up will be ELW Future Stars(2013 7th Grd. YBOA National Champions, Ranked #2 2013 7th Grd. GA AAU State Championships, 2014 PQ Sports AAU SR Champions) @ 7:10 Friday night @ McEachern High School Court 1.
RESULTS:
This turned out to be a great tournament with a lot of high level competition.
Read: Future150 Atlanta Main Event: 14U Top Performers
First Tourn. 2014 PQ Sports AAU Super Regional Powder Springs, GA

PQ Sports always put on a great tournament to get all of the top teams of Atlanta to kick off their season with a chance to get AAU National qualifications out of the way. Last season we went toe to toe with the Red Storm of Atlanta in a game that was decided by a foul at the 3 point line and an oppurtunity for us to tie or go ahead with the win. The early season pressure got to our players and ended our tournament run. We are looking forward to another great tournament.
Georgia Sports Hall of Fame Summer Classic July 26-28 2013
This was a great run NCAA Certified tournament at McEachern High School in Powder Springs, Georgia. Great Staff and the tournament was well run.
We played against some great talent in this tournament to finish with a record of 2-2 for the weekend. Our players stepped up to the challenge of playing up in this tournament and increased their level of play. The team is looking forward to playing at the 14U Elite level next season in top tournaments locally and around the country. We will be looking to add new Elite level players to our selected returning players from this season and competing in top tournaments that will continue to improve our players and give them the exposure needed for their future in basketball.
OnTheRadar Hoops Elite 32 Session II July 20-21 2013
NCAA Certified Tournament Event
With the addition of new players to our team, we are looking forward to having the oppurtunity to perform in front of College Coaches during the NCAA live period.
We will begin the Showcase against one of the top 14U teams in Georgia the Tucker Running Rebels on Saturday @ 8:30am at Emory University campus.
Next up will be Birmingham Ice and the Georgia Kings.
Primetime NOLA Super 60 New Orleans, LA May 23-27 2013
It is finally here. 72, 7th Grade teams will be battling for the chance to be No. 1. Some of the top AAU teams in the Nation will be participating in this tournament #2 Georgia United, #4 Kentucky Spice Gators, #3 (TN) We All Can Go All Stars.
We will get the oppurtunity to step up our game play against #4 Kentucky Spice Gators on Saturday 24th @ 5:15pm in pool play. From what we are hearing, the Gators have great size in the paint and perimeter shooters that can shot your lights out if you don't stay in their face. Well, so do we. Looking forward to competing against them at Xavier University. Nothing like a college atmosphere for a good game. Our players should love it.
March 15-17 PQ Sports AAU Super Regional McEachern High school 2013
Great!!! Tournament this past weekend. We faced some good competition to continue to grow as a team. We finished 1-1 in pool play as the #6 seed with a bye into the second round going into bracket play.
We had great play from our starting line up Torey Zanders PF,C who averaged 16 points a game with the footwork around the basket that even a monegoose couldn't keep up with, DJ Williams PG, SG averaged 12 points, 4 steals, 6 assists was able to handle his business as always getting to the basket at will and finishing with contact from defenders around the basket and setting up players for scores in the paint and on the perimeter.
Another key element to our success this weekend was from Christian Pasley G, SF who brings the strength and tenacity on the court for our team. We did not have this key element of our team in our first tournament due to a wrist injury and now he makes our team much better as a unit. He can shut down defenders and he has a sense for getting to the basket with his strength.
Zion Cain PF,C gave us the size that we need inside to create the disadvantage in the paint for other teams. His drop step and hussle in the paint is a much needed part of our team in order to continue being successful moving forward.
In this tournament, the Georgia Red Storm had to contend with the balance of our players and our strong defensive efforts. In our earlier meetings this season we fell to them in key games and this weekend we lost to them in the second round by 3 (49-46) that should have went into overtime. The oppurtunity for us to win the game was there, but we missed key free throws and our turnovers kept it close. We are sure that we will meet again.
We are looking forward to our next tournament and contending for our first Championship of the season.
March 1-3 Rise Up Shootout Suwanee Sports Academy 2013

Georgia Stars Elite 13U 3 of our players finish in the Top 20 and 2 in the Top 5 in scoring in the tournament out of 61 participating players #2 DJ Williams PG high score 22pts, #3Torey Zander's PF, C high score 14pts and #19 Zion Cain PF, C.
After merging two of our 7th grade teams and practicing 2 times together, we finished our first tournament of the season in the Semi-finals against a good team. The highlight of the tournament, we beat one of the top 8th grade teams in the tournament by 11 points to make it to the semi-finals. This shows what we are capable of doing this season. It helps to improve our team by scrimmaging our Georgia Stars 8th grade team at the end of every practice to prepare for game time.
2012-2013 Winter League
We played in the D1 Spects Winter League on Sunday evenings that started on Dec. 9 thru Jan. and played in the Christmas Tournament Dec. 14 -16.
Results
1. Georgia Stars 51 Georgia Fire 26
Winter League Christmas Tournament JV division/3rd Place Finish
2. Georgia Stars 15 Georgia Tarheels 0 / I quess they didn't want to come out and compete.
3. Georga Stars 30 Atlanta Knicks/Georgia Stampede 49
Great game against a well established team that has been together for a number of years. We had some great team play from our players who are getting together for the first time. We are in the process of establishing a competitive team that will be able to win tournaments at the highest level. Good Job Stars!!!!!!!!
4. Georgia Stars 39 Matthew Titans 27
This game was well played with a rotation that the Titans couldn't handle down the stretch. The Titans fought hard to keep up with the tempo of our team, but they couldn't keep up with the size that we had around the basket.
Contact Donald Williams 678-618-1182 or email donaldwilliams39@bellsouth.net
****************************************************************************
Champions