Georgia Stars Elite 14U DW: Welcome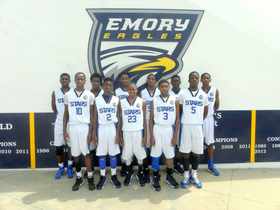 2013 NCAA Showcase Team OnTheRadar Hoops Session II Emory University, GA and Georgia Sports Hall of Fame Summer Classic McEachern HS Powder Springs,GA.
If you would like to make donations to support our team efforts in playing in the 2013 AAU Nationals in Memphis, Tennessee June 23-30, you can make donations by going to Handouts on the left and clicking on Individual or Corporate Sponsorhips. Fill out the form and mail it to Georgia Stars Elite 13U PO Box 3518 Loganville, GA 30052 with a check or money order. We have included a PayPal link below for donations with debit or credit cards. The Georgia Stars progam is a 501(C)(3) organization and all donations are tax deductibe. Thanks in advance for your donations.
Secure PayPal
Nike EYB Junior Circuit

Great Announcement! The Georgia Stars Elite 14U will be looking forward to playing in the Nike EYB Junior Circuit this coming AAU Season.
Season will comprise of 2 - tournaments in Charlotte, NC 2 - tournaments in Atlanta, GA and top 4 teams from each of the 5 regions playing in the Championship in New Orleans, LA.
TRY OUTS!!!!!!!!!!!!!!!!!!!!!!!!!!!!!!!!!!!!!!!!

We will be having Tryouts for 2014 AAU Season in January. We are looking for Top Elite players to play with us in some of the top tournaments in the country nationally and locally. We will also be attending AAU Nationals in Orlando, FL at the Wide World of Sports Center (NCAA Certified Event). Past tournaments NOLA Super 60 New Orleans, KnoxVegas Heat Nashville, TN.
If you think you can play at the highest level you can contact Coach Williams 678-618-1182 donaldwilliams39@bellsouth.net.
Georgia Sports Hall of Fame Summer Classic July 26-28
This was a great run NCAA Certified tournament at McEachern High School in Powder Springs, Georgia. Great Staff and the tournament was well run.
We played against some great talent in this tournament to finish with a record of 2-2 for the weekend. Our players stepped up to the challenge of playing up in this tournament and increased their level of play. The team is looking forward to playing at the 14U Elite level next season in top tournaments locally and around the country. We will be looking to add new Elite level players to our selected returning players from this season and competing in top tournaments that will continue to improve our players and give them the exposure needed for their future in basketball.
OnTheRadar Hoops Elite 32 Session II July 20-21
NCAA Certified Tournament Event
With the addition of new players to our team, we are looking forward to having the oppurtunity to perform in front of College Coaches during the NCAA live period.
We will begin the Showcase against one of the top 14U teams in Georgia the Tucker Running Rebels on Saturday @ 8:30am at Emory University campus.
Next up will be Birmingham Ice and the Georgia Kings.
Primetime NOLA Super 60 New Orleans, LA May 23-27
It is finally here. 72, 7th Grade teams will be battling for the chance to be No. 1. Some of the top AAU teams in the Nation will be participating in this tournament #2 Georgia United, #4 Kentucky Spice Gators, #3 (TN) We All Can Go All Stars.
We will get the oppurtunity to step up our game play against #4 Kentucky Spice Gators on Saturday 24th @ 5:15pm in pool play. From what we are hearing, the Gators have great size in the paint and perimeter shooters that can shot your lights out if you don't stay in their face. Well, so do we. Looking forward to competing against them at Xavier University. Nothing like a college atmosphere for a good game. Our players should love it.
March 15-17 PQ Sports AAU Super Regional McEachern High school
Great!!! Tournament this past weekend. We faced some good competition to continue to grow as a team. We finished 1-1 in pool play as the #6 seed with a bye into the second round going into bracket play.
We had great play from our starting line up Torey Zanders PF,C who averaged 16 points a game with the footwork around the basket that even a monegoose couldn't keep up with, DJ Williams PG, SG averaged 12 points, 4 steals, 6 assists was able to handle his business as always getting to the basket at will and finishing with contact from defenders around the basket and setting up players for scores in the paint and on the perimeter.
Another key element to our success this weekend was from Christian Pasley G, SF who brings the strength and tenacity on the court for our team. We did not have this key element of our team in our first tournament due to a wrist injury and now he makes our team much better as a unit. He can shut down defenders and he has a sense for getting to the basket with his strength.
Zion Cain PF,C gave us the size that we need inside to create the disadvantage in the paint for other teams. His drop step and hussle in the paint is a much needed part of our team in order to continue being successful moving forward.
In this tournament, the Georgia Red Storm had to contend with the balance of our players and our strong defensive efforts. In our earlier meetings this season we fell to them in key games and this weekend we lost to them in the second round by 3 (49-46) that should have went into overtime. The oppurtunity for us to win the game was there, but we missed key free throws and our turnovers kept it close. We are sure that we will meet again.
We are looking forward to our next tournament and contending for our first Championship of the season.
March 1-3 Rise Up Shootout Suwanee Sports Academy

Georgia Stars Elite 13U 3 of our players finish in the Top 20 and 2 in the Top 5 in scoring in the tournament out of 61 participating players #2 DJ Williams PG high score 22pts, #3Torey Zander's PF, C high score 14pts and #19 Zion Cain PF, C.
After merging two of our 7th grade teams and practicing 2 times together, we finished our first tournament of the season in the Semi-finals against a good team. The highlight of the tournament, we beat one of the top 8th grade teams in the tournament by 11 points to make it to the semi-finals. This shows what we are capable of doing this season. It helps to improve our team by scrimmaging our Georgia Stars 8th grade team at the end of every practice to prepare for game time.
2012-2013 Winter League
We played in the D1 Spects Winter League on Sunday evenings that started on Dec. 9 thru Jan. and played in the Christmas Tournament Dec. 14 -16.
Results
1. Georgia Stars 51 Georgia Fire 26
Winter League Christmas Tournament JV division/3rd Place Finish
2. Georgia Stars 15 Georgia Tarheels 0 / I quess they didn't want to come out and compete.
3. Georga Stars 30 Atlanta Knicks/Georgia Stampede 49
Great game against a well established team that has been together for a number of years. We had some great team play from our players who are getting together for the first time. We are in the process of establishing a competitive team that will be able to win tournaments at the highest level. Good Job Stars!!!!!!!!
4. Georgia Stars 39 Matthew Titans 27
This game was well played with a rotation that the Titans couldn't handle down the stretch. The Titans fought hard to keep up with the tempo of our team, but they couldn't keep up with the size that we had around the basket.
Contact Donald Williams 678-618-1182 or email donaldwilliams39@bellsouth.net
****************************************************************************
Champions