JuneauLittleLeague.com: Welcome
Welcome to the Gastineau Channel Little League - bringing Little League play to Juneau youth.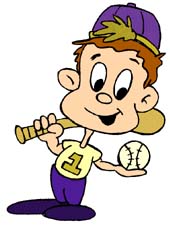 End of Season Baseball Tournament Schedules
Download a copy of the tournament schedules below. Teams will be ceded Saturday, June 22 based on the results of this week's final regular season games.
AAA Baseball - Winners: Schmitz & Buck CPA Cubs, manager Gilbert Mendoza
Majors Baseball - Winners: Ike's Fuel Mariners, manager Spencer Storie
Seniors Baseball - Winners: Nugget Alaskan Outfitters Yankees, manager Joe Tompkins.
TEAM PHOTOS
Photographs have arrived! (June 19th, 2013) GCLL Board members will be distributing them to managers and players this week. Trouble with your order? Please contact David Gelotte directly (907) 780-6255.
TURN IN YOUR HOME RUN CARDS
It's time to return all Home Run card proceeds and unsold cards.
For assistance, please contact coordinator Rebecca Daniels, 723-9597.
---
UPCOMING ALL STAR TOURNAMENTS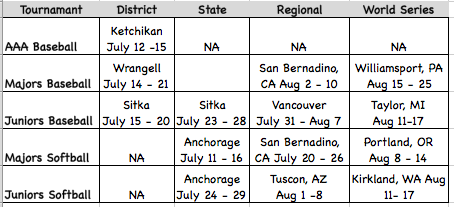 ---
REGISTRATION FOR THE 2014 LITTLE LEAGUE SEASON WILL BEGIN IN DECEMBER 2013

For an email reminder when registration opens, please contact GCLL Information Office Amy Steffian.
---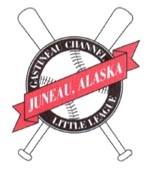 Connect with Little League


---
Gastineau Channel Little League
- bringing Little League play to Juneau youth
P. O. Box 33694, Juneau, AK 99803