Adult Softball: Welcome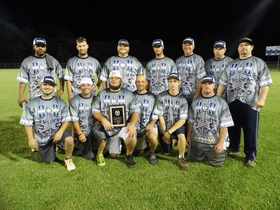 Down 'N Dirty - Men's Open League Champions
Spring/Summer Softball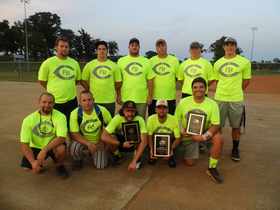 First Baptist - Men's Church-Co-Champions
2013 MEN'S OPEN LEAGUE RESULTS 2013 MEN'S OPEN LEAGUE TOURN. RESULTS
1. DOWN 'N DIRTY 1. ALL ACCESS
2. ALL ACCESS 2. CBS
3. CBS 3. DIAMOND BACKS
*TOURN FINALS 8/01/13 - SCROLL DOWN TO VIEW TRN BRACKETS
2013 ADULT SOFTBALL LEAGUE
MEN'S CHURCH /REC LEAGUE TOURNAMENT
1ST - FIRST BAPTIST CHURCH
2ND - LINATEX
3RD - ABC FUEL
MEN'S CHURCH/REC LEAGUE SEASON WINNERS:
1ST - LONG HOLLOW BAPTIST - CO-CHAMPIONS
1ST - FIRST BAPTIST CHURCH
3RD - ABC FUEL
MID SEASON TOURN
1ST - FIRST BAPTIST
2ND - LINATEX
DEADLINE: LEAGUES ARE IN PLAY FOR SPRING 2013
Registration:Open for all adult softball league sign ups. Persons must be at least 16 years old to play. All interested teams should come by the Gallatin Civic Center during operating hours, or you can download the application under the Applications icon to the left. Please turn in your application with fees no later than the March 12th deadline at the Gallatin Civic Center. Coaches meetings will be held Thursday, March 14, see times on information sheet.
Fees: $600.00 for doubleheader leagues, $400 for single game leagues. Fees include scorekeepers, umpires, tournaments and team awards. Make checks payable to: Gallatin Officials Association.
Leagues begin: Week of April 15
Balls used: Men - 12" .44 core, 375 compression, Women - 11" .44 core, 375 compression
Non-Approved Bats: Miken Ultra, Miken Ultra II, Miken Ultra Maxload, Combat LAdy VIRSP3
Leagues & Days Offered:
Men's Open - Thursday - 4HR - Max. 16 teams
Men's Church - Tuesday 3HR - Max. 8 teams
Men's Industrial/Rec - Tuesday 3HR - Max. 8 teams
Coed Open/Coed Rec - Monday or Friday - Max. 8 teams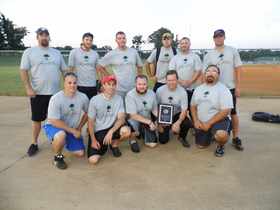 Long Hollow Baptist - Co-Champions
Friday, July 19
2013 Men's Open League Tourn