Adult Flag Football - Fall: Welcome
Wednesday, July 30
2014 Adult Fall Flag Football League
FALL FLAG FOOTBALL LEAGUE
DEADLINE FOR TEAM APPLICATIONS: THURSDAY AUGUST 28TH 
Mandatory Coaches meeting THURSDAY, AUGUST 28th, at 7:00 pm at the Gallatin Civic Center. 
Fee: $500.00 per team
League format: Passing League
7 player league. 6 eligible receivers.
12 man limit to team roster
80 yard field
Two 20 minute halves. 5 minute halftime. clock runs until last two minutes of each half.
Teams must have matching uniforms with different numbers. 
Leagues Offered: Men's Open, Men's 35 and over 
Games Start: Sept. 14 
Day: Sunday afternoons at Triple Creek Park Football Fields
Times: Will depend on number of teams and will be decided at meeting. Will at least be after 12:30               

* Players must be at least 16 to play.
*Click on handouts to the left to download application .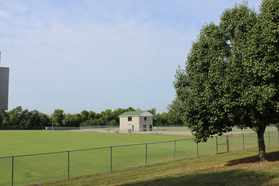 Triple Creek Park Football Fields