Monday, November 16


2016 FRESHMAN STATE in Blair, NE August 5,6,7 2016 at BYSA COMPLEX




2016Freshman State Tournament August 5,6,7 2016 at BYSA in Blair, NE

Friday, Saturday, and Sunday. GAMES start @ 2:30pm Friday. Opening Ceremonies will

be just prior to 2:30 pm games.

ALL RULES QUESTIONS SHOULD BE DIRECTED TO RON OSBORN:

*****WORKING ON HANDOUTS TO MAKE LARGER***** 3/7/16




***FRESHMAN STATE ALL-STATE TEAMS NOW POSTED FOR 2015***

Click on the All State Teams in the homepage menu on the left.

Thank you for your support of BYSA and FRESHMAN STATE

Tournament Director

Robin Osborn

homerun_07@hotmail.com

402-659-2011




__________________________________________________________________

***FRESHMAN STATE is NOW on FACEBOOK. Hundreds of photos.***

___________________________________________________________________

Thank you PEACHES JAMES, 4 time State Champion, 4 time All State, Nebraska Husker and MVP of Big 12 2004, Top Pro pitcher for the Chicago Bandits, Final 4 of World-Herald Greatest Nebraska Athletes of All Time. Threw out a heck of of first pitch in 2015.

A graduating UNO star will be throwing out the first pitch in 2016. She, like all the women that have returned to be honored, was a 1st Team Freshman All-Stater.



Playground (from League of Their Own)

Thursday, March 3


BRACKETS,ENTRIES,INFO SHEETS, RULES, ROSTER SHEETS, T-SHIRT FORMS are posted in HANDOUTS. Click here.




ENTRY FORMS, INFO SHEETS, RULES are posted in the HANDOUTS. Read h RULES please. If you have questions, please call before the day of the game. Your coach will sign our form recognizing they know the rules. Simply, this tournament is an opportunity for last years freshman to meet this years freshman and compete together a little before starting HS ball. Six players already registered from your school must be on the field or in the dugout at all times. If you have players at Nationals that will be back for Sunday, put them on the roster. 8th graders and below are eligible to play on any team, but in the spirit of the tournament, cannot be the entire team. If someone else's school is not playing, you cannot pick them up, period. Any questions may be directed to Ron Osborn at ronoz@cox.net.

It is not an NSAA event. HS coaches are welcome to attend and we have a special hospitality area for you, but you should not be involved in the team coaching at all per NSAA rules. Usually a parent or a summer coach not affiliated with the school team coaches.

We provide score sheets you must fill out. We use those score sheets so our All State Selection Committee can break ties on the voting the coaches ballots we collect after each game. Every year some kid gets left off one of the All State teams because the coaches leave the park without turning in ballots or score sheet.



Tuesday, August 11


2015 ALL-STATE TEAMS ARE NOW POSTED. Click on All-State Teams in the menu on the left.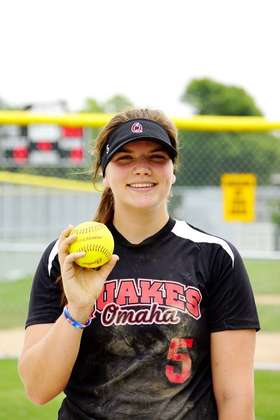 Kati Stanzel 2014 2nd Team Class A
Tuesday, August 4


Kati Stanzel, even if Eteamz won't let edit 2014 Class A All State, You were 2nd Team in 2014 Class A



Sunday, August 12


2013 Pictures alternate site on Picasa. Click on this header.



Saturday, August 4


Pictures of 2012 Freshman State on Facebook



Monday, February 13


Click on this header to go to: BYSA on Eteamz



Saturday, July 23


Click on this header to go to FACEBOOK ALBUM of FRESHMAN STATE ,"view photos" for additional albums



Monday, August 8


Alternate website to see ALL the pics from 2011 Freshman State. Click on this header.





Click on LINKS or this header to go to our sponsors, caterers, and other softball links.




Chili Dawgs: Sponsor of the hospitality for coaches, volunteers, and umpires for The Freshman. Incredible hot sauces, jellies, and spices provided by the owner and our former Tournament Director, Tim O'Dell




Lo Sole Mio Ristorante, 3001 South 32nd Avenue, Omaha 402-345-5656

Pasta La LoSole and the Lasagna. Served at the buffet in Heaven.




Jim's Rib Haven, 3801 Ames, Omaha 402-451-8061

Da Ribs! Pork, Beef sandwiches, beans and potato salad. Yum!

Nettie's, South Railroad Ave, in Bellevue, NE. Enchiladas! 402-733-3359




___________________________________________________________














2016 NSAA HS SOFTBALL...click here


The home page of Nebraska High School Fastpitch.
It will have classification numbers, district assignments,
and each school's schedule for 2016