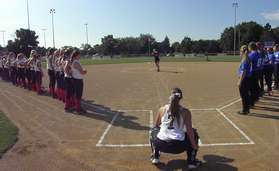 Lindsay Redding throws out 1st Pitch 2013
Tuesday, April 1
2014 FRESHMAN STATE @ BYSA in Blair, NE August 8,9,10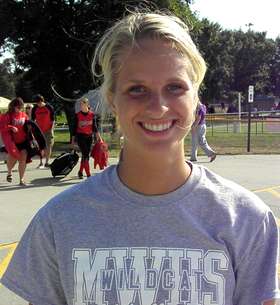 2014 Freshman State Tournament August 8,9,10 2014 at BYSA in Blair, NE

ENTRY DEADLINE: JULY 25, 2014 No late entries, ever. IT IS OVER! NO MORE ENTRIES.

TOO LATE. ENTRIES ARE CLOSED. DIRECTORS ARE DOING BRACKETS NOW. WILL BE POSTED HERE AS SOON AS WE GOT THEM. THANKS. 40 PLUS TEAMS.

WE WILL PLAY THREE ROUNDS FRIDAY AUGUST 8TH AT BYSA, BLAIR NE. OPENING CEREMONIES, OUR NATIONAL ANTHEM, AND FIRST PITCH AT 515PM, FIRST GAME 530PM.

PRINTABLE: Info sheet, rules, and entry form available in HANDOUTS or below by clicking on

appropriate headers. BRACKETS will be posted as soon as tournament officials have all entry and money in. We DO NOT SAVE spots. Your money and your entry must be in by the 25th. "In the mail" is out of tournament.

NEW ELIGIBILITY RULE:*Starting in 2013 teams will have 6 rostered entering FRESHMAN or last year FRESHMAN present in the dugout for each game from the high school they represent. This tournament is NOT for summer teams of young players. Teams not meeting this new requirement are NOT ELIGIBLE and subject to disqualification.

2014 New Rule: Metal cleats allowed. Younger players need to be educated by coaches.

Thank you for your support of BYSA and FRESHMAN STATE.




Thanks for coming to Blair


Tim O'Dell, Tournament Director

Robin Osborn Drefs

homerun_07@hotmail.com

402-659-2011


__________________________________________________________________

***FRESHMAN STATE is NOW on FACEBOOK. Hundreds of photos.***

___________________________________________________________



Playground (from League of Their Own)

Tuesday, April 1


2014 Freshman State Info Sheet...click on this header to get a printable info sheet



Tuesday, April 1


2014 Freshman State Rules...click on this header to print Freshman State rules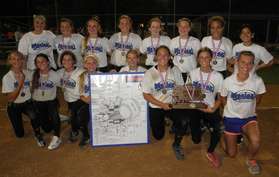 Class A Champion Omaha Marian
Monday, August 5
2013 Freshman State Champions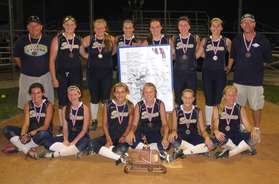 Class B Champion Elkhorn South
Omaha Marian won Freshman State Class A over Runner Up Millard South.
Elkhorn South won Freshman State Class B over Runner Up Omaha Skutt Catholic White.
State.
It was a wonderful time. We join Blair NE, the BYSA, Blair Baseball and those donors that gave so much to make it a premier place to play. Thank you Blair.
All-State is posted. Click on the All State in the menu on the left. If your name is not spelled correctly, please email Ron Osborn at ronoz@cox.net. Certificates will be printed in two weeks to allow time to make corrections. Certificates are mailed to your Freshman State coaches, not your high school.
Sunday, August 12
2013 Pictures alternate site on Picasa. Click on this header.
Saturday, August 4
Pictures of 2012 Freshman State on Facebook
Monday, February 13
Click on this header to go to: BYSA on Eteamz
Blair ENTERPRISE newspaper coverage of The Freshman by Scott Kerber...click on this header
Monday, August 8
Alternate website to see ALL the pics from 2011 Freshman State. Click on this header.

Chili Dawgs
Saturday, July 23


Chili Dawgs our incredible new hospitality sponsor. Click on their site here:




Tim O'Dell, our tournament director, is the owner of Chili Dawgs. Ask him about all the wonderful hot stuff they make.



Saturday, July 23


Click on this header to go to FACEBOOK ALBUM of FRESHMAN STATE ,"view photos" for additional albums





2014 NSAA HS SOFTBALL...click here


The home page of Nebraska High School Fastpitch.
It will have classification numbers, district assignments,
and each school's schedule for 2012



Click on LINKS or this header to go to our sponsors, caterers, and other softball links.




Chili Dawgs: 2012 Sponsor of the hospitality for coaches, volunteers, and umpires for The Freshman. Incredible hot sauces, jellies, and spices provided by the owner and our Tournament Director, Tim O'Dell




No Frills Supermarket, 12th and Hwy 30 in Blair

Thank you NO FRILLS for your continued support of The Freshman




Lo Sole Mio Ristorante, 3001 South 32nd Avenue, Omaha 402-345-5656

Pasta La LoSole and the Lasagna. Served at the buffet in Heaven.




Jim's Rib Haven, 3801 Ames, Omaha 402-451-8061

Da Ribs! Pork, chicken, beans and potato salad. Yum!

Nettie's, South Railroad Ave, in Bellevue, NE. Enchiladas!

Joe Tess Fish, South 24th, South Omaha, NE. Carp!

___________________________________________________________