Wednesday, April 12
2018 FRESHMAN STATE in LINCOLN NE August 3,4,5 2018 at DORIS BAIR Park 4900 Doris Bair Circle
WELCOME TO THE 2018 NEBRASKA STATE SOFTBALL TOURNAMENT.
We are so excited for this year, as we are celebrating our 25TH year!!! We are hoping to make this the most memorable one yet. Hopefully, when your daughter graduates, this Silver event, will be one of her favorite memories. We have chosen to repeat at Dori Bair fields in Lincoln this year. With the exception of the rain, they did a marvelous job. With 7 fields, all regulation fences, this allows us to host as many teams as we can. We strive to make this tournament the best one possibe, with as few tears, but hundreds of smiles and laughs. This tournament has always been key in giving the high school coaches an extra chance to see who is coming up next for them, and also, adds to bragging rights.
So we are hoping all of you will join us to make this 25th year the best one yet! Check out the handouts for the neccessary forms needed to sign up. Remember, Roster forms to be turned in 2 hrs prior to your first game at the Check-in area. All must be signed before any player can play. Entry forms may be emailed to homerun_07@hotmail.com or mailed along with your check by the deadline, July 16th 2018.
nesoftball.org is the website for Doris Bair. They will also have tournament info for us, as well as, the up to date brackets, weather,etc.
See you soon!
2018 State Tournament Friday, Saturday, Sunday
August 3,4,5 2018
at:
DORIS BAIR
4900 Doris Bair Cir Lincoln Ne 68504.
DEADLINE: JULY 16, 2018
__________________________________________________________________
Rosters due at check in. Coaches check in will be towards the north end of Complex.
Check HANDOUTS for registration info, entry forms, and roster forms, BRACKETS.
TSHIRT information to follow.
BRING YOUR POP UP TENTS for shade. Chairs are allowed. No pets.
SORRY: No pets allowed at Doris Bair Park
.
All tournament RULES and ELIGIBILTY questions, please contact RON OSBORN:
Playing rules are the HS rules for Nebraska. Umpires will help you, just ask before you
do it, eh?
Thank you for your support of FRESHMAN STATE
Tournament Directors
Rules:
Ron Osborn
ronoz@cox.net
402-319-1162
Robin Osborn. PAYMENTS: Freshman State
Entries and Payments, Schedules, Umpires.
homerun_07@hotmail.com
402-659-2011
PAYMENTS TO:
Robin Bourg/Freshman State
13915 W Pony Express Rd
Roseland NE 68973
Deadline: July 16,2018_______________________________________________
***FRESHMAN STATE is NOW on FACEBOOK. Hundreds of photos.***
***FRESHMAN STATE ALL-STATE TEAMS POSTED FOR 2017***
Click on the All State Teams in the homepage menu on the left
Class A 2017 Freshman State Champions Millard South. Runner Up Bellevue East
Class B 2017 Freshman State Champions Hastings. Runner Up Omaha Gross.
Good luck to all our young players at tryouts.
Thank you LYSA board and especially the Ground Crew to get the fields ready under extreme conditions. Had a great tournament. Thanks again. Freshman State 2017
BRACKETS & HANDOUTS on the left margin when complete. ROSTER is in HANDOUTS.
http://www.eteamz.com/freshmanstate/handouts/
___________________________________________________________________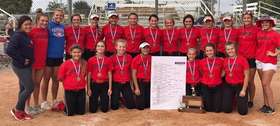 Millard South 2017 Class A Champion
Monday, August 7
2017 Freshman State Class A Champion Millard South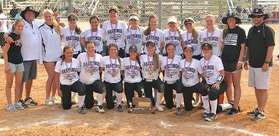 2017 Freshman Class B Champion - Hastings
Monday, August 7
Freshman State 2017 Class B Champion Hastings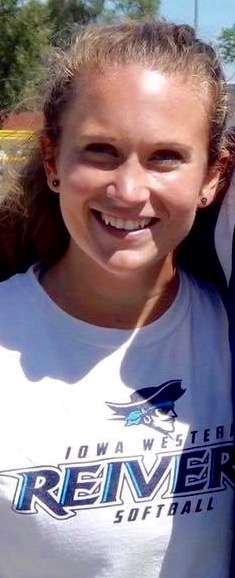 Aubrey Voboril First Pitch 2017
Friday, August 4


Aubrey Voboril Throws First Pitch at Opening Ceremonies 2017


Click on the header to go to The Freshman on Facebook about Aubrey.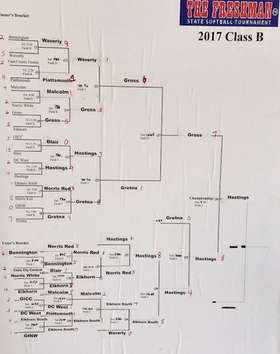 Class B Bracket Complete
Sunday, August 6
Completed BRACKETS with ALL SCORES 2017 Freshman State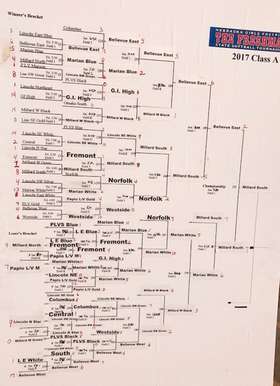 Class A Bracket Complete

Sherman Poska
Thursday, August 4
Heroes of Freshman State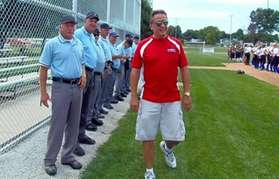 Tim O'Dell
Sherman Poska, Father of Nebraska HS Softball. Metro Sports sponsored The Freshman in 1994 to get it started. Financed 44 club teams to start Nebraska Girls HS Softball. Financed Title IX actions across the State. Sherman's birthday is August 5th, Opening Night.
Tim O'Dell, Tournament Director for over a decade in Blair. Friend and sponsor, Chili Dawgs Foods of Fire in Blair. Thank you so much for your wonderful work and legacy to The Freshman.
Wayne Queen, Hospitality and All State Selection Committee for as many years as we were in Blair. Donated so much time and help sponsor Hospitality room in grand fashion. Miss you Friday Night.
Lynn Edgell, Mr. E, the man behind the scenes for all the time we were in Blair. Scoreboards to helping everywhere he could. Thank you for your dedication to The Freshman and kids everywhere.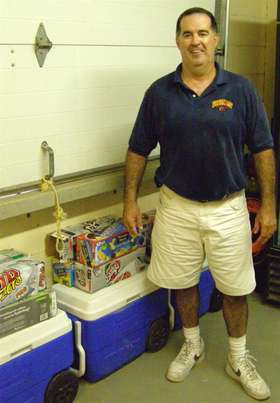 Wayne Queen

Lynn Edgell with his scoreboard
Thursday, August 4
Lynn Edgell the best IT volunteer we ever had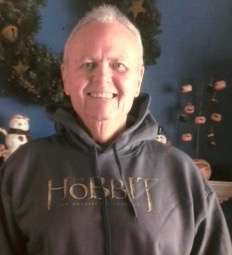 Lynn Edgell

Lynn Edgell, Mr. E, the man behind the scenes for all the time we were in Blair. Scoreboards to helping everywhere he could. Thank you for your dedication to The Freshman and kids everywhere.



Tuesday, August 11


ALL-STATE TEAMS ARE NOW POSTED. Click on All-State Teams in the menu on the left.



Saturday, July 23


Click on this header to go to FACEBOOK ALBUM of FRESHMAN STATE ,"view photos" for additional albums





2017 NSAA HS SOFTBALL...click here


The home page of Nebraska High School Fastpitch.
It will have classification numbers, district assignments,
and each school's schedule for 2017