Tuesday, April 1


2015 FRESHMAN STATE @ BYSA in Blair, NE August 7,8,9




2015 Freshman State Tournament August 7, 8, 9 2015 at BYSA in Blair, NE

Friday, Saturday, and Sunday.


2015 updated ELIGIBILITY RULES are posted first in the NEWS.

Thank you for your support of BYSA and FRESHMAN STATE.




Tim O'Dell, Tournament Director

Robin Osborn Drefs

homerun_07@hotmail.com

402-659-2011

Pitcher of the First Pitch 2015 #42.

__________________________________________________________________

***FRESHMAN STATE is NOW on FACEBOOK. Hundreds of photos.***

___________________________________________________________



Playground (from League of Their Own)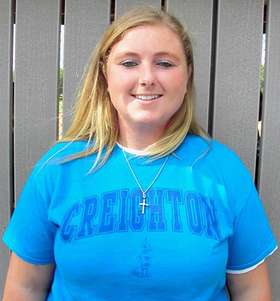 Amy Baker
Saturday, August 9
Amy Baker, Creighton grad, throws out the first pitch for 2014 Freshman State.
Click on header to go to the 2014 FRESHMAN STATE ALBUM.
2015 Pitcher of the First Pitch is #42.
Sunday, August 10
Scores 2014 Freshman State
August 10, 2014 CHAMPIONSHIP SUNDAY at Girls Freshman State Softball Tournament
Class A
Papillion LaVista Maroon 13 Omaha Marian 6
Lincoln SW Silver 18 Millard North Black 2
Millard West Black 5 Lincoln East Blue 3
Papillion LaVista Gold 3Lincoln SW Green 2
Omaha Marian 8 Papillion La Vista Gold 3
Omaha Marian 6 Millard North Black 5 (4th)
Lincoln SW Silver 9 Omaha Marian 7 (3rd)
Papillion LaVista Maroon 8 (Champion) Lincoln SW Silver 2 (2nd)
Class B
Gretna 6 Bennington 4
Hastings 7 Gretna Green 4
GINW 8 Elkhorn 7
Elkhorn South 3 GICC 2
GINW 7 Gretna Green 5
Elkhorn South 6 Bennington 0
Elkhorn South 13 GINW 2 (4th)
Elkhorn South 11 Gretna 1 (3rd)
Hastings 3 (Champion) Elkhorn South 0 (2nd)
Hastings is Class B Champion. First time Hastings entered tournament.
CONSOLATION BRACKET
Class A
Millard North White 18 Lincoln East White 1
Grand Island Gold 5 Papillion LaVista Black 3
GI Purple 2 Bellevue West 0
Millard North White 10 Lincoln Northeast 0
GI Purple 9 GI Gold 5
Millard North White 8 GI Purple 4
Millard North White is Consolation bracket champion
Class B Consolation Bracket
DC West 4 Blair Purple 3
Blair White 7 Holdrege 1
Malcolm 7 Gretna White 5
Lincoln Pius X 6 Omaha Gross 0
Lincoln Pius X 10 Blair White 9
Lincoln Pius X is Class B Consolation Champion
This was Malcomb's first win as a softball team
Tuesday, April 1
2014 Freshman State Info Sheet...click on this header to get a printable info sheet
Tuesday, April 1
2014 Freshman State Rules...click on this header to print Freshman State rules
Sunday, August 12
2013 Pictures alternate site on Picasa. Click on this header.
Saturday, August 4
Pictures of 2012 Freshman State on Facebook
Monday, February 13
Click on this header to go to: BYSA on Eteamz
Blair ENTERPRISE newspaper coverage of The Freshman by Scott Kerber...click on this header
Monday, August 8
Alternate website to see ALL the pics from 2011 Freshman State. Click on this header.
Saturday, July 23
Click on this header to go to FACEBOOK ALBUM of FRESHMAN STATE ,"view photos" for additional albums

Chili Dawgs
Saturday, July 23


Chili Dawgs our incredible new hospitality sponsor. Click on their site here:




Tim O'Dell, our tournament director, is the owner of Chili Dawgs. Ask him about all the wonderful hot stuff they make.





2014 NSAA HS SOFTBALL...click here


The home page of Nebraska High School Fastpitch.
It will have classification numbers, district assignments,
and each school's schedule for 2012



Click on LINKS or this header to go to our sponsors, caterers, and other softball links.




Chili Dawgs: 2012 Sponsor of the hospitality for coaches, volunteers, and umpires for The Freshman. Incredible hot sauces, jellies, and spices provided by the owner and our Tournament Director, Tim O'Dell




No Frills Supermarket, 12th and Hwy 30 in Blair

Thank you NO FRILLS for your continued support of The Freshman




Lo Sole Mio Ristorante, 3001 South 32nd Avenue, Omaha 402-345-5656

Pasta La LoSole and the Lasagna. Served at the buffet in Heaven.




Jim's Rib Haven, 3801 Ames, Omaha 402-451-8061

Da Ribs! Pork, chicken, beans and potato salad. Yum!

Nettie's, South Railroad Ave, in Bellevue, NE. Enchiladas!

Joe Tess Fish, South 24th, South Omaha, NE. Carp!

___________________________________________________________