Freedom Little League: Welcome
2015 Arizona District 12 Little League Champions
Sunday, July 12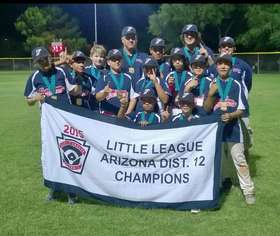 District Champs! Next up State!
Fundraising Donations being accepted for our All Stars traveling expenses. Please donate at the following link:
www.onlinedonations.us/home/team-view-fundraiser/651/651
Any questions, please contact Cindy Snow (Freedom Little League President) at:
520-250-7605 or mailto:freedomlittleleague12@gmail.com
---
LIKE "Freedom Little League" on Facebook and keep up to date with League information.
Little League Baseball does not limit participation in its activities on the basis of disability, race, color, creed, national origin, gender, sexual preferences or religious preference.
Handout:
REGISTRATION DOCUMENTS