Freeburg Storm Soccer Club: Welcome
THE SOCCER CAMP HAS BEEN CANCELED. IF YOU HAVE PAID FOR THE CAMP YOU WILL BE RECIEVING YOUR PAYMENT BACK IN THE MAIL.
The Storm Soccer Club is a new youth soccer organization located in Freeburg, Illinois. The goal of Storm is to enhance player's skill level, technical abilities and FUNdamentals. With training provided from our coaches, Storm offers players a high quality, competitive and enjoyable soccer experience. Our soccer program is open to girls ages 7 to 9.
A trained and licensed coaching staff uses soccer to encourage and challenge players to achieve their maximum potential. We are concerned not only for the soccer well-being of our players, but also for their development as well-rounded individuals. The goal of the Storm Soccer Club is to prepare players technically and tactically for soccer play at the high school level while promoting sportsmanship and fair play.
We will be joining the Southern Illinois Soccer League for the spring 2014 season. The cost to play on the club will be $150 per player, which includes a jersey, shorts, and socks. If interested in playing for the Freeburg Storm please contact us for more information.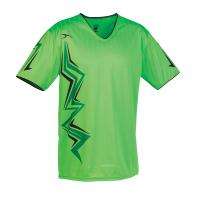 This is what our uniform will look like.
Handout:
Youth Soccer Camp Registration Form
Freeburg Storm Soccer Club Leagues