Milford Hunters: Milford Hunters News

Halpin-2 run home run in opener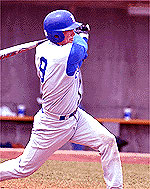 Jeff Funaro
1-3 NABF REGIONAL
Game 4 vs Bellows loss 4-2
Matt Hennessey overcame one rough inning but it wasnt enough as the 2009 season ended in a loss to league rival Bellows 4-2. Bob Pagel singled and doubled to achieve the tournament cycle.
Game 3 vs Wycoff Raiders Loss 4-2
Riley Shuckerow was awesome in the do or die game. Allowing only a wind blown two run homer the offense again struggled with runners on leaving 18 runners on in 9innings. Bob Pagel homered in the top of the 7th to force extras but Wyckoff hit their own dramatic homer in the bottom of the 9th.
Game 2 vs West Haven Greenwoods Loss 4-3
Tyler Brett took the loss while pitching a solid ball game. The Hunters were undone with several key errors and leaving a total of 15 guys on base. Paul Bottigliero and Alberto Martinez accounted for two of the hits. Bob Pagel tripled in the 7th to knock in a run and bring the score to 4-3 but was stranded.
Game 1 vs New Rochelle Robins win 6-2
Jared Rohrig is dominant in tournament opening win. The Hunters were aided by wildness scoring 4 runs in the first without getting a hit and held on for a 6-2 win.
18-10 Regular Season
Game 28 Hunters at Burns forfeit
Game 27 Hunters at Dri Tec
Adam Dinahanian and Mike Oskandy locked zeros for nine innings before Dri Tec managed to score the games lone run in the bottom of the ninth.
Game 26 Hunters at Storm Law HS
The Hunters were up 2-0 in the sixth inning when a infield single and two walks loaded the bases for the Storms Anthony Fiorillo. With two strikes Fiorillo pulls a ball through the hole scoring two runs and the third scoring when the ball got by the catcher resulting in a 3-2 Storm win.
Game 25 Dri Tec at Hunters Law HS
Brian Gouin and Adam Dinahanian dueled to a 2-2 tie into the 8th when Dri Tec rallied with the aid of two Hunters errors to win 3-2.
Game 22 Hunters at Burns July 6th Shelton HS
Jeff Maurutis first inning 2run homer and Hunters never looked back in 7-2 win over Burns. Mike Dooling hit the decisive blow a two run double in the fourth, and Matt Hennessey earns the win.
Hunters 200 200 3 780
Burns 100 100 0 241
wp:Hennessey lp:Lavin HR:Maurutis(3)
Game 21 Bellows at Hunters July 5th Law
Jared Rohrig distance in 9-4 win over Bellows. Rohrig struggled in one inning allowing 3runs but overcame it. Alberto Martinez lead the offense and capped a rally in the sixth with long home run.
wp:rohrig (5-0) lp:Sullivan
Bellows 030 000 1 452
Hunters 200 214 x 982
hr:Martinez
Game 20 Dri Tec at Hunters July 4th Penders
Hunters survive late inning comeback by Dri Tec rally in 9th to win it. Trailing a run in the sixth Jeff Maurutis homered to tie it, then Hunters take 2 run lead only to see Dri Tec climb back. Paul Bottigliero drove in game winner.
Dri Tec
Hunters
wp:Gouin lp:mcgloughlin hr:maurutis
Game 19 Fedells at Hunters July 2nd Law
Shuckerow impressive in win scatters six hits, defense key in 3-2 win over Fedells.
wp: Shuckerow lp:Goldstein
Game 18 Hunters at Marisas July 1st Trumbull
Marisas outlasts Hunters in extra inning marathon.
wp:Gamberdella lp:Oskandy(0-2)
Game 17 Hunters at Storm June 27th Penders
With a 3-1 lead going into the fifth, the Hunters make 4 critical errors and lose 4-3 to Storm. Paul Bottigliero and Brian Halpin lead the offense with two hits and Riley Shuckerow deserved better.
Hunters 001 110 0 385
Storm 100 012 x 451
wp:o'leary lp:shuckerow
Game 16 Hunters at STE June 24th Seaside
Errors and walks undo the Hunters once again. Hunters outhit STE but can't overcome the free passes and errors.
wp: keis lp:oskandy
Game 15 Bellows at Hunters June 25th Law
Matt Hennessey was excellent and Hunters score 5 early runs to hold onto 5-2 win.
Bellows 000 001 1 251
Hunters 230 000 x 573
wp:Hennessey lp:piccirillo
Game 14 Hunters at Bellows June 17th Trumbull
Hunters bust out 12 hits en route to 7-1 win over Bellows. Tyler Brett allowed one run on two hits to earn the win. Mike Bartlett, Mike Lucas and Riley Shuckerow all with two hits to lead offense.
wp:brett lp:mayer
Game 13 Marisas at Hunters June 14th Law
Marisas busts out for three runs in top of seventh on a Kevin Bowerman bases clearing double but the Hunters rally for four runs in bottom capped by a Bob Pagel 2 rbi double. Mike Bartlett, Jeff Maurutis, Alberto Martinez all singled in the inning to set up Pagel. Bartlet 3-3 on the day.
Marisas 001 010 3 582
Hunters 001 100 4 692
wp Rohrig (4-0) lp Carew
Game 12 Hunters at Bellows June 13th Trumbull HS
Not much to say here, Jim Dimon of Bellows tosses no hitter outdueling Riley Shuckerow in 1-0 loss.
Hunters 000 000 0 000
Bellows 000 010 X 1 1 0
wp Dimon lp Shuckerow (1-1)
Game 11 STE at Hunters June 11th at Law
Brian Halpin and Paul Bottigliero each homer to lead Hunters to 6-0 win. Hunter Phillips bases loaded double accounts for damage in four run first.Tyler Brett and Bob Pagel get job done on the hill.
STE 000 000 0 0 3 2
Hunters 420 000 X 6 8 1
wp Brett 1-1 lp Zysk
hr Halpin (2) Bottigliero (3)
Game 10 Hunters at Marisas June 8th at Trumbull HS
Hunters escape with 2-1 win despite outstanding performance by Nico Gamberdella. Paul Bottigliero and Jeff Maurutis get rbi's in 6th inning. Mike Nich (2-1) goes five solid with no earned runs for win
Game 9 Fedells at Hunters June 7 at Jonathan Law
Jared Rohrig (3-0) dominant again holding Fedells down for a 7-2 win. Paul Bottigliero and Jeff Maurutis hit back to back home runs to lead Hunters.
Game 8 Stratford Storm at Hunters June 6 at Jonathan Law
Paul Bottigliero's two out homer in bottom of seventh ties and Hunters win it in 9th. Riley Shuckerow (1-0) earns win with five shutout innings in relief. Mike Lucas 4-4 with three doubles.
Game 7 Burns Construction at Hunters May 31 at Shelton HS
Tom Lindberg of Burns holds Hunters to 3 hits in 6-1 win.
game 6 Burns Construction at Hunters May 31 at Shelton HS
Jared Rohrig (2-0) dominates Burns with 10 k's in five innings in 12-0 win.
Game 5 Stratford Storm at Hunters May 30th at Jonathan Law
TJ O'Leary of Storm limits Hunters to three hits in 3-1 loss. Mike Nich allows two unearned runs in solid outing.
Game 4 Hunters at Dri Tec May 25th at Penders
Jared Rohrig earns win in first start of season, allows 2 hits. Tyler Brett earns save by getting out of bases loaded no jam in bottom of seventh.
Game 3 Hunters at STE May 23rd at Veterans Field
Hunters rally past STE, Chris Zbin fans 10 in four innings, Tyler Brett finishes game. Mike Dooling 2b,3B
Game 2 Marisas at Hunters May 17th at Jonathan Law
Hunters have four runners thrown out on the bases and make 4 e's in loss to improved Marisas team. With two outs in the fourth an error and a walk preceded a three run homer by Chris Vartulli. The Hunters answer back with two straight hits but a runner is picked off of first and Bob Pagel was thrown out stretching a single to a double.
Marisas
Hunters
wp:Ed Shea (1-0) lp:Tyler Brett (0-1) hr: Chris Vartulli (1)
Game 1 Fedells at Hunters May 16th at Jonathan Law
Mike Dooling leads off bottom of 7th with score tied 3-3 with a base hit up the middle, Joe Rohrig follows with sac bunt. A strike out and and intentional pass to Brian Halpin sets up Bob Pagel. Pagel strokes a 2-2 fastball to left scoring Dooling for 4-3 opening day victory. Matt Hennessey went 6 1/3 innings before giving way to Mike Nich. Nich enters game with go ahead runner on second and fans two straight. Halpin and Pagel lead offense with two hits a piece including a two run homer by Halpin.
Fedells
Hunters
wp:Mike Nich (1-0) lp: Rob Delbuono (0-1)
hr: Brian Halpin(1)
The 2009 edition of the Milford Hunters begins its journey with sites set on Louisville, KY. Lead by Brian Halpin(Methodist), Paul Bottigliero(Monmouth), Gabe Guerino (Quinnipiac) and a cast of others the Hunters are poised to compete in the very competitive Senior City League.

Mike Bartlett
2008
HUNTERS LOSE TO PRIDE IN WALLINGFORD FINALS
After sweeping the Cheshire Reds in round 1, the Hunters got swept by the Pride. Mike Fox and Wes Dutton shut down the Hunters en route to their first ever Wallingford Twilight League title.
HUNTERS ELIMINATED BY A-PLUS IN NABF REGIONAL
NABF Regional Semi Finals
A Plus 7 Milford Hunters 2
Pool Play
Reds 5 Hunters 3 Alberto Martinez and Paul Bottigliero lead offense in tough round one loss
Hunters 3 Stamford 2 Bottigliero home run and stolen base push Hunters over top
Hunters 4 Shapiro Suisman 2 Jeff Maurutis homer provides insurance in must win game
Hunters 2 Bellows 0 Eric Smith dominant in duel with Evan Bowen, Mike Dooling and Brian Halpin lead offense
HUNTERS ELIMINATED BY REDS IN AABC STATE TOURNAMENT
Hunters defeat Winstead Whalers Hunters come back from huge early game defecit win it going away
Brass City Brew Holds off Hunters Hunters can't overcome loss of Derek Cotoni
Hunters knock off Wolcott Scrappers
Sunday, October 14
2007 results
Hunters close season in Maryland
Hunters finish 2-2, the Drillers and Harmony Highlanders defeated the Hunters and played for the regional championship with the Drillers advancing to Louisville, KY
Leading hitters in tourney
Rohrig 6-8 .750 4 rbi's
Czekaj 6-14 .428 2 rbi's 4 runs scored
Barrows 5-13 .384
DePolo 5-14 .357
Bottigliero 5-14 .357 4 rbi's 5 runs
Game 3 vs Atlantic Coastal Drillers
Riley Shuckerow began the game by fanning the lead off batter, then the next three batters found holes in the infield and after an error, the Drillers lead 2-0. The Hunters left three runners on in the first and then exploded for three runs in the second. Paul Bottigliero, Peter Barrows and Sean Bromley hit three consecutive long doubles, Bromley drove in two and Ken Parcella knocked in the third with a base hit. The score stood until the seventh when pinch hitter Roth lead off with a base hit. Lead off batter Maher then bunted him over and Roth advanced to third on the error. Shuckerow then walked hastings to load the bases. Number three batter Rush stepped to the plate and Shuckerow fanned him on three pitches, that brought up Josh Wagner. Shuckerow got ahead 0-2 before Wagner checked his swing on a close pitch, the next pitch was drilled into right center scoring two. Matt Chymbor came on to strike out Hoben, then hit the next batter and walked Miller to force in a run. That closed out the scoring for the Drillers. With two outs and two runners on, game 1 hero Bottigliero stepped to the plate. After fouling off two straight pitches, Bottigliero drove a ball deep to left and the left fielder brought back what would have been a game winning three run homer.
Game 2 vs Raineri Jewelers(Staten Island)
After a scoreless first and with one out, Nick Czekaj rapped a double to left center. Paul Bottigliero followed with a solid hit to center. Peter Barrows hit a slow roller to third to load the bases, then Joe Rohrig ripped a base hit down the line to score two. With a 2-0 lead, the Hunters scored four in the third, highlighted by Bottigliero's two run double. An inning later later Czekaj scored Ken Parcella with a deep fly to center. Eric Smith made the lead stand up by pitching two hit ball. The Hunters held on 7-1
Czekaj 2-3 two runs, two rbi
Bottigliero 2-4 two runs, two rbi
Rohrig 4-4 three rbi
Smith wp
Game 1 vs Perdue Chicks
Down 2-0 in the bottom of the seventh with two outs, Nick Czekaj snuck a ground ball through the 5-6 hole bringing Paul Bottigliero to the plate. After fouling off a 1-2 pitch Paul deposited the next pitch over the left field fence to tie the game at 2-2. The game remained tied until the Chicks with two outs put a run up in the 9th. The Hunters answered back with a run, again Czekaj began the rally with a base hit, a walk to Bottigliero brought Pete Barrows to the plate and he delivered a base hit scoring Czekaj. After a scoreless 10th, Riley Shuckerow in relief of Jared Rohrig (8 1/3 innings) had a 1-2-3 11th, bringing the Hunters to the plate. Czekaj again got the rally going, but was forced out on a Bottigliero fielder's choice, Barrows followed with an infield hit that brought Bottigliero to third. Joe Rohrig batting for Sean Bromley then hit a high chopper for an infield hit and game winning rbi.
Czekaj 3-5 two runs, Bottigliero 2-4 two runs, two rbi, Barrows 2-5 rbi
Shuckerow wp
Hunters Heading to Salisbury, MD
The Milford Hunters will be competing in the 2007 NABF regional in Salisbury, Maryland against teams from Maryland. The format is two 8-Team pools, the top two in each pool advance to a playoff and the winner advances to Lousiville, KY.

Wallingford Twilight League Champs
Down Total Renovations in two straight, both by 4-1 scores. Rohrig wins game 1, Wyman wins game 2. Jeff Maurutis is tournament MVP

DePolo 2B, 3B, and HR lead Hunters past Outlaws


Bottigliero's Blast and Shuckerow's gem lead Hunters past Dri Tec 6-3
Paul Bottigliero hit a two run homer to give the Hunters a three run lead. An inning later Dri Tec tied it. With the score tied in the seventh, Brian Halpin got a one out base hit. One batter later Ryan Antonino got a base hit. Jeff Maurutis singled in both Halpin and Antonino. Alberto Martinez knocked in Maurutis who stole second.

Czekaj's two bombs lead Hunters past Pride

Hunters win 12 in a row, 14 out of 15, overall 24-8

Hunters finally get Bellows
after 5 routs in 6 games, Matt Hennessey shuts down bellows, Halpin, three hits, leads offense.

Hunters avenge loss to Mustangs
Blow out cheshire 15-2

Hunters rout Vazzy's
Shuckerow Sharp, Bomb from Bottags

Hunters Beat Total
Give former FPA'er Doonan his first loss, Jerry Nolan dominant

Hunters sweep double header from Pride & Sliders
Brad Stearns and Brendan Wyman lead the way on the mound.

Hunters rout Outlaws
Dave Weinrich allowed two hits in five innings and Brian Halpin, Alberto Martinez led the offense in the 15-1 win. The Hunters have won 8 out of 9.

Hunters defeat Marissa's
With their fifth game in four days, Ryan Depolo took the hill and was great for six innings, holding Marissa's to two runs. Kevin Zikaras doubled and tripled and drove in five runs. Ryan Antonino was 2-2.

Hunters rally from 4-0 to win 11-5 over Vazzy's
Despite some early trouble Chris Barthel settled down and pitched shutout baseball for four innings. Ryan Antonino hit a solo home run in the top of the fourth to take the lead. Ryan DePolo sealed it with a bases loaded triple to put it out of reach. Joe Rohrig and Alberto Martinez contributed with doubles.

Hunters take three on Sunday
Defeat Merchants 9-4
Defeat Sliders 2-1
Defeat Pride 15-1

Hunters lose tough one to Mustangs in extras

Hunters righting the ship
The Hunters take two from Ct Home Adds on Sunday, with Riley Shuckerow (Bridgeport) and Brad Stearns leading the way. Game 1 saw Shuckerow toss a one hitter in a 4-1 win, Game 2 Brad Stearns gave up two first inning runs and the Hunters rallied for four runs in the 7th and ended up winning 5-4 in 8 innings. Ryan Burke (Siena) drove in the winning run. Ryan Antonino's two run double tied in the seventh.

Hunters Struggling in Senior City
The Hunters have wasted two superb starts from Riley Shuckerow and one from Angelo Prisco (Emory) to fall to 2-6 in Senior City. Brian Halpin (Methodist) has been the offensive spark during the week with a double and two triples. This week the Hunters play three Wallingford games and three Senior City games. Shuckerow, Brendan Wyman (Post) and Jerry Nolan begin the week's rotation to try to right the ship.


STE 7 Hunters 5
The Hunters gave up a 5-1 lead in the fourth and couldn't muster a rally and drop second straight.
STE 2 Hunters 1
Angelo Prisco throwing on three days rest allows three hits in 5+ but not enough. Winning run walked to get on, stole second, stole third and scored on a passed ball.
Hunters 5 Storm 1
Dennis Accomando (Connecticut) was dominant, allowing only two hits in the complete game effort.
Dri Tec 4 Hunters 2
Despite allowing only three hits, the Hunters fell 4-2 on Memorial Day. Mike Diaz (Southern Connecticut) led the offense with a walk, a single and a long triple. Shuckerow dealt but didn't get the support.


Shuckerow and Diaz All Northeast Region
Riley Shuckerow, (P, Bridgeport) and Mike Diaz (ss, SCSU) both earned first team all Northeast Region Division II team. Shuckerow, also a ECC All-Conference First Team selection, pitched a conference best 2.63 ERA. Riley ranks 60th in the nation in ERA and 57th nationally in Strikeouts per Nine Innings. He led the Purple Knights on the mound posting a 6-3 record with 3 saves in 65.0 innings pitched. Diaz, who was ranked fourth in the NE-10 with a .360 batting average led all Owls' hitters this season. He started and played in 47 games with 189 at bats and 68 hits. His 34 runs scored were best on the Southern Connectiut team while his 15 doubles, four triples and 34 runs scored also led all Owls. As First Team All-Northeast Region selections, both players automatically move on to the national ballot for national All-America consideration.

Postseason Honors Rolling In for Hunters
Mike Diaz, So, SS, SCSU is first team NE-10. Despite a down year for the Owls, Mike had a career year at the plate. .360 avg, 12 sb, 15 2b, 4 3b, 2 hr
Riley Shuckerow, So, P, UB earns first team ECC. Riley led Bridgeport to best season in history and led team in wins and saves.
Ryan DePolo, INF, Post makes 2nd team CACC for second year. Ryan finished batting .331 with team leading 48 hits.

Milford Hunters off to good start
Ryan Antonino's two run triple lead Hunters to 5-2 win over Total Renovations. Down 2-1 in the fifth, Matt Hennessey led off the inning with an opposite field triple, Ken Parcella followed with a walk and one out later Antonino tripled to right to plate two runs. Vin Dorio made the lead stand up and Hennessey finished it in the seventh.

Brad Stearns fires four scoreless innings as the Hunters (3-0) hold off the new and improved Patriot Motors. Joe Rohrig leads the offense with a two run double and scored two runs.

The Hunters roll to 2-0 with an 8-3 win over Total Renovations. Pat Tracy earned the win in relief of Jerry Nolan. Alberto Martinez led the offense with three rbi's, including a solo home run in the bottom of the sixth. Ryan Antonino and Ryan DePolo each added two base hits and Tom Hanley scored two runs.

Matt Hennessey dealt in the opener and bailed the Hunters defense out. Despite committing six errors the Hunters pulled out a 2-1 win. Henry Lee blasted a two run homer in the first and Hennessey made it stand up in the win over Downtown Merchants.

Hunters having stellar collegiate seasons
Eric Pomroy, SS, Mulenberg College, finished his freshman season batting .324, with 8 2B's and 4 3B's.
Brian Halpin, 3B, Methodist College, hit an impressive .341 for the #29 D3 Nationally ranked college.
Mike Diaz, SS, Southern Connecticut, is hitting .370 as he leads the Owls to a berth in the NE-10 tourney.
Frank Bainer, C, Sacred Heart, is hitting .284 for the Pioneers.
Chris Barthel, P, Sacred Heart, 1-0 with 3 Saves.
Ryan DePolo, 3B, Post University, got his average over .300 with a recent hot streak.
Riley Shuckerow, P, Bridgeport leads team in Wins, ERA and saves and is two time ECC pitcher of the week, as Bridgeport looks to earn a spot in NCAA regional
Brendan Wyman, P, Post, 2nd Team all CACC as a sophomore




Riley Shuckerow Earns ECC Pitcher of the Week Honors for Second Time this Season
University of Bridgeport sophomore Riley Shuckerow (Milford, Conn.) has been named East Coast Conference (ECC) Co-Pitcher of the Week for the period ending April 29, as announced by the league office Monday evening. Shuckerow was dominating last week on the mound for the Purple Knights in two appearances going 1-0. On Sunday, he hurled nine innings earning his sixth win of the season, allowing two walks while striking out eleven batters in a win over Queens. The southpaw posted a 0.00 ERA for the week in 10.0 innings pitched, while holding opposing batters to a .156 batting average. Shuckerow currently leads the Purple Knights in both wins and saves. He leads the conference in ERA. This marks the second ECC Pitcher of the Week accolade for Riley, he was honored for the period ending April 9.
Halpin earns Rookie of the Week
Brian Halpin has been named the USA South Baseball Rookie of the Week. The freshman second baseman from Monroe, Connecticut hit .615 (8-for-13) with six RBI, five runs scored, two walks, one sacrifice hit and one stolen base last week as the Monarchs went 3-1. In a 10-6 win over Guilford, Halpin was 2-for-3 with two RBI, one run scored, one walk and one stolen base. In an 11-8 win at Lynchburg, Halpin was a perfect 5-for-5 with three runs scored and one run batted in. Finally, in a doubleheader split with USA South foe Averett, Halpin was 1-for-4 with three RBI, one run scored, one walk and one sacrifice hit. Halpin's RBI single in the eighth-inning of game-two, proved to be the difference maker.

Blue Chips, Defections and Injuries
2007 preview coming soon!

Riley Shuckerow earns ECC Pitcher of the Week for weekending April 7!

University of Bridgeport sophomore hurler Riley Shuckerow (Milford, Conn.) was named East Coast Conference Pitcher of the Week for the period ending April 8, as announced by the league office Monday evening. Shuckerow made two appearances in UB's Saturday afternoon doubleheader sweep at C.W. Post. In game one, he pitched a scoreless ninth inning, allowing no hits to earn his second save of the season. As the starter in game two, the lefty hurled a seven-inning complete game in which he allowed only two hits, with one unearned run and six strike outs. Riley is now 3-0 on the season and leads the Purple Knights in saves with two. He is holding opposing hitters to a .172 batting average.


Diaz off to Alaska
Mike Diaz (SCSU), Milford's 2006 home run leader, will play this summer in the prestigious Alaska Baseball League for the Alaska Glacier Pilots. Diaz is a sophomore at SCSU and is among the team and league leaders in batting average.
The Glacier Pilots have housed major leaguers Jeff Francis, Eric Hinske, Randy Johnson, Mark Teahan and Mike Pelfrey among others. www.glacierpilots.com

Bottigliero Commits to Monmouth
Paul Bottigliero (Garden City CC) commits to Monmouth University in New Jersey. Monmouth plays in the NEC along with Central Connecticut, Quinnipiac and Sacred Heart. Paul follows part time Milford Hunter Brett Conner to the New Jersey school.


bang bus bang bus bang bus
tk