Fox Hall Fins: Welcome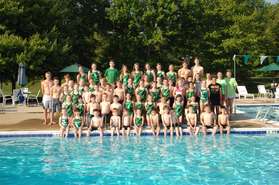 2013 Fox Hall Fins
The 2015 Swim Season will begin soon for the Fins, and we are looking forward to another fun season. We welcome Matt Bailey as our Head Coach this year. Henry Fauls and Callie Copeland will be our Assistant Coaches.
Have a friend who wants to join the team? It is not too late to register! Please contact Alison Barron at 360-4580 about registration. For any swim team questions, please contact Ed Coleman at oedcoleman@gmail.com.
Fox Hall Fins Kick-off Party Thursday, May 28, at the clubhouse.
Time: 5:30PM to 7:30PM
· Please wear your Fins suit! A group picture will be taken after a brief meeting with the coaches --- and individual pictures will be available to purchase as well.
· Gino's pizza and drinks will be provided
· Please bring:
o
Dessert to share (Last names A – M)
o
Side dish to share (Last name N – Z)