FC United: Welcome
PASSION ∞ COMMITMENT ∞ FUN
---
2013- 2015 - Club Direction-"Plan on Page"
Note: Fall registration (16-17) is now open! You can online register or complete paper registrations at Southwest Soccer Sports or the Bloomfield Cultural Center.
We are excited to bring a local approach with a
grass-roots philosophy of developmental
and competitive soccer to the Four Corners region.
Below are some ways to familiarize yourself
with different aspects of our Club.
You can find additional information about us by
checking out the navigation links to the left of
this page or simply by checking out the events below.
We look forward serving your child's soccer
needs and we appreciate your patience and
consideration as we look to build for the future.
Yours in Soccer,
FC United Staff & Board of Directors
Sunday, June 26
Summer Academy Weekly Schedule
Academy Schedule for 6/27 through 7/02.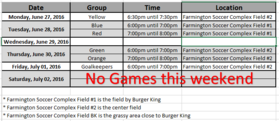 Current Schedule
Sunday, March 1
Concussion Information
Information on concussion prevention, recognition and treatment.
Sunday, June 26
Basic Summer Academy Schedule
The 2016 Summer Academy Schedule follows. Some adjustments may need to be made at a later date.
June 6 to 9 - Academy Evaluations
June 13 to 18 - Academy Training and Games
June 20 to 25 - Academy Training and Games
June 27 to July 1 - Academy Training (No games on July 2)
July 5 to 9 - Academy Training and Games (No training on July 4)
July 11 to 16 - Academy Training and Games
July 18 to 23 - Academy Training and Games
July 25 to 30 - No Training or Games
August 1 to 6 - Academy Training and Games