Fort Hill HS Wrestling: CVAL Champions
2006: Justin Nichols - 119lb Class
2006: Shawn Bennett - 135lb Class
2006: Michael Yost - 275lb Class
2005: Dakota Fender - 215lb Class
2004: Zach Huffman - 119lb. Class
Freshman Zach Huffman pinned Martinsburg's Todd Judd in 3:55 and decisioned Hedgesville's Justin Zimmerman 8-2 to win the championship.
2003: Austin Williams - 171lb. Class
Senior Austin Williams did become the 171lb. Champion by winning five straight matches all by first period pins. He truly had a great day that included pinning Brad Ammons of Hedgesville in 1:15. Ammons is currently ranked 6th at 171lbs. in the AAA West Virginia's Coaches Poll. Also, Austin pinned Joe Harrison of Jefferson in :25, Mike Prevelte of Martinsburg in :49, Mike Smith of Musselman in :24, and Glenn Childs of Woodrow Wilson in 1:20. This is Austin's second CVAL Championship. He also won the 189lb. class in 2001. He placed second in 2002.
2002: Roy Payne - 112lb Class
Team Captain Roy Payne pinned R. Conner(Martinsburg) in 1:27 on his way to a CVAL Championship.
2002: James Summers- 189lb Class
James Summers went 4-0 to win the 2002 CVAL Championship. James pinned W. Greer(Jefferson) in 3:51, pinned Brad Wright(Musselman), decisioned John Silverman(Jefferson), and pinned Phil Files(Hedgesville) on his way to his Championship!
2001: Cody Mackie - 171lb Class
Cody pinned Joey Bolt of Musselman in :50 and Drew Day of Jefferson in 3:36. He also decisioned Andrew Everhart of Hedgesville 5-2.
2001: Austin Williams - 189lb Class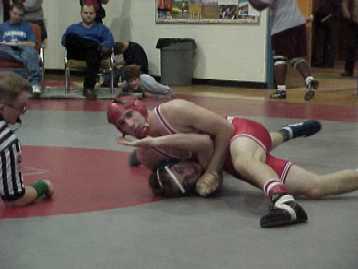 Austin went 4-0, all pins!
Austin pinned Artie Badger of Jefferson in :35 and Jason Baker of Hedgesville in 5:51. Also, he pinned Brad Wright of Musselman in 3:34 and Justin McDonald of Martinsburg in :44.