Fort Hill HS Wrestling: 2010-2011 Season
Monday, November 1
WE ARE LOOKING FOR A FEW GOOD FORT HILL MEN!!
The Fort Hill Wrestling Team is seeking SMART, HARDWORKING, individuals from all backgrounds to be a part of OUR VARSITY AND JUNIOR VARSITY TEAMS. No prior wrestling experience is necessary. We WILL train you in the Sport of Wrestling. Our Coaching Staff will give you the proper conditioning and knowledge to succeed. IF YOU DO NOT QUIT YOU WILL NOT BE CUT!

FH Wrestlers have distinguished themselves as some of the highest caliber of athletes in High School. Because of the physical demands inherent in the sport of wrestling, prospective FH Wrestlers go through what most feel are the toughest practices in High School Sports.

ARE YOU MOTIVATED TO SUCCEED?

ARE YOU DETERMINED TO PERSEVERE?

DOES YOUR BODY WEIGHT FIT INTO 1 OF THESE WEIGHT CLASSES?

103lbs, 112lbs, 119lbs, 125lbs, 130lbs, 135lbs, 140lbs, 145lbs, 152lbs, 160lbs, 171lbs, 189lbs, 215lbs, and 285lbs.

If so, sign up in the Main Office ASAP.

Listen to the announcements for the first meeting which will be on Wednesday, Nov. 3rd @ 3:00PM in the Mat Room.
Monday, November 1
Fort Hill Wrestling Youth Sign-ups/Spirit Night
The first sign-ups for the Fort Hill Wrestling Club and a SPIRIT NIGHT will be at Chic-fil-A in Cumberland on Monday, November 8th from 5:00PM until 8:00PM. You can sign up and pay your fee at that time. Please eat and tell them that you are there for the Fort Hill Wrestling Club.
Our club is open to wrestlers in the Fort Hill school district at the Elementary, Junior High, and High School levels regardless of size. Cost is only $35.
Practices for the Youth Wrestling Team are held at Fort Hill HS in the Matroom. The Elementary Team, grades K-4th, practices Monday and Thurday from 6:30PM -8:00PM. They are under the direction of Head Coach Brian Lepley this year as last year's coach Shawn Bennett is currently attending the Maryland State Police Academy. You can contact Coach Lepley at 240-580-0743. The Junior High Team, grades 5th-8th, Practices on Monday and Thursday from 5:00PM to 6:30PM. They will also practice on Wednesdays from 5:00PM to 7:00PM. The Junior High Team will be under the direction of Youth Head Coach/Junior High Head Coach Jeff Appel. You can contact him at 814-285-0517.
Both the Elementary and Junior High teams will hold their first practice in November. The Junior High team will start on Wednesday, November 17th, from 5:00PM to 7:00PM. The Elementary Team will start practice on Thursday, November 18th, from 6:30PM to 8:00PM.
As an organization, the Fort Hill Wrestling Club provides instruction, competitions, and other events with the purpose of providing a truly rewarding experience for ALL our youth participants in a positive wrestling environment. Instruction and participation always come first!
Wednesday, November 24
Practice CANCELLED on Saturday, November 27th!
Due to the upcoming playoff football game against Dunbar on Saturday, November 27th, we will NOT be holding wrestling practice for the High School Team. Good luck to the Fort Hill Football Team and I hope to see you at the Game!
Monday, December 6
2010-11 Fort Hill Wrestling Captains Chosen!
The votes are in! The Team Captains for the Fort Hill Wrestling team are Senior Antonio Candler, Senior James Bender, Senior Robert Vincent, and Junior Nick Meneghini. Alternates are Senior Brian Thompson and Junior Jesus Candler.
Monday, December 6
Fort Hill Wrestling is now Facebook Official!!!
Technology has come a long way over the past ten years that our website has been up and running. That means we have to continue finding new ways to put Fort Hill Wrestling on the map! As one-sixth of the world's population now owns a Facebook account, we decided what better way to keep in touch with our past, present, and future members of our Fort Hill Wrestling Family than to have one of our own!!! .
Just go ahead and follow these three simple steps!
1.) All you have to do is search for us under "Fort Hill Wrestling"
2.) Click the "like" button
3.) Suggest us to all your friends (especially everyone you know to have wrestled or been involved with the Fort Hill Wrestling Team)
Wednesday, December 8
Fort Hill rolls city rival Allegany 63-6 in Season Opener!
Congrats to the Sentinels on their first dual meet season win. Fort Hill opened with a big win over the Campers 63-6 to start their season against the city rival. Senior Robert Vincent wrestled his opponent to a 7-1 decision, followed by a James Bender (Sr) pin over Alco's Jarod Barton in the third period. Nick Meneghini (Jr) continued to add points to the scoreboard by defeating Reed Lawson of Allegany 6-2. Heavyweight Roger Dawson lost a close match in the final seconds of his match, but showed the 200+ crowd that he is an up and coming star for the Sentinel team.
Senior Team Captain Antonio Candler out wrestled his opponent 10-5, followed by a dominant performance by FH junior Dillon Darr, who pinned his man in 1:05!! Jesus Candler followed in Darr's footsteps by pulling off another first period pin, and Sophomore Joey Turbin "Turbo" received his first Varsity Win by pinning his Allegany wrestler in the 2nd period!
The Sentinels who received forfeits are as follows; Derrick Kiff (Fr), Buddy Crabtree (So.), Brian Thompson (Sr), Dylan Keefer (So.), and Kirk Yutzy (So.)
All in all it was a hard fought match, and the team will wrestle again at home against Mountain Ridge Thursday December 9, 2010 at 7:30. Great job Sentinels!!
Friday, December 10
Early mistakes proved too much in loss to Mountain Ridge
Team Captain Antonio Candler getting the Takedown!
The Fort Hill Sentinels gave up six pins in a row against the Miner's from Frostburg, MD thursday night. Keeping that in mind its hard to believe the Sentinels were one match away from pulling off the first victory against the Frostburg team in over a decade. Senior Robert Vincent won a decisive match against Mountain Ridge's last season MD state qualiferTom Patterson 22-5, a technical fall. (Sr) James Bender answered in the 160lb match by another tech fall. Mountain Ridge then went on to roll off six straight pins against the sentinels making the score 41 -10. (Sr) Brain Thompson, (Jr) Skylar Atkinson, (Sr) Antonio Candler, and (Jr) Dillon Darr went on to dominate their opponents and the match concluded as (Jr) Jesus Candler lost in the final two seconds of the 140lb contest 7-5.
Even though it was disappointing to see the Sentinels fall to Mountain Ridge, this match is exactly what the team needed. "Our guys understand now exactly what they're potential is, and from here on out we've heard from several of the wrestlers that play time is over, and its all business from here on out in the mat room" one parent said. "This team knows that they are on the brink of something special. That it can be this group that finally turns the corner for Fort Hill Wrestling from just having good seasons to becoming a great program year in and year out," another parent said. "The youth wrestling club is producing more and more experienced freshman each year and its about time we see Fort Hill Wrestling back on top", a parent from the youth program said.
This in mind, only time will tell if the Fort Hill Wrestling team takes this opportunity to begin again more intelligently. The Sentinels travel to Boonsboro Tuesday, December 14, 2010 for their next match. Wrestling begins at 7:30pm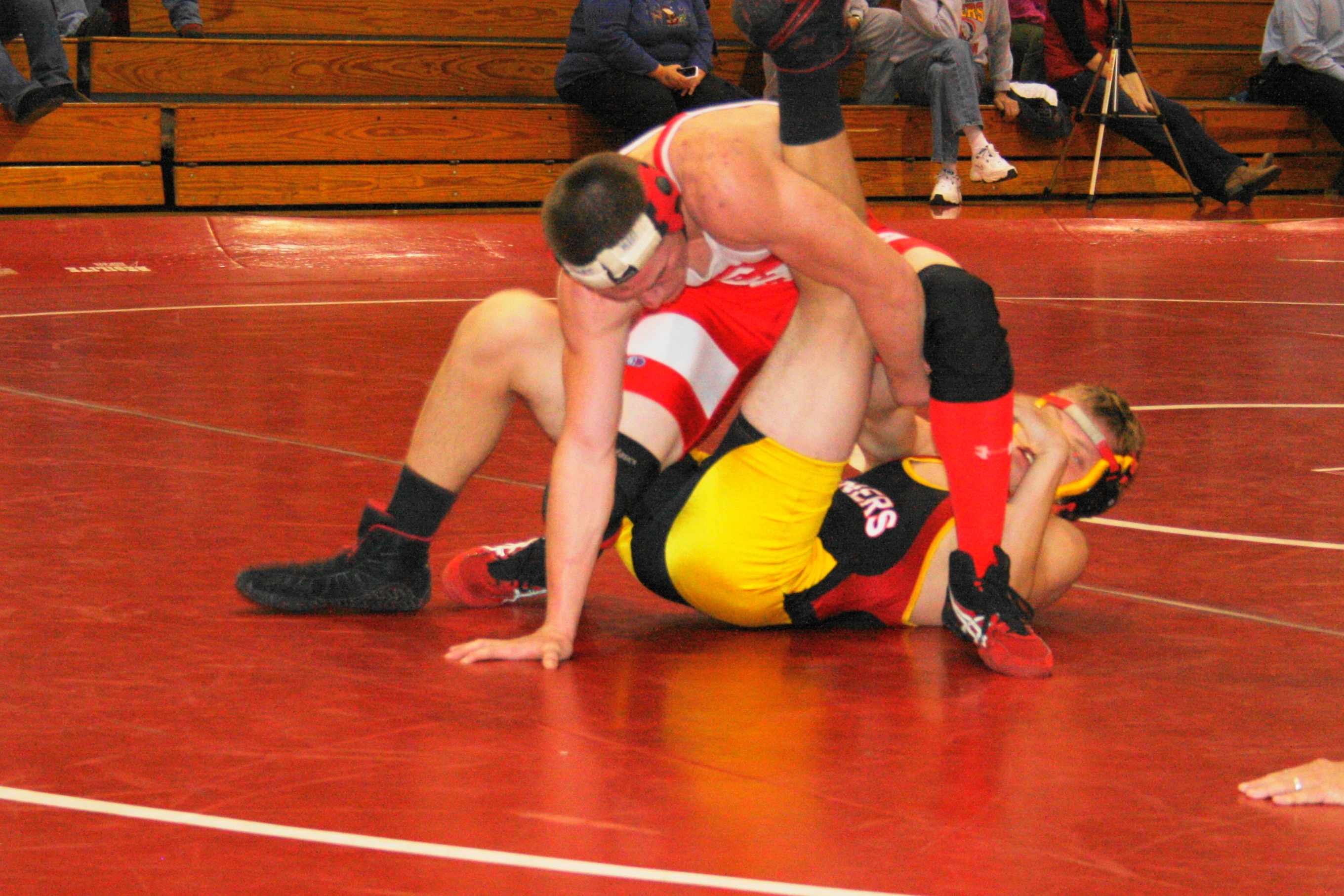 Team Captain Robert Vincent in action!
Thursday, December 9
Fort Hill vs Mountain Ridge 12/09/10
Sunday, December 19
FH vs Boonsboro 12/14/2010 Pictues
Thursday, December 23
2011 SENTINEL SLAM Entry Form Click HERE!!
Handout:
2011 SENTINEL SLAM Entry Form
Monday, January 3
2011 SUPER DUALS @ Fort Hill Info
The 2011 Super Duals, to be held on January 7-8, 2011 at Fort Hill High School. The "Super Duals" is one the original "Dual Meet Style" wrestling tournaments held in the state of Maryland. This will be the Super Duals 12th year and will include High School teams from Allegany(MD), Fort Hill(MD), Frankfort(WV), Hyndman(PA), Keyser(WV), Middletown(MD), Oakdale(MD), Mt. Vernon(VA), Petersburg(WV), and Southern Garrett(MD). These teams will be wrestling each other, head to head, in a "round robin" format on Friday and Saturday on 5 mats in 2 gyms. Individual Awards are given for 1st through 3rd in each of the 14 weight classes. The Varsity schedule is as follows with Junior Varsity matches taking please in between rounds as mats become available:
Friday

3:30pm – Weigh-ins

4:20pm – Coaches Meeting

4:30pm – Round 1

6:00pm – Round 2

7:30pm – Round 3

9:00pm - Round 4

Saturday

9:00am – Weigh-ins

10:20am – Coaches Meeting

10:30am – Round 5

12:00am – Round 6

1:30pm – Round 7

3:00pm – Round 8

4:30pm – Round 9

6:00pm - Final Coaches Meeting with Awards Presentation to follow.



Saturday, January 15
The Sentinels are the 2011 Dundalk Duals Champions!!!
3rd Annual Dundalk Duals

RESULTS
Dundalk 69 vs Patapsco 0
Fort Hill 58 vs Digital Harbor 18
Patterson 69 vs Kenwood 12
Mount Vernon 42 vs Sparrows Point 36

Patterson 50 vs Digital Harbor 22
Dundalk 42 vs Carver 36
Sparrows Point 81 vs Patapsco 0
Fort Hill def Mount Vernon (not sure on score)

Patterson 56 vs Dundalk 24
Fort Hill 36 vs Sparrows Point 32 (Drew Clark won his 100th match!!!)
Kenwood 39 vs Carver 34
Digital Harbor 66 vs Patapsco 12

Kenwood 40 vs Dundalk 28
Sparrows Point 48 vs Patterson 30
Digital Harbor 46 vs Carver 30
Mount Vernon def Patapsco (not sure on score)

Mount Vernon 64 - Carver 15
Fort Hill 45 - Patterson 30
Sparrows Point 66- Kenwood 9
Dundalk 48 - Digital Harbor 36

Fort Hill 69 - Dundalk 9
Patterson 66 - Carver 12
Mount Vernon 67- Digital Harbor 6
Kenwood 48 - Patapsco 18

Digital Harbor 54 - Kenwood 30
Sparrows Point 66 - Carver 15
Fort Hill 78 - Patapsco 0
Mount Vernon 47 - Patterson 27

Fort Hill 60 - Kenwood 21
Sparrows Point 66 - Digital Harbor 18
Carver 60 - Patapsco 12
Mount Vernon 63 - Dundalk 18

Sparrows Point 66 - Dundalk 17
Fort Hill 66 - Carver 12
Mount Vernon def Kenwood (Not sure on score)
Patterson 78 - Patapsco 6

TEAM FINAL
1st Place – Fort Hill (8-0)
2nd Place – Mount Vernon (7-1)
3rd Place – Sparrows Point (6-2)
4th Place – Patterson (5-3)
T-5th Place – Digital Harbor, Kenwood, Dundalk (3-5) (DUN df DH, DH df KEN, KEN df DUN)
8th Place – Carver (1-7)
9th Place – Patapsco (0-8)

INDIVIDUAL
103 – Karran Costley 7-1 (Carver); Eric Dahlum 7-1 (Mount Vernon)
112 – Sam Pellerito 8-0 (Carver)
119 – Antonio Morrison 8-0 (Patterson) Brian Thompson 7-1 (Fort Hill)
125 – Robert Sewell 8-0 (Patterson) Skyler Atkinson 6-2 (Fort Hill)
130 – Cody Marino 8-0 (Mount Vernon) Antonio Candler 6-2 (Fort Hill)
135 – Dillon Darr 8-0 (Fort Hill); Teddy Cadd 8-0 (Sparrows Point)
140 – Shane Hammer 8-0 (Sparrows Point) Jesus Candler 7-1 (Fort Hill)

145 – Nathan Borkowicz 8-0 (Sparrows Point)
152 – Trey McClure 8-0 (Mount Vernon)
160 – James Bender 8-0 (Fort Hill)
171 – Dusty Floyd 8-0 (Mount Vernon); Mike Iman 8-0 (Sparrows Point) Robert Vincent 6-2 (Fort Hill)
189 – James Krug 7-1 (Sparrows Point); Siraj Benu 7-1 (Kenwood)
215 – Brian Egborebhe 8-0 (Patterson) Nick Greise 6-2 (Fort Hill)
285 – Drew Clark 8-0 (Sparrows Point) Rodger Dawson 7-1 (Fort Hill)

Tuesday, January 25
FORT HILL DEFEATS NORTHERN GARRETT 39-35!
The Sentinel Wrestling team improved their dual meet record to 24-8 with a 39-35 victory over the Northern Garrett Huskies last night! 24 wins in one season is a new record for the Fort Hill Wrestling team with 6 duals left on the schedule for this year. The previous record was 22.
The match started at the 135lb class and the Sentinels "bumped" weight classes from 119lbs to 145lbs. Senior Captain Antonio Candler started the Sentinels off with a 4-0 decision of Carlos Howard (NG) to break the ice and give Fort Hill a 3-0 lead. Then at 140lbs, Dillon Darr (FH) lost a very tough match to Northern's Matt Thomas 12-0 which gave Northern their first lead of the night 4-3. Then Noah Candler(FH) fired right back with a 2:52 pin of Danny Uphold(NG) to make the score 9-4 in Fort Hill's favor. At 152lbs, Northern's Kameron Kamp pinned FH's Jordan Nichols in :42. That made the score 10-9 in Favor of Northern. Then Senior Captain James Bender(160lbs) scored a :43 pin against Shawn Kamp(NG) to take back the lead for Fort Hill at 15-10. That was followed up by Fort Hill's Robert Vincent's(171 lbs.) 2:51 pin of Nick Owen (NG) to extend the lead to 21-10. The score was 21-16 after Jason Opel's pin at the 189lb class. Nick Greise of Fort Hill then lost a close 4-2 match against Northern's Anthony Cervi to close the Sentinel lead to 21-19.
The match then turned more in favor of Fort Hill. At 285lbs, 1st year wrestler, Fort Hill's Roger Dawson then pinned Brandon Platter(NG) in 2:42 to give the Sentinels a 27-19 lead.
Then Buddy Crabtree of Fort Hill received a forfeit at 103lbs followed by a Fort Hill forfeit at 112lbs to make the score 33-25 Fort Hill leading going into the last 2 matches. Northen won the 119lb class by pin and the 125lb class by major decision to make the score 33-35 in favor of the Northern Huskies with one match left.
In the final and deciding bout in the 130lb class, Fort Hill's Skyler Atkinson pinned Eric Rodeheaver of Northern Garrett in 4:51 to clinch a 39-35 victory for the Sentinels.
Thursday, January 27
South Hagerstown Match Rescheduled for Saturday, 1/29/2011 @ 6:00PM
Bus will leave Fort Hill at 3:30PM on Saturday. Weather permitting!
Tuesday, March 8
2011 Western Maryland Spring Classic - March 12, 2011
Will be held at Fort Hill High School, 500 Greenway Avenue, Cumberland, MD 21502.
WALK-INS ARE WELCOME!
| | | | |
| --- | --- | --- | --- |
| Division | Grade | Length of Bouts | Weight Classification |
| Bantam | 1, 2, & 3 | 1-1-1 | 45, 50, 55, 60, 65, 70, 75, 80, 85, 90, 95, UNL |
| Intermediate | 4, 5, & 6 | 1-1-1 | 55. 65, 70 65, 70, 75, 80, 85, 90, 95, 100, 105, 115, 125, 135, 145, UNL |
| Junior | 7, 8, & 9 | 1-1-1 | 80, 85, 90, 95, 100, 105, 115, 125, 135, 145, 155, 170, 190, UNL |
| Senior | 10, 11, & 12 | 1-1-1 | 103, 112, 119, 125, 130, 135, 140, 145, 152, 160, 171, 189, 215, NL |
| Open | Any Age | 1-1-1 | 130, 140, 150, 160, 170, 180, 190, 215, UNL |
TIMES:

Weigh ins is from 7:00 - 8:30AM. Wrestling will begin 4 Mats at 10:30AM.

FEES:

Advanced registration fee is $16.00, due by March 9, 2011. After March 9, 2011 – registration fee is $20.00. Make Checks payable to Fort Hill Wrestling Club.

Mail to:

Fort Hill Wrestling Club

215 National Hwy.

LaVale, MD 21502

- Tournament admission will be $6.00 for adults, $3.00 for students. Children under school age are free.

- (1) Coaching Pass with (10) paid entries.

RULES:

-Scholastic style, Double Elimination

-Head Gear is optional.

-A sudden death overtime will be used for all age groups.

-Any Weight class with Three participants will be wrestled as a round robin wrestle-off

- Weight Classes with less than 3 may be combined at the Tournament Director's discretion.

-Only 2 people per corner, EVERYONE ELSE MUST REMAIN IN THE STANDS!

-Bad conduct by anyone in attendance will not be tolerated and may result in removal from the premises by the Tournament Director or Referee without refund!

AWARDS:

Trophies will be awarded for 1st, 2nd, and 3rd place finishers.

FOOD:

Meals and Refreshments will be served all day.

****For more information on this event, call Bernie Nichols at (301) 697-5441, e-mail at bnichols@timbrook.com , or visit www.forthillwrestling.com