Fort Hill HS Wrestling: 2007-2008 Season
Friday, October 5
Brian Davis Named Head Wrestling Coach at West Liberty State College
Former West Liberty State College wrestling standout and Frostburg native Brian Davis has returned to his alma mater to take the reins of the school's nationally competitive wrestling program.
Davis, who was inducted into the WLSC Athletic Hall of Fame in 2005 has spent the last four years as the head wrestling coach at Buckeye Local High School .
Davis appears to be thrilled with his first collegiate head coaching job. He said "This is an opportunity of a lifetime for me. It has always been a goal of mine to someday coach at the college level and what better place to do it than at my alma mater. I am very excited to be back on the hilltop."
He succeeds two year head coach Mike Wehler who recently accepted the head coaching duties at Mercyhurst College in Erie , Pa.
Director of Athletics James Watson, feels very good about the hiring of Davis . He said "We are delighted to have Brian back as the coach of our highly successful wrestling program. We are confident that he can continue the level of success that our program has enjoyed over many years."
After serving six years in the US Marine Corp including active duty in Operation Desert Shield/Storm, Davis entered West Liberty in 1991 and became of one of the schools most accomplished wrestlers. Following consecutive third place showings in the NAIA National Tournament, he became the programs third national champion claiming top honors in the 1994 championships.
He claimed another third place finish in 1995 thus becoming the first four-time All-American in West Liberty wrestling history.
Davis finished his career with a sensational 99-17-1 record.
"Coach Davis also was a two-time Maryland State Champion while wrestling at Beall H.S. and was the Fort Hill H.S. Head Wrestling Coach for two years."
Monday, November 19
Youth Wrestling Sign-ups and First Practice!
Fort Hill's Youth Wrestling Program will be holding sign-ups and practice at Fort Hill's Mat Room on Tuesday, November 19th at 6:00PM. A fee of $30 will be charged and kids will be sized for team singlets at that time.
Justin Sirbaugh, a Fort Hill Wrestling alum, will be returning for his third year as the Youth Wrestling Coach. Currently a Physcology Major at Frostburg State University, Fort Hill's youth wrestling program has seen tremendous growth during Justin's tenure. Also, Justin currently serves as the Assistant Youth Wrestling Regional Director (West Region) for the state of Maryland and officiates wrestling at the High School level. Assisting Justin will be Chuck Brehm, Daryl Martin, and Jason Crowe. Jeff Appel will be coaching the Middle School wrestlers.
The full schedule can be found at www.eteamz.com/forthillmatclub . Elementary aged wrestlers will practice Tuesdays and Thursdays from 6:30PM until 8:00PM. The Junior High aged wrestlers will practice on Tuesdays and Thursdays from 5:00PM until 6:30PM, and Wednesdays from 6:00PM until 8:00PM.
If you have any questions, you may contact Justin Sirbaugh at (301) 991-6799 or Bernie Nichols at (301) 697-5441.
Friday, November 30
Fort Hill Returning 6 Seniors! Wrestle-offs on Tuesday, Dec. 4th!
The Sentinel Wrestling Team will be starting the 2007-2008 season with six returning Seniors to anchor the line-up. Returning for their final season in the red and white are Jason Merritt, Dillon Appel, Nathan Bobo, Nick Kreiner, Kris Steckman, and Richard Lowery.
The Varsity Line-up for the first match will be solidified on Tuesday, December 4th. That is when wrestle-offs will be held in the matroom starting at 3:00PM.

00-01Team Captains Austin Williams, Denny Burke, Cody Mackie, and Kurt Monington
Friday, November 30
FLASHBACK - The 2000 - 2001 Fort Hill Wrestling Team
2000-2001 Fort Hill Wrestling Team
This was the Fort Hill Wrestling Team seven years ago. They were 8-6 on the season that year with Cody Mackie, Denny Burke, Roy Payne, and Austin Williams representing Fort Hill at the State Tournament at Western Maryland College. Also that year, the Sentinels placed second at the TR Davis Memorial Tournament. Kurt Monington won the Bi-county Tournament in the 275lb class.
Row 1(sitting): Randy Davis, Jesse Lambert, Lance Dicken, Adam Fell, Roy Payne, Jared Skelley, Andrew Long, Nathan Bennett, Zack Huffman(Manager)
Row 2(Kneeling): Tom Fell, Matt Beeman, Jeff Imes, Artie Butler, Kenny Squires, Bucky Hardman, Brandon Wigfield, Mike Divelbiss, Shawn Bennett(Manager)
Row 3(Standing): Bernie Nichols(Head Coach), Jason Oates, James Divelbiss, Denny Burke, Cody Mackie, Justin Fuller, Austin Williams, Josh Tart, Kurt Monington, David Smith, Justin D'Atri, Brian Lepley(Asst. Coach)
Not Shown: Greg Stevens(Asst. Coach)
Check out this and other teams stats on this website by the year pull down menu on roster and record pages! Your stats are never lost!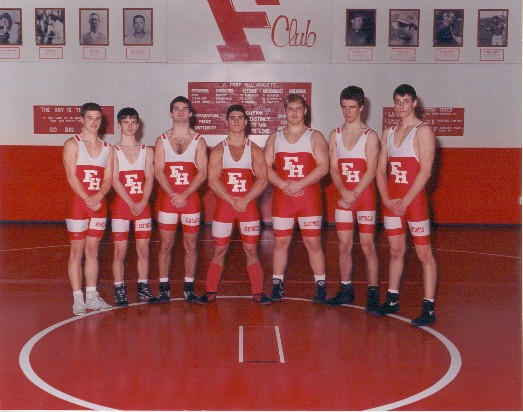 2001 Seniors Beeman, Fell, Burke, Mackie, Monington, Smith, & D'Atri
Tuesday, December 4
Congratulations WENDY JONES of LaVale on Winning the 50/50 Raffle
Wednesday, December 5
First Two Captains Selected!
Congratulations to Seniors Jake Merritt and Dillon Appel! The votes have been counted and they have been selected the first two Team Captains for the 2007-2008 wrestling season.
The last two Captains will be selected later due to the many injuries the team has suffered to start the season.
Thursday, December 6
THe Mountain Ridge vs. Fort Hill Match has been Cancelled!!!
Tonight's match up with Mountain Ridge has been cancelled due to the weather! It will be rescheduled and the date and time will be announced later.
Friday, December 12
The Sentinels Slam the Warriors!
Tonight the Fort Hill Wrestling Team opened the 2007-2008 wrestling season with a 51-25 win over a much improved Boonsboro at Boonsboro High School. Due to last week's inclimate weather, this became the Sentinel's season opener. Boonsboro had split a tri last week by losing to Williamsport 59-24 and then beating South Hagerstown 54-27.
The match started at the 130lb class by way of the draw. First year wrestler, Dominic Walters(FH) bumped up from 125lbs to 130lbs to lose a close hard fought 7-4 match with Boonsboro's D. Williams. Then Fort Hill's James Bender, 135lbs, received his first win of the year by forfeit. In the 140lb match, Team Captain Dillon Appel(FH) showed off his speed by hitting a crazy heel pick that tripped up Miller(Bo) then went straight to a pin in :45. That made the team score 12-3 in favor of Fort Hill.
Fort Hill was then on the receiving end of two forfeits at 145lbs and 152lbs. Jacob Appel and Shawn Wolfe were on the receiving end of those forfeits. Team score was then 24-3.
The next four weight classes were contested. Jake Merritt(FH), a Team Captain, totally dominated the Warrior's R. Riggs in the 160lb class that resulted in a 1:56 pin.Then C. Riggs(Bo) stopped the bad run for the Warriors by pinning Nick Kreiner(FH) in :43. It didn't last for long though as Glenn Vincent(FH) picked off their Team Captain S. McLernon in a 1:56 pin for his first varsity win. Also getting his first taste of varsity wrestling, Daniel Leasure(FH) looked as though he had done it before by pinning Ryan Peters(Bo) in 1:51. Team score was now 42-9 in favor of Fort Hill.
Although they weighed in two 215lb wrestlers, Boonsboro decided not to bump and chose to forfeit at the 285lb class instead of wrestling it. Fort Hill's Richard Lowery was the beneficiary of the deferment that aslo put the match out of reach for Boonsboro. The team score was then 48-9 in Fort Hill's favor.
That ended Boonsboro's forfeits for the final four weight classes. In the 103lb class, first timer Antonio Candler(FH) made a mistake and gave up a pin in the final seconds of the match although winning at the time of the fall. Then "true" 103 pounder Christian Wilson(FH) bumped up to fill in for 112lb Robert Vincent(FH) and succumbed to a pinning combination by D. Engle(Bo). Michael McCleanon(Bo) then drew a major decision on Andrew Harper(FH) 17-4. In the final bout, Chase Hare(FH) road out J. Miller(Bo) 11-4 to close out the win for the Sentinels. Final score was Fort Hill 51 and Boonsboro 25.
Wednesday, December 17
2007 T.R Davis Memorial Tournament Pictures!
Sunday, January 6
2008 Appalachian Mountain Athletic Conference Duals - Results
Wednesday, January 9
2008 Appalachian Mountain Athletic Conference Duals - Pics
More Pictures to Come!
Wednesday, January 9
"Why I Wrestle!" - by Davey Blake, Head Wrestling Coach at McDaniel College.
The following is a copy of an outstanding ...

Thursday, January 10
Keyser/Southern Match Pictures

Thursday, February 28
SIX SENTINEL WRESTLER"S REACH REGIONAL TOURNAMENT!


Andrew Harper (11), Jacob Appel(10), Dillon Appel(12), Jake Merritt(12), Glen Vincent(10), and Daniel Leasure(11) earned enough regional points through out the year to represent Fort Hill Wrestling in the 29th Annual 1A-2A West Region Wrestling Tournament. To advance to the 1A -2A Maryland State Wrestling Tournament, they must place in the top four of their respective weight class at the region tournament.

Andrew Harper, a junior, is in his third year as a varsity wrestler at Fort Hill. A Team Captain, Andrew has a 20-18 record in the 112lb weight class. His career record at Fort Hill is 63-42. He took third at the Bi-County Tournament this year. This will be Andrew's first Regional tournament berth and he goes in as the eighth seed.

Jacob Appel is a sophomore Team Captain with two years of varsity experience at Fort Hill. Jacob has a 23-13 record this year in the 145lb weight class. His career record at Fort Hill is now 45-27 with two more years to go. This year, Jacob has taken second place at the Super Duals, third at the T.R. Davis Memorial, third at the AMAC Duals, and third at the Bi-County Tournament. This will be Jacob's first Regional Tournament berth and he will be entering the tournament as the seventh seed.

Dillon Appel, a senior Team Captain, is in his third and final year of varsity wrestling at Fort Hill. Dillon has a 27-10 record this year in the 140lb weight class. His career record at Fort Hill is now 62-39. Dillon had another great year by capturing the AMAC Conference Championship, taking second at the T.R. Davis, forth at the Super Duals, and second in the Bi-County Tournament. This will be Dillon's second appearance in the Regional Tournament and he will be entering it as the fifth seed.

Jake Merritt, another senior Team Captain, has the best record so far at Fort Hill at 32-5 in the 160lb class. This is Jake's fourth and final year as a wrestler at Fort Hill and has a career record of 67-61. Jake has had a great year this year by taking second in the AMAC Duals, the T.R. Davis Memorial Champion, the Super Duals Champion, and by taking second at Bi-Counties. This is Jake's first Regional Tournament appearance and he will be entering it as the number four seed.

Glen Vincent, a sophomore, is only in his second year wrestling at Fort Hill and is only in his first varsity season. His current record is 24-14 in the 189lb class. Glen has taken second at the Super Duals and 3rd at the Bi-County Tournament this year. He will be entering his first Regional Tournament as the number eight seed.

Daniel Leasure, a junior, is in his third year wrestling at Fort Hill. It is his first year on varsity. His current record is 19-19 in the 215lb class. However, Daniel will be entering the Regional Tournament in the 285lb class. He also placed third at the Bi-County Tournament.

This year's tournament will be held at Mountain Ridge High School on February 29th and March 1st. Preliminaries will start at 5:00PM on Friday with the Quarter-Finals being wrestled at 5:30PM. On Saturday, wrestling will begin at 10:00AM with the Championship Finals starting at 6:00PM.

Good luck to all of these Sentinel Wrestlers in their bid to make the Maryland State Tournament!

.



Thursday, March 13
2007-2008 FORT HILL WRESTLING TEAM

(Left to Right) Front Row: Christian Wilson, Antonio Chandler, Andrew Harper, Dominic Walters, Robert Vincent, Derek Lough, Chase Hare, and Nathan Bobo. Middle Row: Jacob Appel, David Garlitz, Dillon Appel, James Bender, Colin Robertson, Jacob Bridges, Sean Wolfe, and Alex Weisenmiller. Back Row: Coach Bowser, Jake Merritt, Nick Kreiner, Brian Rice, Glen Vincent, Andrew Doyle, Daniel Leasure, and Coach Nichols



Sunday, March 16
2008 Western Maryland Spring Classic Results

Tuesday, March 18
Fort Hill Wrestling Club Walking To Summer Camp!!


It's true! The Fort Hill Wrestling Club is sponsoring a trip to Edinboro University's Wrestling Camp, June 22nd to the 26th, for junior and senior high wrestlers wishing to attend and they are walking to get there!!!

Well not literally!

The club will be holding a "Walk A Thon" to help cover the cost for these kids attending the camp supervised by the 1996 USA Olympic Team Captain Bruce Bumgartner and the Edinboro University Wrestling Team. On Saturday, April 12th, the "Walk A Thon" will start at 2:00PM. Participating wrestlers will be asking sponsors to make donations to them for walking 5 miles. Each sponsor can donate by mile or just make a general donation! The cost for the trip is $380 per participant and will give each kid an opportunity to improve their wrestling during a rewarding and memorable week at, Division I, Edinboro University!

This opportunity is open to ANY wrestler of middle school or high school age that is attending school at either Fort Hill or Washington Middle.
**

United States' Only Four-Time Olympic Medalist

Camp Director
1996 USA Captain of the Olympic Team
1996 Olympic Bronze Medalist
1992, 1984 Olympic Champion
1997 World Cup Champion
1988 Olympic Silver Medalist
1995 World Champion (3rd title)
9 World Medals (most ever)
13 World Cup Medals (most ever)
4 Pan Am Medals (most ever)
3 Goodwill Games (most ever)
15 US National Titles (most ever)
NCAA Champion
Junior National Champion
USA Wrestling Athlete of the Year
1998 EWL Coach of the Year
1998 PSAC Coach of the Year
1995 Sullivan Award Winner
Amateur Wrestling News Man of the Year
13 World and Olympic Medals (most ever)
UNBEATEN IN USA IN 16 YEARS
more medals than any wrestler in the world
charter member of the International Wrestling Hall of Fame
over 15 years of college coaching experience
2002 Distinguished Member of the National Wrestling Hall of Fame
Charter member of the International Federation Wrestling Hall of Fame (FILA)
Will Be In Attendance At ALL Camps


Wednesday, March 19



Wednesday, March 19
2007 - 2008 TEAM CAPTAINS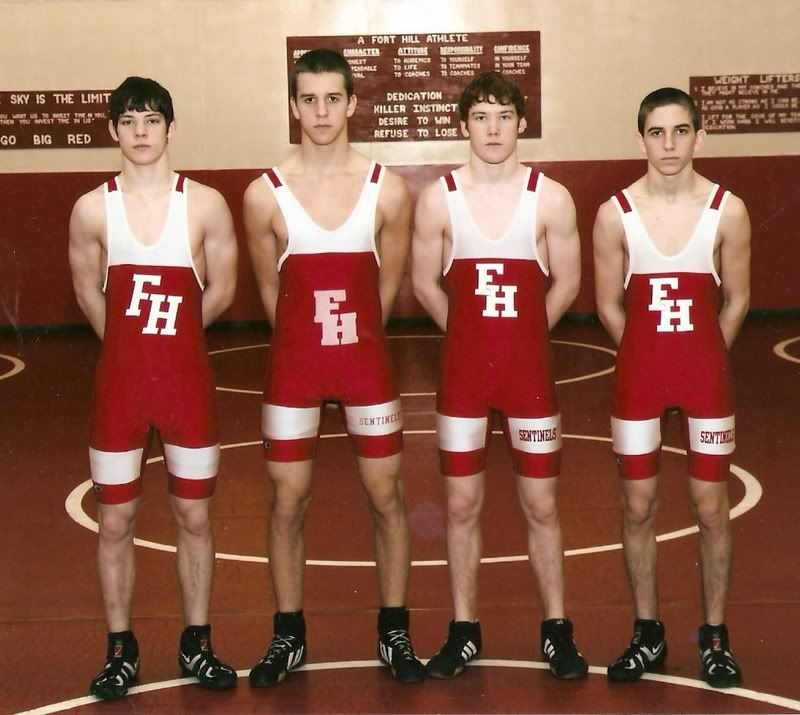 From left to right: Jacob Appel (10), Jake Merritt (12), Dillon Appel (12), and Andrew Harper (11)



Wednesday, May 28
Jake Merritt is "2008 Tommy Deihl Award Winner"!


Senior Jake Merritt closed an outstanding season and career tonight on the Fort Hill Wrestling Team by being named this year's most outstanding wrestler at the Fort Hill Sports Awards Banquet. He is just the 30th wrestler ever win this award. For more of Jake's stats just click on the above headline.