Fort Hill HS Wrestling: 2006-2007 Season

Justin Nichols as a Freshman!
Monday, November 20
We've Come A Long Way!!!
Shawn Bennett as a Freshman!
This year's Wrestling Team is returning 6 seniors from last year's team! As these pictures will show, we've come a long way in four years! These six Fort Hill Wrestlers stand as an example to the underclassman of how far you will go in four years of commitment! It's just amazing to see these pictures as look at the fine young men that they have become.
We want to congratulate and wish good luck to these four-year wrestlers! Shawn Bennett, Justin Nichols, Brad Martin, Bryan Oates, Andrew Smith, and Nathan Barnes have seen a lot of people try out for wrestling over the years only to see many of them quit! We would like to applaud their commitment and determination to the most grueling sport! WRESTLING!
ONLY A FEW SURVIVE!!!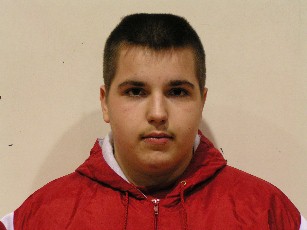 Senior Andrew Smith's Freshman pic!

Brad Martin's 9th Grade Mug Shot!
Monday, November 20
We've Come A Long Way!!! - Part 2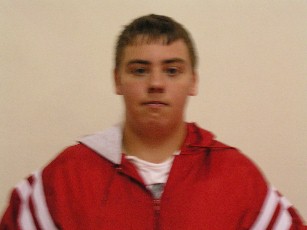 Bryan Oates in the Freshman Class!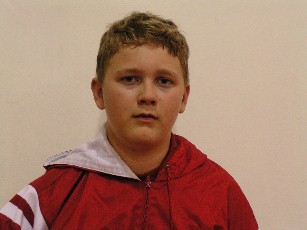 Freshman Nathan Barnes!

Justin Nichols in the Championship match!
Monday, December 18
Justin Nichols is the 2006 T.R. Davis Memorial Tournament Champion! Both of the Appels and Martin Take Third!
Brad Martin placed third!
In the last T.R Davis Memorial Tournament to be held at Beall High School, Senior Justin Nichols won the championship match by pin to capture the 119lb weight class. Placing third for Fort Hill was Senior Brad Martin in the 145lb class, Junior Dillon Appel in the 130lb class, and Freshman Jacob Appel in the 125lb class. The Sentinels finished 5th as a team.
Justin went 3-0 for the day to capture his first title. In the first round Justin pinned Allegany's Daerik Weaver in 2:19. Then he decisioned Beall's Cody Clise 4-2 in the semifinals. In the championship round, Justin pinned, last year's champion, Alex Peer of Frankfort. This is Justin's first TR Davis Championship win in four trys. He took 2nd place in 2005, 2004, and 2003.
Brad Martin loss his first match to Allegany's Austin Person but then fought back with three straight wins to capture third in the 145lb class. He defeated Josh Antionne of Uniontown by pin in :20. Then he decisioned Calvin Miller of Ridge View(SC) 8-2, and decisioned Tommy Rej of Catoctin 15-8 in the consolations finals.
Dillon Appel started his day off by pinning Kyle Sanders of Catoctin in 1:58. He then loss to Frankfort's Aaron Snoberger 11-5. Dillon would not lose again. He pinned Martiez Reed of Carver Vo-tech in 2:55 and decisioned Drew Mongold of Petersburg 3-2 in the consolations finals.
Freshman Jacob Appel started his first ever TR Davis Tournament match with a 6-0 upset win over second seeded Brandon Neal of Carver Vo-tech. He then loss in the semi-finals to Ali Samat from Ridge View. Jacob then finished the night with a pin of Andrew Cross of Catoctin in 2:15 and a pinn over Brandon Neal in 4:14 in the consolations finals rematch!
Fort Hill also had several wrestlers place fourth. They were sophomore Andrew Harper (112lbs), Senior Tyler Murphy (135lbs), and Junior Kris Steckman (285lbs).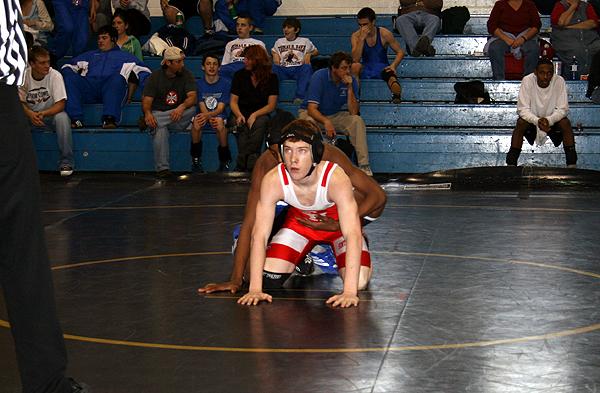 Dillon Appel preparing for an escape!
Thursday, December 20
The New 2006-2007 Team Captains are chosen!

Congratulations to the new Team Captains Seniors Shawn Bennett, Brad Martin, Justin Nichols, and Bryan Oates were all elected as captains!

Junior Jake Merritt puts his opponent into the "Guillotine"! Ouch!
Friday, December 22
Sentinels Are Flat Against Williamsport!
Senior David White wins his first match!
Although their opening match was delayed by the extended football season, the Sentinels showed more signs of the delay in practice than in the delay of their opening match. The Fort Hill Wrestling Team looked flat while dropping their season opener against Williamsport, 51-24. 

The match started with some missed opportunities and mixed results that set the tone for the entire night for Fort Hill. Bryan Oates (12) began the dual in a very bloody and close 215lb match-up, with Williamsport's Drew Williams, in which Bryan came up on the short end of a 10-8 decision. Then first year standout, David White (12), surprised everyone by just physically dominating Williamsport's Brandon Norris and pinning him in 1:32 for the emotional win in his first ever match for Fort Hill in the 285lb class. Fort Hill then forfeited the 103lb class to make the score 6-9 in favor of Williamsport. Mark Mayo then pinned Fort Hill's Andrew Smith in 4:33 during the 112lb match for a 6-15 lead. Fort Hill's 119 pounder Justin Nichols (12) then extended his record to 4-0 by pinning his opponent in 1:11 after the Wildcats bumped senior Earl NeVille to the 125lb class. In the 125lb class NeVille had a 21-6 technical fall to make the score 12-20.

Then Fort Hill had consecutive losses that it could not recover from. Fort Hill loss by a 6-2 decision in the 130lb class, gave up a pin in the 135lb class, a 20-10 major decision at 140lbs, and then a pin in the 145lb class to make the score 39-12 in favor of the Wildcats. Jake Merritt of Fort Hill then put Matt Gift (W) into a "guillotine" for a pin to make the score 39-18. The Wildcats then pinned at 160lbs and 171lbs respectively for a 51-18 lead. Sentinel Cameron Scoggins (11) then pinned Damien Coates in the final match to make the score 51-24 and to take a little bit of the edge off of a otherwise bad night. 

  
215 - Drew Williams (W) dec. Bryan Oates (FH) 10-8
285 - David White (FH) pinned Brandon Norris (W) 1:32
103 - Leggett (W) won by forfeit
112 - Mark Mayo (W) pinned Andrew Harper (FH) 4;33
119 - Justin Nichols (FH) pinned Llewellyn (W) 1:11
125 - Earl Neville (W) tech. falled Jacob Apple, 21-6
130 - Peter Smith (W) dec. Dillon Apple 6-2
135 - Robert Meis (W) pinned Tyler Murphy 2:16
140 - Jesse Duvall (W) maj.dec. Shawn Bennett 20-10
145 - Codi Trumpower (W) pinned Brad Martin 1:50
152 - Jake Merritt (FH) pinned Matt Gift (W) 1:18
160 - Jimmy Fiorita (W) pinned Andrew Smith (FH) 3:11
171 - Lake McDonald (W) pinned Sean Wolfe (FH) 0:46
189 - Cameron Scoggins (FH) pinned Damien Coates (W) 0:55

Friday, December 29
Fort Hill Wins Match!
Senior Captain Shawn Bennett going for the pin!
From Staff Reports
Cumberland Times-News
CUMBERLAND - Andrew Harper, Justin Nichols and Andrew Smith won with pins to help power Fort Hill to a 40-28 victory over Allegany in their high school wrestling match on the Sentinels' mats Wednesday evening.

In the night's other matches, Fort Hill beat Westmar 64-15, and Westmar edged Allegany 40-39.

In the Fort Hill-Allegany match, Harper and Nichols scored the night's fastest pins, Harper (103) in 25 seconds, and Nichols (119) in 23 seconds.

Smith's pin in the 160 division came in 3:01 over Alex Tompkins.

Shawn Bennett (140) won a major decision, Dillon Appel (135) and Brad Martin (145) won decisions, and Chase Hare (125), Jacob Appel (130) won by forfeit for Fort Hill.

Garrett Christ (171), Jake Twigg (189) and John Hawkins (285) won with pins for Allegany. Daerik Weaver (112), Devin Brown (152) and Jeff Link (215) won decisions.

In Fort Hill's win over Westmar, Harper (103), Nichols (125), Jacob Appel (130), Tyler Murphy (135), Bennett (140) and Jake Merritt (152) won with pins for the Sentinels.

Martin (145) won a major decision, and Chase Hare (119), Cameron Scroggins (189), Brian Oates (215) and David White (285) won forfeits.

Brandon Kyle (160) and Justin Blubaugh (171) scored pins and Josh Beckner (112) won a decision for Westmar.

The Westmar-Allegany match ended tied 39-all, and Westmar got the extra point and 40-39 win on the strength of the fifth tie-breaking criteria - most takedowns in the first period.

Chuckie Upperman (103), Beckner (119), Josh Guy (145) and Brandon Kyle (160) won with pins, with Kyle's coming in only 29 seconds.

Blubaugh (171) won by decision, and Dave Cowan (125) and Adam Kolberg (130) won forfeits for the Wildcats.

For Allegany, Ted Sarver (135) and Garet Livengood (140) scored pins, Devin Brown (152) won by decision, and Weaver (112), Twigg (189), Link (215) and John Hawkins (289) won by forfeit.

Fort Hill (3-2) wrestles again Friday, at 7 p.m., at Beall. Westmar will wrestle again Jan. 3, at Keyser, against Keyser and Petersburg.
Wednesday, January 17
Middletown Wins Fort Hill's Super Duals!
Middletown held off Fort Hill 37-33 to finished 9-0 and to win the Super Duals Tournament held Friday and Saturday at Fort Hill High School.
The hosting Sentinels wound up third at 7-2 after dropping another heart breaker to 2 nd place Brunswick 38-37, Frankfort was eighth at 3-6 and Allegany was ninth at 1-8.
Fort Hill had 10 wrestlers finish in the top four of their respective weight classes with Senior David White going 9-0 to win the heavyweight division. Andrew Harper was third in the 103 division, Justin Nichols was third in 119, Jacob Appel finished fourth in the 125 division and Dillon Appel was fourth in 130.
Newcomer Billy Weisenmiller was third in the 135 class, Shawn Bennett fourth at 140 and Andrew Smith was fourth at 160 pounds. Cameron Scoggins got a third-place finish at 189, and Bryan Oates finished second at 189.
Complete Super Duals coverage will follow.

Chase Hare Gives Us A Glimpse of Next Year!
Thursday, January 18
Fort Hill STOMPS Allegany!
David White Dominates His Match!
The Sentinel wrestling team dominated Allegany 58-18 in front of the Camper 's home crowd. That improves Fort Hill's record to 14-7 in dual meets by winning 10 of the 14 weight classes.
This dual meet started and ended in a flurry of pins with Fort Hill winning the first eight weight classes. The match started at the 285lb class where Senior Captain Bryan Oates pinned Allegany's Josh Becker in :53. The Andrew Harper (FH) pinned Brian Ressinger of Allegany in :55. Fort Hill's Nathan Bobo then received a forfeit to make it a 18-0 Sentinel lead. With Allegany required to show first, they sent out Andrew Sell in the 119lb class and was countered with up and coming Sentinel Chase Hare who recorded a pin in 1:49. Then Justin Nichols recorded his 94th career victory by forfeit when Allegany chose not to show their wrestler that weighed in that weight class for the match. Freshman standout Jacob Appel recorded a forfeit in the 130lb class to make it a 36-0 Sentinel run! In the 135lb class, Billy Weisenmiller was forced to receive a forfeit when his opponent was too heavy at the scales during weigh-ins to make it 42-0. Then Senior Captain Shawn Bennett wrestled a very good match against Garet Livengood of Allegany and scored a 12-4 major decision to make it 45-0. Allegany put up an effort by Austin Person by pinning Brad Martin (FH) in 5:25. The Jake Merritt lost a heart breaker to a very good wrestler, Devin Brown 5-2. Andrew Smith of Fort Hill continues to improve by pinning Allegany's Alex Tompkins. Garrett Christ of Allegany then pinned Nathan Barnes in the 171 lb. class to make it 51-15. Fort Hill's Cameron Scoggins slipped up with seconds left in the 3rd period to give Allegany's Jake Twigg a takedown with the score tied at 1-1 to make it a 51-18 score. Then in the most anticipated match of the night, Fort Hill's first year wrestler David White pinned Allegany's Jeff Link in 3:32 to make the final score 58-18 and to improve his record to 18-3.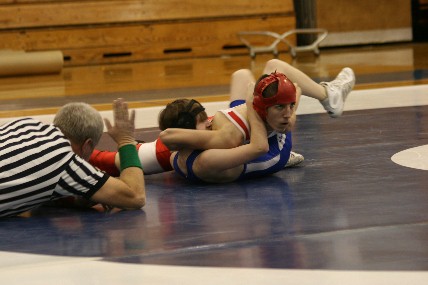 Andrew Harper Getting His Pin!

Teammates from begining to end! Seniors Justin Nichols & Shawn Bennett went 5-0!
Saturday, January 27
Sentinels Take Second at Hedgesville Duals!
103lb Champion - Andrew Harper
The Sentinel Wrestling Team went 4-1 at the Hedgesville Duals to come away with a second place finish behind Hedgesville and to improve their dual meet record to 18-8. Leading Fort Hill with 5-0 records, Shawn Bennett (140), Justin Nichols (119), and Andrew Harper (103) where champions in their respective weight classes. Dillon Appel (130), Jacob Appel (125), Bryan Oates (215), and David White (285) went 4-1 on the day.
Fort Hill loss the first match of the day to Hedgesville 51-19 but then rebounded to post four straight wins. As the day went on the Sentinels seemed to get stronger. They ten defeated Clarke County (Va.) 69-3, Preston County (WV) 45-27, Briar Woods (VA) 63-12, and Martinsburg (WV) 68-9.
It was a day of milestones. With these four wins, the Sentinels tied the most dual meet wins in a season with 18. Also, senior Justin Nichols recorded his 99th career victory, which is only 5 wins away from tying his brother Austin Williams's record of 104 wins, the most in school history. Also, 125lb Jacob Appel posted his 21st win of the year that is the most wins by a freshman in school history. And there is a lot of wrestling left in this season!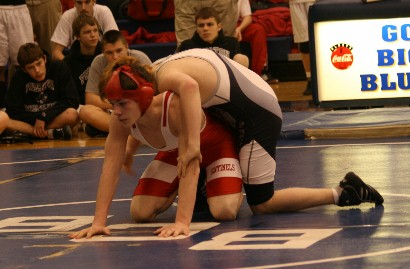 The winningest Fort Hill Freshman - Jacob Appel

Justin Nichols at 1A/2A Maryland State Tournament
Wednesday, March 7
Nichols - Oates - White Represent Well at Cole Field House!
Bryan Oates at 1A/2A Maryland State Tournament
All three Fort Hill Seniors wrestled well at the 1A/2A Maryland State Tournament this past weekend. Justin Nichols (119lbs.), Bryan Oates (215lbs.), and David White (285lbs.) all came up just short of placing but looked very deserving of their place in the state tournament.
Justin started the tournament by drawing Genleg's top ranked Brian Marcoux(28-3) in the 1st round. Despite getting the first takedown, Justin wrestled a very hard fought match against Marcoux but came up on the short side of an 11-7 decision. Then he fought back strong with a 4:05 pin of Vinny Atrip(33-10) from Stephen Decatur. In the next round, Justin pinned Chance McCree(11-3) of Edmondson Westside in 3:25 to reach the final eight wrestlers. Then Bryce Harley(24-12) from Oakland Mills decisioned Justin 8-7 in a very closly contested match. Justin closed his season with a 34-7 record which brings his career totals to 107-36.
Bryan Oates loss matches to Rising Sun's Chris Broughton(31-4) and Atholton's Malcom Stennet(23-8) in a very tough 215lb weight class. Sparrow Point's Jesse Herringer(12-6) defaulted to Bryan in the second round. Bryan Oates ended the year with a 28-12 record. A great year for a wrestler that had a decision to make on whether to wrestle at the begining of the year due to a partially detatched muscle in his left arm that is still detached today.
First year wrestler, David White, continued to inspire his team by making it to the state tournament in the 285lb class despite only weighing 211lbs. Although going 0-2 at the tournament, it was a great accomplishment for David to make it in only his first year wrestling.
As a team, Fort Hill finished 38th out of 94 schools in 1A/2A. Other local teams and there placement were Southern Garrett took 2nd just 2 points away from the top spot, Beall was in 9th, and the Dual Meet State finialist Northern Garrett took 12th. Allegany and Westmar did not place as they had no wrestlers qualify for the State Tournament. A great showing for the far west of Maryland!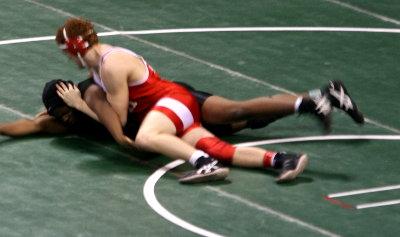 David White at 2007 Maryland State Tournament
Sunday, March 11
2007 WESTERN MARYLAND SPRING WRESTLING CLASSIC - RESULTS
Thursday, November 15
Wrestling Video 1 - Justin Nichols match at States 2007