Fort Hill HS Wrestling: 2005-2006 Season
Fort Hill Wrestling Alumni Denny Burke in the News!
From Iraq's front line
City soldier in the heart of war's worst
CUMBERLAND - Specialist Denny Burke, 22, a Cumberland resident with the Stryker Brigade Combat Team out of Fort Lewis, Wash., said soldiers who come back and say being in Iraq isn't so bad probably are not in the infantry. "That just usually means they don't leave the wire. They don't go through what we go through every day," he said.

Burke, who is with the 1st Brigade, 25th Infantry Division, 1st Battalion, 24th Regiment encamped at Mosul, Iraq, said "the wire" is perimeter of the FOB, or Forward Operating Base.

"When we leave the wire we're actually out in the city, meeting the people, getting shot at, getting blown up."


Burke said we probably heard on the news about a chow hall bombing in Iraq. "That was us. I had just left the chow hall just before the explosion. I walked out and it exploded," he said.


Three days after that, insurgents came even closer when a truck carrying 1,500 pounds of high explosives rammed the barricades at a combat outpost.


"That one killed one of my teammates," said Burke.


Named for the brothers who designed it, the Stryker is a 32-ton armored personnel carrier with eight wheels, heavier than a Humvee but smaller than a tank.

"Missions on a normal day, we go out and drive through the city, check on the Iraqi army, Iraqi Police, get out of our Strykers, knock on doors, meet and greet, shake hands, give out toys and try to get as much information as we can.

"The Iraqi people, a lot of them are actually pretty cool. We'll go into the house and they are glad we are there. They give us water, tea ..."
Others are not so friendly. "Maybe insurgents have threatened them. Others tell you they were asleep and didn't see anything. They don't want to give up their fellow Muslims," said Burke.

"The hardest thing is you can't really tell who is the enemy. People will run toward us with something in their hand and you have to make a decision about what you're going to do here. You gotta make that decision. You're about to engage. Then maybe it's just a kid, they're not paying attention. There's times guys will get built up to that point, they'll just be shaking," said Burke.

"We've seen a lot of battle. We pretty much go right in the middle of all of it. If there's any kind of shooting, we're right there with it."

During a typical day, Burke wakes up 6 a.m. and it won't end until 3 or 4 in the morning, he said. "During the election we were out 20 hours a day. We'd come in and go right back out."

Living conditions are "not the greatest, but pretty comfortable. We live in connexes, like a trailer, that fits two guys in there, we each have a bed. It's like a camper but smaller, not on wheels, moved by cranes.
"We do two to three patrols a day. Get a day off once every two weeks, might get to sleep in till 10 a.m. But then we go clean the vehicle and weapons. Even days off don't really count. Infantry is not a very glorious job," said Burke.

"We don't get the creature comforts," he said.

There's no television, however, there are places the soldiers can go if time allows, such as the MWR, or Mental Wellness and Recreation.

"You can go up there, use the computer, read books, watch movies, but we're usually too busy to mess around with that stuff.

"I usually don't get to use the phone very often, they get shut down if something happens. I usually try to keep in touch once every two weeks, but during the elections, we had little contact. It was pretty secretive what we were doing," he said.
Mosul is different from American cities, Burke said.

"A lot of the houses are really small, and they'll fit 10 to 15 people in them. When people get old, instead of moving out, they have the entire family living there.

"It's not so much poor, they just don't have the same stuff that we have, things we take for granted, like basic cable. The cities run off generators (since the U.S. arrived), only a couple of hours at a time. We give them the generators and they maintain them, and if something happens we try to replace it for them."

Burke's father, Bob Sweitzer of Cumberland, said he and Burke's mother, Liz Sweitzer, are part of a support group for about 1,000 soldiers.

"In December or January, the enemy blew up a mess tent. That was Denny's mess tent. They spent three months eating MREs, meals ready to eat. We were sending him Slim Jims and cup o' noodles and granola bars," said Sweitzer.

"Denny's job is to go outside of the wire. He got the Bronze Star With Valor. They were on top of a rooftop and insurgents drove a truck into the building with explosives. He killed the driver, a suicide bomber, but not before the truck exploded. The guy on the roof died in Denny's arms," said Sweitzer.

In another explosion, Burke had his ear drum burst. "He got a Purple Heart for that," Sweitzer said.

Burke graduated from Fort Hill High School and enlisted in 2002 and trained at Fort Benning, Ga. He's been in Iraq 10 months, was home for two weeks leave and was on his way back Saturday.

"I'm there doing my job, that's about it," said Burke. "I try not to get involved in the whole politics of it. It's just what we're trained to do."

In another two months, Burke's unit will redeploy to Germany.

Alison Bunting can be reached at abunting@times-news.com.
Fort Hill Adds New Assistant Wrestling Coach!
Coach Eric VanSlyke has been added to the Fort Hill Wrestling Coaching Staff. A native of Groton in upstate New York, his addition will bring even more valuable experience and enthusiasm to our team.
Going to high school in Groton, Coach Vanslyke played football, pole vaulted for the track team, and wrestled. Wrestling in the 155lb class in high school, he was his school's "Most Outstanding Wrestler".
He attended college at Suny Oswego State University where he wrestled. Wrestling between 167-177 pounds Coach Vanslyke highlighted his college wrestling career by placing 6th in the Division III National Qualifier. He also trained 3 Division III All-Americans while there.
Coach Vanslyke has spent numerous years coaching at the high school level. He started a team from scratch at Baltimore's St. Frances Academy where he coached three years. For two years, he was the Head Coach at Southern H.S. where he coached 8 state qualifiers and a State 5th place winner. He also served as an Assistant Coach at North County H.S. where he coached 3 State Qualifiers.
Letter to the Parents
It's wrestling season again and we're really excited! I would like to welcome the new parents to the team as well as the returning parents. Last year was a really good year and we hope to do even better this year.
For those of you that don't know me, my name is Bernie Nichols and I am entering my 9th year as the Wrestling Coach with 13 total years coaching at Fort Hill. I have been around wrestling in some form or another for the last 26 years. Also, an excellent coaching staff that is ready to instruct your child surrounds me. We look forward to coaching your child in wrestling.
The new parents are probably wondering exactly what your child is getting itself into and the old parents are probably eager to meet our new Assistant Coach Eric VanSlyke. We will be holding a very informative and organizational meeting Wednesday, November 16, 2005, at 7:00PM in the Wrestling Room. I am asking that ALL kids have at least one parent or guardian present but it would be great if both could attend.
If you have any questions or problems before then, please contact me at (301) 697-5441. I have an open door policy and would welcome the opportunity to talk to you at any time.
Practice Begins! Ten 2004-2005 Starters Return for this season!
With nine returning starters from last years 16 win squad and the addition of some new promising wrestlers, it looks to be a good season for the Fort Hill Sentinel Wrestling Team. Also, the addition of Assistant Coach Eric VanSlyke should help the team improve on last years winning ways.
We will be returning four MD 1A/2A West Region Qualifiers. Dakota Fender (25-10 in 04-05) and Michael Yost (25-9 in 04-05) will be returning for their senior season. Captains from last year's team, Justin Nichols and Shawn Bennett are both returning for their junior seasons with 23-10 records from last year.
There are ten additional returnees from last year's team. From last year's varsity team we have Brad Martin (11), Nathan Barnes (11), Andrew Smith (11), Jake Merritt (10), and Nathan Bobo (10). Returning from the Junior Varsity team are Ben Blakely (12), Joe Conners (12), Tyler Murphy (11), Brian Oates (11), and Kevin Vanmeter (10).
First Match Rescheduled!
The first match with Allegany and Westmar that was scheduled for Monday, December 4th has been rescheduled. It will now be held on Friday, December 30th, at 7:00PM at Allegany High School. We rescheduled the match to allow Allegany wrestlers that are on the football team to be able to participate in the match.
Our first match will now be against Beall High School on Thursday, December 7th at 7:30PM at Fort Hill High School.
2005-2006 Team Captains Selected!
The team has voted and the Team Captains for this season are Shawn Bennett(11), Justin Nichols(11), Dakota Fender(12), and Michael Yost(12).Both Shawn and Justin are returning Captains from last years team. This will be Dakota and Michael's first year as a Captain. Andrew Smith(11) was voted an alternate.
Williamsport Edges Fort Hill in Tie-Breaker
CUMBERLAND - At the end of the dual meet, both teams were tied at 39-39. However, Maryland does not allow ties in wrestling so the two teams were deadlocked until the fifth level of the tiebreaker determined by the offical and scorekeeper. It took the fifth level of the tiebreaker rules to decide that the Williamsport wrestlers had a 40-39 victory over Fort Hill in a dual match on Monday night on the Fort Hill mats. Each team won six matches and one forfeit apiece. In the first match points category Williamsport had a 12-11 edge for the victory.
Posting pins for Fort Hill were Freshman Andrew Harper (103), Junior Justin Nichols (119), Junior Shawn Bennett (140), Sophomore Cameron Scoggins (171) and Junior Bryan Oates (215). Sophomore Jake Merritt (152) won a decision and Senior Dakota Fender (189) received a forfeit for the Sentinels.
Williamsport had pins by Mark Mayo (112), Todd Judd (130), Jesse Duvall (135) and Rob Shawley (275). Jimmy Fiorita (145) won by a medical default, Justin Bussard (160) took a decision, and Peter Smith (125) received a forfeit for the Wildcats.
Fort Hill will wrestle again at Smithsburg on Friday at 1 p.m.
Michael Yost Brings Home the 275lb Championship!
Senior Team Captain Michael Yost won his first tournament of the season by pinning Petersburg's Kevin Dougherty in 2 minutes and 30 seconds at the 2005 TR Davis Memorial Tournament iin Frostburg. Earlier in the day, he had pinned, 3rd place finnisher, Michael Ferranti of Meyersdale in 4:45.
Also in the finals, senior Team Captain Dakota Fender and junior Team Captain Justin Nichols captured 2nd place in the 189lb and 119lb weight classes respectively. Freshman Andrew Harper placed 3rd in the 103lb class. 
Fort Hill Defeats Smithsburg and Frankfort!
The Sentinel wrestling team won both matches at Smithsburg High School on Friday. They defeated Smithsburg 45-33 and then defeated Frankfort 46-36.
Sentinel Team Captains Justin Nichols (119 & 125), Shawn Bennett (140), Dakota Fender (189), and Michael Yost (275) led their team by pinning both of their opponents. "Our Team Captains really stepped up and led the way today." Fort Hill's Coach Bernie Nichols stated.
Sophomore Dillon Appel (112 & 119) also pinned both of his opponents. Junior Bryan Oates (215)avenged an earlier season loss to Frankfort's Stephen Twigg and Sophomore Jake Merritt (145) pinned one opponent and decisioned another for the Sentinels. Freshman Andrew Harper (103) had a pin and a forfeit.
Before the last bout of the Smithsburg match the team score was 39-33 in favor of the Sentinels. Then Shawn Bennett dominated his match and pinned Smithsburg's Tyler Scott, 1 minute and 50 seconds into the 140lb class, to seal the win for the Sentinels.
Then before the last bout of the Frankfort match the team score was 40-36 again in favor of Fort Hill. This time, Senior Michael Yost fought off his back in a dramatic fashion and then pinned Frankfort's Shane Zollner to secure a 46-36 final score.
Fort Hill (3-2) next wrestles Allegany and Westmar this Friday at 7:00PM at Allegany High School.

Junior Brad Martin in Action!
Friday, December 30
SENTINELS TAKE TRIANGULAR MATCH AT ALCO!
Sophomore Dillon Appel in Control of his Match!
In a night filled with forfeits and a lot of their experience wrestlers not getting matches, the Fort Hill Wrestling team came away from Alco Friday night with a 45-29 win over Allegany and a 48-30 win over Westmar. Captains Justin Nichols and Dakota Fender both received double forfeits on the night. Andrew Smith (145), Dillon Appel (112), Nathan Greise (135), Bryan Oates (215) and Captain Michael Yost (275) all received at least one forfeit on the night.
Fort Hill wrestled Westmar first and looked sluggish to say the least. However they did come away with the win. Pinning for the Sentinels were Captain Shawn Bennett (140) and Brad Martin (130). Receiving forfeits for the Sentinels were Dillon Appel (112), Justin Nichols (119), Nathan Greise (135), Dakota Fender (189), Bryan Oates (215) and Michael Yost (275).
During the match with the Campers, Allegany built a 29-12 lead over the Sentinels just to see it evaporate into a 45-29 loss. The Sentinels then won six straight matches to put the match in the win column. Winning by pins were Cameron Scoggins (171), Bryan Oates (215), Captain Michael Yost (275), and Andrew Harper (103). Dillon Appel out scored his opponent. Receiving forfeits for Fort Hill were Justin Nichols (119), Andrew Smith (145), and Dakota Fender (189).
Fort Hill improves its record to 5-2 and wrestles next against South Hagerstown in Hagerstown next Saturday at 6:00PM.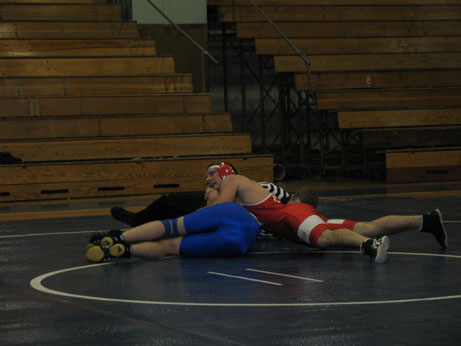 Cameron Scoggins Starts the Late Rally!
Sentinels Repel Rebels!
The Fort Hill Wrestling team defeated the South Hagerstown Rebels 51-28 in a grueling match in Hagerstown. Starting at the 119lb weight class, Captain Justin Nichols (11) started the Sentinels with a pin followed by a Brad Martin (11) pin in the 130lb class. With the score 12-12 going into the 140lb class, the Sentinels went on to win 7 of the last 10 matches of the evening. Capping off the evening Dillon Appel (10) came from behind to defeat his opponent 8-5 on a 5 point Peterson roll.
Winning by pins for the Sentinels were Captain Justin Nichols (11) at 119lbs, Brad Martin (11) at 130lbs, Captain Shawn Bennett (11) at 140lbs, Cameron Scoggins (10) at 171lbs, Captain Dakota Fender (12) at 189lbs, Captain Mike Yost (12) at 275lbs, and Andrew Harper (09) at 103lbs. Dillon Appel (10) won by decision at 112lbs and Andrew Harper (11) won on a "flagrant misconduct" at 145lbs. The Sentinels are now 6-2 and will wrestle next against Keyser and Southern Garrett in Oakland this Tuesday.
Saturday, January 14
2006 Fort Hill Super Duals - Overall Results
Thursday, January 19
Fort Hill Pins Campers
CUMBERLAND - The Fort Hill Sentinels won their 13th match of the season with a victory over Allegany Wednesday at Fort Hill.
Five Fort Hill wrestlers won by pin as Andrew Harper pinned Jeff Shaffer in 3:14 in the 103-pound class, and Shawn Bennett pinned Garrett Livengood in 4:43 in the 135-pound class.
In 145, Jake Merritt pinned Allegany's Andrew Knieriem in 3:32, while the Sentinels' Cameron Scoggins pinned Garrett Ketterman in 4:18 in 171. In the 275-pound class, Fort Hill's Mike Yost pinned John Hawkins in 1:01.
For Allegany, Devin Brown pinned Andrew Smith in 1:32 in the 140-pound class. In 152, Adam Fadley pinned Lalan Scoggins in 1:42, and Garrett Christ pinned David McMillan in 3:01 in the 160-pound class.
Fort Hill (13-5) will host Westmar today, 7:30 p.m.
Saturday, January 28
Yost, Bennett, and Nichols Lead Sentinels in CVAL Tournament!
At the 2006 Cumberland Valley Athletic League tournament held at Musselman High School on Saturday, the Sentinel wrestling team went 4-1 on the day to secure a 2nd place finish. It's the fourth straight year that Fort Hill has placed second in the CVAL behind Hedgesville. "That top spot just seems to be elusive to us. We wrestled well all day until we wrestled the Hedgesville match and then we started making mistakes. You just can't have many miscues against a team like that and expect to recover. But over all, Coach Vanslyke and I are proud of the way our kids wrestled today. We won four dual meets today and only lost one. Not bad for a team with only two seniors!" Coach Nichols stated. The Sentinels defeated Jefferson 51-24, Clarke County 48-30, Martinsburg 66-18, and Musselman 52-27 before losing to Hedgesville 52-23
Leading the Sentinels were Senior Michael Yost (275), Junior Shawn Bennett (135), and Junior Justin Nichols (119) who all won individual championships in their respective weight classes by winning all 5 of their matches on the day. Senior Dakota Fender (189) came in second with a 4-1 record just getting edged 4-2 by Hedgesville's Justin Everhart. Michael Yost and Shawn Bennett were just dominant in their weight classes all day long. However, Justin Nichols had to land a throw in overtime to pin Hedgesville's Jeremy Woolcock for his championship.
Winning the CVAL Tournament gives Michael Yost his third tournament win of the year. He had also won the T.R. Davis Memorial Tournament, and the Fort Hill Super Duals. His record now stands at 24-2.
Fort Hill (18-6) will wrestle Northern Garrett Wednesday at Fort Hill. The match will start at 7:30PM.
Sunday, February 19
Five Sentinels Earn Spots at Regional Tournament!
Fort Hill had five wrestlers, all four Team Captains, in the top eight seeds to of the 21 team 1A/2A West Region to earn a berth in that tournament to be held Friday, February 24, at Francis Scott Key High School. Dillon Appel (10), Justin Nichols 2), and Michael Yost (12) will wrestle in the first leg of the state playoff system. Andrew Harper (9) will be an alternate for the 103lb class.
Justin Nichols will enter his(11), Shawn Bennett (11), Dakota Fender (1 third straight Regional Tournament in an attempt to get his first chance to wrestle at the State Tournament. A 2nd year Team Captain, Justin, has a 25-5 record this year. He is seated third in the 119lb class. His career record currently stands at 67-25. He will wrestle Smithsburg's James Reilley (19-5) in the 1st round on Friday night.
Shawn Bennett, also a 2nd year Team Captain, will enter his second straight Regional Tournament. His current record is 23-5 and has a career record of 56-35. Shawn is seated third in the 135lb class. Shawn's first match will be against Winter Mills's wrestler Ben Larmore (17-11).
Senior Team Captain Michael Yost will be wrestling in his 3rd straight 1A/2A West Regional Tournament. He will be trying to improve on his 5th place finish last year in which he was an alternate for the State Wrestling Tournament. Michael's record is 25-5 and has a career record of 63-30. He is seated 5th in this year's tournament in the 275lb class. Michael's will meet Frederick's Geoff Fry (17-2) in the opening match.
Dakota Fender, a Senior Team Captain, will wrestle in his second straight Regional Tournament. He has a current record of 23-6. His career record now stands at 62 wins and 34 losses. Dakota is the 7th seed in the 189lb. Class and his first match will be against Luke Schuster (21-2) from Francis Scott Key.
Newcomer Dillon Appel is making his mark by reaching the Regional Tournament in his first attempt at Fort Hill. Dillon has 17 wins this season for the Sentinels. He is the 8th seed in the tournament and will wrestle Walkersville's CJ Cotterman (25-6).
Monday, February 27
NICHOLS - BENNETT - YOST GOING TO "THE SHOW" AT COLE FIELD HOUSE!
Team Captains Justin Nichols (11), Shawn Bennett (11), and Michael Yost (12) have earned a trip to represent Fort Hill in the 2006 Maryland State Wrestling Tournament to be held in Cole Field House at the University of Maryland on Friday, March 3, 2006. To earn a spot in the Maryland State Tournament, a wrestler must finish in the top 4 of their respective region tournament. The 1A/2A West Region is considered on of the toughest regions in the state and is composed of 21 teams.
Justin Nichols improved his season record to 28 wins and only 6 loses by going 3-1 in the 119 pound class at the 1A/2A West Region Tournament and placing third. In his first match, Justin defeated James Reilly (19-5) of Smithsburg in a very tough match that was decided in "Sudden Death Overtime" by an escape from the bottom. Then in the Quarterfinals, Rueben Gill (24-2) of Francis Scott Key gave Nichols his only loss of the tournament by defeating him 12-2 on his way to the 119lb Regional title. However, Justin then bounced back in the Consolation Semi-finals by avenging an earlier season loss to Mike Minch (28-5) of Brunswick by defeating him 11-4. In the Consolation Finals, Justin edged Tyler White (29-8) of Walkersville 5-4 to secure third place and a trip to College Park. Justin enters College Park with a career record of 70-6 and will wrestle Harry Philavanh (Sr., 31-3) of Stephen Decatur in the first round.
Shawn Bennett secured his spot in the 2006 Maryland State Tournament by taking 4th place in the 135lb. Class. In the Quarterfinals, Shawn defeated Ben Lamore (Sr., 17-11) of Winters Mill 5-2. Then Bret Naley (Sr., 31-2) of Boonsboro narrowly defeated Shawn 2-0 on the way to his first Regional title. Then in the deciding match in which he earned a berth at States, Shawn physically dominated Jesse Duvall (So, 23-10) of Williamsport and pinned him in 2:26. Shawn then lost to Daniel Carr (Jr., 29-4) in the Consolation Finals. His career record now stands at 59-37. Shawn will meet Ryan Buff (Sr., 36-0) of Calvert in the first round of the State Tournament.
Senior Michael Yost (27-7) extended his high school career by taking fourth place at the West Region Tournament in the 275lb. class. In the first round, Michael gave up a pin to Fredericks Geoff Fry (Sr., 17-2) in 1:33. Then he fought back by pinning Josh Hamilton (Sr., 17-13) of Beall in 2:14. Then Michael solidified his spot at States by avenging an earlier season lost to Rob Shawley (Sr., 24-7) of Williamsport by pinning him in 1:29. Geoff Fry of Frederick then defeated Michael again for third place. Michael enters the State Tournament with a 65-32-career record and will wrestle Travis Timmons (Sr., 27-3) of Snow Hill.
 The Maryland State Wrestling Tournament will be held this Friday and Saturday at the University of Maryland's Cole Field House. Wrestling will start at 2:30PM on Friday and 9:30AM on Saturday. Admission is $25 for an all session pass or $15 for single day passes.

Photo by Dave Hoffmann of HARFORD SPORTS photography
Thursday, March 9
Justin Nichols Places 6th at 2006 Maryland State Tournament!
Photo by Dave Hoffmann of HARFORD SPORTS photography
Fort Hill junior Justin Nichols (31-9), one of three Sentinels at the 2006 Maryland State Wrestling Tournament held this past weekend at Cole Field House in College Park, took the 6th spot in the 119lb weigh class. Shawn Bennett, also a junior, broke into the top 12 but did not place in the 135lb class. Senior Michael Yost went 0-2 in the tournament.
Harry Philavanh (31-3), a senior from Stephen Decatur, lost 6-2 to Justin in the first round of the tournament. Then Justin lost 6-2 in a very close quarterfinal match to Dan Bichner (28-4) of Glenelg, who would end up losing in the finals 4-3 to Matt Jackson (33-0) of Rising Sun after winning most of the match. In the wrestle backs, Justin received a forfeit from Frank Dufour (16-13) of Owings Mills. In the next match, he defeated the North Region's #1 seed, Terrance Owens (27-7) of Milford Academy, 6-4. In the Consolation Semi-finals, Justin fell to West Region Champion Ruben Gill (30-3) of Francis Scott Key 6-1. Gill had earlier semi-final loss to eventual 119lb. State Champion Matt Jackson 2-1 in overtime. Justin lost his final match 1-0 to Matt Oates (28-13) of State Champion Harford Technical in which the only points scored was a 1-point stalling call against him.
Sentinel Shawn Bennett (26-9) started the tournament by losing to eventual 135lb. State Champion Ryan Buff (39-0). Then in the wrestle backs, Shawn pinned Owings Mill's Mitchell Barker (24-12) in 15 seconds to enter the top twelve. This would be the quickest pin of the Maryland State Tournament, maybe in the history of the tournament. Shawn then loss to the East Region's #1 seed, Derek Ramano (33-9) of Stephen Decatur.
All in all, the Sentinels had a very solid 38th place showing at the State Tournament and are looking to expand on their performance next year.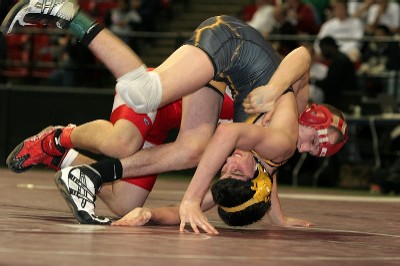 Photo by Dave Hoffmann of HARFORD SPORTS photography
Tuesday, March 14
2006 Western Maryland Spring Wrestling Classic Results
Fort Hill Sinks Boonsboro!
BOONSBORO - Justin Nichols, Brad Martin and Michael Yost scored pins to lead Fort Hill to a 52-27 win over Boonsboro in their Wednesday night wrestling match.
Nichols scored a pin over Boonsboro's Travis Reaux in 3:27 to win the 125-pound division. Martin pinned Nathaniel Miller in 1:21 in the 130 class, and Yost pinned Brian Shrewsberry in 32 seconds in a quick 275-pound match.
Andrew Harper won a major decision at 103 for the Sentinels, who also won five matches by forfeit.
In the JV 275 match, Fort Hill's Richard Lowery scored a 11-2 decision over his opponent.
The Sentinels (1-1) wrestle again Saturday in the T.R. Davis Tournament, which starts at 10 a.m. at Beall.