Fort Hill HS Wrestling: 2003-2004 Season
WE NEED HELP ON TUESDAY NIGHTS!
Currently, we have been holding BINGO on Tuesday nights at the Allegany County Fair Ground's Multipurpose Building with the F-Club. If you have not worked yet please contact Coach Nichols or his wife to schedule a night! It's smoke free, relaxed, airconditioned, and actually fun! I really would appreciate your support on this so that we can be covered for summer vacations. Atleast 10 parents have worked every week so far with several of them taking vacations now or in the very near future. As always, you support is greatly appreciated!
We Have a New Site Address - "www.forthillwrestling.com"
If you are like me, it's been hard to explain our web address to family and friends. Well it has just got a lot easier! You can now use www.forthillwrestling.com. It can't get much easier than that! The old address is still good but now you can use our easier to remember www.forthillwrestling.com. Tell your friends and family about it and have them visit often.
Why would people want to visit forthillwrestling.com? This website is filled with the latest news, scores, schedules, pictures, and information on the Fort Hill Wrestling team and the teams they wrestle against. Also, you can get driving directions to and from Fort Hill HS. We have a guest book, chat room and message boards. Alumni can get their stats, scores, and pictures from the season in which they wrestled. We are really lucky to have such a site so share it with anyone and everyone that you can! Have them sign up to be a member at the "Be a Member" link on the left side above the counter.
************************Coming soon***********************
For a small fee, you can purchase a email address from forthillwrestling.com. For example, your email address could be coach@forthillwrestling.com. More information to follow! Email me if you would be interested.
Congratulations to $100 Raffle Winner!
Ronald Deter purchased the winning raffle ticket to win $100. The raffle was based off of the Maryland Evening Pick Three number on 10/28/03, which was 620. We thank you for your support!
I would also like to thank Danny Dicken. He sold the winning ticket. Danny worked really hard and sold a large majority of the total tickets sold! So if you see Danny, congratulate him on a great job!
Preaseason Poll
Thank You Dr. Palin!
We would like to express our sincere gratitude to Dr. William Palin, Jr. for his time and services to the Fort Hill Wrestling Team. Dr. Palin and his assistant took time out of their busy schedule to come to Fort Hill and perform over 20 physical examinations at no cost for members of the wrestling team. If you see Dr. Palin, please let him know how much you appreciate his assistance!
It's Started!
The season started today for the Fort Hill Wrestling team with Mini-Camp at Fort Hill HS. It was a long and physical day but everyone stuck it out and gave 100%! Expectations are high about this season with the large amount of returning starters from last year and the arrival of six skilled freshmen from the Mat Club.
To start the season, the Sentinels have 8 seniors, 5 juniors, 9 sophomores and 9 freshmen wrestlers. The seniors for this squad are Jared Skelley, Artie Butler, Chris Brown, Jason Oates, Jesse Lambert, Kenny Squires, Michael Hupe, and Scott Ferguson. Both Artie Butler and Jason Oates are returning Team Captains from last year's team. Returning Regional Qualifiers are Jared Skelley, Artie Butler, Chris Brown, Jason Oates, and Brandon Abe. Jesse Lambert was an alternate.
Senior Chris Brown comes into the season leading the Sentinels in career victories with 46 wins in his three years as a Varsity Letterman. Also, he was last years Fort Hill Super Dual Meet Champion in the 145lb class.
2003-2004 Team Captains!
Artie Butler, Chris Brown, Justin Sirbaugh, and Jason Oates
Fort Hill to Open with Allegany and Westmar on Friday!
The Sentinel Wrestling team will open the 2003-2004 wrestling season with a Tri-match against cross-town rival Allegany and Westmar at Fort Hill HS at 6:00PM on Friday. The Junior Varsity Matches will begin at 5:30PM. The kids have worked hard and this is the first chance they will have to showcase their talent. Please get as many people as you can to come out and support the Wrestling Team!
This year's varsity squad consists of seven seniors, two juniors, two sophomores, and three freshmen. Michael Hupe (103lbs.), Jared Skelley (125lbs.), Jesse Lambert (135lbs.), Artie Butler (140lbs.), Chris Brown (145lbs.), Kenny Squires (160lbs.), and Jason Oates (215lbs.) are the returning seniors. Junior wrestlers are Billy Aldridge (130lbs.) and Justin Sirbaugh (160 lbs.). Making Varsity for their sophomore year are Dakota Fender (189 lbs.) and Michael Yost (275 lbs.). Moving up from our youth program will be freshmen Justin Nichols (112lbs.) and Zack Huffman (119 lbs.). To follow individual and career stats, just go to the "Roster" page and click on each individual wrestler's name.
This tri-match is very important for the Sentinels! So please, get out and support them!
Guidelines for Nutrition for Wrestlers
Click on the above headline for important information from the MPSSAA concerning wrestlers and proper nutrition!
Allegany/Westmar Match Posponed due to weather!
It will be rescheduled at a later date! Practice will be held at regularly scheduled time on Saturday!
Fort Hill Drops Opener to Beall!
It was a roller coaster ride for both teams but the Beall wrestling team had what it took to stay on top in the end. Beall (1-0), ranked 5th in the 1A/2A polls, defeated Fort Hill (0-1) by a score of 40-34 in a dual meet that went down to the wire.
It began by looking like it was going to be a very long night for the Sentinels. With the matches starting at the 130lb weight class, Beall mounted a 24-0 lead with four of their five pins on the night coming one after the other at the very start of Saturday's match. Nathan Jackson, Chris Lewis, Jeff Brant, and Ryan Lewis started the charge for Beall with pins in the 130lb, 135lb, 140lb, and 145lb weight classes. Finally in the 152lb class, Fort Hill's Chris Brown started the charge back for the Sentinels with a pin in 2:57 over Beall's Dave Winner. Then Fort Hill's Kenny Squires (160lb class) and Justin Sirbaugh (171lb) both recorded pins to close the score to 24-18.
Then Beall's Chris Lindeman (189lb) pinned his Fort Hill opponent in 3:55 to widen the score to 30-18. In the 189lb Class, Beall's Cody Miller scored a 11-1 major decision to make the score 34-18. Michael Yost, Fort Hill's heavy weight, then pinned Beall's heavy weight in 1:28 to bring the score to within 10 points at 34-24. Then Fort Hill's Michael Hupe (103lb) brought the score to 34-30 with a pin.
Then the Sentinel's caught Beall for the first time. Freshman Justin Nichols scored a 11-2 major decision to take Fort Hill into a 34-34 tie. Beall then roared back with a 5-2 decision by Brent Walker to go back ahead of Fort Hill 37-34.
The final match sealed Fort Hill's fate. A win would have insured at least a tie and a pin would have made it a dual meet victory. However, Beall's Travis Dixon who is currently ranked in the 1A/2a polls would have none of that. His 4-0 win in the final match was just enough to seal a 40-34 victory for Beall.
Herald Mail Wrestling Article - Click here!
I would like all wrestlers to read this article. Let me know what you think!

Senior Chris Brown getting the pin!
Sentinels too much for Boonsboro!
Shawn Bennett gets 1st Sentinel win!
The Fort Hill Wrestling team traveled to Boonsboro Thursday night to make up a match that was previously scheduled for Wednesday night and came away with a 61-16 victory. It's always hard to "get up" to make weight and wrestle after a day off from school but the Sentinels made weight and won 11 of 14 matches.
The match started at the 103lb class. Michael Hupe started the night with a forfeit. Then Bret Nalley, Boonsboro's 112lb wrestler, got a pin in 1:50 to knot it up at 6-6. Then the Sentinels took a 12-6 lead with Zach Huffman receiving a forfeit. In the next match at 125lbs, Boonsboro's Jon Wood got an 8-0 decision to make it 12-10. Not to be outdone, Fort Hill's Freshman Shawn Bennett rode "legs" to a 9-0 victory and his first varsity win to make the score 16-10. Then Fort Hill's Billy Aldridge (135lbs), Artie Butler (140lbs), and Mark Fairbanks (145lbs) all received forfeits that gave the Sentinels a 34-10 lead. In the 152lb class, Fort Hill's Chris Brown recorded his second straight pin to take the score to 40-10. Fort Hill's Kenny Squires then received a forfeit in the 160 lb class to up the score to 46-10. Then Boonsboro's Dan Harman fought for a pin in the 171lb class which would be Boonsboro's final team points at 46-16.
Fort Hill then took the next three weight classes. Dakota Fender wrestled to a 13-10 victory at 189lbs. Then Jason Oates received a forfeit to make it 55-16. And finally, Sophomore Michael Yost completely dominated his opponent for his second straight pin in the 275lb Class in 1:48 to make the final score 61-16.
Hupe and Nichols Runners-up at TR Davis!
Senior Michael Hupe and Freshman Justin Nichols made it to the finals at the 2003 TR Davis Memorial Tournament in their respective weight classes. Michael Hupe made it to the finals by pinning his Century opponent in 4:38. Then Justin Nichols came back in the final seconds to beat his, previously unbeaten, Meyersdale opponent 11-10 to advance.
Also, the Sentinel's had 4 wrestlers place 3rd and one place 4th. Freshman Zack Huffman defeated his Century opponent 17-1 in the Consolation Finals. Senior Artie Butler placed third in the 140 lb class by avenging an earlier loss to Beall's Jeff Brant with a 13-8 victory. Junior Justin Sirbaugh pinned his opponent in: 57 to place third in the 171lb class. Then Senior Jason Oates had a 9-5 decision against Beall's Linderman to take third at 215lbs. Chris Brown Placed fourth in a very tough 152lb class.
Complete Results:
Team Scores
Beall (Be)-177
Century (Ce)-131
Meyersdale, PA (Me)-108
Everett, PA (Ev)-106.5
Uniontown,PA (Un)-101.5
Fort Hill (FH)-94
Frankfort, WV (Fr)-72
Carver Vo-Tech (Ca)-68
Westmar (We)-43
Allegany (Al)-20
Lake Clifton (LC)-0
Results
103
1-Alex Grassi-Ce 5-3
2-Mike Hupe-FH
3-Reed Houston-ME 6-3
4-Cory Wright- Be
112
1-Chris Taber-Ce 12-2
2-Justin Nichols-FH
3-Ryan Murray-Me 10-6
4-Alex Tenaglio Be
119
1-Shaun Snoberger-Fr 9-4
2-Brent Walker-Be
3-zach Huffman-FH 17-1
4-Jordan Black-Ce
125
1-Travis Dixon-Be 1:27
2-Maurice Jones-Ca
3-Keith Hoyman-Me 1:34
4-Josh Ours-Fr
130
1-Nathan Jackson-Be 6-4
2-Evan Schrodel-Ce
3-Justin Schardt-Me :44
4-Bobby Holt-Un
135
1-Pat Smith-Me 1:38
2-Devon Williams-Ca
3-Chris Lewis-Be 1:08
4-Wayne Perkins-We
140
1-Brandon Johnson-Ca 9-2
2-Jason King-Un
3-Artie Butler-FH 13-8
4-Jeff Brant-Be
145
1-Nathan Klingensmith-Un 5-1
2-Dan Ackerman-Me
3-Ryan Lewis-Be 8-7
4-Stephen Kasper-Ce
152
1-Devin Bosley-Fr 1:22
2-David Winner-Be
3-Jacob Brambley-Ev 1:16
4-Chris Brown-FH
160
1-Andrew Nave-Ev :38
2-Matt Marchinko-We
3-Matt Seller-Ce 1:58
4-Kyle Parry-Be
171
1-Bill Lamens-Ev 16-2
2-Willie Castilo-Fr
3-Justin Sirbaugh-FH :57
4-Paul Sagal-Be
189
1-Jeremiah Ditmore-Un 18-8
2-Cody Miller-Be
3-Adrian Ritchey-Ev 3:58
4-Brad Winner-Me
215
1-Wade Grimes-Ev 2:52
2-Dan Newton-Un
3-Jason Oates-FH 9-5
4-Chris Lindeman-Be
275
1-Nick Rowe-Ce 1:07
2-Nathan Ullery-Al
3-Jason Labor-Be 6-3
4-Chris Shockey-We
Outstanding Wrestler: Devin Bosley Frankfort, Wv
Most Pins: Nick Rowe Century
Wrestlers share magical moment - A Must Read!
LINCOLN - Lincoln East Coach Marty McCurdy's wrestling room is loaded with talent.
Lincoln ...
''Commitment''
There is a difference between interest and commitment; when you are interested in something you do it only when it is convenient; When you are committed to something you refuse to accept excuses, only results.
Fort Hill drop Petersburg!
The Sentinel Wrestling team ended 2003 with a dominating performance against the Petersburg Vikings. By winning 10 of 14 weight classes, Fort Hill won by a score of 57-22.
The match started at the 140lb-weight class. In that weight class, Artie Butler (FH) started the Sentinels to a 6-0 score with a :49 pin. Then Petersburg's Michael Reynolds tied the score at 6-6 with his 1:23 pin. Fort Hill's Chris Brown and Kenny Squires then up the score to 18-6 with their pins at 152lbs and 160lbs respectively. At 171lbs, Justin Sirbaugh (FH) scored a takedown with :15 seconds left in the third period to decision his opponent 8-7 and increase the team score to 21-6.
The Vikings then took 2 of the next 3 matches. Sean Doughtery got a 1:00 pin for the Vikings in the 189lb class to make the score 21-12. Then Senior Jason Oates (FH) pinned his opponent in :31 to make the score 27-12. However, Petersburg's Zack Poland tried to get something started with an :08 pin in the 275lb class to narrow the lead to 27-18.
The Sentinels then sealed the match by winning five of the last six weight classes. Fort Hill's Michael Hupe received a forfeit in the 103lb class to make the score 33-18. Jonathan Geary then recorded the Vikings last win with a 13-1 decision to make the team score 33-22. Fort Hill then recorded pins by Zack Huffman, Jared Skelly, Shawn Bennett, and Billy Aldridge to make the score 57-22.
Fort Hill is now 2-1. They will travel to South Hagerstown on Saturday for a 3:00PM match.
Complete Results:
140 - Artie Butler(FH) pinned Tyson Reel(P) :49
145 - MIchael Reynolds(P) pinned Derrick Humbertson(FH) 1:23
152 - Chris Brown(FH) pinned Kevin Clark (P) 2:55
160 - Kenny Squires(FH) pinned Nathaniel Mongold(P) :52
171 - Justin Sirbaugh(FH) dec. Woth Harper(P) 8-7
189 - Sean Doughtery(P) pinned Dakota Fender(FH) 1:00
215 - Jason Oates(FH) pinned Chris Hedrick(P) :31
275 - Zack Poland(P) pinned Michael Yost(FH) :08
103 - Michael Hupe(FH) won by Forfiet
112 - Jonathan Geary(P) dec Justin Nichols(FH) 13-1
119 - Zach Huffman(FH) pinned Sheena Secrist(P) :33
125 - Jared Skelley(FH) pinned Trevor Wolford(P) 3:17
130 - Shawn Bennett(FH) pinned Drew Mongold(P) 3:08
135 - Billy Aldridge(FH) pinned Casey Western(P) 3:39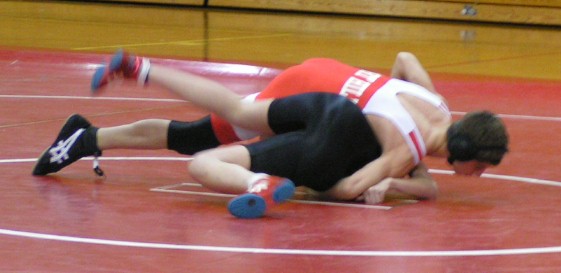 Zack Huffman getting the pin!

Artie Butler gets a quick pin!
Sentinels earn family-style win
Ryan Cassell earned his first win!
by ANDREW MASON
andrewm@herald-mail.com
The South Hagerstown vs. Fort Hill wrestling match was like a good family tussle Saturday afternoon. It kept going back and forth, back and forth.
The Rebels got the early wins they needed from their brothers, Jake and Adam Hockensmith, but not the necessary late points from their Cousins as the Sentinels captured the lead for their third and final time in the next-to-last bout on the way to a 43-33 victory.
"It was definitely a barn-burner. It was fought hard on both sides," Fort Hill coach Bernie Nichols said. "I love matches like that. That's what makes wrestling great."
With the Sentinels (3-1) clinging to a 37-33 lead, Nichols' son, Justin, sealed it in the final bout at 112 pounds, pinning Reggie Cousins in the second period.
Trailing 33-31, Fort Hill regained the lead for good at 103, getting a first-period pin from Michael Hupe.
"I have two really good lightweights, but I wasn't putting it in the bag," Bernie Nichols said. "South was more up for the match than I thought we were. They definitely showed up today. ... Those Hockensmith boys really looked good."
Jake Hockensmith, a sophomore, won a 9-0 major decision over Jared Skelley at 125 to cut the Rebels' deficit to 6-4 in the day's second bout. Adam Hockensmith, a senior, followed with an even more dominating performance at 130, building an 11-0 lead on Shawn Bennett before pinning him early in the second period for a 10-6 South edge.
Adam Hockensmith credited some of his success to his younger brother.
"We have different styles. I'm more of technical wrestler and Jake's more of a brute," he said. "We've started wrestling this year in practice for the first time, and it's really working well. Jake and Terrell Blair are my training partners."
Blair extended the Rebels' lead to 15-6 at 135, teching out Bill Aldridge 23-5 in 5:11.
After Ardie Butler answered for the Sentinels with a quick pin at 140, Roger Kline got the points back for South (3-4) with a second-period pin at 145.
Fort Hill then won three straight matches - a major decision at 152, pin at 160 and forfeit at 171 - for a 28-21 advantage.
After South's Eric McPherson made it a one-point match with a second-period pin at 189, Fort Hill's Jason Oates made it a four-point contest, 31-27, barely holding off late-charging Brandon Carbaugh for a 7-6 decision.
That set the stage for Phillip Powell at 275. Making his wrestling debut, the Rebels senior, who joined the team earlier in the week, decked Michael Yost in 26 seconds for the day's quickest fall and a 33-31 South lead.
"I wasn't even looking at the score," Powell said. "I just had to stay focused. That was my first match ever. I just started practicing four days ago. I didn't know what to expect. ...
"Then I looked up at the score and saw that we were winning."
However, with the Fort Hill lightweights on deck, that lead didn't last long.
"We were disappointed with how it ended," Adam Hockensmith said. "We all want to win as individuals but we still want to win as a team."
© 1996-2003 The Herald-Mail Company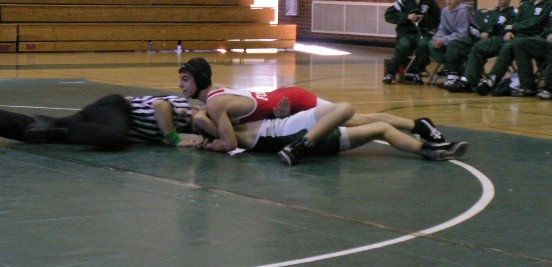 Zach huffman wins another match!

Billy Aldridge getting the pin!
Sentinels too much for Allegany and Westnar!
Jared Skelley on his way to a win!
The Fort Hill Wrestling team dominated their triangular match against Allegany and Westmar. By the end of the night, the Sentinels had only lost 2 individual matches in route to a 78-6 win over Westmar and a 70-6 over cross-town rival Allegany. The matches started at the 189lb class. Here are the complete results:
Fort Hill – 70
Allegany - 6
189 - Dakota Fender(FH) pinned Eddie Davis(A) 5:38
215 - Jason Oates(FH) won by Forfiet
275 - Nate Ullery(A) pinned Michael Yost(FH) 1:04
103 - Michael Hupe(FH) pinned Alex Tompkins(A) 1:54
112 - Justin Nichols(FH) won by Forfiet
119 - Zach Huffman(FH) pinned Devin Brown(A) :35
125 - Jared Skelley(FH) pinned Seth Stavala(A) :32
130 - Shawn Bennett(FH) pinned Zach Klepstein(A) 4:28
135 - Billy Aldridge(FH) pinned Adam Fadley(A) :58
140 - Artie Butler(FH) dec. Andrew Hare(A) 16-6
145 - Chris Brown(FH) won by Forfiet
152 - Kenny Squires(FH) pinned Ryan Barnes(A) 2:57
160 - Double Forfeit
171 - Justin Sirbaugh(FH) pinned Derek Lewis(A) 2:13
Fort Hill - 78
Westmar - 6
189 - Dakota Fender(FH) pinned John Kephart(W) 1:33
215 - Jason Oates(FH) won by Forfiet
275 - Michael Yost(FH) won by Forfiet
103 - Michael Hupe(FH) pinned Jesse Nightengale(W) 1:54
112 - Justin Nichols(FH) pinned Chris Fazenbaker(W) 1:00
119 - Zach Huffman(FH) pinned Scott Broadwater(W) 1:12
125 - Jared Skelley(FH) pinned Jesse Green(W) 1:35
130 - Shawn Bennett(FH) pinned Adam Fazenbaker(W) 1:24
135 - Billy Aldridge(FH) pinned Wayne Perkins(W) :46
140 - Artie Butler(FH) pinned Jeff Paugh(W) 3:43
145 - Chris Brown(FH) won by Forfiet
152 - Kenny Squires(FH) won by Forfiet
160 - Justin Sirbaugh(FH) won by Forfiet
171 - Matthew Marchino(W) pinned Andrew Smith(FH) :354
2004 FORT HILL SUPER DUAL MATCH RESULTS
2004 FORT HILL SUPER DUALS FINAL STANDINGS
Eagles power their way to CVAL Title!
Freshman Zach Huffman was the 119lb CVAL Champion!
By ROBERT NIEDZWIECKI
Martinsburg Journal Sports Writer
MARTINSBURG - The Hedgesville wrestling team found itself down 17 to Fort Hill, Md., in the last round of dual matches at the Cumberland Valley Athletic League tournament Saturday.
That was pretty much the situation Hedgesville coach Bill Whittington expected to be in heading into the 152-pound weight class of the matchup between two teams that were 3-0 at the time. He didn't expect to lose though, and his upper-weight wrestlers showed why.
The Eagles won their third consecutive CVAL title and fourth in five years by winning the last six matches - five by fall - to claim a 42-26 victory against the Sentinels. Jefferson took third with a 2-2 mark, Martinsburg was fourth at 1-3 and Musselman was 0-4.
Each team also picked up an extra dual victory because Wilson, D.C., failed to show. Wilson was also invited and competed last year to even out the field.
"I sat down and planned it out earlier in the day," Whittington said. "We had to make a run, and from 152 to the top we had a power drive."
Troy Foltz started things off at 152 with a quick 21-second pin. Jared Sella would then grab a 2-0 decision at 160 pounds, but Brad Ammons, Derrick Young and Josh Nicholson would all get pins in less than 1:15, and Mike Barrett would close things out with another pin.
Nicholson's win was the clincher, and he clearly thought his team was capable of the comeback.
"From 152 up I think we're the best in the region," Nicholson said.
Nicholson said he realized the importance of his match, in which he defeated Jason Oates.
"There was so much pressure and it was kind of scary," he said. "I pinned him last year in the third period. He's a big boy, their team captain.
"It was a great team effort."
Nicholson had a chance to win the Jefferson Invitational earlier this year, but he tired late in the final and was pinned with just 34 seconds left said. He said his teammates and coaches have helped him and shown him a lot of support since then.
"He stepped it up - he's a gamer," Whittington said. "He put us over the top in our dual with North Marion (in December). He's won some big matches for us."
The Eagles defeated Jefferson 51-23, Musselman 51-22 and Martinsburg 48-25. Those winning weight-class titles for the Eagles (a wrestler had to compete in at least three matches in a weight class to win a title) were Josh Grim at 125 pounds, Sella at 160, Ammons at 171, Young at 189 and Nicholson at 215.
All except Grim, who went 3-1, had 4-0 records Saturday.
Young's pin against Fort Hill was the 101st of his career.
"He's been wrestling with a dislocated shoulder all year," Whittington said. "He's so damn courageous. I'm really proud of the way he's wrestled."
Finally, Jefferson's Codie Gustines didn't win a weight-class title. That's only because he split his matches between the weight classes of 135 and 140, winning two matches at each spot to remain undefeated (27-0) on the season. In the process he also won his 100th career match, and is now 102-14 overall.
His brother, Corie, also went unbeaten, going 4-0 in the 152-pound weight class in what was probably the most impressive accomplishment for any individual on the day. That's because the weight class contains Hedgesville's Troy Foltz, who won the Jefferson Invitational and owns two wins over Gustines, and Martinsburg's Jesse Jarvis, who owns one.
The trio provided some of the closest matches of the day.
Gustines defeated Foltz 5-4 in overtime when Foltz was penalized for stalling. Foltz defeated Jarvis 3-2 in a match that was tied entering the third, Jarvis just missing on a potential takedown with seconds to go. Gustines got an escape with 31 seconds left to break a 2-2 tie with Jarvis, eventually winning 5-3.
"It should help his confidence," said Jefferson coach Chad Billy of Corie Gustines' win over Foltz. "Hopefully he'll use it to his advantage."
Scott Chapman won at 112 pounds. Jon Smith went 4-0 for Jefferson in similar fashion to Gustines, splitting four wins between 130 and 135.
Jefferson defeated Musselman 40-34 and Martinsburg 45-22. The Cougars lost to Fort Hill 40-30.
From 130 to 145 pounds, Martinsburg swept weight-class titles, with Dane Henry going 3-1 at 130, Chris Conner going 3-1 at 135, Mike Barbour going 4-0 at 140 and Robert Conner 4-0 at 145.
The Bulldogs defeated Musselman 42-36 and lost to Fort Hill 48-29.
Musselman had three wrestlers go 4-0, with Billy Barrett (125 and 130 pounds) and Jesse Minor (135 and 140) splitting their wins and Dustin Haislip (3-0 at 103) and Kyle Hendrickson (4-0 at heavyweight) winning their weight classes, Haislip also won one match at 112.
"Against Hedgesville and Jefferson, that was the best we've wrestled them," Musselman coach Mark Cagle said. "We were one match away from beating Jefferson and Martinsburg."
The Applemen elected to not take a forfeit at 215 by wrestling at 189 in that match, preventing a possible tie.
Haislip had an impressive win when he moved up to 112 pounds against Hedgesville, beating Joe Shetler 9-4.
"I'm trying to prepare them for regionals and state," Cagle said. "Win or lose, we didn't care."
Fort Hill had one champion in Zach Huffman, who won at 119.
- Robert Niedzwiecki can be reached at 263-8931, Ext. 234, or by e-mail at sports@journal-news.net.

Justin Sirbaugh getting one of his 2 pins on the night!
Fort Hill Beats Northern Garrett; Drops Beall Match
Senior Artie Butler on his way to another win!
The night of wrestling went pretty much as billed at Fort Hill Wednesday night! Before a packed gym, the Sentinel Wrestling team defeated Northern Garrett 42-28 while the Southern Rams handed Beall its first loss 41-18. It was Beall's first loss dating back to last years Dual Meet State Finals against Owings Mills. Both dual matches were hard fought and a real treat for area wrestling fans!
It was an up and down night for the Sentinels. First winning a hard fought match with Northern Garrett and then losing to Beall. Only Senior Jason Oates and Junior Justin Sirbaugh won both of their matches on the night.
Complete Results for Fort Hill:
Fort Hill - 42 Northern Garrett - 28
130 - Eric Garlitz(N) dec. Jared Skelley(FH) 8-6
135 - Mike Moyer(N) dec. Billy Aldridge(FH) 6-0
140 - Artie Butler(FH) dec. Rocco Andrews(N) 16-13
145 - Chris Brown(FH) pinned John Andrews(N) :35
152 - Kenny Squires(FH) dec. Remmington Friend(N) 12-5
160 - Justin Sirbaugh(FH) pinned Nick Payne(N) 1:52
171 - Brandon Opel(N) pinned Andrew Smith(FH) 1:57
189 - Brock Glotfelty(N) Tech Falled Dakota Fender(FH) 15-0
215 - Jason Oates(FH) pinned Shane Snider(N) 4:12
275 - Michael Yost(FH) pinned Jarod Beachy :40
103 - Casey Kamp(N) Tech Fall Michael Hupe(FH) 16-1
112 - Justin Nichols(FH) pinned Randy Wilhelm(N) 3:02
119 - Zach Huffman(FH) pinned Travis Glover(N) 1:13
125 - Jake Clark(N) pinned Shawn Bennett(FH) 1:49
Beall - 52 Fort Hill - 12
130 - Chris Lewis(Be) pinned Shawn Bennett(FH) 1:18
135 - Jeff Brant(Be) dec. Billy Alderidge(FH) 8-0
140 - Ryan Lewis(Be) pinned Artie Butler(FH) 2:24
145 - Dave Winner(Be) dec. Chris Brown(FH) 13-11 in OT
152 - Kyle Parry(Be) pinned Kenny Squires(FH) 1:17
160 - Justin Sirbaugh(FH) pinned Paul Sagal(Be) 5:03
171 - Clay Miller(Be) pinned Andrew Smith(FH) :58
189 - Chris Lindeman(Be) dec. Dakota Fender(FH) 11-10
215 - Jason Oates(FH) pinned Jason Wilson(Be) 1:40
275 - Jason Laber(Be) pinned Michael Yost(FH) 1:23
103 - Alex Tenaglio(Be) dec. Michael Hupe(FH) 3-2 in 2OT
112 - Brent Walker(Be) dec. Justin Nichols(FH) 13-11 in OT
119 - Nathan Jackson(Be) dec. Zach Huffman(FH) 8-5
125 - Travis Dixon(Be) dec. Jared Skelley(FH) 8-5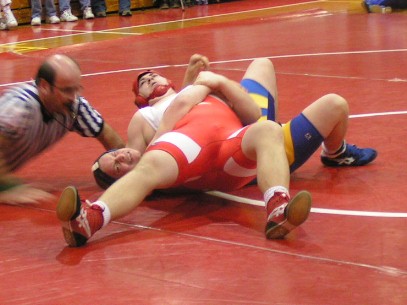 Sophomore Michael Yost getting a pin!
Jared Skelley Wins Bi-County Championship; FH takes 3rd!
Senior Jared Skelley had a great night as he knocked off top ranked Daniel Carr in the Championship of the 125lb Class at the Bi-County Tournmament at Westmar! Jared had a great night and truly wrestled to his potiental the entire night! He also beat Beall's Brian Lewis.
The Sentinels placed third behind Bi-County Champions Beall, and runner-up Southern Garrett. Behind Fort Hill was Northern, Westmar, then Allegany.
The Sentinels had three of it's wrestlers place second. Freshman Justin Nichols in the 112lb class, Senior Chris Brown in the 145lb class, and Senior Kenny Squires in the 152lb class all made it to the finals.
Finishing third for Fort Hill was Freshman Zach Huffman, Junior Billy Aldridge, Senior Artie Butler, and Senior Jason Oates.
2004 Regional Tournament Seedings - Click Here
Zach Huffman Qualifies for Cole Field House!
Freshman Zach Huffman capped off a terrific year by placing 4th in the 119lb class at the 1A/2A West Regional Tournament last Saturday. That finish qualifies him for a berth in the 1A/2A State Wrestling Tournament at Cole Field House. This will be the first freshman to qualify in a long time at Fort Hill.
Senior Jason Oates placed 5th to become an alternate for the 215lb Class.
Zach Huffman's Future Shines at States!
By going 2-2, freshman standout Zach Huffman (26-13) gave notice about where he's heading in wrestling at the Maryland State Tournament. Although he came up short of his goal this year, he's shown everyone at Cole Field House that he is capable of achieving it! He wants a State Championship! The State Tournament is a long and tough two days. Zach started the tournament with a 5-0 loss to junior Nick Rukstela (32-3) of North Caroline in the first round. Rukstela was the number one seed out of the East Region. Zach then rebounded by defeating senior Nick Trusilo (22-7), the South's number two seed from Poolesville, 9-2. He then wrestled a great match to avenge an earlier loss at Regionals by pinning Williamsport's senior Spencer Peyton (28-6) in 3:46. Next up was Beall's Nathan Jackson who defeated Zach 6-0 in a very hard fought match to end the tournament. With some off season training and hard work, Zach Huffman just might well achieve his goal of winning a State Championship. He wants to do it next year!
"Character"
It's how you act when no one is looking!
Jason Oates - 2004 TOMMY DIEHL AWARD WINNER
Senior Jason Oates capped off an outstanding four year career at Fort Hill by becoming the 2004 Tommy Diehl Award winner for the Outstanding Wrestler! He became this year's outstanding wrestler by having the highest career winning percentage, demonstrating superior leadership, being a positive role model, and having a winning attitude both on and off the wrestling mat!

It was a great senior season for Jason, he finished with a 25-5 record, a 52-26 career record, lead the team in Regional points with 79, and took 5th Place at the West Regional Tournament. He was voted a Team Captain for the second straight year and helped lead the Sentinels to a 17-7 dual meet record.
"When I think of Jason Oates's accomplishments, it's easy to think of his 25 personal victories this year. However, to me, I will always think of his dedication to wrestling and to the other members of this team!", Coach Nichols stated. "His positive leadership in the off-season workouts and to the younger members of this team during the season where really a difference maker in our season. He had a direct impact on our success! We're really going to miss Jason's leadership! He was a total "Team" player without question!"