Fort Hill HS Wrestling: 2011-2012 Season
Friday, March 16
2012 Western Maryland Spring Classic - Bantam 45lbs. Final Bracket
Friday, March 16
2012 Western Maryland Spring Classic - Bantam 50lbs. Final Bracket
Friday, March 16
2012 Western Maryland Spring Classic - Bantam 55lbs. Final Bracket
Friday, March 16
2012 Western Maryland Spring Classic - Bantam 60lbs. Final Bracket
Friday, March 16
2012 Western Maryland Spring Classic - Bantam 65lbs. Final Bracket
Friday, March 16
2012 Western Maryland Spring Classic - Bantam 70lbs. Final Bracket
Friday, March 16
2012 Western Maryland Spring Classic - Bantam 75lbs. Final Bracket
Friday, March 16
2012 Western Maryland Spring Classic - Bantam 90lbs. Final Bracket
Friday, March 16
2012 Western Maryland Spring Classic - Bantam 285lbs. Final Bracket
Friday, March 16
2012 Western Maryland Spring Classic - Intermediate 65lbs. Final Bracket
Wednesday, March 14
2012 Western Maryland Spring Classic - Junior 85lbs. Final Bracket
Wednesday, March 14
2012 Western Maryland Spring Classic - Junior 90lbs. Final Bracket
Wednesday, March 14
2012 Western Maryland Spring Classic - Junior 95lbs. Final Bracket
Wednesday, March 14
2012 Western Maryland Spring Classic - Junior 100lbs. Final Bracket
Wednesday, March 14
2012 Western Maryland Spring Classic - Junior 105lbs. Final Bracket
Wednesday, March 14
2012 Western Maryland Spring Classic - Junior 115lbs. Final Bracket
Wednesday, March 14
2012 Western Maryland Spring Classic - Junior 125lbs. Final Bracket
Wednesday, March 14
2012 Western Maryland Spring Classic - Junior 135lbs. Final Bracket
Wednesday, March 14
2012 Western Maryland Spring Classic - Junior 145lbs. Final Bracket
Wednesday, March 14
2012 Western Maryland Spring Classic - Junior 155lbs. Final Bracket
Wednesday, March 14
2012 Western Maryland Spring Classic - Junior 170lbs. Final Bracket
Wednesday, March 14
2012 Western Maryland Spring Classic - Junior 190lbs. Final Bracket
Thursday, March 15
2012 Western Maryland Spring Classic - Senior 106lbs. Final Bracket
Thursday, March 15
2012 Western Maryland Spring Classic - Senior 113lbs. Final Bracket
Thursday, March 15
2012 Western Maryland Spring Classic - Senior 120lbs. Final Bracket
Thursday, March 15
2012 Western Maryland Spring Classic - Senior 126lbs. Final Bracket
Thursday, March 15
2012 Western Maryland Spring Classic - Senior 132lbs. Final Bracket
Thursday, March 15
2012 Western Maryland Spring Classic - Senior 138lbs. Final Bracket
Thursday, March 15
2012 Western Maryland Spring Classic - Senior 145lbs. Final Bracket
Thursday, March 15
2012 Western Maryland Spring Classic - Senior 152lbs. Final Bracket
Thursday, March 15
2012 Western Maryland Spring Classic - Senior 160lbs. Final Bracket
Thursday, March 15
2012 Western Maryland Spring Classic - Senior 170lbs. Final Bracket
Thursday, March 15
2012 Western Maryland Spring Classic - Senior 182lbs. Final Bracket
Thursday, March 15
2012 Western Maryland Spring Classic - Senior 190lbs. Final Bracket
Thursday, March 15
2012 Western Maryland Spring Classic - Senior 220lbs. Final Bracket
Thursday, March 15
2012 Western Maryland Spring Classic - Open 130lbs. Final Bracket
Thursday, March 15
2012 Western Maryland Spring Classic - Open 140lbs. Final Bracket
Thursday, March 15
2012 Western Maryland Spring Classic - Open 150lbs. Final Bracket
Thursday, March 15
2012 Western Maryland Spring Classic - Open 160lbs. Final Bracket
Thursday, March 15
2012 Western Maryland Spring Classic - Open 170lbs. Final Bracket
Thursday, March 15
2012 Western Maryland Spring Classic - Open 180lbs. Final Bracket
Thursday, March 15
2012 Western Maryland Spring Classic - Open 190lbs. Final Bracket
Thursday, March 15
2012 Western Maryland Spring Classic - Open 215lbs. Final Bracket
Thursday, March 15
2012 Western Maryland Spring Classic - Open 385lbs. Final Bracket
Monday, January 23
2012 Western Maryland Spring Classic Entry Form
Spring is on the way!!! The date has been set for the 2012 Western Maryland Spring Classic Open wrestling tournament and it will be held on Saturday, March 10, 2012 at Fort Hill High School.
Now in it's 18th year, the WMSC hosts wrestlers from MD, PA, WV, VA, DE, and OH. Kids that are in grades k-12 as well as adults will wrestle in 5 different weight classes. As always, the Spring Classic will again have the OPEN DIVISION in which any age can compete! Come test your skills!
Not wrestling? You will not find a more entertaining day to spectate wrestling! Make sure you come early as crowds are usually big. Also, as a spectator, you can catch all of the action on 4 mats in the same gym so you won't miss a thing!!
For more information contact Bernie Nichols at bnichols@timbrook.com .
Handout:
2012 Westren Maryland Spring Classic Entry Form
Tuesday, March 6
MSWA Complete Wrestling Rankings - 3/4/2012
*******These are NOT final. The All-Star match on Tuesday will determine the final rankings.*******
Monday, March 5
Dillon Darr Places 6th at State Tournament!
Senior Team Captain Dillon Darr capped off his high school career with a podium finish at the 2012 1A/2A Maryland State Wrestling Tournament this past weekend at Cole Field House. His trip to the University of Maryland was icing on the cake to his 103 career wins that Dillon has amassed during his days at Fort Hill H.S..
He started the night with a 12-1 Major decision over Perryville's Amos Harlan(35-3 record) who would eventually place 3rd in the 138lb weight class. Then he met Gwynn Park's Andrew Norris(23-4) in a match that took a double overtime for Dillon to pull off a 7-6 victory to reach the semi-final round of the Championship. It was a match that took every ounce of energy both wrestlers could muster just to comeplete the match. It was exciting and had the attention of everyone in attendance!
The next day showed that Dillon had not physically recovered from the last grueling match of the previous night. He lost to eventual State Champion Wes Cook (42-3 record)from Winter Mills 15-3. Then he was Tech Falled by Amos Harlan in their 2nd match 17-2. In the last match he lost to Adrienne Hazel (39-10) from Owing's Mill by an 8-1 score.
Dillon ended a great senior season with a record of 43-6! We look forward to watching Dillon in the future as he plans to apply for the Maryland State Police Academy and become a Coach in the Fort Hill Wrestling Club
Thursday, March 1
Complete Maryland State Wrestling Association High School Rankings!
OVERALL
1-McDonogh (40)
2-Georgetown ...
Thursday, March 1
1A/2A Maryland State Wrestling Tournament Schedule
Friday, March 2, 2012
Weigh-In............................12:30 p.m.
BOUTS
Preliminaries ........................2:30 p.m. - 6:30 p.m. (8 mats)
Quarterfinals ........................6:30 p.m. - 8:30 p.m. (8 mats)
Consolation Preliminaries ..8:30 p.m. - 10:15 p.m. (8 mats)
Saturday, March 3, 2012
Weigh-In............................8:00 a.m.
BOUTS
Consolation 1st round ..........9:30 a.m. - 11:00 a.m. (8 mats)
Championship Semifinals ....11:00 a.m. - 1:15 p.m. (4 mats)
Consolation Quarterfinals ....1:15 p.m. - 2:15 p.m. (8 mats)
Consolation Semifinals ........2:15 p.m. - 3:30 p.m. (8 mats)
Consolation Finals ................4:00 p.m. - 6:00 p.m. (4 mats)
- 3rd & 4th place
- 5th & 6th place
Championship Finals ............6:30 p.m. - 9:00 p.m. (2 mats)
Saturday, February 25
Dillon Darr Places Qualifies for Maryland State Wrestling Tournament with 100th WIN!
Senior Team Captain Dillon Darr is headed to Cole Field House in College Park, MD, for the 2012 Maryland State Wrestling Tournamenty way of obtaining his 100th win! Dillon sealed not only his 100th win but punched his ticket to the State Tournament with a pin over North Carroll's Kyle Michael (12)ith only 0.8 seconds left in the 2nd period! Then he followed that win up with a 7-5 decision over Catoctin's Pat Guilday for 3rd place in the 1A/2A Maryland West Regional Tournament held at Mountain Ridge.
Also qualifying for the Regional Tournament but not placing for the Sentinels was Sophomore Captain Cody Arigo and Freshman Tristen Tressler.

Senior Dillon Darr winning his 3rd Bi-County Championship!
Monday, February 20
Dillon Darr and Cody Arigo Win BiCounty Championships for Fort Hill!
Sophomore Cody Arigo is the 182lb Champion!
Fort Hill Team Captain's Dillon Darr(138lbs) and Cody Arigo(182lbs) both scored big wins in the 2012 Bi-County Tournament to become Champions in their weight classes. These wins quarranteed them a spot in the Maryland 1A/2A West Region Tournament the following weekend. This was Senior Dillon Darr's 3rd Bi-County Championship and Sophomore Cody Arigo's 1st win in his 1st tournament.

MSWA Junior State Champion Wyatt Brehm!
Monday, February 20
Wyatt Brehm Wins 2nd MSWA Championship! Richard Hess Takes 2nd! Cody Whitacre - 6th!
MSWA Junior States Runner-up Richard (Tater) Hess!
Congratulations to Fort Hill Wrestling Club wrestlers Wyatt Brehm, Richard (Tater) Hess, and Cody Whitacre who Plased 1st, 2nd, and 6th place respectively at the 2012 Maryland State Wrestling Association's Junior State Wrestling Tournament this past weekend.
Wyatt Brehm captured his 2nd Junior State Championship in the 9-10 yrs - 97lb weight class. He went a perfect 4-0 in the tournament after receiving a first round bye. Wyatt was also awarded the trophy for the"Most Falls/Least Amount of Time" for pinning every opponent that he faced.
Richard Hess took 2nd Place in the 11-12 yrs-140lb weight class. He advanced to the finals by pinning last year's State Champion in 2:58 into the match. Tater then lost a close final's match 6-4 to the eventual State Champion from Middle River.
Cody Whitacre placed 6th in the 13-14 yrs-80lb weight class.
Also, representing the Fort Hill Wrestling Club by Qualifying for the Maryland State Wrestling Association's Junior State Tournament and attending were Blake White, Davian Little, Ty Lawson, and Jesse Miltenberger. To qualify, each of these wrestlers had to place in the top 2 in their respective weight classes!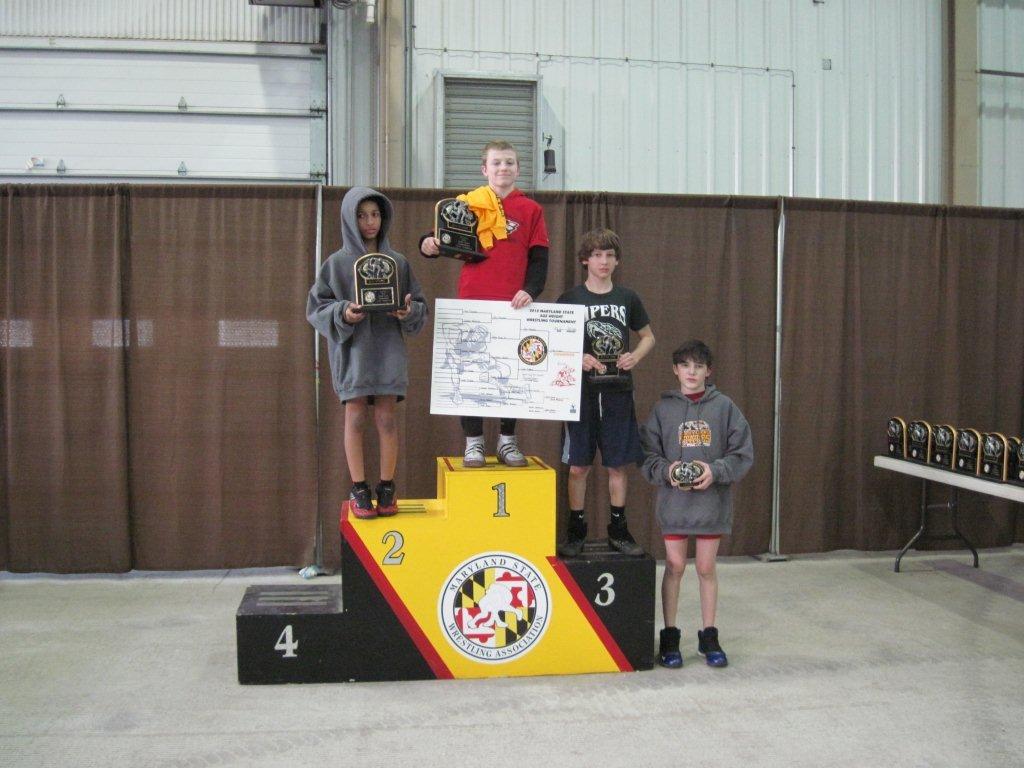 MSWA Junior States 6th Placer Dakota Whitacre!
Friday, February 17
2012 Bi-County Tournament Schedule for 2/18/2012
Bi-County Wrestling Tournament
February 18th @ Northern Garrett High School
Weigh-Ins: 9:00
Coaches Meeting: 9:30
Wrestling: 10:00 Championship Quarter Finals
10:30 Round 1 JVS
11:00 Championship Semi-Finals
12:00 Consolation Semi-Finals
12:30 Round 2 JVS
1:00 Consolation Finals
2:00 Finals
3:30 Awards
Monday, January 23
SENIOR NIGHT vs. S. Hagerstown
The Fort Hill Wrestling Team will be honoring their Senior wrestlers on Thursday, January 26, 2011, before the South Hagerstown match. Please come out and honor Fort Hill Senior wrestlers Dillon Darr, Nick Meneghini, Skyler Atkinson, and Jesus Candler.
Thursday, December 15
3 Fort Hill Wrestling Club Champions at P.A.L. Novice Tournament!
The novice wrestlers of the Fort Hill Wrestling Club recently participated in the 9th Annual Hagerstown P.A.L. Novice Wrestling Tournament at North Hagerstown High School. Davian Little (10yr/70lbs), Dreaesan Hertz (10yrs/80lbs), and Braeden Askins (10yrs/85lbs) were crowned Champions in their respective weight classes. Rashon Little took 2nd Place in the 12yrs/80lbs weight class. Seth Messersmith (10yrs/110lbs) and Robbie Twigg (11yrs/80lbs) took 3rd place.

Senior Captain Dillon Darr in Action!
Friday, December 9
Sentinel's Slam Allegany in Opener!
Winning 7 of the 9 contested matches, the Fort Hill Wrestling Team defeated the Allegany Campers 64-12 in their first match of the season in front of a very nice crowd at Campobello. The Sentinels recorded 3 pins by Dillon Darr, Skyler Atkinson, and Jordan Nichols. Adam McDonald won by a Major Decision. Noah Candler, Cody Airgo, Nick Meneghini all came away with decisions. Allegany forfeited 5 weight classes.
The match started out at the 120lb weight class as Freshman Tristen Tressler received a forfeit and Fort Hill won the first 6 matches. Freshman Jaroslav Candler also received a forfiet at 126lbs. Then Sophomore Adam McDonald (132lbs.) scored a 9-0 major decision against Allegany's Serge Cendo to make the score 16-0 in Fort Hill's favor. Senior Team Captain Dillon Darr then over powered and pinned Allegany's Garrett Hughes in 20 seconds for his first match in the 138lb weight class. Not to be out done, Team Captain Skyler Atkinson (145lbs.) then pinned the Camper's Gavin Myers in 1 minute and 2 seconds. Then in the 152lb weight class, Noah Candler a Team Captain, decisioned former West Virgina standout Kirk Robinette 5-1 in a hotly contested match.
Ryan Murphy of Allegany, then pinned Fort Hill's Joey Turbin in 2 minutes and 25 seconds in the 160lb weight class. It was Allegany's first win of the night.
Fort Hill responded with 3 straight wins and a forfeit. Pennsylvania transfer Cody Arigo (170lbs.) won his first match as a Sentinel by injury default over Allegany's Gabe Kiddy. Then senior Team Captain Nick Meneghini decisioned Garrett Bittinger of the Campers 4-1. In the 195lb weight class, Jordan Nichols followed up that win with a 58 second pin of his own over Allegany's Travis Lipscomb during the 195lb match.
Then Duncan Bolinger (220lbs), Josh Cooper (106lbs), and Derrick Kiff (113lbs) all received forfeits. In the 285lb class, Allegany's Garrett Maiers pinned Roger Dawson in the last contested match of the night.
Winning for Fort Hill's JV team was Drake Arnold, Dekari Darr, and Dylan Dixon.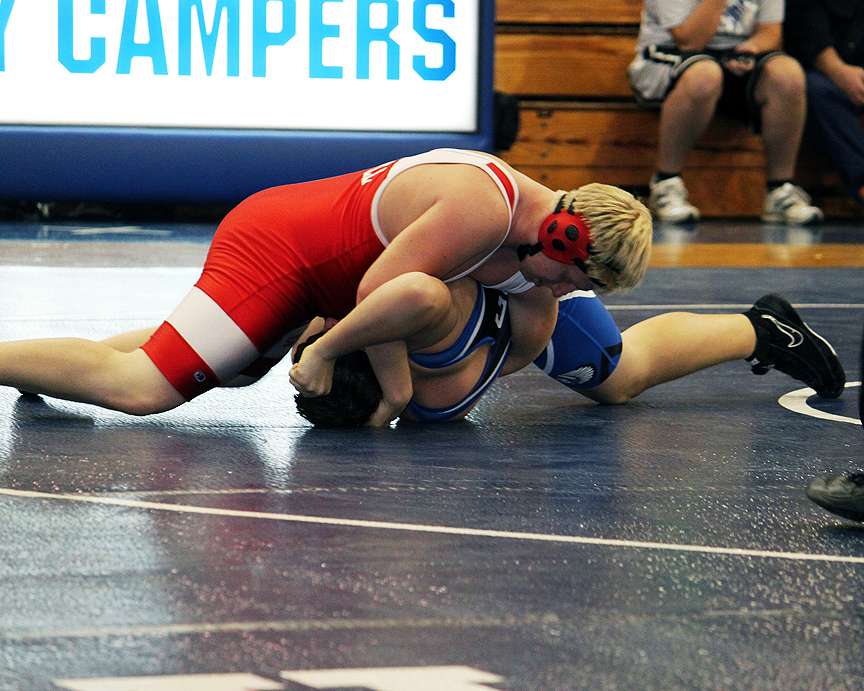 Jordan Nichols gets a Pin!
Wednesday, December 7
The Votes are IN!
Congratulations to recently selected Team Captains Nick Meneghini, Jesus Candler, Dillon Darr, and Skyler Atkinson.
Monday, November 21
Youth Wrestling to have 1st Practice!
Monday, November 14
Fort Hill Wrestling Youth Sign-ups/Spirit Night
Sunday, November 6
Congratulations James Bender!
Congratulations to, Former Fort Hill Wrestling standout, James Bender who is wrestling at WVU and won his 1st match today at the Clarion Open. He defeated a wrestler from Navy 5-2!! Congratulations Bender!!!!
Wednesday, October 26
On-Line Walk-A-Thon Donations for Fort Hill Wrestling Club!
Click here to donate online.
Tuesday, October 18
Meeting for Interested Wrestlers!
If you or someone you know is interested in wrestling for the Fort Hill Wrestling Team, there will be a organizational meeting with anyone not participating in a Fall Sport Thursday, October 20, 2011, at 3:00PM in the matroom at the school.
Thursday, May 26
PRESS RELEASE FROM NFHS about NEW WEIGHT CLASSES
NATIONAL FEDERATION OF STATE
HIGH SCHOOL ASSOCIATIONS
NEWS RELEASE
Weight classes changed in high school wrestling
FOR IMMEDIATE RELEASE Contact: Bob Colgate
INDIANAPOLIS, IN (April 26, 2011) — The most significant changes in weight
classes in high school wrestling in 23 years will take place in the 2011-12 season.
In its April 4-6 meeting in Indianapolis, the National Federation of State High
School Associations (NFHS) Wrestling Rules Committee approved an upward shift of the
weight classes, beginning with the 103-pound class moving to 106 pounds, which
resulted in new weights for 10 of the 14 classes. The changes in weight classes, along
with 17 other rules revisions, were subsequently approved by the NFHS Board of
Directors.
The 14 weight classes approved by the committee for 2011-12 are as follows:
106 (pounds), 113, 120, 126, 132, 138, 145, 152, 160, 170, 182, 195, 220 and 285.
Three middle weight classes – 145, 152 and 160 – were retained, although they are 7-
8-9 in order now rather than 8-9-10. The largest weight class (285 pounds) remains
unchanged as well.
"The change in weight classes resulted from a three-to-four year process
utilizing data from the National Wrestling Coaches Association (NWCA) Optimal
Performance Calculator," said Dale Pleimann, chair of the NFHS Wrestling Rules
Committee and former assistant executive director of the Missouri State High School
Activities Association. "The rules committee was able to analyze data from almost
200,000 wrestlers across the country, with the goal to create weight classes that have
approximately seven percent of the wrestlers in each weight class.
"Throughout the process, each state association was kept completely informed
and was provided multiple opportunities for input. The results of the last survey of
each state association indicated that the majority of states favored a change, and the
committee listened and acted accordingly."
The last wholesale shift in weight classes occurred in 1988, when the lowest
weight class was increased from 98 to 103 pounds. The only other changes since then
were in 2002, when the number of classes went from 13 to 14 and the 215-pound
weight class became mandatory, and in 2006, when the 275-pound class was
increased to 285 pounds.
Among changes in wrestling holds, the Figure 4 around the head has been ruled
an illegal hold/maneuver. Previously, the Figure 4 was illegal around the body or both
legs.
"This move was being used by high school wrestlers more and more on the head,
so to minimize the risk of injury, the committee voted to outlaw the Figure 4 on the
head as well as around the body and both legs," said Bob Colgate, NFHS assistant
director and liaison to the Wrestling Rules Committee.
Another significant change was made in Rule 2-1-3, which now makes the
boundary line inbounds and, thus, expands the wrestling area. Previously, a wrestler
was out of bounds if he or she was touching any part of the 2-inch-wide line which
marks the wrestling area.
An additional exception was added to Rule 8-2-1 stating that if the second
injury time-out is taken at the conclusion of the second period, and the opponent
already has the choice at the beginning of the third period, the opponent would then
have the added choice at the first restart after the beginning of the third period.
"Previously, at the end of the second period and before the third period, Wrestler
A takes his or her second injury time-out, which now gives the choice to Wrestler B,"
Colgate said. "However, it's already Wrestler B's choice by virtue of the original flip of
the disk. Therefore, Wrestler B gains no advantage or benefit from Wrestler A's second
injury time-out. With this change, Wrestler B would now have his or her choice at the
first restart after the beginning of the third period."
In other changes, a revision in Rule 3-1-13 allows the referee the flexibility to
determine his or her best position to monitor the clock and wrestlers during injury,
blood or recovery time-outs. Also, language in Rule 6-2-2 was changed from "forfeit"
to "disqualification" to reflect correct terminology.
The rules committee also devoted considerable time to developing rules for
multi-team dual meets and team-formatted tournaments. Previously, the NFHS
Wrestling Rules Book addressed only dual meets and individually bracketed
tournaments. Definitions for individually bracketed tournaments, dual meet/teamformatted
tournaments and combination tournaments will be contained in Rule 1-3.
"In recent years, high school wrestling has moved from dual meets and
individually bracketed tournaments to tournaments incorporating a dual meet/team
format," Pleimann said. "The new Rule 11 will provide rules coverage for this type of
tournament format."
"High school wrestling is in great shape across the country as participation
numbers continue to increase. The rules committee did propose 18 changes to the
rules book, but approximately two-thirds of those changes resulted from incorporating
the new dual meet/team format rules," Pleimann added.
The final change is one that has been approved by the NFHS Board of Directors
for use in all NFHS rules books regarding the meet referee's jurisdiction. The rule
extends the clerical duties of the referee beyond the end of the meet through the
completion of any reports required from actions that occurred while the referees had
jurisdiction.
Points of emphasis adopted by the committee for 2011-12 include
communicable diseases, injury time-outs, coach/referee conference, and concussion
recognition and management.
Wrestling is the sixth-most popular sport for boys at the high school level with
272,890 participants in 10,363 schools during the 2009-10 season, according to the
NFHS Athletics Participation Survey. In addition, 6,134 girls were involved in wrestling
in 1,009 high schools.
# # #
About the National Federation of State High School Associations (NFHS)
The NFHS, based in Indianapolis, Indiana, is the national leadership organization for high school sports
and fine arts activities. Since 1920, the NFHS has led the development of education-based
interscholastic sports and fine arts activities that help students succeed in their lives. The NFHS sets
direction for the future by building awareness and support, improving the participation experience,
establishing consistent standards and Rules for competition, and helping those who oversee high school
sports and activities. The NFHS writes playing rules for 17 sports for boys and girls at the high school
level. Through its 50 member state associations and the District of Columbia, the NFHS reaches more
than 19,000 high schools and 11 million participants in high school activity programs, including more
than 7.6 million in high school sports. As the recognized national authority on interscholastic activity
programs, the NFHS conducts national meetings; sanctions interstate events; produces publications for
high school coaches, officials and athletic directors; sponsors professional organizations for high school
coaches, officials, spirit coaches, speech and debate coaches and music adjudicators; serves as the
national source for interscholastic coach training; and serves as a national information resource of
interscholastic athletics and activities. For more information, visit the NFHS Web site at www.nfhs.org.
MEDIA CONTACTS: Bruce Howard or John Gillis, 317-972-6900
National Federation of State High School Associations
PO Box 690, Indianapolis, Indiana 46206
bhoward@nfhs.org or jgillis@nfhs.org
Thursday, December 15
Fort Hill Wrestling